July 8, 2013, Volume xix, #27
"The hardest thing to learn in life is which bridge
to cross and which to burn."
—David L. Russell (American educator, 1921-1995)
______________________________________________________________________
Bob Rae, Anthony Stokan to headline Hardlines Conference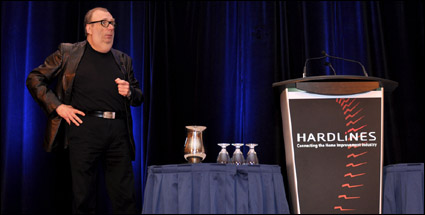 WORLD HEADQUARTERS, TORONTO — Retail Guru Anthony Stokan is the latest retail expert to join the Hardlines Conference, October 23 and 24, 2013. Joining Stokan this year is a range of speakers that reflects the varied range of challenges facing retailers and vendors alike in today's tough business environment.

The incredible range of speakers comes from both within and outside the retail home improvement industry. James Ryan, Vice-President, Home and Hardlines at Sears Canada, will offer a perspective on retail from the vantage point of one of Canada's largest retail chains. At the other end of the spectrum, Frances Sologuk of Osoyoos Home Hardware is one of the country's most innovative and successful independents.

What are the trends in retail? Delegates will hear from Rafe Petkovic of Google Canada, who is responsible for leading Google's sales teams that guide customers' online and multi-channel strategy to drive more customers to their stores. Ibrahim Ibrahim is managing director at Portland Design in the U.K. With offices in London, Utrecht, Cairo, and Dubai, Portland is a leading international branding and retail design consultancy. Ibrahim returns to the Hardlines Conference by popular demand, after wowing our audience just two years ago.

Jill Nykoliation is president and lead strategist of ad agency Juniper Park. Her team brings together the disciplines of strategy, design, and advertising for a global client roster that includes Virgin Mobile, The Source, CIBC, Del Monte, EOS, Pfizer, Tropicana, and Weston Bakeries.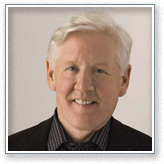 An important part of the Hardlines Conference each year is the "Profiles in Leadership" Series. This year, HARDLINES is proud to welcome former Parliamentarian Bob Rae. Rae served as Ontario's 21st Premier from 1990 to 1995, and since 1978 has been elected eleven times to federal and provincial parliaments. From 2011 to 2013, he served as the Leader of the Liberal Party of Canada.

Rounding out the program are Jeffrey Kilgour, VP special projects & analysis at Eacom Timber Corporation; and Pat Bolland, media coach and host at Sun News Network.

The 18th Annual Hardlines Conference will be held October 23 and 24 at the Sheraton Toronto Airport Hotel. Click here for more info and to register today.
back to top
______________________________________________________________________
Target to open 20 more Canadian stores this month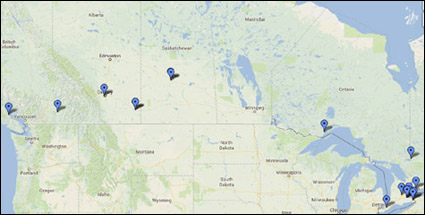 MISSISSAUGA, ON — Target announced last week that it will open an additional 20 stores in Canada this month, adding to the 48 locations already operating across the country. The new locations, opening between July 16 and July 30, will include 13 in Ontario, two each in British Columbia and Alberta, and three in Saskatchewan (listed below). With these 20 additional stores, Target has reached beyond the half-way point of its aggressive goal of opening 124 Canadian stores in 2013. These store openings will also be the first Target locations to open in Saskatchewan.

British Columbia:  Coutenay, Kelowna
Alberta: Calgary, Medicine Hat
Saskatchewan: Regina, Saskatoon (Lawson Heights and Centre at Circle & Eighth)
Ontario: Ancaster, Brampton, Chatham, Hamilton (South Hamilton Square and Queenston Place), Kitchener, Kingston, Niagara Falls, North Bay, Oakville, Oshawa, Thunder Bay, and Welland.
Click here to view a interactive map of all these locations!
back to top
______________________________________________________________________

Young people a "great asset" says Castle president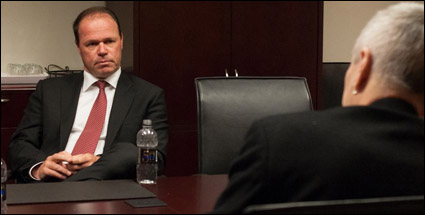 MISSISSAUGA, ON — Young people are coming into home improvement retailing at an unprecedented rate, says Ken Jenkins, president of Castle Building Centres Group Ltd. These young people, he adds, are a "great new asset for the industry, especially in light of the fact that the boomer generation that has dominated this industry for so many years is rapidly entering retirement age."

In addition, in a tight job market, especially for those under 30, a whole generation of Canadians is having a tough time getting employment. "They may take another look at the lumber yard of their mom and dad."

But one challenge for them will be the need to communicate and build relationships with their customers, especially the contractors and trades who make up such a large part of the business for most Castle dealers. For Jenkins, his dealers' connection with those contractors is at the heart of their success as markets move up and down and the economy stalls or surges.

The appeal of owning a yard or home centre is not only for the young; Jenkins says the inherent value of the independent is being recognized much more widely today—especially after years of dominance by big boxes. "It's fashionable to be an independent. It's cool to be the local building material dealer again."

(The complete interview with Ken Jenkins appears in the next edition of our sister publication, Hardlines Home Improvement Quarterly! —Michael)
back to top ______________________________________________________________________
Home Depot enjoys strong growth from pro sales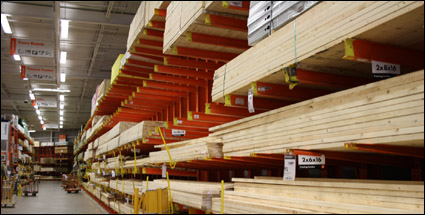 TORONTO — For the first time in the last several years, the growth rate in Home Depot's pro customer segment outpaced the growth rate in the consumer segment. The pro business, though much smaller than DIY, was seen to rebound faster in Home Depot's U.S. stores.

In the first quarter, sales were $19.1 billion, a 7.4% increase from last year. On a like-for-like basis, same-store sales were positive 4.3% for the quarter with positive comps of 4.6% in February, negative 3.5% in March and positive 9.9% in April.

Performance by Home Depot stores appears to have been stronger in the U.S., given that comps for U.S. stores were positive 4.8% for the quarter, while comps for international stores were lower.

(Excerpted from the latest Hardlines Executive Report. Full analysis of Home Depot's second-quarter results and strategy, along with analysis of RONA, Lowe's, and Canadian Tire, are contained in the Report. Click here for more info!)

______________________________________________________________________

Toronto gets a tool library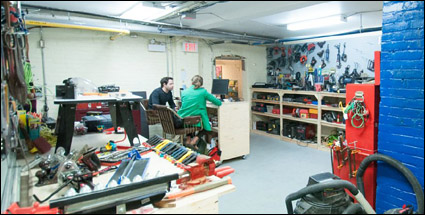 TORONTO — This city's first Tool Library recently opened in the west end, a co-op that rents out tools to local residents and DIYers for an annual membership, just the like library.

The concept started in Berkeley, CA, in a trailer that lent out used tools, equipment and "how-to" instructional manuals for a membership fee. The tool selection expanded so vastly that it was moved into a more permanent location and then amalgamated with the public library so that a public library card also granted access to thousands of tools in addition to books. Since then, the tool library concept has taken off and expanded to 40 tool libraries throughout North America with Vancouver opening their first tool library last year.

The idea is simple: used tools are donated by community members or bought through sponsorships. Then they're sorted, tested, and catalogued. Ryan Dyment, the Toronto Tool Library's executive director, explained that 80% of the tools are donated and the remaining 20% come from grants and corporations. The tools are even listed online, just like a library catalogue, so a user can see whether an item is available and when it's due back.
______________________________________________________________________

Resumés
Experienced Outside Sales Account Manager with a proven track record for achieving or exceeding forecasts view this

resumé

Creative, ambitious sales engineer and leader with over 10 years of National Account management experience view this

resumé

Experienced Territory Manager Seeks position in Eastern Ontario based in Kingston. view this

resumé

A customer focused Business Management Professional with an innovative and diverse background. view this

resumé

am interested in territory/district manager job in the home improvement industry. view this

resumé

Award-winning sales professional skilled in relationship-building in order to continually enlarge sales territories view this

resumé

Professional with over 25 years of experience in Sales, Marketing, Merchandising and Administration

view this

resumé

Marketing professional with over 10 years experience looking to secure a new full-time position.

view this

resumé

A Sales Professional with over twenty years of experience.view this

resumé

Experienced District Manager with a proven track record with several national chains. view this

resumé