July 16, 2012, Volume xviii, #29
"Right minds feel not love but reason. And what reasonable man truly loves." —William Henry Drummond (Irish-born Canadian poet, 1854-1907)
______________________________________________________________________

______________________________________________________________________
Summer Publishing Schedule:
HARDLINES will be published just once in August. There will be no issues Aug. 6, 19 or 26. However, the World Headquarters will remain open during this time as we update our research reports, work on the next issue of HHIQ, and prepare for the 17th Annual Hardlines Conference! —Michael McLarney, Editor
______________________________________________________________________
Conference update: Sexton's Steve Buckle confirmed to speak
 WORLD HEADQUARTERS, TORONTO — Steve Buckle is vice president and general manager of Sexton Group — and one of the founders of Canada's newest buying group, Byco. He is also the latest addition to our roster of executive speakers at the 17th Annual Hardlines Conference.



Mr. Buckle will share his insights into the evolution of the independent dealer and the ways in which buying groups are evolving to meet those changes.

He joins an already impressive lineup of speakers at this year's conference (if we do say so ourselves —Your Humble Editor), which will be held Oct. 25 and 26 at the Toronto Sheraton Airport Hotel. They include: Paul Straus, president and CEO of Home Hardware Stores Ltd.; Luc Rodier, executive vice president of Retail, RONA; Ferio Pugliese, executive vice president people, culture and inflight at WestJet; Geneviève Gagnon, CEO, Le Groupe Yves Gagnon; and John Herbert, General Secretary, EDRA, the European-DIY Retail Association.

Delegates at the conference will get the latest economic updates, as well. Is housing going up or down? Does the condo market count? Ted Tsiakoupolis, senior economist at Canada Mortgage and Housing Corp., will share his insights into the economy and the direction of Canada's housing market.

To find out more about the 17th Annual Hardlines Conference, click here.
back to top



______________________________________________________________________
RONA program turns rebates back to dealers
BOUCHERVILLE, QC — RONA inc. has a rebate program that has so far delivered a total of $9 million to affiliate dealers. This was in addition to regular discounts from the giant home improvement wholesaler.

Called the "Solidarity Program," the rebate program, established in 2011, is open to affiliated RONA dealers across Canada and is characterized by a cash refund based on purchases made over the past year. In an interview with HARDLINES at the time the program was launched, RONA CEO Robert Dutton said it was developed as a way to help dealers consolidate their local markets. The Solidarity Program, he noted, rewards loyalty by offering a rebate of from 1%-6% on every purchase made through RONA's own distribution.

According to Luc Rodier, RONA's executive vice president, the program also provides RONA with the means to gather and analyze information received from the stores, to help RONA better understand the purchasing behaviour of affiliate dealers and tailor assortments more accurately to respond more effectively to the dealers' needs.  
______________________________________________________________________
Kent employees, ABSDA president on hand for life-saving recognition

Don Sherwood, president of the Atlantic Building Supply Dealers Association, is also president of Saint John's Ambulance for New Brunswick. This three-year stint will be in addition to a history of volunteering with this organization for the past 12 years. He's also a director, and recently attended the National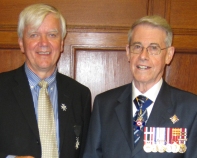 Investiture in Ottawa at the Senate of Canada, presided over by Governor General David Johnston.

 Among those being invested was Nova Scotia Lieutenant Governor John James (Jim) Grant, whose career included being a Castle member in New Glasgow – and a past chair of the ABSDA. Shown (l-r): Don Sherwood of the ABSDA, and Governor General David Johnston.

Soon after, Sherwood was back in the provincial capital, where Graydon Nicholas, Lieutenant Governor of New Brunswick in Fredericton, who is also

Chancellor of Saint John's Ambulance, presided over the New Brunswick  Investiture and awarded Life Saving Medals to two Kent Building Supply employees in Petitcodiac, NB.

 Patrick Harrison (shown here with the Lieutenant Governor), and Ivan Anderson, were recognized for performing CPR on a customer suffering a heart attack in their store. This individual survived thanks to their quick action.
______________________________________________________________________
Castle recruits new Winnipeg dealer

   MISSISSAUGA, ON — Castle Building Centres Group Ltd. has a new member: Matix Lumber Inc. located in Headingly, MB. This dealer joins more than 280 existing LBM, commercial, and specialty dealers that are part of Castle's independent network.

Matix, which has been up and running since February, was founded by Tony Matic, who has been associated with a number of large building materials dealers in Winnipeg for more than 35 years, most recently as a partner in Springhill Lumber. Now, with his daughter, Sue Matic, he will begin construction in September of a new location in this community just west of Winnipeg on the TransCanada highway.

Matix Lumber is also the franchisee for Manitoba, Saskatchewan, and Northwestern Ontario for Honka Solid Wood Homes, a Finnish company that provides custom-built log home designs.
_____________________________________________________________________
Target confirms first Canadian locations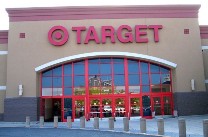 MINNEAPOLIS — Target Corp. has confirmed the locations of its first stores here, which it intends to open in 2013. Target, which had taken over the leasehold interests of Zellers sites across the country, plans to open 125 to 135 stores in Canada starting in March and April 2013.

The first 125 stores will open in 2013, and later this year Target will confirm additional store locations that will open starting in early 2014 and beyond. While most of the sites have been announced already, the latest additions are Morrison Street in Niagara Falls, ON, and Centre Laval in Laval, QC, both of which are scheduled to open next year.

Target will spend at least $10 million remodeling each location. Target expects to employ between 150 and 200 team members at each store and has already started hiring its store leadership positions. Hourly recruitment will begin towards the end of 2012 and into 2013.  (Click here for the full list of Target store openings confirmed in Canada.)
_____________________________________________________________________
Classifieds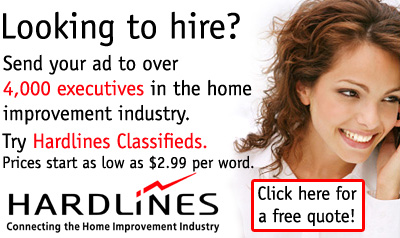 ______________________________________________________________________

Resumés
Marketing professional with over 10 years experience looking to secure a new full-time position.

view this

resumé

Fluently bilingual, highly motivated Business Development Professional with excellent strategic and operational capabilities.

view this

resumé

A Sales Professional with over twenty years of experience.view this

resumé

Experienced District Manager with a proven track record with several national chains. view this

resumé

A conscientious, highly motivated manager with a results-oriented track record in developing new business.

view this

resumé

An experienced merchandising executive possessing passion, vision, and a strategic approach to delivering bottom-line.

view this

resumé

Senior sales/marketing leader with experience in all classes of trade wishing new HARDLINES career. view this

resumé

Very Experienced Business Unit Manager, great passion for generating sales and building relastionships.view this

resumé

Worked through my career within the manfucaturer, wholesale and consumer goods industries. view this

resumé

Senior Sales Manager with vast experience in retail and wholesale sales growth in Canada. view this

resumé