July 23, 2012, Volume xviii, #30
" A mother's happiness is like a beacon, lighting up the future but reflected also on the past in the guise of fond memories." —Honoré de Balzac (French novelist and playwright, 1799-1850)
______________________________________________________________________

______________________________________________________________________
Summer Publishing Schedule:
HARDLINES will be published just once in August. There will be no issues Aug. 6, 19 or 26. However, the World Headquarters will remain open during this time as we update our research reports, work on the next issue of HHIQ, and prepare for the 17th Annual Hardlines Conference! —Michael McLarney, Editor
______________________________________________________________________
Kent's newest store focuses on contractors
  ST. JOHN'S, NF — Kent has opened a store here that caters strictly to contractors, responding to the construction boom in the province.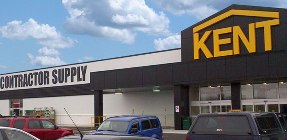 In recent years, Kent has stepped up its expansion plans, focusing especially on Newfoundland, whose economy has been red hot thanks to the natural resources sector there. As a result, housing starts are strong, especially in the Northeastern Avalon Peninsula where the store is located.

Called Kent Contractor Supply, the store, on Kelsey Drive, is the fourth store Kent has opened in Newfoundland since January, bringing the company's store count to 37. Kent, which is owned by the Irving family in New Brunswick, is a market leader in Atlantic Canada. With sales estimated at almost $500 million in 2011, it is the 15th largest home improvement group in the country.
back to top



______________________________________________________________________
TORBSA stays fresh with new board members
BOLTON, ON — TORBSA, the building materials buying group based here, recently elected its new board of directors, with some new additions that reflect the group's commitment to keeping the board – and the group – fresh and competitive.

At its annual general meeting, TORBSA elected Tom Murray of T-Murr Exteriors Inc. in Kingsville, ON, as president. He joins past president Len Hewson of Hewson Brothers Supply, Brantford, ON; vice president Dante DiGiovanni of Blair Building Materials Inc., Maple ON; and treasurer Blake Oldershaw of Oldershaw Builders Supply Co. in Chatham, ON. Two new members also sit on the board: vice president operations Greg Drouillard, Target Building Materials in Windsor, ON; and secretary Laurie Kuntz of Prestige Acoustics in Waterloo, ON.

According to Bob Holmes, general manager of TORBSA, the group replaces two board members every year, as a way to keep bringing in fresh ideas. "Taking those roles on really has an impact on the professional development of those individuals."

For example, Drouillard from Target Building Materials brings with him experience sitting on the boards and as chair of both the Specialty Tools & Fasteners Distributors Association (STAFDA) and the Lumber and Building Materials Association of Ontario (LBMAO).
______________________________________________________________________
Ace Hardware launches smaller "Express" format

OAK BROOK, IL — Ace Hardware is rolling out a small-store format called "Express," designed specifically for stores with 5,000 square feet or less. The company is targeting both current Ace retailers and other business owners seeking to integrate the Ace brand into their existing offerings.

"At this time, there are nearly 400 successful Ace Hardware retail locations operating within less than 5,000 square feet, and the consistent high performance of these stores proved we had an incredible opportunity to create a specialized, smaller-format Ace retail model," said Mike Berschauer, director, retail development, at Ace Hardware Corp. The Express program accommodates about 11,000 SKUs.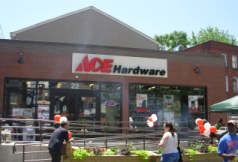 Looking for ways to expand into markets that won't support a full-sized store, the smaller format is suitable as a "store within a store" for existing grocery or paint stores, or as a smaller annex or branch store close to a hardware or building supply dealer's existing location.

Ace also sees it as viable in both rural and urban markets. The owner of a farm or ranch supply store could add an Express-format Ace Hardware to fulfill the home improvement needs of the area. Likewise, a retailer in a metropolitan area who opens an Express store could offer convenience on a small footprint in an otherwise high-rent neighborhood.

Ace is providing incentives of up to $150,000 to take the program, plus a variety of resources – including merchandise profile guides, planograms, customized fixtures, and incentive programs.

There are currently Express Ace Hardware locations in six states: Kansas, Massachusetts, New York, North Dakota, Tennessee, and Texas. 
______________________________________________________________________
Canadian Tire unveils Christmas product trends

    TORONTO — While the weather might have been hot and muggy, inside an old Victorian home in Toronto's Cabbagetown area, the mood was distinctly festive. Here, Canadian Tire showcased its products for Christmas, with the retailer's buyers walking observers through the house to see the various ornaments, craft ideas, and gift suggestions.

 Canadian Tire's Carolyn Tremblay started us off with a look at some of the decoration ideas, including a Canadian Tire first: Debbie Travis Ltd. Collectible ornaments. "The whole idea of collectability – it plays on the idea of being able to add pieces year over year," said Tremblay.

Affordability was another trend she highlighted. "Fifty percent of the items available from Canadian Tire will be under two dollars. But the value statement for our customers is really high."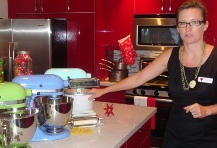 Ginny Hicks, the category business manager for small electrical appliances, told us to expect more colour in the kitchen. Case in point: the "iconic" KitchenAid mixer will be available in 26 colours come Christmas. CTR will also carry the Ninja brand of products exclusively in Canada ("as seen on TV" in the U.S.), including the Multi-Cooker, which does, well, more stuff than I had time to write down. Also, she advised us, single-cup coffee makers remain a hot item. "They are huge," she emphasized. For the kids there were individualized four-foot artificial Christmas trees, already lit and ready to go.

Michelle Pilon, category business manager for power and stationary tools, , told us about the relaunch of the Mastercraft brand, with new colours and more powerful lithium batteries. (More on the Mastercraft relaunch in an upcoming edition! —Michael)
_____________________________________________________________________
Former RONA evp now a bicycle shop owner

   

ST-BASILE LE GRAND, QC — Claude Bernier was one of the key figures of power in the RONA administration for 24 years – and considered one of CEO Robert Dutton's right-hand men. But, when he retired in June, his weighty resumé and marketing skills found a new home – a two-store chain of bicycle shops on Montreal's south shore.

After wielding power as executive vice president of marketing for Canada's leading home improvement company – and bearing the weight of responsibility that the role carried with it – Bernier is now pursuing one of his passions. An avid cyclist (a medical scare some years back really got him focused on his health, and the bike became his recreation of choice), he even got his boss on a bicycle (Dutton rides a Pinarello).

Now, Bernier has partnered with his daughter, Melissa Bernier, to take over Cycles Performance, with locations in St-Basile Le Grand and Chambly. "I am not the mechanic – I don't fix the bikes – but I do everything else," says Bernier, who reveals, when pressed by HARDLINES, that he rides an Orbea.

But, he adds enthusiastically, he now has lots more bikes to choose from.
_____________________________________________________________________
Classifieds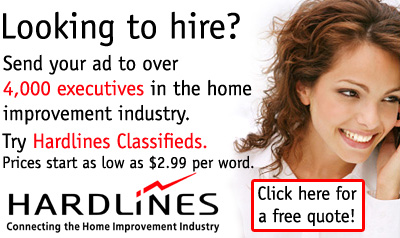 ______________________________________________________________________

Resumés
Marketing professional with over 10 years experience looking to secure a new full-time position.

view this

resumé

Fluently bilingual, highly motivated Business Development Professional with excellent strategic and operational capabilities.

view this

resumé

A Sales Professional with over twenty years of experience.view this

resumé

Experienced District Manager with a proven track record with several national chains. view this

resumé

A conscientious, highly motivated manager with a results-oriented track record in developing new business.

view this

resumé

An experienced merchandising executive possessing passion, vision, and a strategic approach to delivering bottom-line.

view this

resumé

Senior sales/marketing leader with experience in all classes of trade wishing new HARDLINES career. view this

resumé

Very Experienced Business Unit Manager, great passion for generating sales and building relastionships.view this

resumé

Worked through my career within the manfucaturer, wholesale and consumer goods industries. view this

resumé

Senior Sales Manager with vast experience in retail and wholesale sales growth in Canada. view this

resumé