July 30, 2012, Volume xviii, #31
"Work is the curse of the drinking classes."
—Oscar Wilde (Irish novelist, playwright, and poet, 1854-1900)
______________________________________________________________________

______________________________________________________________________
Summer Publishing Schedule:
HARDLINES will be published just once in August. There will be no issues Aug. 6, 20, or 27. However, the World Headquarters will remain open during this time as we update our research reports, work on the next issue of HHIQ, and prepare for the 17th Annual Hardlines Conference! —Michael McLarney, Editor
______________________________________________________________________
TORBSA members find strength in diversity
   BOLTON, ON — As the country's smallest buying group by volume, TORBSA is a "boutique" group that has found strength in the diversity of its members, who range from traditional dealers to heavy commercial suppliers and block and cement yards.



For example, Bernardi Building Supply in Weston, ON, recently did an extensive expansion of its front end, adding more retail, while Kelly Lake Building Supplies in Sudbury, ON, had its sales counter re-merchandised. Both stores used the Burlington, ON-based merchandising design firm BMF to upgrade their stores. Other, more commercially focused members, says Bob Holmes, general manager of TORBSA, may work from nothing more elaborate than an office with a phone, relying instead on their sales people on the road and their local contacts in their respective markets.

While each member may have their own way of going to market, they share the ability to buy better through their group affiliation. That strength goes beyond the group itself; TORBSA is also part of an umbrella organization, The Epic Alliance, which has Castle Building Centres as its other member. There's an advantage for both sides with this larger arrangement, says Holmes. "It lets us go back to the vendors with a national perspective, putting together programs that will benefit both parties."

Holmes says, "The pie is getting smaller," as business becomes more competitive and margins erode. And even though TORBSA has had organic growth, he notes that, throughout the industry, "Everybody is struggling a little more as they try and find margin."
back to top



______________________________________________________________________
Atlantic dealers face challenges, opportunities
MONCTON, NB — Dealers across Atlantic Canada enjoyed a strong start to the year, with healthy sales right up to the end of May. However, says Don  Sherwood, president of the Atlantic Building Supply Dealers Association, "a bit of a cooling occurred in June. But we continue to be optimistic for the year," he adds.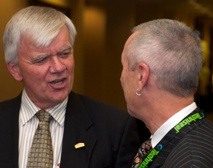 He admits, though, that the last half of 2011 was "very strong," and the rest of the year may not be quite strong enough to match that. Factors dampening his forecast include "federal government layoffs in P.E.I., and a lot of correcting in all the provinces here, as we see a reduction in provincial government employees. However, Newfoundland continues to be one of the country's hottest growth regions, thanks to development in the natural resources sector."

Another issue Down East is P.E.I.'s adoption of Harmonized Sales Tax (HST). "That province is coming on board to get a level playing field," says Sherwood. "ABSDA is doing a lot of work with the P.E.I. government. We're communicating more strongly to our constituents and their home builder and contractor customers to not oppose this."
______________________________________________________________________
Sears Home stores get "own identity"

 TORONTO — A new look for Sears stores is affecting its Sears Home banner, as well. While changes overall in the stores include wider aisles, less cluttered displays, and streamlined merchandise offerings, Sears is attempting to makes its specialty banner more distinctive.

The setup of the old Sears Home stores was basically in a box as part of a power centre, explains Vince Power, director, corporate communications for Sears Canada. He says the order came right from the top: "Calvin [McDonald, the new CEO of Sears Canada] said Sears Home needs its own identity." So a test Sears Home store was re-merchandized in a brand new location – a former Ikea store – making it, at 78,000 square feet, 30% bigger than a typical Sears Home outlet.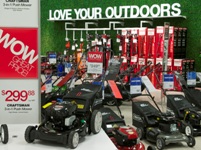 In the new store, says Power, departments have been turned into clear destination categories. Taking a page from Ikea, home furnishings and accessories are now featured in full room settings around the store.

"The nice thing about the store is that it's spacious," he adds. "We've kept it uncluttered."

Sears Home is getting special attention in other ways, as well. The banner now has its own flyers and ads, supported in-store with a merchandising plan worked out specially. "They're getting their own identity."
______________________________________________________________________
Square Deal trailer tours Ontario lumberyards

    BRAMPTON, ON — Specialty distributor Square Deal has come up with an innovative way to help building supply dealers connect with their customers – especially contractors. It has outfitted a "special event trailer" that is currently visiting lumber yards throughout Ontario.

The 20-foot trailer is decked out in Irwin Tools livery branding and stocked with Irwin products, which contractors can purchase through the participating dealer.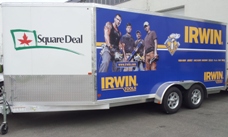 The first stop for the trailer was Washago TIM-BR MART, near Orillia, ON, in the heart of Central Ontario's cottage country. "We are always looking for innovative ways to build traffic," said Tom Denne, co-owner of the Washago store. "Square Deal's special event trailer is a great idea to help attract contractors to our yard. It's a bit like having a mini trade show brought right to the doors of our store."

Square Deal president Joss DeGroot said that he and his business partner Todd Schoular have had many requests from dealers for the trailer to visit their yard. "Our job is also to help our dealers create interest and traffic."

"We always appreciate having manufacturers' reps come visit us – and all the more when they go that extra mile," Denne added.
_____________________________________________________________________
UK's Kingfisher builds on sustainability policy

      LONDON — In March 2012, Kingfisher announced a new sustainability initiative called Net Positive.

Becoming "Net Positive" means that Kingfisher, which owns DIY chain B&Q and the commercial chain Screwfix, commits to put back more than it takes out as a business. It's about doing more good, not just less harm. Kingfisher believes Net Positive can be a powerful business driver and deliver significant returns, particularly by securing increasingly scarce resources on which the business depends.

Kingfisher's Net Positive strategy focuses on four priorities:
timber: to create more forest than it uses; energy: to make every home zero carbon or, where possible, a net energy producer; innovation: to ensure that every product is remade, recycled, reused or biodegradable; and communities: for every store and location to support local community groups and equip people with skills.

Kingfisher says it has been making progress on all these fronts. For example, 86% of reported timber products sold by volume are now from proven well-managed or recycled sources. And last year, its customers saved an estimated 2,513 million kWh of energy through the use of energy-efficient products and services.

Finally, Kingfisher is engaged in a wide range of community initiatives to help build local skills, from Brico Dépôt France providing DIY skills for unemployed people to B&Q China helping modernize school libraries.
_____________________________________________________________________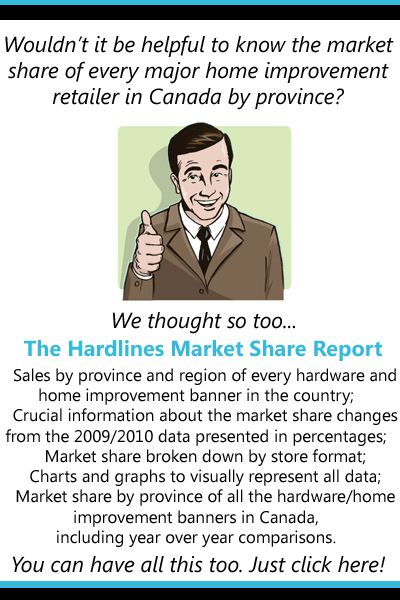 ______________________________________________________________________

Resumés
Professional with over 25 years of experience in Sales, Marketing, Merchandising and Administration

view this

resumé

Marketing professional with over 10 years experience looking to secure a new full-time position.

view this

resumé

A Sales Professional with over twenty years of experience.view this

resumé

Experienced District Manager with a proven track record with several national chains. view this

resumé

A conscientious, highly motivated manager with a results-oriented track record in developing new business.

view this

resumé

An experienced merchandising executive possessing passion, vision, and a strategic approach to delivering bottom-line.

view this

resumé

Senior sales/marketing leader with experience in all classes of trade wishing new HARDLINES career. view this

resumé

Very Experienced Business Unit Manager, great passion for generating sales and building relastionships.view this

resumé

Worked through my career within the manfucaturer, wholesale and consumer goods industries. view this

resumé

Senior Sales Manager with vast experience in retail and wholesale sales growth in Canada. view this

resumé