July 5, 2010, Volume xvi, #27
We don't receive wisdom, we must discover it for ourselves
after a journey that no one can take for us or spare us.
—Marcel Proust (French novelist and critic, 1871-1922)
Sexton Group expands indie mandate into Ontario
WINNIPEG — After a tough year, shared by many independents across the country, members of the LBM buying group, the Sexton Group, are reporting a big upswing in business in 2010.

According to Sexton Vice-President Steve Buckle, if purchases through the group are any indication, his members are generally very healthy. "The year's looking very, very positive, certainly relative to 2009. And it should be a little better than 2008, which was a record year for us."

Sexton's roots, and its greatest strength, remains in the West. So which province is showing the greatest gains? "From a rebound perspective, the Alberta market was way over 2009," Buckle says. "And both Manitoba and Saskatchewan remain healthy, while British Columbia has been very good for us."

Now, much like groups such as RONA and Home Hardware, Sexton is focusing its expansion efforts on Ontario, where it is under-represented. Canada's largest province also accounts for about one-third of Canada's retail home improvement industry (according to our amazing HARDLINES Retail Report, coming out later this month — Shameless Mike). "We plan to expand into the Ontario market pretty aggressively, where we've added some dealers there in just the past month," says Buckle.

"We think there's a place for us there, with dealers who want to operate very independently."

RONA begins refurbishing its Chester Dawe stores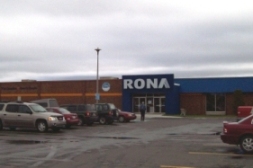 ST. JOHN'S, Nfld. — The grand reopening earlier this month of a former Chester Dawe store on O'Leary St. represents another part of RONA's ongoing expansion of its presence in Atlantic Canada.

The $4.8 million refurbishment of the Chester Dawe acquisition – which occurred in early 2006 when RONA bought up Chester Dawe's eight stores and truss plant – moves that chain more securely into the RONA fold, with new formats and signage that labels the stores simply "RONA," according to the company's new branding strategy.

"The other seven Chester Dawe stores are being slated for renovation, as well," says Daniel Richard, spokesperson for the company. "Gradually, all the stores will now be RONA, using RONA's marketing programs," he adds.

RONA has also tweaked another acquisition there: the Bishop's store in Bay Roberts gets a $2 million expansion, while the store about 30 minutes from St. John's has been closed.
back to top

Western dealers cautious about long-term prospects
WINNIPEG — The Western Retail Lumber Association has just completed a new survey of its members in the Prairie provinces. The results reveal that, despite the current buoyancy in the marketplace, dealers aren't completely confident about a turnaround longer term.

The survey asked several questions about the dealers' current business conditions and outlook. When asked about the state of the housing market, only 32% believed that market will increase through the rest of this year and in 2011. More than half expected it to remain the same; another 16% said they believe it will decrease.

The renovation market is expected to be more positive, however. More than half (54%) said they believe that residential renovations will increase through the end of 2011. Thirty-nine percent said that market will remain the same, while only 7% expected it to decrease.

The mood of the dealers' customers was perhaps most telling in its indication of how far we've actually pulled out of the economic downturn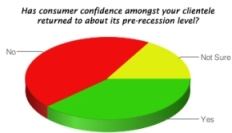 of 2009. When asked if they felt consumer confidence among their customers had returned to its pre-recession levels, only 38.2% said yes, while almost half – 45% – said no. Another 16.7% said they weren't sure whether their customers were as confident as before the recession.
Classifieds
Category Product Manager - Toronto
This well-established, successful Toronto-based Canadian company is thriving and looking to grow their retail hardware category share. This new position reports to the National Marketing Manager and involves leading the category strategy efforts, defining and launching new products and securing new product designs. You'll also be involved in sourcing (including offshore), pricing and competitive analysis, all of which are important parts of this role.
Ideally you've developed and promoted multi-sku consumer products and can demonstrate five years' plus business intelligence in both your creative and analytic abilities in new sku or line development. Familiarity with key customers such as Home Depot, Canadian Tire and Rona would be beneficial.  Your experience may be on the vendor or retail side. Post-education in marketing or business is strongly preferred.
Please respond to Wolf Gugler quoting PM-Toronto. You may also apply online on the" Opportunities" page at www.wolfgugler.com. Phone: 888-848-3006. SKYPE: hdhntr53
Resumés
A conscientious, highly motivated manager with a results-oriented track record in developing new business.

view this

resumé

A goal oriented sales director that has superior management skills, customer oriented, with in depth knowledge of the industry and the ability to achieve results.

view this

resumé

National Field Sales Manager with twelve plus years in power tools and hardware sales/merchandising.

view this

resumé

Business Manager with U.S. & Canadian experience with retail & industrial customers seeks a new opportunity.

view this

resumé

An experienced merchandising executive possessing passion, vision, and a strategic approach to delivering bottom-line.

view this

resumé

Results oriented sales professional with a strong record of achievement in strategic and tactical roles. view this

resumé

Senior sales/marketing leader with experience in all classes of trade wishing new HARDLINES career. view this

resumé

Very Experienced Business Unit Manager, great passion for generating sales and building relastionships.view this

resumé

Worked through my career within the manfucaturer, wholesale and consumer goods industries. view this

resumé

Senior Sales Manager with vast experience in retail and wholesale sales growth in Canada. view this

resumé
Connect with us!