July 9, 2012, Volume xviii, #28
"You will find, as you look back upon your life, that the moments when you have really lived are the moments when you have done things in the spirit of love." —Henry Drummond (Scottish evangelist and writer, 1851-1897)
______________________________________________________________________


______________________________________________________________________
Home Depot identifies growth categories
ATLANTA ― Talking recently to a group of investors and analysts, Craig Menear, evp merchandising for The Home Depot, identified product categories that are generating growth for the giant retailer.

At the top of the list were lighting and blinds, which will get marketed strongly both in-store and online, as these two platforms become the twin engines of Home Depot's execution. Menear admitted that the company had in fact lost market share in these categories in recent years, but he's banking on increased investment in better quality products, coupled with broader assortments available online, to drive sales. (Thank heavens: those Home Depot track lights at the World HQ are held together with masking tape and binder wire! ―Editor)

Other areas with great potential include: LED technology, which is driving sales in lighting; water saving advances in faucets; and catering to an aging population, in a category he called independent living, with everything from safety bars and shower stools to home security and personal safety.

Power tools is another important category. "Home Depot owns the market share in this overall and will work to defend this position," Menear said. Lithium power technology is adding pizazz to this sector, he noted.
back to top



______________________________________________________________________
Satellite store is part of RONA's new strategy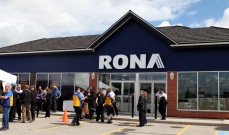 CALGARY — The new RONA satellite store in Calgary's Douglasdale neighbourhood is the first of 10 satellite stores to roll out over the next 18 months as part of RONA's "New Realities, New Solutions" strategic plan. Weighing in at just 5,400 square feet of retail space and carrying only 7,500 SKUs, the store will rely on the nearby McLeod Trail RONA big box for shipping of larger orders within 24-hours, and access online to 30,000 more products from www.rona.ca.

The small store is part of a larger rollout of RONA's proximity store concept being implemented over the coming months and years, as the company downsizes or closes up to 24 of its big boxes across the country. These stores have been designed, says RONA, to better suit customers' local needs.
______________________________________________________________________
Halifax agency positions TIM-BR MART as go-to place
  HALIFAX — Working from the premise that people love the satisfaction of doing their own projects but often need a little help, branding agency Revolve developed a brand positioning campaign for TIM-BR MARTS Ltd.



"You Can Do Anything" became the catch phrase and new anchor for the TIM-BR MART retail brand, representing a network of more than 740 stores across Canada. The brand platform was launched in early May with television spots where DIY projects come to life in imaginative animations.

Music plays a big role in the campaign, using a theme song by indie band the Minnutes, as the anthem. The "You Can Do Anything" brand extends to radio, in-store, a new consumer website, and various social media initiatives. (Check out the TIM-BR MART TV ad here .)
______________________________________________________________________
Canada well represented at European conference

  PARIS ― This city recently played host to a major conference for the European home improvement industry. The event, co-hosted by EDRA, the European DIY Retail Association, and fediyma, the federation of DIY manufacturers in Europe, brought together more than 250 delegates from across the Euro Zone to learn about the latest in DIY and home improvement trends.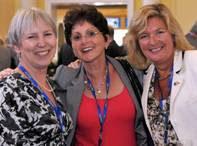 Canada had two delegates – both of them women from our industry (from l-r):  Beverly Allen, illustrious publisher of the HARDLINES empire of newsletters, trade magazines, seminars, and conferences (wow, our most unabashedly self-promoting plug in a long time ―Editor); stands with Caroline Nave, business development manager, Israel Export Institute; and fellow Canuck Jayne Seagrave, who is marketing director for Vancouver Tool Corp. and president of the Worldwide DIY Council.
back to top



______________________________________________________________________
Walmart CEO: invest in your people

TORONTO ― Shelley Broader is the president and CEO of Walmart Canada. She oversees 333 stores with 85,000 employees who serve 1.1 million customers daily, supplied by more than 5,000 vendors and service providers.

Despite the sheer size of the company, Broader insists that the most important thing one can do in business is be a good leader. "You've got to say, 'I want to be an incredible employer for my associates.'"

Talking recently to delegates at the annual convention of the Retail Conference of Canada, she urged them to make their own commitment to cultivating employees. "Building talent from within is one of the most rewarding jobs in retail," she said emphatically.

Given that the retail sector has trouble attracting and keeping good people, Broader turned around the old notion that new hires must prove themselves to management. "Nowadays, it's about whether you're good enough to work for, not whether they are good enough for you."
_____________________________________________________________________
Classifieds



Home Hardware Stores Limited – Beauti-Tone Paint
Paint Consultant – British Columbia and Yukon
JOB DESCRIPTION:

Working with the Beauti-Tone Paint division to develop Home Hardware Dealer accounts to maximize their Paint products potential. The Candidate must possess skills in:
working with all levels of Store personnel
assist with merchandising and Product selection at the Store
update and implement new Products and Marketing initiatives at the stores
training both at Store level and present to larger groups
help to coordinate group advertising and special Regional events
the job does require the successful candidate to live in British Columbia. extensive travel is required with variable hours..
QUALIFICATIONS:
working with all levels of Store personnel
Excellent people and communication skills, written and verbal
Industry knowledge
Good presentation and training skills.
Knowledge of Home Hardware systems and services an asset
INTERESTED APPLICANTS, PLEASE EMAIL YOUR RESUME TO: hr@homehardware.ca or fax to (519) 449 5789; Attention HR.

Deadline: Friday, July 13, 2012
______________________________________________________________________

Master Lock is currently seeking a Retail Accounts Executive to fulfill the following responsibilities:

The Retail Accounts Executive will be responsible for sales to strategic Retail National Accounts. Planning, developing, and full category management including implementation of ongoing specialized sales/marketing programs for these accounts and market segments, while also supporting the development and execution of corporate sales/marketing programs for the Retail business. Efforts will be directed toward the goal of developing collaborative customer relationships, account strategies, and business expansion.
Qualifications:
A strong understanding of the retail market, along with at least 3 years of successful sales and marketing experience with large retail national accounts, preferably with Canadian Home Center channels.
Experience should include the development and implementation of merchandising programs with customers in the Canadian Home Center class of trade.
Education equivalent to college diploma or University degree required — prefer sales, marketing or business administration.
Submit Cover Letter, Resume and Salary Expectations to: Teresa Medeiros; tmedeiro@mlock.com
______________________________________________________________________

Resumés
Marketing professional with over 10 years experience looking to secure a new full-time position.

view this

resumé

Fluently bilingual, highly motivated Business Development Professional with excellent strategic and operational capabilities.

view this

resumé

A Sales Professional with over twenty years of experience.view this

resumé

Experienced District Manager with a proven track record with several national chains. view this

resumé

A conscientious, highly motivated manager with a results-oriented track record in developing new business.

view this

resumé

An experienced merchandising executive possessing passion, vision, and a strategic approach to delivering bottom-line.

view this

resumé

Senior sales/marketing leader with experience in all classes of trade wishing new HARDLINES career. view this

resumé

Very Experienced Business Unit Manager, great passion for generating sales and building relastionships.view this

resumé

Worked through my career within the manfucaturer, wholesale and consumer goods industries. view this

resumé

Senior Sales Manager with vast experience in retail and wholesale sales growth in Canada. view this

resumé