In This Issue:
"It's a recession when your neighbour loses his job; it's a depression when you lose your own." — Harry S. Truman (33rd President of the United States, 1945–1953)
Housing starts increase in June
OTTAWA — Canada's rate of new housing starts increased by a healthy 8% seasonally adjusted last month. Seasonally adjusted starts jumped to 140,700 units in June from 130,300 units in May, according to Canada Mortgage and Housing Corporation.Although they are still down from a year ago (actual starts in June 2008 were 20,809 vs. 13,743 last month, a drop of 33.1%), the latest increase represents an encouraging sign that the current recession may be coming to an end. The seasonally adjusted annual rate of urban starts increased 9.5% to 120,100 units in June. Urban multiple starts increased 11.3% to 67,000 units, while urban single starts also moved up by 7.3% to 53,100 units in June. "The increase in housing starts in June is broadly based, encompassing both the singles and multiples segments," says Bob Dugan, chief economist at CMHC. He notes that the latest increase includes a rise in housing starts in Western Canada, where declines had been most pronounced in recent months. Urban starts increased 59.4% in the Prairies, 25% in British Columbia, and 3.1% in Ontario. However, they fell in Quebec by 6.3% and by 3.9% in Atlantic Canada. Despite the national rise, housing starts remain low compared with last year. Actual urban starts in Ontario, for example, are still almost half of what they were in June 2008. In British Columbia, actual urban starts are down a whopping 59.1%, and by more than 46% in Ontario. Nationally, actual urban starts were down by 33.1% over June 2008. CMHC forecasts that housing starts will improve throughout 2009 — and over the next several years — becoming gradually realigned to demographic demand, which CMHC pegs at about 175,000 units per year.

Top.
CanWel announces new show concept and locations
MONTREAL — CanWel, Hardware Division has unveiled plans for a new buying show concept and new supplier partnership. In an exclusive web conference with Hardlines, CanWel director Alain Richard explained that two shows will be mounted this fall: in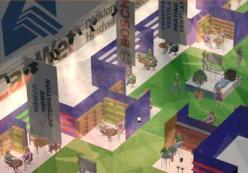 Calgary Nov. 7-8, and Quebec City Nov. 21-22. The new show concept, labelled " CanWel Zone", will be smaller than the traditional show held in Montreal in past years. However, it will be organized to guide every CanWel customer into every exhibitor's booth, so that all suppliers who take part in this new show can get adequate exposure. About 100 vendors in 130 booths will be present.According to Richard, this change was essential. "Taking into account the economic situation, the diversity of our clientele, and the specific needs of different Canadian markets, dividing the event in two was the best way to bring our customers together and give our suppliers access to a wider clientele." The new buying show concept is based on a sports theme and will feature a central arena with stands, different areas representing the various product categories, and two restaurants/bars to encourage people to socialize. The show won't host a major gala dinner. "We don't want all the bells and whistles," says Richard. Instead, the focus of the show's investment is on providing the best deals for customers. "We are looking for a 'wow' factor — new product innovations and real show specials." CanWel also used the announcement of the changes to its show to introduce a new partnership program for its vendors. The thrust of the new program will be oriented toward concrete business opportunities between its vendors and customers.
Canadians not as green as they'd like to think
TORONTO — Canadians are not practicing what they preach when it comes to their environmental commitments according to new research commissioned by Cossette Communication and Summerhill. The study, which measured the gap between how "green" Canadians think they are vs. what they actually do, shows a significant "green gap" between perception and reality. According to the study, that gap can run as high as 40% between self perception and the real actions needed to improve the environment."Canadians genuinely care about living greener, but they are not making the fundamental changes needed to act on their good intentions," says Nick Cowling, vice-president of Optimum Public Relations, a division of Cossette. "The green gap we identified represents a significant opportunity for marketers who provide consumers with the programs, tools, products and partnerships they need to satisfy their desire to be more environmentally responsible at work, home and play." The survey was a convergent project developed by three Cossette business divisions — Optimum PR, Nucleus strategic planning and Blitz CRM — in partnership with Summerhill's environmental consultants. Cowling, who was formerly responsible for environmental marketing and communications at Home Depot Canada, does see some positives in the results, however. "The good news is that Canadians want to act and will spend the money to do so, but corporations need to make the message clear, make the action easy and communicate the benefit to the customer." Highlights of the study include:
The largest Green Gap is 40% related to transportation, due to low adoption of alternatives such as carbon offsets, public transport and hybrid vehicles;
Young adults have the most realistic view of their environmental practices. They gave themselves lower 'self-perception' scores, and had the smallest Green Gap of any age group;
Better educated, higher income Canadians are doing more to take meaningful actions on the environment;
Home energy conservation — setting thermostats lower, changing bulbs and buying energy-efficient appliances — remains popular, but few have taken larger, more costly steps such as installing alternative energy based on wind or solar;
Women are more likely to take environmental considerations into account with their purchasing decisions, but an environmental certification is not always a tie breaker in favour of greener products.
Quebecers are most likely to be positively influenced by green certification of packaged goods when making purchase decisions.
CSA unveils new corporate identity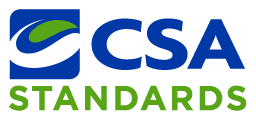 TORONTO — Canadian Standards Association, the standards and codes developer, has a new brand. Now called, "CSA Standards," the corporate identity includes a new logo and website."Our new logo visually represents the evolution that is taking place within CSA Standards as we continue to transition from a traditional standards developer to an energetic standards-based solutions provider for North America and the global marketplace," says Suzanne Kiraly, president, CSA Standards. "We have created a new identity that embraces our core values of being caring, respectful, credible, professional and trustworthy." A major organization in North America for developing standards, CSA Standards is now growing beyond its traditional standards development role and increasing its global presence with standards-based benchmarks that include training products, application tools and advisory services. The familiar CSA mark that appears on products worldwide will not change. Nor is the new corporate identity for CSA Standards applicable to CSA Group or its other divisions, CSA International and OnSpeX. However, these divisions will undergo a similar corporate brand review in the coming months.
REGIONAL SALES MANAGER Point-of-sale and ERP systems for retailers and distributors

With a well-established client base throughout Canada, OGC is our industry's leading developer and installer of computer systems for home improvement retailers and their vendors. A progressive company with more than three decades of experience in the field, we provide state-of-the-art management information (ERP) and point-of-sale solutions.

We are currently searching for a dynamic, self-starting Regional Sales Manager to expand our client base and service our existing customers in Ontario.

The ideal candidate will
Report to our Montreal head office out of their own location close to the Greater Toronto Area
Possess a good working knowledge of the hardware and building supply industries, allied with excellent verbal and written communication skills
Have a demonstrated track record of being able to build excellent relationships with new clients
Be creative, autonomous and diplomatic; be open to new ideas and possess good business instincts
Be willing to travel extensively and work flexible hours as required for sales and installation processes
Possess 5-10 years of experience in sales of information systems and/or sales of products and services to the Canadian home improvement retail industries.
This is a permanent, management-track position that offers a highly-competitive compensation package consisting of a base salary and commissions.

Interested candidates should send their CV and a letter outlining why they feel they are a good candidate for this post, to the attention of our Human Resources Manager, at ogc@ogcinc.ca (or by fax, 1-866-900-2112) by the deadline of July 31st. Please quote Job Ref. 2009M03 "Regional Sales Manager". OGC Inc., 7575 Transcanadienne, Suite 403, Montreal, Quebec, H4T 1V6 www.ogcinc.ca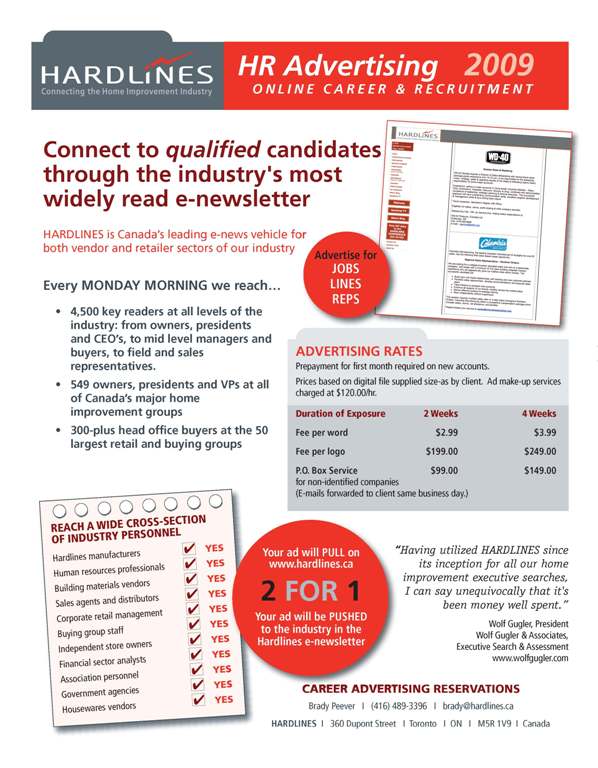 To place an ad in our classified section click here or call 416-489-3396
Leadership, sales and communication skills, seeking a challenging and results-oriented environment.
A creative, strategic thinking and results oriented Sales Professional.
Dynamic business development specialist seeking managment opportunity
Well-spoken, energetic, confident, and personable, the type of person on whom your customers and employees will rely.
A seasoned veteran with a wealth of experience, on the front lines of Retailing. Personable, energetic and dedicated to providing Exceptional Customer Service.
A sales leader experienced in coaching, managing and developing sales teams.
Know someone who is between jobs? We will send a complimentary subscription to anyone who is seeking a job. We also offer a free Online Resumé Service. Ask them to call or email us here at the World Headquarters. (And why not tell your HR department about this service!) Email Brady for more info. —Beverly
Sell your company - or buy one - with HARDLINES Classifieds! Do your executive search, find new lines or get new reps in the HARDLINES Marketplace. Only $2.75 per word for three weeks in the classifieds. To place your ad, call Brady Peever at 416-489-3396 or email: brady@hardlines.ca
To ensure you receive your HARDLINES newsletter each week, please add bev@HARDLINES.ca to your address book.

Did your email system make this newsletter unreadable? You can read it online instead. call us to find out how.

Publishing Details: HARDLINES is published weekly (except monthly in December and August) by HARDLINES Inc. 360 Dupont Street Toronto, Ontario, Canada M5R 1V 9 © 2009 by HARDLINES Inc. HARDLINES™ the electronic newsletter www.HARDLINES.ca Phone: 416.489.3396; Fax: 416.489.6154 Michael McLarney - Editor & President - mike@HARDLINES.ca Beverly Allen, Publisher - bev@HARDLINES.ca Brady Peever - Client Services Manager - brady@HARDLINES.ca Chiaki Nemoto - Accounting - chiaki@HARDLINES.ca The HARDLINES "Fair Play" Policy:Reproduction in whole or in part is very uncool and strictly forbidden and really and truly against the law. So please, play fair! Call for information on multiple subscriptions or a site license for your company. We do want as many people as possible to read HARDLINES each week - but let us handle your internal routing from this end! Subscription:$299 (Canadian subscribers add $14.86 GST = $315.21 per year/ GST #13987 0398 RT).Secondary subscriptions at the same office are only $48.75 (Canadian subscribers add $2.44 GST = $51.19).Ask about our reduced rate for branch offices.You can pay online by VISA/MC/AMEX at our secure website or send us money. Please make cheque payable to HARDLINES.
NEWS IN BRIEF
BOUCHERVILLE, Que. — RONA Inc., Canada's largest home improvement retailer, has closed the sale of an additional 1,744,500 common shares at a price of  $12.90 per share, following the exercise by the offering's underwriters of their over-allotment option in connection with the public offering announced May 12. The offering had resulted in a total of 11,630,000 shares worth $150,027,000 being issued, and with the exercise of the over-allotment option, gross proceeds to RONA from the offering total $172,531,050.TORONTO — CSA Group has acquired SIRA Test and Certification Limited, a UK company that specializes in the testing of safety equipment used in potentially explosive atmospheres, and three affiliated companies, as part of a cash deal worth £8 million. SIRA will operate as a business division of CSA International. TORONTO — CIL has developed a new paint technology that makes flat finishes totally washable, says the company. Called Smart3 Interior Wash & Wear, the new paint line is self-priming and, says the company, even low-sheen finishes can be washed without marring the surface. The acrylic paint uses "Ceramic Microsphere and StainBlock technologies" and retails for $33-$45 per gallon. QUEBEC CITY — Roland Boulanger & Co. Ltd., a manufacturer and distributor of wood mouldings and components, has won the contract to handle the marketing and logistics of maibec sidings in Quebec and the Ottawa Valley region. Boulanger had already been representing maibec to a number of Quebec retailers. Now, it will cover the entire province, as well as the Ottawa Valley market, servicing independent lumber yards, regional building materials chains and big-box stores. NATIONAL REPORT — More and more small towns across North America are being left with empty big-box stores. These so-called "ghostboxes," which can cost more than $10 million to a prospective new owner, are often eyesores that can sit empty in a community for many years before being resold or re-purposed. For example, a former Kmart in Minnesota was turned into a Spam Museum. Others are eventually turned into hospitals, schools or community centres. MONTMAGNY, Que. — Mercier Wood Flooring Inc. has forged a partnership with Radio Distributing Co. for the distribution of its products in Michigan and Northwest Ohio. In business since the early 1900s, Radio Distributing will service specialty retailers with Mercier's hardwood flooring products. OAK BROOK, Ill. — A marketing campaign that Ace Hardware Corp. conducted over the Memorial Day weekend in late May via different wireless telephone services apparently yielded considerable interest among users who received those messages. Marketing Today reports on its Web site that Mobile Posse, Ace's ad provider, sent its two ads through carriers such as Verizon Wireless, Alltel and Cricket Communication. CHICAGO — True Value Company has launched an ad campaign that features a new word: "hardwarian." The co-op retailer is positioning its members' stores as the "masters of all things hardwarian" in the light-hearted campaign, which was devised by the Chicago office of Marc USA, according to the New York Times. The campaign will represent about $15 million in ad spending in 2009 and be featured in television and radio ads, print and outdoor, and True Value's own Web site: www.truevalue.com. MONTREAL, Quebec — Richelieu, the woodworking industry supplier, has expanded its network in the U.S. by opening two new showrooms and distribution centers in Louisville, Ky., and Cincinnati, Ohio.
CORRECTION: In a story about Le Groupe BMR last week, we incorrectly stated the number of stores within that buying group. BMR currently has 179 stores.
PEOPLE ON THE MOVE
At its latest annual general meeting, TORBSA Group, the Bolton, Ont.-based buying group, elected its new board of directors. Dante DiGiovanni of Blair Building Materials Inc., Maple, Ont., has been newly elected as president of TORBSA Limited for the year 2009. Doug Portiss of Sarnia Drywall Supply Ltd. in Sarnia, Ont., is past president; Claude Morin of Morin Bros. Building Supplies Inc. in Ottawa is vice-president; Michael Bernardi of Bernardi Building Supply Ltd. in Weston, Ont., has been named secretary; Jim Holmes of Builders' Supplies Limited in Mississauga, Ont., is vice-president operations; and Blake Oldershaw of Oldershaw Building Supply Co. Ltd. in Chatham, Ont., is treasurer.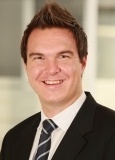 The Canadian German Chamber has appointed Sascha Stuckmann director of the "Business Development Canada" department. The Business Development Canada department provides information, advice and support for Canadian and German companies who want to start doing business with the respective other country. Stuckmann, who has worked at the Canadian German Chamber since 2007, also works closely with our very own Beverly Allen to develop inward missions for foreign suppliers. (416-598-7083) At Wolseley plc, the wholesale distributor of plumbing and heating products, Chip Hornsby has stepped down as group chief executive. He has spent more than 31 years in the construction materials distribution industry, joining the Wolseley Group through its acquisition of Ferguson in 1982 … He is being replaced by Ian Meakins. Meakins, 52, was most recently chief executive of Travelex Holdings Ltd, an international foreign exchange and payments business. He was previously CEO of Alliance UniChem plc until its merger with Boots in 2006. To place a listing in our "People on the Move" section, please send me your information, including the person's name, title and contact email or phone number, if desired, to mike@hardlines.ca. We reserve the right to edit items for length. —Michael
ECONOMIC INDICATORS
The value of building permits in May was up 14.8% from April, exceeding the $5 billion mark for the first time since October 2008. The gains in construction intentions came from both residential and non-residential components. Provincially, the main contributing factors were increases in multi-family dwelling permits in Ontario and institutional permits in Alberta and Ontario. In the residential sector, the value of permits increased for third consecutive month, rising 14.4% to $2.6 billion. Ontario accounted for most of the increase. Permits for multi-family dwellings rose 40.6% from April, with all provinces except Nova Scotia posting increases. Single-family permits rose 1.4% to $1.6 billion.
Hardlines Products
Hardlines Quarterly Report
Hardlines Retail Report
Hardlines Hot Product Showcase
Hardlines TV
Free daily news updates
Did you know you can have this newsletter sent to someone else in your office for less than a dollar an issue!