In This Issue
"I'm like everybody else, I watch things on TV." — Lou Reed (American musician, 1942- )
TSC opens prototype "green" store
LONDON, ON — TSC Stores, the farm and hardware chain, has added two more stores, one outside of its home province, and the other its flagship for a renewable energy facility. Both are indicative of the aggressive expansion track this farm and hardware chain is on.One store, in Winkler, MB, is the second in that province following the opening of a first outlet, in Brandon back in December 2007. While TSC has become a common name among smaller communities in Ontario, the move outside the province has turned out to be a gamble that's paid off. "The store opened to an unbelievable market acceptance and very strong sales over that weekend," says Greg Hicks, COO of TSC. The second store to open – and the 40th in the chain – is in a former RONA location in Collingwood, ON, on the southwestern shores of Georgian Bay. "It was our first-ever retrofit," says Hicks, "because we like to build them from the ground up." This one, although smaller than usual, manages to incorporate most of the features of a typical TSC store, but with an important twist.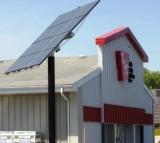 "It's the test for our renewable energy strategy. We have a 12-solar panel grid, the first of its kind in Collingwood, to provide power for the store." Hicks says the 2.4-kilowatt system actually tilts to follow the sun, for maximum efficiency. The store also uses turbines to harness wind power. Inside the store, a showroom dedicated to sustainable energy features a range of products. But, because of TSC's rural, farm-based market, the products are tailored for large-scale projects. "Unlike urban customers, there's more room, and more opportunity for long-term payback among our farm customers," says Scott Bennett, director, business development at TSC. A former category manager at Canadian Tire, he's been spearheading the company's sustainability program for the past eight months. "For projects of the size we are selling, you need a site assessment," he says. TSC has partnered with Solara, a renewable energy company that specializes in assessments and installations. Three other stores – in Orangeville, Owen Sound, and Alliston – are currently being retrofitted to the same sustainability standards.

Top.
Hardlines Conference will focus on successful retailing
WORLD HQ — What are the success secrets of North America's top retailers? The home improvement industry will gather to find out at the 13th Annual HARDLINES Conference, Oct. 23-24, 2008.There, the industry's top executives will learn how TSC Stores added seven stores and increased sales by 40% in one year. They'll find out how UFA Co-operative has built its farm and hardware business through innovation, new store formats and an acquisition. Vendors and retailers alike will gather to hear how Groupe BMR has reinvented itself from an LBM buying group to a full-service support entity for both hardware and building materials retailers.

Ray Civello, Founder and president of the Civello Salon Spa Group and Collega International, Distributor of Aveda Products, will describe how Aveda grew to be one of the most respected brands in North America, while maintaining a leadership role as a model for sustainable business practices.

But case studies from top retailers will be just part the next HARDLINES Conference. Analysis and understanding of the trends driving success – or impeding it – will be central to the Conference experience. Dr. Kyle Murray,

Director of the School of Retailing and an Associate Professor of Marketing in the School of Business at the University of Alberta

, will join the Conference this year. His research centres around the mind of the consumer, and what motivates them to spend the way that they do.

Anthony Stokan, retail consultant with Anthony Russell & Associates, will once again join the Conference to share his observations of the best – and worst – retailing he has encountered during his travels around the world. The 2008 HARDLINES Conference will feature today's leading retail minds. Speakers confirmed so far are: Greg Hicks, CFO of TSC Stores, London, Ontario; Chuck Cote, vice-president, UFA; Ray Griffith, president and CEO of Ace Hardware Corp.; Yves Gagnon, president and CEO of Groupe BMR; Ian Gray, president and CEO of LBMX; and Anthony Stokan, principal, Anthony Russell & Associates. For more info on this year's HARDLINES Conference, Oct. 23-24, 2008, call us at 416-489-3396 or click here.
Can-Save's kitchen manufacturing catches on with dealers
BARRIE , ON — Can-Save, the specialty building materials distributor, reports positive response by independent dealers to its new Cabinetsmith kitchen fabrication program. The program has been catching on thanks to a combination of solid construction delivered on time – and intact.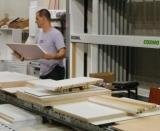 Because of their unique, one-off nature, getting a kitchen on time is critical in both new construction and renovation jobs. The Cabinetsmith program features 15 quick-ship door styles that are shipped to dealers within two weeks of an order confirmation, cutting the usual wait time by as much as one-third. As a result, says Dan Clements, vice-president marketing at Can-Save, close to 180 dealers have invested in the program to date. The program has recently been expanded with more than 20 new cabinet configurations, including cabinets for nine-foot high ceilings. Vanities were recently added to the line as well. (Find Cabinetsmith at www.cabinetsmith.ca.)
CGC challenges contractors to test their skills
MISSISSAUGA , ON — CGC Inc., the maker of gypsum wallboard and related products, ceiling tile and grid, is sponsoring a "Beat the Pro Tour" for contractors in Ontario and Western Canada this summer. The program is being run through CGC's gypsum supply dealer customers from July to October.

The Beat the Pro tour pits the pros, one-on-one, in contests at various GSD yards to see who can set the fastest time for a boarding or taping challenge. Professional contractors up for the challenge will compete to set the best time in categories like fastest boarder and fastest taper. Prizes are then awarded from the program's co-sponsor, DeWalt. The tour was launched at the London, ON Western Fair Sports Complex, and will stop at 60 locations across Canada. CGC expects participation from more than 2,000 professional contractors.
Home Depot has its share of "late-night news" dramas
ATLANTA — Events at several of Home Depot's stores recently might be better suited for the six o'clock news than the business pages.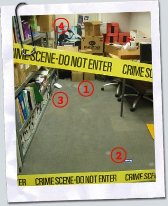 In the past few weeks alone, a passing bystander discovered an un-detonated pipe bomb in the parking lot of a former Home Depot in Newbury Park, CA. In and around Aurora, IL, thieves have been stealing construction equipment and materials from trucks parked at local Home Depot and Lowe's stores. And a 51-year-old woman named Mary Stromberg, who had been shopping at Home Depot's store in Richfield, MN, only blocks from her house, suffered a seizure in the store's parking lot and subsequently died after being brought to a nearby hospital, according to the Minneapolis Star-Tribune. The home-improvement giant has received unwanted publicity beyond the police blotter, too. In Waterford Township, MI, a former store supervisor is suing the retailer, under the Whistleblower Protection Act. The 36-year-old Michael Boyer claims the company fired him because he called the police about a burglar instead of confronting or physically restraining the alleged thief himself, according to a report by the Detroit News.
In tough times, brand loyalty matters
STEVENS , PA — Luxury marketers today face an increasingly resistant consumer, one who is less likely to splurge and is increasingly immune to advertising that's focused on image and prestige. "The fact is today's affluent consumer is hesitant to give a new brand a chance," says Pam Danziger, president of Unity Marketing and author of the new book, Shopping: Why We Love It and How Retailers Can Create the Ultimate Customer Experience."It is in tough times like these where marketers are rewarded for their investment in

brand loyalty programs. A brand loyal customer is one who buys your brand more frequently and spends more when they do," says Danziger. But, she adds, only the best constructed and most strategic loyalty programs are capable of encouraging affluent consumers to come back to your brand time and again. "Over three-quarters of all luxury consumers are members of at least one loyalty program, so these programs have a powerful appeal to 'affluents'. What luxury brands and retailers need to learn is the key attributes of their brand as viewed by their customers, so that they can design their loyalty program to appeal to their unique customer base," she says. Unity Marketing has released a new comprehensive report on brand loyalty called A Trend Report on Brand Loyalty Programs for Luxury Marketers. It offers intelligence about luxury consumers who join luxury programs and how such programs impact their brand choices and spending behaviour. It also includes an analysis of the best practices of the most successful loyalty programs. The report is available for $295. Click here for more info, or contact Pam Danziger at 717-336-1600; pam@unitymarketingonline.com .
SALES AGENT NORTHERN ONTARIO

Colonial Elegance is looking for a Sales Agent for Northern Ontario. The ideal candidate will sell and promote all of Colonial Elegance's products to building supply dealers across Northern Ontario. The territory is already established and has great earning potential. The position includes selling and servicing existing accounts prospecting and adding new clients within the building supply industry. The agent will report to the Sales Director for Ontario. Qualifications
Strong communication skills both written and verbal
Working knowledge of Microsoft Office ie Excel Word Power Point Outlook
Knowledge of Territory and clients
3-5 years of experience working as a sales agent at the dealer level
Proven Sales record
Ability to work little Supervision
Vehicle required
Compensation: Commission based position Please forward resume to Colonial Elegance Inc C/O Brant Danard Regional Sales Director 3800 Du Tricententaire Blvd Montreal QC HIB 5T8 Fax 514 640 1744 Email : bdanard@colonialelegance.com

Top ______________________________________________________________________

HOME IMPROVEMENT BUYER REQUIRED!

DirectBuy, a successful buying group with over 150 locations in North America, requires an intermediate to senior buyer for its Home Improvement division. Responsible for the fastest growing category within the company, you are a seasoned professional focused on aggressively growing this portfolio with unlimited boundaries! Your negotiating skills and professionalism are well respected by your peers. Strong vendor relationships with analytical and strategic planning help you execute your business plan. Your knowledge and supplier base will be a natural spring board for you to take on this exciting opportunity. Your experience should include but not limited to anyone of the following categories from kitchen cabinetry, windows or doors. This full-time position is based in the Canadian head office (Toronto) and offers a very competitive salary along with benefits. For a confidential interview, please email your resume to uccgarry@rogers.com

Top ______________________________________________________________________

MASCO CANADA LIMITED, is one of Canada's largest distributors, manufacturers, and marketers of residential and commercial plumbing products with facilities in London, St. Thomas, Brantford, and Mississauga. Our brands include Delta, Waltec, Brasscraft, and Master Plumber to mention a few. Masco Canada Limited is the Canadian plumbing division of Masco Corporation, one of the world's largest manufacturers of brand name consumer products for the home and family. We have the following immediate opening:

MASCO CANADA – RETAIL SALES DIV., MISSISSAUGA, ONTARIO RETAIL ACCOUNT MANAGER

General Description: Reporting to the Director of Sales, Home Centre Channel, Canada Primary Responsibilities:
Main MCPG Contact with several large retail customers
Sales plan development for all product lines (Budget).
Achieve account sales targets.
Promotional planning and new product listings.
Daily management of product lines and SKU maintenance.
Implementation and execution of strategic plans.
Agency co-ordination on service criteria with assigned customer base.
Product forecasting.
Monitor and analysis of POS results by account.
Plan-o-gram development and implementation.
Support Director of Sales, Home Centre Channel, on special projects as required.
Secondary Account Responsibilities:
Competitive and market analysis.
Monthly reporting on account activity.
Planning and attending customer trade shows
Cross departmental business development.
Project Teams or Special projects:
New store setup captain on assigned customer base.
Market study on new opportunities.
Develop and implement new sales opportunities within the assigned customer base.
The successful candidate will have extensive product knowledge and customer relation skills gathered over 3 to 5 years of National or Regional account experience within the Home Improvement sector, along with a post secondary education are required.

Excellent communication skills are required. Advanced level Microsoft Office skills (Word, Excel, PowerPoint)

Bilingual would be a major asset

If interested, please forward your resume to:recruiting@mascocanada.com or FAX 519-659-1531

______________________________________________________________________
TIM-BR MART Northeastern Ontario Dealer Development Manager

TIM-BR MART has an immediate opportunity for a Dealer Development Manager to serve the northeast region of Ontario. This position leverages a strong combination of retail, communication and collaboration skills. From a broad perspective, the role is to serve as the conduit between independent retail Dealers and TIM-BR MART.

Specifically, responsibilities include working with independent retail Dealers to help them strengthen their bottom line and benefit from various programs and services available through TIM-BR MART. An understanding of the independent retailers' business model, the ability to lead and educate Dealers and their staff, and collaborate with peers across the country to share best practices are imperative. The landscape of the building materials industry is constantly evolving. The consumer is more informed, the competition is more sophisticated, and the independent retailer needs constant innovation and relevance to stay competitive. Understanding how retailers, contractors and homeowners think and make decisions and an appetite to stay on top of trends and the competitive landscape are vital to this role. Travel and the ability to both use and teach technology tools are necessary. TIM-BR MART is one of Canada's largest co-operative building material buying groups. Owned by its members, which represent over 650 locations, $2 billion in purchases and $3.6 billion in retail sales, TIM-BR MART is the buying group of choice for independent retailers, commercial dealers and manufacturers. We do this by combining volume to purchase at the lowest cost, understanding the needs of our Dealers, and providing a menu of value-added services.

Email resume in confidence to:

careers@timbrmart.ca

______________________________________________________________________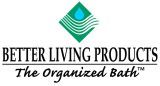 Better Living Products is a dynamic, successful organization that continues to grow internationally and is looking to expand our sales team. Located in Woodbridge, Ontario Better Living Products is an international manufacturer and distributor of bath & shower organizational products to the retail trade, and pioneers of the original award-winning shower organizer The Dispenser TM. Our plans to introduce a whole new range of European designed unique and innovative products to North America has opened up immediate positions in our sales and marketing department. We are currently seeking to fill the following positions: National Account Manager to assist us in achieving our aggressive growth plans by managing specific accounts and channels within Canada and the USA. The successful candidate will possess 3-5 years account management experience and demonstrates exceptional interpersonal, communication and analytical skills. Experience with Mass Merchandise retailers is preferred. This is an intermediate position. Sales Assistant  to support us with administrative duties, trade shows, sales analysis, forecasting, planograms, direct marketing campaigns, new product launches and other sales & marketing related projects. Excellent communication and proficient computer skills is required. Both positions will be based at our world-wide corporate headquarters in Woodbridge, Ontario. We offer competitive wages, benefits and a fun working environment. Please submit your resumé and salary expectations to Camillo Caperchione, Executive Vice President, Better Living Products, Telephone: 905-264-7100 Fax: 905-264-3690 Email: camillo@dispenser.com

Top ______________________________________________________________________
Marketplace
Sell your company - or buy one - with HARDLINES Classifieds! Do your executive search, find new lines or get new reps in the HARDLINES Marketplace. Only $2.75 per word for three weeks in the classifieds. To place your ad, call Barb Hills at 416-489-3396 or email: barb@hardlines.ca
More Information
To ensure you receive your HARDLINES newsletter each week, please add bev@HARDLINES.ca to your address book.

Did your email system make this newsletter unreadable? You can read it online instead. call us to find out how.

Publishing Details: HARDLINES is published weekly (except monthly in December and August) by HARDLINES Inc. 360 Dupont Street Toronto, Ontario, Canada M5R 1V 9 © 2008 by HARDLINES Inc. HARDLINES™ the electronic newsletter www.HARDLINES.ca ; Phone: 416.489.3396; Fax: 416.489.6154 Michael McLarney - President - mike@HARDLINES.ca Beverly Allen, Publisher - bev@HARDLINES.ca Brady Peever - Circulation Manager - brady@HARDLINES.ca Barb Hills - Sales Manager - barb@HARDLINES.ca The HARDLINES "Fair Play" Policy:Reproduction in whole or in part is very uncool and strictly forbidden and really and truly against the law. So please, play fair! Call for information on multiple subscriptions or a site license for your company. We do want as many people as possible to read HARDLINES each week - but let us handle your internal routing from this end! Subscription:$285 (Canadian subscribers add $14.25 GST = $299.25 per year/ GST #13987 0398 RT).Secondary subscriptions at the same office are only $46 (Canadian subscribers add $2.30 GST = $48.30).Ask about our reduced rate for branch offices.You can pay online by VISA/MC/AMEX at our secure website or send us money. Please make cheque payable to HARDLINES.
COMPANIES IN THE NEWS
ST. JACOBS, ON — Home Hardware Stores Ltd. is sponsoring the American Quarter Horse Association Youth World Cup. "Home Hardware is honoured to help bring this prestigious competition to Canada," said Paul Straus, vice-president and CEO of Home Hardware (and a major horse lover and serious quarter horse breeder in his own right. —Editor). "The AQHA Youth World Cup is a great opportunity for youth from around the world to meet and interact with other cultures and share in their passion for horses." The event is being held July 6-13 and hosts contestants from 18 countries.TORONTO — Hudson's Bay Co. may be in play once again, as a U.S. equity firm, NRDC, is reportedly eyeing the Canadian retail giant, says a report in the Toronto Star. NRDC already owns 20% of Hbc, and owns Lord & Taylor, the U.S. department store chain. Hbc's owner, Jerry Zucker, died earlier this year. He bought the company in 2005. KITCHENER , ON — Superior Income Trust, through its Winroc division, has purchased Fecoury's, an independent gypsum supply dealer with estimated sales of $21 million annually, based here. The deal follows a similar purchase by Superior Trust of Leon's, a major Toronto-area GSD. TEMISCAMING , QC — Tembec, the forestry products company, has resigned from the Ontario Forest Industries Association in response to what it calls "a series of inappropriate tactics including the participation in a press release issued by Ontario Forestry Coalition (OFC) … on the subject of the Endangered Species Act". Tembec says the release contained comments on a meeting between industry officials and the Ontario Minister of Natural Resources which none of the persons quoted had attended. "Recent events involving the OFIA have left Tembec no option but to fully dissociate ourselves from their tactics," said James Lopez, president and CEO of Tembec, in a prepared release. LONDON , ON — Red Minnow Ag Products Inc. has a new address: 95 Bessemer Rd., Unit #2, London, ON; N6E 1P9. Phone: 519-686-6671; fax: 519-858-8073; daniel@redminnow.ca.
WICHITA , KA — Coleman Canada, a division of Sunbeam Corp. ( Canada), has created a "Green Key" tool that will let campers recycle those used non-refillable propane cylinders. The green cylinders are familiar to campers — and to almost anyone else who has used a portable, propane-powered cooking, heating or lighting device. However, unlike their larger cousins, these small single-trip cylinders are not refillable. The Green Key lets the user purge a cylinder, making it acceptable as recycling. TOWSON, MD — A number of companies are trying to be sensitive to rising transportation costs. Take Black & Decker, for example. It's launching a program called "WAH", or work at home, which will begin in September. AUCKLAND, NZ — Bunnings, the big-box home improvement retailer, will open six new stores planned for the competitive New Zealand market. The Australian company, which entered New Zealand in 2001, already has 16 stores there. BENTONVILLE, AK — Wal-Mart's sales in June were up almost 12% to $39.94 billion, while same-store sales rose 5.8%. ISSAQUAH, WA — Costco Wholesale Corp. had net sales of $7.14 billion in June, an increase of 12% from $6.35 billion in the same period last year. Year to date, the company had net sales of $59.84 billion, up 13% from $53.17 billion. Same-store sales for July were up 9%, while year-to-date same-store sales were up 8%.
PEOPLE ON THE MOVE
Clark Carracedo has joined JR Home Products Ltd., a home products supplier based in Vancouver, as purchasing and supply chain manager. He will have total responsibility for all JR Home purchasing functions and global supply chain activity. Carracedo was previously a national buyer and supply chain manager at both Costco and Bootlegger, with extensive procurement experience across a wide range of products and services. (604-525-8333)The IRLY Building Centres, and its distribution centre IRLY Distributors Ltd., has appointed its new board of directors; Susan Robinson, president; George Linger, chairman; Kyle Conway, vice-chairman; Carole Hamanishi, secretary; Steve Nixon, Trevor Stephenson and Brian Tancock, directors. (604-596-1551) At Tremco Inc.'s Roofing and Building maintenance Division, Jean Pariseault has been promoted to the role of vice-president/general manager for the Roofing Division's Canadian operations. He joined the company as a sales representative in Montreal in 1979, and was most recently Canadian national sales manager. In his new position, Pariseault will be responsible for all of Tremco's roofing functions within the country, located in Boucherville, QC … Russell Wilbanks has been promoted to vice-president, general services for Weatherproofing Technologies, a subsidiary of Tremco. He was most recently national resource manager … Bruce Yule has been promoted to vice-president, operations, responsible for all manufacturing operations within the company. This includes supply chain operations, implementing manufacturing aspects of the company's strategic plan, and continuous operational improvement. With Tremco since 1997, he held the title of director, operations before this promotion. (800-562-272)
In Memoriam
Doug Straus, buyer for builders' hardware and fasteners at Home Hardware Stores Ltd., passed away at home on July 9. Our regrets to his family and colleagues.
ECONOMIC INDICATORS
The seasonally adjusted annual rate of housing starts was 217,800 units in June, down from 227,700 units in May, according to Canada Mortgage and Housing Corp. Urban starts were down by 5.0%. (CMHC)The value of building permits taken out in May went up by 1.1% from the previous month, due solely to an increase in non-residential intentions, which were up 12.8%. The value of residential permits, however, has been on a downward trend since September 2007, falling by 6.6% to $3.7 billion in May, the result of a considerable decrease in the value of multi-family permits. (Stats Canada)
Menards is looking for new products and new vendors. The entire buying team of industry's third-largest player will participate in a Buying Day at its head office in Eau Claire, WI on Aug. 21, 2008, presented by the Home Improvement Industry Presidents Council. Suppliers who are new to Menards and want to present their new products can register and are guaranteed an individual meeting with the appropriate buyer. The cost to participate is US$400 per meeting and entitles 2 persons to attend. Register via the Internet at www.presidentscouncil.com. For more information contact Julie Pavletich at Presidents Council: 847.480.7171; julie@presidentscouncil.com.
Hardlines Quarterly Report Hardlines Retail ReportHardlines WebinarsHardlines Annual Conference Hardlines Hot Product Showcase Hardlines TV (New episode out now) Free daily news updates