In This Issue:
"You can always spot a well-informed man. His views are the same as yours." — Ilka Chase (American actress, novelist and playwright, 1905-1978)
Canadians have strong showing at NRHA Convention
SAN ANTONIO, Texas — The North American Retail Hardware Association held its Annual Convention and All-Industry Conference last week, hosting retailers and their families from across the U.S. and Canada. They gathered here to attend three days of business seminars, networking events and social activities.Representation by Canadian members was strong, with more than 20 dealers and their families in attendance. The dealers were from two of Canada's largest group members of NRHA, Home Hardware Stores Limited and TIM-BR MARTS Ltd.

In fact, both groups had winners on hand for two series of awards presented at the Convention. Chris Beilhartz, of Home Hardware in Echo Bay, Ont., was one of eight winners of the Young Retailer of the Year Award — and the only Canadian to garner the honour. At the age of 25, he purchased a lumberyard and soon after expanded the store, tripling it in size. Over the past decade, sales at Echo Bay Home Building Centre have grown a whopping 78%.

Marc Robichaud of UJ Robichaud TIM-BR MART in Meteghan Centre, N.S., came down to receive a Retail Innovator Award for his company's pioneering efforts in green marketing. Robichaud, a fifth-generation retailer, has worked to carve a niche for his company as a leader in green and has been recognized locally, provincially and now internationally for his efforts.

Another Home Hardware dealer, Tom Levi, of Levi Home Hardware Building Centre in Almonte, Ont., was honoured as a retail innovator in the overall category. His retail philosophy is that at the end of every transaction the customer, the staff and the store should all come out a winner. This philosophy has helped sales grow by 23% over the past four years. A leader in his community, Levi sponsors many community events throughout the year, supporting Big Brothers/Big Sisters, the Canadian Cancer Society, the local hospital and Canadian Troops serving in Afghanistan.

Top.
Home Hardware garden guru offers cost-saving tips
ST. JACOBS, Ont. — Home Hardware is stepping up its efforts to promote its gardening products — and expertise — with the use of its gardening spokesperson, Mark Cullen. Cullen, who grew up in a family-run nursery business, is now an author and television personality, besides serving as Home Hardware's gardening expert.The latest tips from Cullen are aimed at helping home gardeners create effective gardens on a budget. "The focus will be on integrating native and indigenous plants into gardens as homeowners look for robust plants that do not need a lot of maintenance," he advises. "Water conservation will also be a top priority as homeowners search for ways to save money while keeping the environment top of mind." Cullen's offers five tips for economical gardening:
Save on water bills by using mulch to keep soil moist, capturing rain-fall in water barrels and placing soaker hoses in your garden to uniformly soak the soil. For best results, place hoses beneath a layer of mulch to further reduce moisture loss.
Focus on native plants to increase natural biodiversity cycles. Native plants are typically less expensive, survive local weather conditions and reduce maintenance fees due to a tolerance to insects.
Cultivate seeds to grow your own annuals, vegetables and herbs for a decorative flair and a practical approach.
Invest wisely and improve your yard and garden so you can relax in your own outdoor retreat instead of spending on costly summer vacations.
Select multi-purpose garden tools that work and protect your tools from the elements so that you don't have to buy new tools each year.
(
To view Mark Cullen on Hardlines TV, click here —Michael)
Canadian Tire rolls out chip card technology nationally
TORONTO — Canadian Tire has rolled out new point-of-sale terminals that are chip-card compatible to all its Canadian Tire stores across the country. The rollout, which follows a test in the Kitchener, Ont., market, will ensure that all 475 stores in its network are compatible with the new credit-card technology.Considered a more secure payment option than what is currently offered in the credit-card industry, chip-card technology uses a small computer processor chip with memory, logic and a configuration of software applications. The chip holds information in an encrypted form and requires the use of a PIN (personal identification number) to complete the payment process. Canadian Tire worked with MasterCard Canada and Moneris Solutions to get the infrastructure in place to handle the new cards. Later this year, Canadian Tire will begin rolling out a new MasterCard chip card across the country to match the checkout capabilities of its stores vendors new POS terminals.
BMF launches merchandising program for dealers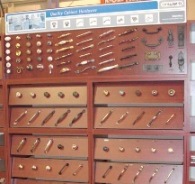 BURLINGTON, Ont. — Responding to market demand, Burlington Merchandising & Fixtures has introduced a new service for vendors that supply hardware displays to stores. BMF supplies cabinetry or display boards and pre-mounts all the hardware needed at point of purchase, right in its facility here. Orders are then shipped "shelf ready" to the vendor's warehouse or directly to stores.According to BMF president Rob Wilbrink, "The economy has forced most vendors to cut back on field staff and they're looking for efficiencies to drive sales and make their remaining staff more productive." BMF currently stocks about 1,000 SKUs for several industry leading clients and ships most orders in from three to five business days.
Lowe's gains in consumer preference over Home Depot
NATIONAL REPORT — The gap separating shoppers who prefer Home Depot over Lowe's narrowed in June, according to an annual online survey of more than 8,000 consumers.The survey, conducted by BIGresearch, a Worthington, Ohio-based market research firm, found that 24.3% of consumers polled preferred Lowe's for home improvement products, vs. 28.5% who preferred Home Depot's stores. By comparison, in June 2005, 31.4% said they favoured Home Depot, vs. 21.5% who preferred Lowe's. Home Depot's share has been shrinking ever since. On a year-to-year basis, Lowe's, Wal-Mart, Ace Hardware, Sears and Target all gained share among home-improvement minded customers from June 2008 to June 2009, whereas Home Depot and Menard's lost share during that period, according to the survey. The latest trend in Lowe's favour is even more noticeable when the polling is confined to those consumers with household incomes of $50,000 or more. Among that group, Lowe's market share rose two percentage points, to 31.6%, while Home Depot's dropped 2.6 points, to 37.8%.
Small signs of recovery for U.S. as June housing inches up
WASHINGTON, D.C. — A recovery may be in sight for the U.S. economy, but it's still off in the distance. According to the latest numbers from the U.S. Commerce Department, the number of building permits issued in June increased 8.7% from the prior month. However, they were still down a whopping 52.0% from June 2008.Housing starts in June followed a similar trend: they rose 3.6% from May but declined 46.0% from the same month a year earlier, to 582,000. Meanwhile,  Americans keep losing their homes to foreclosure. Foreclosure filings, which include everything from defaults to bank repossessions, rose by 33% in June, to 336,173 nationally, compared to the same month a year ago, according to RealtyTrac, a research firm whose data cover 90% of all U.S. households.
Account Manager - Ben-Mor Cables
Ben-Mor Cables, the leader in chain, cable and drying products for the hardware industry, is seeking for an account manager that will be based at its retail division offices in Saint-Hyacinthe, Quebec.  The main tasks for this position will be to find new customers in Canada and USA, maintain and increase sales of current key accounts, put in place sales and merchandising strategies, look at customer profitability and attend trade shows. For more details please visit our career section at www.ben-mor.com or send your resume at ccarriere@ben-mor.com.

A leading GTA based housewares manufacturer/distributor is seeking a sales professional responsible for all sales to retail housewares clients in Canada, supervision and development of sales personnel, and new business development. Key competencies required are a proven ability to acquire new business, strong analytical skills, team player. Minimum qualifications for this position are: post secondary degree; experience in the housewares/tableware/glassware/cookware/small electrics industry with a minimum of 15 years in retail sales and marketing - sales experience is mandatory, and some marketing education/experience required; ability to travel; MS Office Suite proficiency. Bilingual (English/French) would be an asset. Please submit your résumé via email to: Black Eagle Executive Search c/o Richard Simms, P.O. Box 100, admin@hardlines.ca
REGIONAL SALES MANAGER Point-of-sale and ERP systems for retailers and distributors

With a well-established client base throughout Canada, OGC is our industry's leading developer and installer of computer systems for home improvement retailers and their vendors. A progressive company with more than three decades of experience in the field, we provide state-of-the-art management information (ERP) and point-of-sale solutions.

We are currently searching for a dynamic, self-starting Regional Sales Manager to expand our client base and service our existing customers in Ontario.

The ideal candidate will
Report to our Montreal head office out of their own location close to the Greater Toronto Area
Possess a good working knowledge of the hardware and building supply industries, allied with excellent verbal and written communication skills
Have a demonstrated track record of being able to build excellent relationships with new clients
Be creative, autonomous and diplomatic; be open to new ideas and possess good business instincts
Be willing to travel extensively and work flexible hours as required for sales and installation processes
Possess 5-10 years of experience in sales of information systems and/or sales of products and services to the Canadian home improvement retail industries.
This is a permanent, management-track position that offers a highly-competitive compensation package consisting of a base salary and commissions.

Interested candidates should send their CV and a letter outlining why they feel they are a good candidate for this post, to the attention of our Human Resources Manager, at ogc@ogcinc.ca (or by fax, 1-866-900-2112) by the deadline of July 31st. Please quote Job Ref. 2009M03 "Regional Sales Manager". OGC Inc., 7575 Transcanadienne, Suite 403, Montreal, Quebec, H4T 1V6 www.ogcinc.ca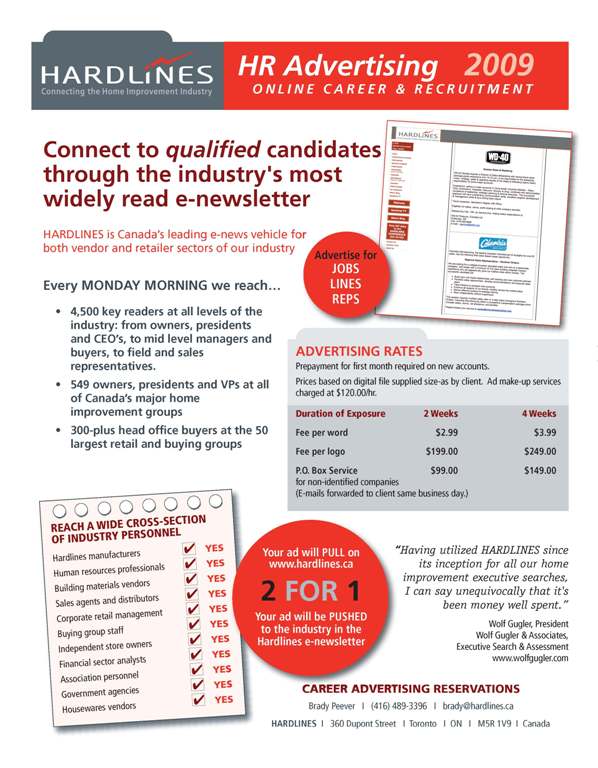 To place an ad in our classified section click here or call 416-489-3396
Leadership, sales and communication skills, seeking a challenging and results-oriented environment.
A creative, strategic thinking and results oriented Sales Professional.
Dynamic business development specialist seeking managment opportunity
Well-spoken, energetic, confident, and personable, the type of person on whom your customers and employees will rely.
A seasoned veteran with a wealth of experience, on the front lines of Retailing. Personable, energetic and dedicated to providing Exceptional Customer Service.
A sales leader experienced in coaching, managing and developing sales teams.
Know someone who is between jobs? We will send a complimentary subscription to anyone who is seeking a job. We also offer a free Online Resumé Service. Ask them to call or email us here at the World Headquarters. (And why not tell your HR department about this service!) Email Brady for more info. —Beverly
Sell your company - or buy one - with HARDLINES Classifieds! Do your executive search, find new lines or get new reps in the HARDLINES Marketplace. Only $2.75 per word for three weeks in the classifieds. To place your ad, call Brady Peever at 416-489-3396 or email: brady@hardlines.ca
To ensure you receive your HARDLINES newsletter each week, please add bev@HARDLINES.ca to your address book.

Did your email system make this newsletter unreadable? You can read it online instead. call us to find out how.

Publishing Details: HARDLINES is published weekly (except monthly in December and August) by HARDLINES Inc. 360 Dupont Street Toronto, Ontario, Canada M5R 1V 9 © 2009 by HARDLINES Inc. HARDLINES™ the electronic newsletter www.HARDLINES.ca Phone: 416.489.3396; Fax: 416.489.6154 Michael McLarney - Editor & President - mike@HARDLINES.ca Beverly Allen, Publisher - bev@HARDLINES.ca Brady Peever - Client Services Manager - brady@HARDLINES.ca Chiaki Nemoto - Accounting - chiaki@HARDLINES.ca The HARDLINES "Fair Play" Policy:Reproduction in whole or in part is very uncool and strictly forbidden and really and truly against the law. So please, play fair! Call for information on multiple subscriptions or a site license for your company. We do want as many people as possible to read HARDLINES each week - but let us handle your internal routing from this end! Subscription:$299 (Canadian subscribers add $14.86 GST = $315.21 per year/ GST #13987 0398 RT).Secondary subscriptions at the same office are only $48.75 (Canadian subscribers add $2.44 GST = $51.19).Ask about our reduced rate for branch offices.You can pay online by VISA/MC/AMEX at our secure website or send us money. Please make cheque payable to HARDLINES.
NEWS IN BRIEF
SURREY, B.C. — The IRLY Building Centres has announced the addition of a new member. The company, Hill Bill, in Valemount, B.C., will operate under the IRLY Building Centre banner. Owned and operated by Henry Unger, the store will be managed by his grandson, Eric Unger. Henry Unger has a long history in construction and contracting. Looking for ways to grow the business, he is expanding into hardware and building materials sales to his community. Although the store is not yet complete, it has already begun selling products

.

NORWALK, Conn. & INDIANAPOLIS, Ind. — The North American Retail Hardware Association and the National Hardware Show will continue their alliance in 2010 to fortify the knowledge, insight and business acumen of independent retailers attending the 2010 National Hardware Show, May 4-6, 2010, at the Las Vegas Convention Center, Las Vegas. Together, the National Hardware Show and NRHA hosted the NRHA Village & All-Industry Summit at the 2009 show. The NRHA Village & Industry Summit consisted of a presentation area where industry research, statistics, networking and a meeting lounge were contained in one, centrally located area. BENTONVILLE, Ark. — Wal-Mart has issued a new rigorous environmental assessment program for all its vendors. The program requires Wal-Mart suppliers to indicate on their packaging the environmental costs of making the products. This will include everything from how much water is consumed to make the product to how much gasoline is burned to get it to market. Other retailers are expected to follow suit as the packaging standards become universal among Wal-Mart's legion of suppliers. CHICAGO — Grainger reported second quarter sales of $1.5 billion, which were down 13% vs. second quarter 2008. Net earnings for the quarter decreased 18% to $92 million vs. $113 million in 2008. Sales for the Canadian Acklands-Grainger business were down 19% vs. the 2008 second quarter. In local currency, sales were down 6% LONDON — Brintex, the organizer of the U.K. hardware show, Totally Tools, DIY and Secure, says it's received strong support from exhibitors for its announced move to the National Exhibition Centre in Birmingham in 2010. There, it will run at the same time as Spring Fair International, Feb. 7-9. Draper Tools, a long-time DIY exhibitor in London, is looking forward to the move. "The new venue, combined with the joint exhibition, should mean a wider audience and increased footfall," says Draper manager Nigel Whatley. For more information, contact Vanessa Fortnam, show press officer, 01 666 824624. ISSAQUAH, Wash. — Costco Wholesale Corporation reported June net sales of $6.88 billion, down 4% from $7.15 billion in the same five-week period last year. For the year to date, the company reported net sales of $59.02 billion, down slightly from last year. Same-store sales were down 6% for June and down 3% for the year to date. GUANGZHOU, China — For visitors planning to attend the 2009 Canton Fair, gaps between exhibition times have been shortened to three days. Phase one (electronics and household electrical appliances, hardware and tools, machinery and spare parts, building materials, lighting equipment, chemical products) will be held Oct. 15-19; phase two (consumer goods, gifts, home decorations) will be held Oct. 23-27; and phase three (textiles & garments, shoes, office supplies, cases & bags, recreation products, medicines, medical devices, health products, food products) will be held Oct. 31-Nov. 4. For a full list of products and more information, click here.
PEOPLE ON THE MOVE
At the Housewares Manufacturers Association, Michael Jorgenson has been appointed marketing & communications manager. He joins the CHHMA after 14 years with member company T.S. Simms & Co. Limited, the Canadian manufacturer of paint applicators. During that time, he served in several marketing capacities and was most recently director of sales & marketing. Jorgenson brings many years of working knowledge of the CHHMA's membership, activities, programs and benefits, as well as experience in dealing with many of the association's retail and media partners. (mjorgenson@chhma.ca ; 416-282-0022, ext. 34)At Coop fédérée, Nancy Whalen has been appointed to the position of category manager, hardware division, at the co-op's distribution centre in Trois-Rivières. She has more than 25 years experience both as a buyer and a rep.

(819-379-8555)

To place a listing in our "People on the Move" section, please send me your information, including the person's name, title and contact email or phone number, if desired, to mike@hardlines.ca. We reserve the right to edit items for length. —Michael
ECONOMIC INDICATORS
Investment in non-residential building construction reached $10.6 billion in the second quarter of 2009. That's down 2.8% from the first quarter and marks the second consecutive quarterly decrease. Provincially, the biggest declines were in Alberta (-7.4% to $2.5 billion) and British Columbia (-5.2% to $1.3 billion). (Stats Canada)Manufacturing sales fell 6.0% to $38.4 billion in May, the lowest level since November 1998. Plant shutdowns in the motor vehicle and primary metal industries, along with continued volatility in the aerospace industry, accounted for most of the decline in May. (Stats Canada)
OVERHEARD…
"The idea of customer service is an easy one. It's the execution that's the hard part." —Robert Spector, author of "The Nordstrom Way". He kicked off the NRHA Annual Convention and All-Industry Conference last week in San Antonio, Texas, with a lively presentation on the customer-service culture at Nordstrom, the upscale U.S. department store chain.
Hardlines Products
Hardlines Quarterly Report
Hardlines Retail Report
Hardlines Hot Product Showcase
Hardlines TV
Free daily news updates
Did you know you can have this newsletter sent to someone else in your office for less than a dollar an issue!