In This Issue:
"He who does not bellow out the truth when he knows the truth makes himself the accomplice of liars and forgers." — Charles Peguy (French poet, essayist and editor, 1873-1914)
Summer Publishing Schedule: Hardlines won't be published during the following weeks: Aug. 3, Aug. 10 and Aug. 23. The World Headquarters will remain open, however. So feel free to call us, especially if you need to order your copy of the Who's Who Directory of retail customers, or get our special new report on the size and growth of the industry. Or just call and say "hi". —Michael
Home improvement retailing shows decline by second quarter
SPECIAL REPORT — The declines in the country's economy have caught up to the retail home improvement industry. Response to the Hardlines 2Q Business Conditions Survey revealed that, by the end of the second quarter, retailers and vendors alike were feeling the pinch.More than half (56%) of the survey respondents said business in the second quarter of this year was down compared with the same quarter last year. The number of respondents who found the quarter the same or up were about equal (21% and 23% respectively). By comparison, 28% of respondents in the fourth quarter of 2008 said their business was up, while 50% said it was down. The good news is in the anticipated change in the months ahead. Fully 72.4% of respondents said they expect sales to improve over the next 12 months. Another 13.4% said they were not sure, while 14.2% said they did not expect sales to improve.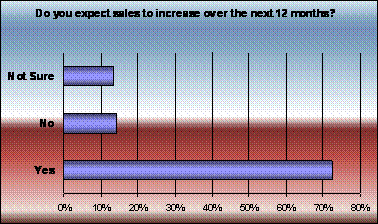 Top.
Feds pump cash into promotion of tax credit, forget to tell dealers
JONQUIÈRE, Que. — A new ad campaign to inform Canadians about the Home Renovation Tax Credit was introduced here on July 13 by the Honourable Jean-Pierre Blackburn, Minister of National Revenue and Minister of State for Canada Revenue Agency (CRA). "We want to ensure that Canadian homeowners know about this credit and take full advantag

 

e of it. This is why we are launching this national advertising campaign," he said.But even though word may be getting out to consumers — in an extensive campaign that includes TV ads, radio, buses and magazine ads — the same can't be said for the retailers themselves. The campaign includes an in-store promotional component that features point-of-sale displays with HRTC information and envelopes for customers to store their receipts and related documents until it's time to claim the credit. These materials won't be ready for dealers until mid-August. Allard Johnson, with offices in Toronto and Montreal, is the agency in charge of creating the campaign, but has no mandate to promote the campaign details to retailers — limited so far to a list of "large national retail establishments where home renovation products are sold," says Philippe Brideau, a spokesperson for CRA. Home Hardware Stores is one of them. "We're working with CRA," says Rob Wallace, public relations & promotional events manager for Home Hardware. Home already includes information about the incentive in its own commercials and flyer promotions. "Home Hardware is 100% on board so we'll be putting the HRTC kiosks in all our stores." The other retail partners are RONA, Canadian Tire, Sears at Home, Home Depot, Le Groupe BMR and TIM-BR MARTS Ltd. Brideau at CRA did not know of any effort by CRA to spread word of the in-store promotion to dealers beyond the seven partners. However, he says, "smaller or independent home renovation and hardware stores will also have access to these point-of-sale displays if they contact the CRA to request them, for as long as supplies last. All of these materials are distributed to retailers free of charge." But go out regionally or to smaller players and the response is quite different. Catherine Brownlow, advertising and communications manager for IRLY Distributors, says the B.C. buying group, which represents more than 40 dealers, had not heard about the in-store promotion. "We were definitely not approached about this," she says. At TruServ Canada in Winnipeg, Lora Deighton, communications manager, says she had just heard about it, but had not been approached by the Feds to partner. In fact, she says she had no idea it was available to other retailers beyond the chosen seven. "I really do think the government is missing an opportunity by excluding the smaller independent retailers across Canada." But, she adds, "We've got initiatives of our own to help our stores market the HRTC to their customers."

In fact, independents are taking matters into their own hands across the country. Independent Lumber Dealers Co-operative, which represents some of the strongest independents in the country, was completely overlooked by CRA. (ILDC's members represent almost $2 billion in retail sales.) Stew Valcour is the general manager of Kent, Atlantic Canada's dominant home improvement retailer and one of ILDC's largest members. He was not pleased by CRA's handling of the campaign. "Our buying group has registered our displeasure over the failure of the Federal Government to include independents in the publicity materials," he says. But, like IRLY and TruServ Canada, his company is taking matters into its own hands. "Having said that," he adds, "we feel our POP materials in-store are superior to those available from the government. We also have good local ads driving the program."

The time-limited, non-refundable tax credit of up to $1,350 can be claimed for eligible expenditures made for renovations and alterations made to a principal residence. Homeowners thinking about renovating their kitchen, replacing their furnace or installing new windows or a new fence, for example, could benefit from this credit. The HRTC can be claimed on the 2009 income tax return for expenditures made between Jan. 28, 2009 and Jan. 31, 2010 that total more than $1,000, up to a maximum of $10,000. Dealers will have to contact the same number that is given out to consumers for information: 877-959-1272.
Stanley
partners with Blue Jays in sponsorship deal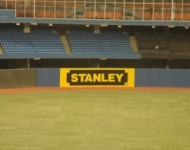 TORONTO — The Toronto Blue Jays and The Stanley Works have reached a sponsorship agreement running through the 2012 season. Key elements of the deal include sponsorship of a left centerfield outfield wall sign at the Rogers Centre that will feature a 40-foot-wide Stanley sign. Stanley will also own sponsorship rights to the "Tale of the Tape" video board feature that goes into play whenever a Blue Jay player hits a home run during a home game.The Stanley Works will also receive "Official Sponsor" status and marketing rights as the "Official Tools of the Toronto Blue Jays and Rogers Centre." "The Toronto Blue Jays are extremely pleased to announce our partnership with another S&P 500 company like The Stanley Works," says Gary Murphy, vice-president sales, Rogers Sports and Entertainment. "As our business continues to grow and develop, the alignment of our organization with others that are synonymous with quality — such as The Stanley Works — means a great deal."
Wal-Mart Announces Sustainable Product Index
BENTONVILLE, Ark. — Wal-Mart has announced plans to develop a worldwide sustainable product index which will establish a single source of data for evaluating the sustainability of products."Customers want products that are more efficient, that last longer and perform better," says Mike Duke, Wal-Mart's president and CEO. "They want to know that the materials in the product are safe, that it was made well and that it was produced in a responsible way. We do not see this as a trend that will fade. Higher customer expectations are a permanent part of the future." The company will introduce the initiative in three phases. The first will be a survey to its more than 100,000 suppliers around the world; the survey will serve as a tool for Wal-Mart's suppliers to evaluate their own sustainability efforts. In the second step, Wal-Mart will help create a consortium of universities that will collaborate with suppliers, retailers, non-government and government organizations to develop a global database of information on the lifecycle of products. The third and final step will be to translate the product information into a simple rating for consumers about the sustainability of products. The rating, which will appear on packaging, will help customers determine the sustainability and quality of the products.
Sales Pick Up for High-End Outdoor Furniture
STEVENS, Pa. — Affluent consumers are spending more on their outdoor living spaces, giving a much needed boost to category retailers and marketers during this recession, says a new report from Unity Marketing. Spending by affluent customers on outdoor living "luxuries" rose 22.6% from 2007 to 2008. Continued strong demand for home improvement in outdoor living areas in the first quarter 2009 increased affluent customers' spending by 33% from the same period last year."In the current recession, affluent consumers are investing more in luxuries for their homes and less on experiences, such as dining and travel," says Pam Danziger, president of Unity Marketing. "Opportunities abound for marketers and retailers that tap into the product categories where affluents are still willing to indulge, like the outdoor living areas of their homes." According to the report, big boxes, notably Lowe's and Home Depot, are benefiting most from the increased spending in outdoor living goods. The average amount spent by affluent shoppers in these types of stores surged 24% in the first quarter 2009 from the same period in the previous year. Dow Jones Newswire reports that seasonal living products at Lowe's generated $2.1 billion, or about 5% of the retailer's 2008 sales. Home Depot lumps seasonal living products in with its hardware sales, and together those categories generated $20.5 billion, or nearly 29% of sales. Click here to learn more about this report from Unity Marketing.

Prime Source Building Products, Inc., one of the North American's largest wholesale distributors of building supply products, is seeking experienced sales professionals to support their Canadian expansion. Inside Sales - Mississauga - Responsibilities include developing a pipeline of prospective opportunities; via interaction with an existing customer base and a network of prospects, providing outstanding customer service and the ability to build relationships and close business over the telephone. Qualified candidates must be self-motivated, quota driven, and results oriented with a proven and documented history of success. We are looking for at least two years of sales experience and preferably experience in the building materials industry. Preference given to Bilingual candidates. If you are a proven leader who welcomes the opportunity to work in a challenging and financially rewarding environment, we want to meet you. PrimeSource offers attractive base salaries, aggressive commission incentives, and a competitive benefits package. Please send Resumes to Phil Brown General Manager PrimeSource Canada at brownp@primesourcebp.com  
Account Manager - Ben-Mor Cables
Ben-Mor Cables, the leader in chain, cable and drying products for the hardware industry, is seeking for an account manager that will be based at its retail division offices in Saint-Hyacinthe, Quebec.  The main tasks for this position will be to find new customers in Canada and USA, maintain and increase sales of current key accounts, put in place sales and merchandising strategies, look at customer profitability and attend trade shows. For more details please visit our career section at www.ben-mor.com or send your resume at ccarriere@ben-mor.com.

A leading GTA based housewares manufacturer/distributor is seeking a sales professional responsible for all sales to retail housewares clients in Canada, supervision and development of sales personnel, and new business development. Key competencies required are a proven ability to acquire new business, strong analytical skills, team player. Minimum qualifications for this position are: post secondary degree; experience in the housewares/tableware/glassware/cookware/small electrics industry with a minimum of 15 years in retail sales and marketing - sales experience is mandatory, and some marketing education/experience required; ability to travel; MS Office Suite proficiency. Bilingual (English/French) would be an asset. Please submit your résumé via email to: Black Eagle Executive Search c/o Richard Simms, P.O. Box 100, admin@hardlines.ca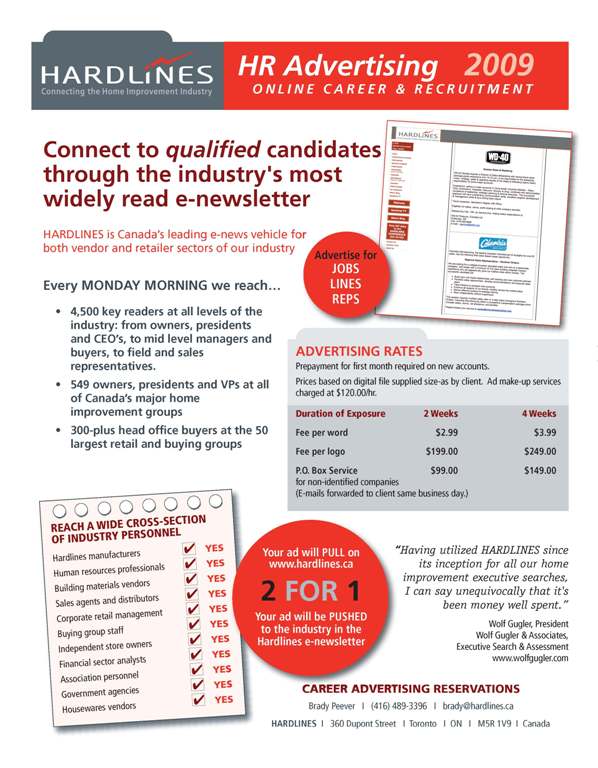 To place an ad in our classified section click here or call 416-489-3396
Results oriented sales professional with a strong record of achievement in strategic and tactical roles.
Seasoned Sales veteran. Experienced, dealing with established and new manufacturers introducing new products to key retailers in the Canadian market.
A marketing professional with a highly successful level of experience in all aspects of marketing consumer packaged goods at a national retail level.
Leadership, sales and communication skills, seeking a challenging and results-oriented environment.
A creative, strategic thinking and results oriented Sales Professional.
Dynamic business development specialist seeking managment opportunity
Know someone who is between jobs? We will send a complimentary subscription to anyone who is seeking a job. We also offer a free Online Resumé Service. Ask them to call or email us here at the World Headquarters. (And why not tell your HR department about this service!) Email Brady for more info. —Beverly
Sell your company - or buy one - with HARDLINES Classifieds! Do your executive search, find new lines or get new reps in the HARDLINES Marketplace. Only $2.75 per word for three weeks in the classifieds. To place your ad, call Brady Peever at 416-489-3396 or email: brady@hardlines.ca
To ensure you receive your HARDLINES newsletter each week, please add bev@HARDLINES.ca to your address book.

Did your email system make this newsletter unreadable? You can read it online instead. call us to find out how.

Publishing Details: HARDLINES is published weekly (except monthly in December and August) by HARDLINES Inc. 360 Dupont Street Toronto, Ontario, Canada M5R 1V 9 © 2009 by HARDLINES Inc. HARDLINES™ the electronic newsletter www.HARDLINES.ca Phone: 416.489.3396; Fax: 416.489.6154 Michael McLarney - Editor & President - mike@HARDLINES.ca Beverly Allen, Publisher - bev@HARDLINES.ca Brady Peever - Client Services Manager - brady@HARDLINES.ca Chiaki Nemoto - Accounting - chiaki@HARDLINES.ca The HARDLINES "Fair Play" Policy:Reproduction in whole or in part is very uncool and strictly forbidden and really and truly against the law. So please, play fair! Call for information on multiple subscriptions or a site license for your company. We do want as many people as possible to read HARDLINES each week - but let us handle your internal routing from this end! Subscription:$299 (Canadian subscribers add $14.86 GST = $315.21 per year/ GST #13987 0398 RT).Secondary subscriptions at the same office are only $48.75 (Canadian subscribers add $2.44 GST = $51.19).Ask about our reduced rate for branch offices.You can pay online by VISA/MC/AMEX at our secure website or send us money. Please make cheque payable to HARDLINES.
NEWS IN BRIEF
VANCOUVER — CanWel Building Materials Income Fund has relocated its Saskatoon distribution centre to a newly built 30,000-square-foot facility, on approximately eight acres of land. The new DC is expected to provide CanWel with the ability to offer a wider range of products and services for its customers. The company says the new facility demonstrates its commitment to the market in the region, and it is anticipated that this new expanded facility will assist CanWel in driving increased sales in future. "I am extremely pleased, and would like to thank our Saskatoon team for their hard work and commitment in successfully completing the relocation, and setting up of the new distribution centre," says Amar Doman, chairman of the board. "We look forward to supplying our customers in this region with an

 

expanded portfolio of products and services." CanWel, one of Canada's largest national distributors of building materials, operates 16 distribution centres across the country.

 

 

GRANDE-RIVIÈRE, Que. — Le Groupe BMR has added another dealer to its ranks. Last week, Matériaux 3 C-BMR had its grand opening here, as owners the Cauvier family christened their new 10,000-square-foot renovation centre. This facility serves customers in this region of the Gaspé Peninsula with a complete inventory of hardware and building materials. The $1 million

 

investment in the 70-year-old business reflects the commitment by owners Michel Cauvier and his two sons, Loïc and Pascal, to the future.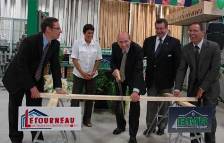 On hand for the opening were

(l-r)

: Michel Cauvier, president of Matériaux 3C ltée; Yves Gagnon, president and CEO of  BMR; Loïc Cauvier, general manager; Pascal Cauvier, administrator; Hélène Cauvier; Father Rémi Bouchard; Romual Boutin, mayor of Grande-Rivière. GUELPH, Ont. — Patene Building Supply Co., a masonry and roofing supply dealer based here, has purchased property in Barrie, Ont. Patene was founded in 1955 as a single masonry supply outlet in Kitchener, Ont. Since then, it has grown, through ground-up stores and acquisitions, into a network of 11 locations throughout Ontario and one in Winnipeg. VANCOUVER — The worldwide recession is putting a damper on major corporate sponsorships, affecting the Vancouver Olympic Committee. According to the Financial Post, new sponsors are tough for VANOC to find. However, the core sponsors, including GM and RONA, remain in the game. RONA's contribution, in materials, cash and services, is valued at $68 million. However, VANOC is still short $30 million in international sponsorships. MISSISSAUGA, Ont. — Walmart Canada plans to open two Walmart Supercentres in Saskatchewan in early 2010. An existing Walmart in Saskatoon and another in Regina will both be replaced locally by new Supercentres that combine a grocery business with the existing stores' current merchandise selection. These will be the first Walmart Supercentres — and the company's first foray into the fresh grocery business — in the province. Walmart Canada operates 58 Supercentres in Ontario, Alberta and British Columbia, having first introduced the format to Canada in late 2006. SPECIAL REPORT — Wal-Mart is handing over the reins to their consumers when it comes to what products they stock from now on, at least in the United Kingdom. The retail giant will allow groups of customers there to vote on which non-food products from China the buyers should order, according to The Telegraph. Rick Bendel, Wal-Mart's international chief marketing officer, says, "When our buyers in China are buying products nine months in advance, we will give them a phone, they will take a picture of the product and email it to customers, and 1,000 customers will vote on whether we buy it." NEW YORK — Procter & Gamble has made its largest foray into retail yet with the acquisition of The Art of Shaving, a chain of high-end shaving and men's accessories outlets. The retailer, which has 36 outlets in high-end locations, including shopping centres and upscale department stores, will be a way for P&G to learn the retail business. It also bought, back in February, a small chain of 14 car washes, intending to expand them into a nationwide franchise network under P&G's Mr. Clean brand. HOFFMAN ESTATES, Ill. — More retailers are tapping into the selling potential of Christmas a little earlier this year. Last week, Sears opened a "Christmas Lane" section on sears.com and kmart.com that features trim-a-tree decorations and accessories. Sears, which usually displays its holiday decorations the day after Labor Day, has moved the season up as an early-bird reminder that the chain offers a layaway program. The company showed off its Christmas spirit in about one-third of its 930 namesake stores, as well as its Sears and Kmart Web sites. Sears stores promoted cold-weather gear and snow-topped porcelain collectibles, while also selling summertime necessities such as inflatable swimming pools, sundresses and sandals. BRENTWOOD, Tenn. — Tractor Supply Company, the retail farm and ranch store chain, reports that sales for the second quarter increased 5.4% to $946.5 million from $898.3 million. Same-store sales decreased 2.7%.
ECONOMIC INDICATORS
Retail sales in Canada increased 1.2% in current dollars in May, following a modest decline in April. In volume terms, retail sales increased 0.7%. Sales increased in seven of eight sectors, led by a 2.4% increase in the automotive sector. The building and outdoor home supplies stores sector saw sales increase by 1.0%, double the rate of the previous month. Sales by home centres and hardware stores were up 1.1%, the fourth consecutive monthly increase. Specialized building materials and garden stores posted a 0.8% gain after decreases in the previous two months. (Stats Canada)Wholesale sales in current dollars fell 0.3% to $40.1 billion in May, its lowest level since December 2005. In volume terms, wholesale sales were unchanged in May. Weaker sales in the machinery and equipment, food, and metal products trade groups were the major factors contributing to the decrease. Sales of building supplies rose 2.8% in May after declining 3.4% in April. This coincides with an increase in housing starts as reported by the Canada Mortgage and Housing Corporation. (Stats Canada)
NOTED …
The HRTC is generating a lot of interest among Canadians. The Canada Revenue Agency has responded to more than 700,000 enquiries about the credit so far through its website and by telephone. A survey by Hardlines found that this industry's response to the tax credit has been largely favourable, with 57.5% saying they believe the HRTC will help our industry. Just over one-quarter of respondents weren't sure; 16.5% said they didn't think it would help.
OVERHEARD…
"The easiest thing is to go back to the industry you were comfortable in, but I discovered it is not necessarily the best [move] for your career." —Tony DiEmanuele, former vice-president of TruServ Canada, quoted in the Globe and Mail on July 22, regarding his recent appointment as president and CEO of Mohawk Shared Services Inc., a Hamilton, Ont.-based hospital supply company.
Hardlines Products
Hardlines Quarterly Report
Hardlines Retail Report
Hardlines Hot Product Showcase
Hardlines TV
Free daily news updates
Did you know you can have this newsletter sent to someone else in your office for less than a dollar an issue!