In This Issue
"One part of knowledge consists in being ignorant of such things as are not worthy to be known." —Crates (Greek philosopher, 4th century, B.C.)
UFA takes broader approach to serving rural customer
CALGARY — Last week, HARDLINES announced UFA's purchase of Wholesale Sports, a privately-owned chain of five sporting good's stores across the West.This acquisition represents UFA's latest step toward offering more than selling agricultural, hardware and petroleum products to the rural "ag" market that has traditionally comprised UFA's core customer. That customer is changing, says Dallas Thorsteinson, president and CEO of UFA, and his company is taking wide-reaching steps to change with it. UFA has already been retooling its farm and ranch format, which has been the centrepiece of its retail offering in rural Alberta. A store in Red Deer has become a flagship for the 35-store chain, with a larger footprint and wider "lifestyle" products for hunting, fishing and camping, plus a focused assortment of hardware and farm and ranch. The acquisition last year of a building supply dealer, Spruceland, in Fort McMurray, also fits the mix, riding the boom of Canada's hottest market. "UFA is now shifting from all things agro to a wider rural market," says Thorsteinson. "Whether they're farmers or townies, they are looking for a wider range of products and services." UFA, he says, is well positioned to offer those products and services. The result is UFA's strategy of rural diversification. "We've been looking at that customer and we realized that there are lots of other dimensions that ruralites enjoy. We thought we could find new ways to cater to those dimensions," Thorsteinson adds. "The brand equity that UFA enjoys with the customers in rural markets is our calling card." Besides adding to the retail mix, UFA has recently launched a construction services division, as well. That operation is getting involved in a lot of rural projects. Through its construction activities, Thorsteinson says, UFA can be responsive to the rebuilding of the rural communities themselves.

Top.
Scherer Brothers tackles downturn with added services
BROOKLYN PARK, MN — While the U.S. waits to recover from a devastating housing slump that has affected that country's economy drastically, and is causing waves here in Canada, savvy building supply dealers aren't waiting.

Take Scherer Brothers Lumber Co. This integrated pro dealer, based in the Minneapolis area, is a third-generation family run business that started more than 75 years ago. It has five yards, plus a number of other related businesses, including a truss plant, a cabinet division complete with its own installed storage line, and an installed division called the ReMod Squad (click here for the "Solid Link" to Scherer's website—Editor). To offer even more products directly, the company built its own window and door manufacturing facility.
Scherer Brothers has spent the past two years enduring an economy devastated by the plunge in housing – and the economic fallout that's resulted from that tumble. Mark Scherer, president of Scherer Brothers, says preparing for a downturn requires careful planning – and tough choices. As margins fell and gas prices rose, deliveries were reconsidered to insure that each truck stayed as full as possible on each run. Staffing needs were reviewed, and weak employees were let go. Scherer admits his company made some mistakes along the way, largely because no one anticipated just how bad things would get. As the number of independent yards in Minneapolis market has dwindled from 25 some 30 years ago, Scherer Brothers has endured – and prospered. (Mark Scherer, president of Scherer Brothers, will be our keynote at this year's Hardlines Conference, Oct. 23-24. No dealer serious about facing the challenges ahead can afford to miss this info-loaded presentation! Click here! —Michael)
Sales of specialty products flourish at Home Hardware
ST. JACOBS, ON — While rainy weather has generally flattened paint sales across the country, Home Hardware's proprietary paint line, manufactured by Home's own Beauti-Tone Paint and Home Products Division in nearby Burford, has been enjoying tremendous growth from its Designer Series.

"Designer Series sales have doubled in 2008 as Home Hardware Dealers continue to aggressively grow their share of the premium paint market," says Paul Straus, vice president and CEO of Home Hardware. Going upscale has become an important growth opportunity for his dealers, he notes.

But paint is not the only line that's seeing growth. Tapping into consumer demand for "green" products, Home has expanded its Natura range of sustainable and environmentally responsible offerings. Straus says new products, such as One Day Wood Restoration products, Laminate Floor Cleaner, and Natura Laundry Detergent, are showing great increases.
RONA continues expansion with mid-sized stores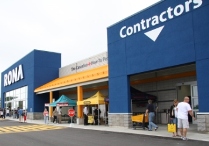 GRIMSBY, ON — RONA inc., Canada's largest home improvement retailer, opened a store here last week.The 52,000-square-foot store features a 57,000-square-foot outdoor drive-through lumberyard and 8,000 square feet of enclosed storage. The store also boasts a 13,000-square-foot garden centre and offers more than 22,000 products dedicated to both the professional contractor and the DIYer. An existing RONA Cashway in nearby Beamsville will move its operations, including six staff, to the new store. The new store combines a range of building materials, including finishing and specialized products, and boutiques for paint, lighting, storage, kitchen and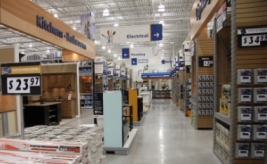 bathroom, doors and windows. Services include kitchen design, flooring, lumber cutting, installation and financing services, and RONA's Project Guide service, a concept offering specially-trained staff who guide customers through the different stages of specific renovation projects. The store also features a contractor desk.
Germany's Praktiker improves cash flow, despite sales lag
KIRKEL, Germany — Praktiker Group, Germany's second-largest home improvement retailer, reported a 20% gain in its pretax income, to 59.2 million Euros (US$93.5 million), for the six months ended June 30. This boost encouraged the company to project that its cash flow would improve by between 135 million and 140 million Euros for the full year.

The company — which operates 336 home centers in Germany and another 93 in eight other European countries — reported sales for the first half of its fiscal year at $1.997 billion Euros (US$3.153 billion), a 0.4% decline from the same period a year ago. Its net income for the first half was also off, by 3.3% to 32.2 million Euros (US$50.8 million). During this period, the company's store count in Germany declined by seven units, but overall rose by 11 units, with openings in Poland, Romania, Greece, Hungary, Turkey, Bulgaria and Ukraine. (Last year, Praktiker acquired the Max Bahr chain, which increased its store count in Germany by 76 units.) "It is all the more important that in the international markets sales continue to rise at a double-digit rate," said Praktiker's chairman, Wolfgang Werner, in a prepared statement. The company's sales in Germany have continued to erode, while its volume outside of that country increased by 16.7% in the first half of the year.
Classifieds
SALES AGENT NORTHERN ONTARIO

Colonial Elegance is looking for a Sales Agent for Northern Ontario. The ideal candidate will sell and promote all of Colonial Elegance's products to building supply dealers across Northern Ontario. The territory is already established and has great earning potential. The position includes selling and servicing existing accounts prospecting and adding new clients within the building supply industry. The agent will report to the Sales Director for Ontario. Qualifications
Strong communication skills both written and verbal
Working knowledge of Microsoft Office ie Excel Word Power Point Outlook
Knowledge of Territory and clients
3-5 years of experience working as a sales agent at the dealer level
Proven Sales record
Ability to work little Supervision
Vehicle required
Compensation: Commission based position Please forward resume to Colonial Elegance Inc C/O Brant Danard Regional Sales Director 3800 Du Tricententaire Blvd Montreal QC HIB 5T8 Fax 514 640 1744 Email : bdanard@colonialelegance.com
Sell your company - or buy one - with HARDLINES Classifieds! Do your executive search, find new lines or get new reps in the HARDLINES Marketplace. Only $2.75 per word for three weeks in the classifieds. To place your ad, call Barb Hills at 416-489-3396 or email: barb@hardlines.ca
To ensure you receive your HARDLINES newsletter each week, please add bev@HARDLINES.ca to your address book.

Did your email system make this newsletter unreadable? You can read it online instead. call us to find out how.

Publishing Details: HARDLINES is published weekly (except monthly in December and August) by HARDLINES Inc. 360 Dupont Street Toronto, Ontario, Canada M5R 1V 9 © 2008 by HARDLINES Inc. HARDLINES™ the electronic newsletter www.HARDLINES.ca ; Phone: 416.489.3396; Fax: 416.489.6154 Michael McLarney - President - mike@HARDLINES.ca Beverly Allen, Publisher - bev@HARDLINES.ca Brady Peever - Circulation Manager - brady@HARDLINES.ca Barb Hills - Sales Manager - barb@HARDLINES.ca The HARDLINES "Fair Play" Policy:Reproduction in whole or in part is very uncool and strictly forbidden and really and truly against the law. So please, play fair! Call for information on multiple subscriptions or a site license for your company. We do want as many people as possible to read HARDLINES each week - but let us handle your internal routing from this end! Subscription:$285 (Canadian subscribers add $14.25 GST = $299.25 per year/ GST #13987 0398 RT).Secondary subscriptions at the same office are only $46 (Canadian subscribers add $2.30 GST = $48.30).Ask about our reduced rate for branch offices.You can pay online by VISA/MC/AMEX at our secure website or send us money. Please make cheque payable to HARDLINES.
COMPANIES IN THE NEWS
LONDON — Kingfisher reported a second-quarter sales increase of 4.4%. Year to date, sales are up 2.6%. Same-store sales for the quarter were down, however, by 1.5%. Sales in the U.K. were up 5.1%, while international sales, which account for more than half of the group's operations, were up 3.9%. Sales in China were down, however, as that market faces a slowdown in housing.

ST. JACOBS, ON — Home Hardware Stores received top honours from the Private Motor Truck Council of Canada when that organization inducted Laverne Martin, a veteran Home Hardware driver, into the PMTC Hall of Fame for Professional Drivers, and named Home Hardware's fleet the " Safest Fleet on Canadian Highways" in the Large Fleet category. COLUMBIA, SC — Home Depot has revealed it will build a regional distribution centre here, near Dixiana, sometime over the next three years. The warehouse will reportedly serve South Carolina, North Carolina, Tennessee, and parts of Georgia. BRENTWOOD, TN — At Tractor Supply Co., the retail farm and ranch store chain, second-quarter net sales increased 13.6% to $898.3 million, from $790.9 million in the prior year's second quarter. Net income was $47.0 million, compared with $43.8 million. The company opened 23 new stores in the quarter and had one closure after the company sold its Del's store in Canada in the prior year's second quarter. Same-store sales increased 3.4%, driven by core consumable categories, including animal and pet-related products. MEDINA, OH — Although it posted a loss of $87.6 million, from a profit of $84 million a year earlier, revenue for RPM, the coatings and sealant company, actually rose 7% to $1.08 billion. Those sales, driven by the company's industrial segment, offset a dip on the consumer side. Profits were affected by a pre-tax charge of $288.1 million, a war chest for future costs related to asbestos liabilities. Not counting this charge, profits were up 16.1%. NEW BRITAIN , CN — During the latest quarter, Stanley Works generated $1.12 billion in revenue, which was up 5.3% over the same period a year ago. Its net income for the quarter fell 6.7% to $79.6 million. Through the first six months of its fiscal year, Stanley's sales were up 4.4% to $2.23 billion, and its profit was off 4.7% to $141.1 million. CHICAGO — USG Corp. lost $40 million in the three months ended June 30, compared to a $56 million gain in the same period in 2007. The company, which is best known for its wallboard and acoustical tile products, reported an 11.2% decline in quarterly sales, to $1.25 billion. Through the first six months of its fiscal year, USG's sales were down 9.4% to $2.42 billion, and it lost $85 million, vs. a net gain of $97 million in the first half of 2007.
Western companies line up for Shanghai hardware show
COLOGNE , Germany — The China International Hardware Show – Powered by Practical World, and held in conjunction with China International Kitchen and Bath, will be held in Shanghai Sept. 17-19, 2008. Being touted as China's largest hardware trade show – and a gateway to the Asian market – the show's exhibition space is nearly sold out, with 2,000 international and Chinese exhibitors filling more than one million square feet of space at the Shanghai New International EXPO Center.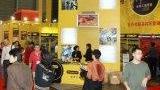 The show is divided into three main sections: Tools; Security Systems, Locks and Fittings; Home Improvement/DIY products and Gardening products. Spain, Italy and Germany are among the Western countries represented in group stands, along with Taiwan.The organizers are preparing a comprehensive program of seminars for visitors and exhibitors to learn about industry updates and technology. Some of the topics include "How buyers choose suppliers"; "How to deal with unfair legal situations in export trade"; "Kitchen & bathroom products and accessories"; and " India's hardware market". Click here for more info about this show
ECONOMIC INDICATORS
Retail sales in current dollars rose 0.4% in May to $35.8 billion, due mainly to significantly higher gasoline prices, which were up 8.8% compared with April. If the effects of these price changes are removed, retail sales in constant dollars rose by only 0.1%. Sales in the building and outdoor home supplies stores sector rose 0.7%, the second increase in eight months. (Stats Canada)Fuelled by higher gasoline prices, consumer prices rose 3.1% in the 12 months ending June 2008, compared with the 2.2% gain recorded in May. June's increase was the largest since September 2005. Consumer prices excluding gasoline rose 1.8% in the 12 months to June. (Stats Canada)
OVERHEARD
"Large enough to be competitive – friendly enough to know your name." —The motto of Wm. Dyck & Sons Ltd., an independent building centre dealer in Niverville, MB. This long-time Castle dealer operates a 20,000-square-foot store on about six and a half acres of land.

 
Highly effective relationship management skills with a track record of developing and executing programs effectively. Strong strategic thinking and management background. Solid propensity for team building, coaching, mentoring and developing others. A competitive manager with a proven sales, marketing, merchandising and, leadership record.
Hardlines Quarterly Report Hardlines Retail Report (Coming in August, place your order now!)Hardlines WebinarsHardlines Annual Conference (Webpage updated) Hardlines Hot Product Showcase Hardlines TV (Take a tour of a new-format Canadian Tire store) Free daily news updates (Sign up at the top of this newsletter to keep up on the latest hardlines news)