In This Issue:
"Everything that is really great and inspiring is created by the individual who can labour in freedom" — Albert Einstein (Nobel Prize-winning German physicist, 1879-1955)
Lowe's overcomes red tape as it expands in Canada
TORONTO — Lowe's has 14 stores to its name in Canada, and wants to open two more this year.
The latest openings were in Scarborough (West and North). Those stores, says Don Stallings, president of Lowe's Cos. Canada, were well-received by their respective communities, "and we expect another couple of stores to open before the end of our fiscal year [Jan. 31, 2010]." He spoke with Hardlines at the recent opening of the Scarborough West store. Each of these stores conforms to Lowe's format, with 117,000 square feet of retail space and an additional 31,500 or more square feet of garden centre. They carry about 40,000 SKUs. The next two stores will be in the Ottawa region, in a specific site that is still pending final approvals, and in Sudbury, Ont. "We have found that there are a greater number of municipal approvals here than we're used to in the U.S.," says Stallings. He notes that Lowe's has a rigorous policy of organic growth, with stores that are built along carefully developed guidelines. Rather than deviate from those guidelines, he says, the company seeks to obtain necessary approvals — even if it takes longer than expected. "That, coupled with the longer winters here, pushes our lead times out a little longer than we are used to in the U.S." Lowe's has plans to open up to 100 stores in this country over the next eight years.

Top.
KMS Tools builds on House of Tools closures
CALGARY — House of Tools has closed its doors once and for all. The specialty tools and equipment retailer, which once had 13 outlets in Alberta, Saskatchewan and British Columbia, first sought protection under the Companies' Creditors Arrangement Act. Unable to restructure, quickly slipped into bankruptcy.However, the vestiges of HOT have been subsumed into a similar company, KMS Tools and Equipment. It all began with the decline of HOT's parent company, Western Tool, an Oregon-based specialty tools retailer, which bought the Canadian company back in 2003. Hammered by the economy in the U.S., Western filed for Chapter 11 bankruptcy protection. HOT, feeling the effects of last year's slowdown in the West, closed its stores in British Columbia — in Langley , Victoria, and Campbell River. Eventually, all stock was liquidated through a few stores and the entire chain was shuttered entirely, putting more than 200 out of work. KMS Tools and Equipment, which is based in Coquitlam, B.C., has taken over the three stores in B.C. Though it didn't buy the business outright, it re-hired the HOT staff and renegotiated the leases on those sites, says Ryan Hare, general manager of KMS. It now has seven stores in British Columbia and one in Red Deer, Alta. One of the aspects of HOT that KMS is emulating is its strong outside sales force. Hare says KMS hired three former HOT commercial service reps. They have became part of a new 12-person outside industrial sales force, serving industrial and corporate accounts, schools and institutions, and insurance claims. "We see that as an area of tremendous growth," especially in Alberta, says Hare. With the closing of HOT, "There's a huge void in that market."
BMR gains traction with new stores
LONGUEUIL, Que. — Le Groupe BMR, the wholesale buying group, has been signing more members to its hardware banner, BMR Hardware. The program, launched last year as a way for BMR to attract more dealers who could benefit from the group's growing hardware distribution business, began with 12 signups and has recently added three more: Paint & Flooring Warehouse Inc., Mississauga, Ont.; H&T Hardware, Perth-Andover N.B.; and Émile Charette et Fils Ltée, Gatineau (Buckingham) Que.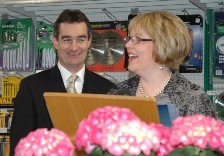 BMR's core business still resides with its membership of approximately 165 building centre dealers. The latest recruit is Les Construction M.R.S. Inc., Iles de la Madeleine, Que. In addition, three dealers have held grand openings under the BMR banner of late: JLS in Bryson, Que., which more than doubled the size of the store to 5,000 square feet (shown here: owners Jean-Guy and Connie Lasalle); Amqui BMR, Amqui Que.; and Les Matériaux 3C Ltée, Grande Rivière, Que.
Home Depot scrutinizes spending for expansion
This year, Home Depot has budgeted US$1.024 billion for capital expenditures. That's about $800 million less than it spent in 2008.The company's CFO Carol Tome projects that, through 2013, Home Depot's annual capital budget would be between $1.2 billion and $1.5 billion, with a larger chunk than before being earmarked for systems improvements. The average age of a Home Depot is 8.1 years, and over the next five years the company will need to spend hundreds of millions of dollars to maintain and upgrade its existing stores. That effort has been made a little less daunting, though, now that the company operates only one retail format, having closed all of its specialty stores and Expo Design Centers. Despite its rather modest plans for store expansion for the foreseeable future, Home Depot officials still believe that it can take market share from other competitors, especially if the market itself grows at a 5% to 7% annual pace, as projected. Home Depot currently captures about 20% of all U.S. home-improvement retail sales, and its officials say that it's been gaining share in several product categories, even during the recession. "There's plenty of room for growth," says Tome.

Our St. Jacobs Merchandise - Hardlines Department currently has the following opportunity...

Product Manager - Hardlines #702SL

Responsible to the Director, Merchandise – Hardlines, you will execute the plan to buy and the plan to sell for the Hand and Power Tools portfolio. Specifically, you will develop and maintain a well-rounded wholesale assortment in the distribution centres as well as products on a direct basis, and source Controlled brand / National brand product both domestically as well as internationally (travel to shows, stores, vendors as required – Domestic and International). Additionally, you will handle vendor negotiations to support corporate initiatives and build strong vendor relationships, supervise/mentor direct reports, and support marketing initiatives.

You are a high energy professional with an entrepreneurial attitude, have excellent communication, planning, organizational, and negotiating skills, and are willing to work ongoing extended hours. You have solid computer skills, are a team player, and have the ability to multi-task, complete priorities, and meet deadlines. Retail experience with related products an asset. We offer a competitive salary and great working conditions. If you are interested in becoming part of Home Hardware, please forward your resume, quoting Product Manager - Hardlines # 702SL, by Monday, July 6th, 2009 to: Human Resources Department, Hardware Stores Limited, 34 Henry Street West, St. Jacobs, Ontario N0B 2N0 e-mail: hr@homehardware.ca Fax: 519-664-4711 (Microsoft Products Only)
REGIONAL SALES MANAGER Point-of-sale and ERP systems for retailers and distributors

With a well-established client base throughout Canada, OGC is our industry's leading developer and installer of computer systems for home improvement retailers and their vendors. A progressive company with more than three decades of experience in the field, we provide state-of-the-art management information (ERP) and point-of-sale solutions.

We are currently searching for a dynamic, self-starting Regional Sales Manager to expand our client base and service our existing customers in Ontario.

The ideal candidate will
Report to our Montreal head office out of their own location close to the Greater Toronto Area
Possess a good working knowledge of the hardware and building supply industries, allied with excellent verbal and written communication skills
Have a demonstrated track record of being able to build excellent relationships with new clients
Be creative, autonomous and diplomatic; be open to new ideas and possess good business instincts
Be willing to travel extensively and work flexible hours as required for sales and installation processes
Possess 5-10 years of experience in sales of information systems and/or sales of products and services to the Canadian home improvement retail industries.
This is a permanent, management-track position that offers a highly-competitive compensation package consisting of a base salary and commissions.

Interested candidates should send their CV and a letter outlining why they feel they are a good candidate for this post, to the attention of our Human Resources Manager, at ogc@ogcinc.ca (or by fax, 1-866-900-2112) by the deadline of July 31st. Please quote Job Ref. 2009M03 "Regional Sales Manager". OGC Inc., 7575 Transcanadienne, Suite 403, Montreal, Quebec, H4T 1V6 www.ogcinc.ca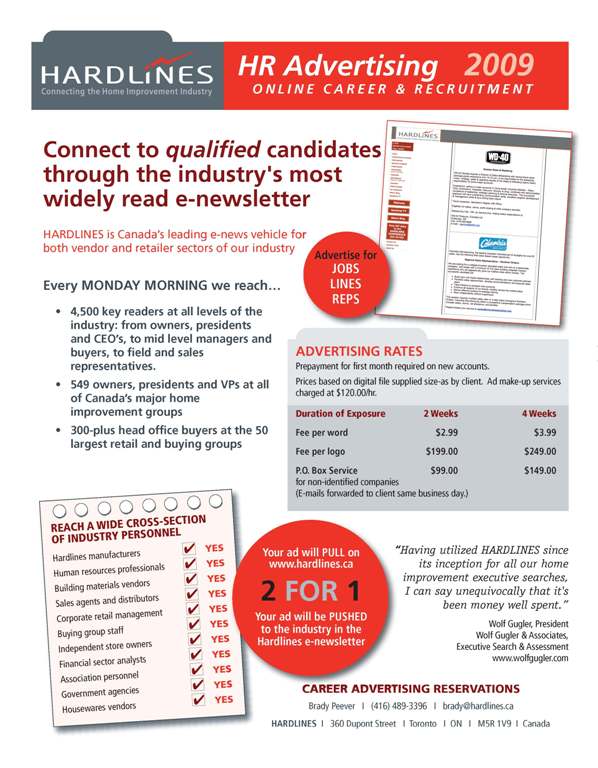 To place an ad in our classified section click here or call 416-489-3396
Leadership, sales and communication skills, seeking a challenging and results-oriented environment.
A creative, strategic thinking and results oriented Sales Professional.
Dynamic business development specialist seeking managment opportunity
Well-spoken, energetic, confident, and personable, the type of person on whom your customers and employees will rely.
A seasoned veteran with a wealth of experience, on the front lines of Retailing. Personable, energetic and dedicated to providing Exceptional Customer Service.
A sales leader experienced in coaching, managing and developing sales teams.
Know someone who is between jobs? We will send a complimentary subscription to anyone who is seeking a job. We also offer a free Online Resumé Service. Ask them to call or email us here at the World Headquarters. (And why not tell your HR department about this service!) Email Brady for more info. —Beverly
Sell your company - or buy one - with HARDLINES Classifieds! Do your executive search, find new lines or get new reps in the HARDLINES Marketplace. Only $2.75 per word for three weeks in the classifieds. To place your ad, call Brady Peever at 416-489-3396 or email: brady@hardlines.ca
To ensure you receive your HARDLINES newsletter each week, please add bev@HARDLINES.ca to your address book.

Did your email system make this newsletter unreadable? You can read it online instead. call us to find out how.

Publishing Details: HARDLINES is published weekly (except monthly in December and August) by HARDLINES Inc. 360 Dupont Street Toronto, Ontario, Canada M5R 1V 9 © 2009 by HARDLINES Inc. HARDLINES™ the electronic newsletter www.HARDLINES.ca Phone: 416.489.3396; Fax: 416.489.6154 Michael McLarney - Editor & President - mike@HARDLINES.ca Beverly Allen, Publisher - bev@HARDLINES.ca Brady Peever - Client Services Manager - brady@HARDLINES.ca Chiaki Nemoto - Accounting - chiaki@HARDLINES.ca The HARDLINES "Fair Play" Policy:Reproduction in whole or in part is very uncool and strictly forbidden and really and truly against the law. So please, play fair! Call for information on multiple subscriptions or a site license for your company. We do want as many people as possible to read HARDLINES each week - but let us handle your internal routing from this end! Subscription:$299 (Canadian subscribers add $14.86 GST = $315.21 per year/ GST #13987 0398 RT).Secondary subscriptions at the same office are only $48.75 (Canadian subscribers add $2.44 GST = $51.19).Ask about our reduced rate for branch offices.You can pay online by VISA/MC/AMEX at our secure website or send us money. Please make cheque payable to HARDLINES.
NEWS IN BRIEF
WINNIPEG — TruServ Canada Inc. will hold its Fall National Merchandise & Planning Markets October 3-6, 2009. This Western-based wholesale distributor prides itself on having some of Canada's most efficient warehousing, product buying and distribution systems, and dealer customers get support in a full range of areas, including merchandising, advertising, technology and store accounting. More than 700 independent retailers, who operate under the True Value, V&S and Country Depot banners, have the opportunity to attend the Markets to plan their business and coordinate their seasonal product purchases. More than 400 manufacturers will showcase a wide selection of spring and summer products, plus specials on everyday products. For more info, www.truserv.ca>. (The dates for the Spring 2010 Market are April 18-20, 2010, at the Winnipeg Convention Centre.)BOUCHERVILLE , QUE. — Le Groupe BMR has announced the dates for its fall show: Nov. 5-6, 2009, at the Quebec City Convention Centre. For more information, contact Christian Auger: 450-655-2441 or cauger@bmr-legroupe.com. ST. JACOBS, Ont. — With the arrival of gardening season (well, sort of, depending on which part of the country's not getting rained on this week—MM), Home Hardware Stores is putting its garden spokesperson front and centre for informational and promotional considerations. Mark Cullen, the celebrity gardener, who also lends his name to a line of proprietary Home Hardware garden tools, offers tips for green gardening and gardening on a budget to the consumer media to help satisfy Canadians' appetite for the outdoors. Cullen also has a new book, The Canadian Garden Primer: An Organic Approach. Click here for more info. OTTAWA — A Coalition of retailers and other merchant businesses opposed to the fees and rates charged to merchants and consumers has succeeded in getting government support for its cause. The "StopStickingItToUs" Coalition now has the support of the Standing Senate Committee on Banking, Trade and Commerce, which released a report last week recommending fundamental changes to the way credit card companies, banks and payment processors operate in Canada. The report makes a number of recommendations that include establishing a code of conduct for payments systems participants and practices for setting fees and rates, prohibiting "honour all cards" rules that require merchants to accept a network operator's higher-cost premium cards, and permitting surcharging and/or discounting by merchants. MOORESVILLE, N.C. — Larry Stone, Lowe's Cos.' 57-year-old president and COO, still sees "tremendous opportunity" for his company's future growth in opening stores in large metro markets. In an interview with the Charlotte Observer, Stone — who in June celebrated 40 years with the company — was quick to note that Lowe's current strategy of expanding mostly in smaller and midsize markets is being abetted by smaller-store formats that are less expensive to build and operate. "There's a lot of small markets throughout the U.S. that you could pop those stores in," he told the newspaper. HONG KONG — B&Q, the big-box chain owned by U.K. retailer Kingfisher, will close its only store here, as part of a rationalization of its operations in China. Another 21 stores will be closed in mainland China, while the remaining 41 outlets will undergo a refurbishing. Faced with a recession there, Kingfisher lost ₤14 million ($23.2 million) in the first quarter in China.
PEOPLE ON THE MOVE
At Coop fédérée, Gabriel Côté has been appointed manager of supply, hardware division, at the organization's headquarters in Trois-Rivières, Que. According to Quart de Rond Xpress, Côté has more than 20 years experience in hardware distribution and logistics.Garth Wallin has joined Hitachi Power Tools as director of sales and marketing. He was formerly with Black & Decker. (905-564-9477, ext. 227; garthw@hitachi-powertools.com) EDRA, the European DIY Retailers Association, has named a new president. Régis Degelcke, of Groupe Adeo, was appointed by the EDRA board on June 15 after ex-Kingfisher exec George Adams stepped down. Adams' new job is in another industry. To place a listing in our "People on the Move" section, please send me the information, including the person's name, title and contact email or phone number, if desired at mike@hardlines.ca. We reserve the right to edit items for length. —Michael
ECONOMIC INDICATORS
Real gross domestic product declined 0.1% in April. This follows decreases of 0.3% in March and 0.1% in February. Value added in retail trade fell 0.6% in April, as the volume of activities at food and beverage stores and new and used car dealers declined. (Stats Canada) 
Hardlines Products
Hardlines Quarterly Report
Hardlines Retail Report
Hardlines Hot Product Showcase
Hardlines TV
Free daily news updates
Did you know you can have this newsletter sent to someone else in your office for less than a dollar an issue!