June 11, 2012, Volume xviii, #24
"The more we study, the more we discover our ignorance."
―Percy Bysshe Shelley (English poet, 1792-1822)
______________________________________________________________________


______________________________________________________________________
Ace sourcing may play bigger role in Chalifour assortment
MONTREAL — Tim Urquhart runs one of the country's largest buying groups, with 740 members coast to coast. He also oversees a giant hardware distribution business, Chalifour Canada, which sells to both members and non-members alike.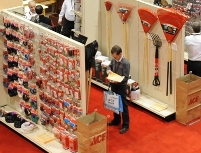 Ace-branded products, an important part of Chalifour's offering, are featured prominently at the wholesaler's annual buying show.
Speaking here recently to a group of vendors at a breakfast meeting of the Canadian Hardware and Housewares Manufacturers Association, the CEO of TIM-BR MARTS Ltd. explained that the buying group is a member of Spancan, a hardware buying group. Chalifour comes to the table in Spancan negotiations with TIM-BR MARTS. "The focus is on Canadian suppliers and the business is committed and directed to preferred vendors."

But, he observed, American companies are introducing lower-cost product from the US, "We will look to our Spancan partners for a solution. But we will also look to the global resources of Ace Hardware's global sourcing in Shanghai," he added.

TIM-BR MARTS owns the master licensing for the Ace brand in Canada.
back to top



______________________________________________________________________
RONA continues store conversions and recruitments
BOUCHERVILLE, QC — RONA is continuing expansion under different formats, under its "New Realities, New Solutions" business plan. The centrepiece of that plan is the conversion or closing of 10 its big-box stores to proximity and satellite stores, and the outright closing of another dozen stores.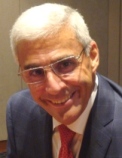 Changes include the expansion of a satellite store in Georgetown, ON, and the official launch of its new proximity format. "We will soon be opening a satellite store in Douglasdale, AB, and our very first new-concept proximity store in Stony Plain, AB, this summer," said Robert Dutton, president and CEO of RONA.

A big coup for RONA in the quarter was the recruitment of Millwork as an affiliate dealer. Millwork is a major player in markets east of Toronto, with three stores, in Oshawa, Ajax, and Peterborough, ON. "We will also be grouping the sales from our traditional store in Peterborough with those of the existing Millwork store recruited for that purpose at the end of April," said Dutton.

"These initiatives will enable us to gradually redeploy the sales volume from five of the 10 big-box stores whose closures were announced in February 2012," Dutton added. Those stores are in Brampton, Mississauga. and Whitby, ON; and in Calgary North and Edmonton West in Alberta.

Lastly, five of RONA's dealer shareholders opened new proximity stores during the quarter, adding more than 140,000 square feet of sales area.
______________________________________________________________________
Menards moves in on Southern Ontario markets

  DETROIT — Menards is preparing to launch four stores in metro Detroit, a region where it has no presence, according to the Detroit News. Stores in Warren, Livonia, Belleville, and Chesterfield Township will open sometime next year, Menards spokesman Jeff Abbott said. The home improvement retailer currently has 22 stores in Michigan.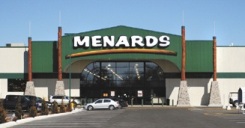 Based in Eau Claire, WI, the giant big-box retailer has expanded rapidly beyond its Midwestern roots in recent years, mainly in North Central and Eastern markets. Earlier this spring, it put an offer on a former school property in Port Huron, MI, right across the river from Sarnia, ON. The $3.4-million sale was approved by the city's board last month.

Menards is considered the third-largest home improvement retailer in the U.S., after Home Depot and Lowe's. It has more than 260 stores in 13 states throughout the American Midwest, and has been expanding aggressively into markets in Ohio and Michigan in recent years. And while other retailers are building smaller stores, Menards has been replacing its traditional big boxes with mega-stores that are up to 250,000 square feet in size.

The company is privately held by John Menard, with revenues estimated at more than $8 billion.
back to top



______________________________________________________________________
Home Depot updates strategic priorities
ATLANTA — At its 2012 Investor and Analyst Conference last week, The Home Depot gave an update on its key strategic priorities and long-term financial targets.

Strategic priorities focused on four areas:
Customer service – the company is focused on creating an emotional connection with customers, putting customers first and simplifying the business.
Product authority – Home Depot is focused on its merchandising transformation and portfolio strategy, including innovation, assortment, and value.
Disciplined capital allocation, productivity, and efficiency – focus on continuous operational improvement, incremental supply chain benefits, and shareholder value built through higher returns on invested capital and total value returned to shareholders in the form of dividends and share repurchases.
Interconnected retail — the company is focused on building a competitive platform across all commerce channels.
The company still expects sales to be up approximately 4.6% for the year on a 53-week basis and diluted earnings per share to be up approximately 17% to $2.90 for the year.
______________________________________________________________________
Masters in Australia will be bigger than Lowe's Canada
 LAS VEGAS ― Masters, the home improvement joint venture between Lowe's and Australian retailer Woolworths, replicates the Lowe's model in North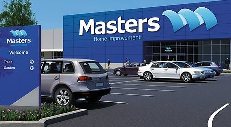 America (in fact, the head of Masters is none other than Don Stallings, who was previously president of Lowe's Canada). But the new chain, which is up to 12 stores there, is changing the way retail is done in Australia – and having an impact on the processes used by Lowe's itself.

According to James Allen, senior merchandising manager for Masters, who spoke with HARDLINES at the National Hardware Show earlier this year, these DIY stores have features unheard of before in that country. For example, the Masters stores all have air conditioning and heat, which is proving a big draw for customers throughout the country's five climate zones. The stores also feature looped drive-through lumber yards. Most importantly, said Allen, was the impact the company is having on pricing. "We're breaking huge price points in Australia, which is resulting in huge sales."

Like the typical Lowe's stores in North America, Masters features sections such as garden, décor, hardware and LBM, with a focus on the female customer. But it's also trying out other segments, most notably 100 feet devoted to wallpaper and wall art.

Growth for Masters will continue. "Within 12 months, we'll have a store in every major market in Australia," says James. "We expect that we'll continue to launch a new store every two to three weeks and by this time next year we'll be bigger than Lowe's Canada."

One of the reasons for this rapid expansion, according to the Masters team, is the availability of retail sites in the Masters/Lowe's pipeline, thanks to the powerful presence of Lowe's partner in the Masters deal, Woolworths, which is the country's largest retailer.

The company plans to have 150 sites approved by the end of 2016.
_____________________________________________________________________
Classifieds

Schlage
Marketing Communications Specialist
Schlage is currently seeking a Marketing Communications Specialist to fulfill the following responsibilities: 

1. Marketing communications and advertising plan that encompasses both print and on-line media, consumer and channel lead generation. 

2. Leverage Schlage's digital assets including newsletters, price books, sales tools, bulletins and literature to maximize the cost-effective impact our sales and marketing materials have on the marketplace.

3. Develop and deploy an online presence including websites, e-newsletters, e-blasts and viral campaigns, lead generation and tracking tools.

4. Manage the flow of communications to other functional departments (database administration, accounting, customer service, operations) as required to keep marketing programs and promotions on track.

3/4 year College degree in Marketing or Business, coupled with 3-5 years related experience.
Click here to submit you resume.

______________________________________________________________________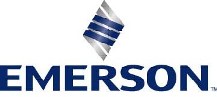 Retail Account Manager
Emerson Tool Company a business unit of Emerson Electric Co. is a world class, manufacturer of wet/dry vacs for premier brands (RIDGID, Craftsman).

We currently have an immediate opening for a Retail Account Manager – Toronto based
RESPONSIBILITIES:
Manage existing account operations including: pricing, programs, promotions, and inventory management. Identify and capitalize on new business opportunities. Build strong and lasting relationships with each key account.
QUALIFICATIONS:
College or University
3-5 years of experience in positions of progressive responsibility in sales account management
Experience within the retail Hardware industry is a strong asset
Bilingual in English / French would be an asset
Submit Cover Letter, Resume and Salary Expectations to:
HR@emersonelectric.ca
______________________________________________________________________

Resumés
Marketing professional with over 10 years experience looking to secure a new full-time position.

view this

resumé

Fluently bilingual, highly motivated Business Development Professional with excellent strategic and operational capabilities.

view this

resumé

A Sales Professional with over twenty years of experience.view this

resumé

Experienced District Manager with a proven track record with several national chains. view this

resumé

A conscientious, highly motivated manager with a results-oriented track record in developing new business.

view this

resumé

An experienced merchandising executive possessing passion, vision, and a strategic approach to delivering bottom-line.

view this

resumé

Senior sales/marketing leader with experience in all classes of trade wishing new HARDLINES career. view this

resumé

Very Experienced Business Unit Manager, great passion for generating sales and building relastionships.view this

resumé

Worked through my career within the manfucaturer, wholesale and consumer goods industries. view this

resumé

Senior Sales Manager with vast experience in retail and wholesale sales growth in Canada. view this

resumé