June 14, 2010, Volume xvi, #24
"Before borrowing money from a friend, decide which you need most."
—Anonymous
Home Hardware increases private-label lines
ST. JACOBS, Ont. — Like so many other retailers today, Home Hardware is increasing its range of private-label products. Brands like Benchmark for tools, Natura for its eco-friendly products, and its burgeoning Beauti-Tone paint lines are not only popular with Home dealers
(thanks to better margins), but with customers, as well. "We've had increased acceptance from consumers on our private label," says Joel Marks, Director, Merchandising-Hardlines at Home Hardware Stores Ltd.

He sees the trend to more private label as a natural way to offer more value for both his dealers and their customers. "Home Hardware will continue to convert to private-label or controlled brands, providing customers with tremendous value and quality product," says Marks.

Home's own brands are being supported in a number of ways. The company's reload centre in China, near Shanghai, is, says Marks, up and running and "providing us with speed to market."

With more than 65,000 SKUs in its warehouse, to serve the diverse customer tastes of its 1,070 dealers coast to coast, Home has always been very receptive to new product ideas from vendors. While its mandate for more house brands puts pressure on its own sourcing, Marks says the company has in no way turned its back on innovators here at home. "Our number-one preference is to buy from domestic sources, but importing has become a reality," he adds.
U.S. Home Depot exec says MET program is working
TORONTO — Vendors attending Home Depot Canada's Merchandising Excellence Team meetings last week had a visit from a special guest. Paul West, Vice-President of Vendor Services for The Home Depot in Atlanta addressed the vendors to explain how the MET program is working in the U.S.

The program, which replaces vendors' and agents' own in-store service teams with a new in-house team of Home Depot employees, is already in place south of the border. While many vendors say it had a rocky start, U.S. suppliers are beginning to report that the program is actually working there.

And that's the message West was on hand to deliver.

"What Paul has been able to relate is that this is already been the best thing Home Depot has rolled out in terms of execution and focus on the customer," says Gino DiGioacchino, Vice-President Merchandising for Home Depot Canada.
back to top

Taiga reports positive year-end results
BURNABY , B.C. — Taiga Building Products Ltd. reported a profit for the fiscal year ended March 31 of $12.0 million, an increase of $11.8 million from $0.2 million last year. Sales for the year were down, however, by 7.4%, to $931.5 million from $1.006 billion last fiscal year.

During the first six months of the fiscal year, sales slumped by 17% year over year as both builders and retailers reduced inventories in response to the general business slowdown. However, demand and commodity prices began to improve in the last six months of the year in response to low levels of inventory in the supply chain. Sales increased by 8% compared to the same period last year.

Sales for the fourth quarter were $223.1 million, up $44.3 million or 24.8% from a "very weak" quarter in 2009. Gross margin for the fourth quarter was $21.2 million compared to $17.6 million in the same quarter last year, an increase of $3.6 million or 20.5% as sales volume increased.

Net earnings for the fourth quarter were $1.1 million, a healthy rebound from the net loss of $4.5 million in the same quarter last year. EBITDA was $8.6 million, compared with negative $1.8 million in the same quarter last year.
back to top

Engineered wood innovator celebrates 50th anniversary
BOISE, Idaho — RedBuilt, the former commercial division of Trus Joist Corp., is celebrating its golden anniversary in 2010. Founded in Boise in 1960 by wholesale lumberman Harold "Red" Thomas and inventor Art Troutner, the commercial division of Trus Joist became an innovator in engineered wood products. It all started with a product called the open-web truss that Trus Joist — which was actually called Trussdeck Corp. at the time — introduced in 1960. The company then released two more technologies – the engineered wood I-joist in 1969 and laminated veneer lumber in 1970. Both use wood more efficiently than traditional "solid-sawn" lumber and have since transformed the building industry.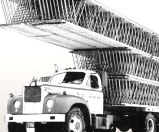 Last August, private equity firm Atlas Holdings LLC, in partnership with a group of former Trus Joist execs, acquired the commercial division of Trus Joist from Weyerhaeuser Co. They moved the headquarters back to Boise and renamed the company RedBuilt.

According to RedBuilt President and CEO Kurt Liebich , Weyerhaeuser's business model was not a good fit when it came to the needs of the commercial construction industry. "Theirs is a production-and-distribution system that delivers an array of relatively standard engineered wood products to dealers who then sell to residential builders and contractors," he says. The new facilities enable RedBuilt to focus on custom orders for the commercial construction industry.
Classifieds
Major consumer packaged goods company is seeking a creative, dynamic, "hands –on" marketing professional to manage marketing activities nationwide. Reporting to the Director, Sales & Marketing and working with the company sales mangers and Grocery/Drug brokers, you would be responsible for planning, coordinating and implementing marketing and sales programs to support the WD-40, 3-IN-ONE, Spot Shot and 2000 Flushes brands. This includes marketing strategy, promotions, sales support programs and the communication mix – plus contributing to strategic customer planning through the sales force and brokers.
Qualified candidates would have a minimum of 7-10 years combined consumer brand marketing and sales experience within a consumer packaged goods environment. Preferred background would include advertising, market research, consumer and marketing data interpretation, packaging development, product introduction, promotion, public relations and sales processes. Successful candidate will have experience in the management of grocery brokers, manufacturer's agents and working knowledge of the grocery market.
Knowledge of Microsoft Office applications is a mandatory requirement.
See our website at www.wd40.com for further company information.
Respond by fax or e-mail only by June 21st, 2010.
WD-40 Company Canada (Limited)
Fax: 416 622-8096
Email: gencan@wd40.com
Category Product Manager - Toronto
This well-established, successful Toronto-based Canadian company is thriving and looking to grow their retail hardware category share. This new position reports to the National Marketing Manager and involves leading the category strategy efforts, defining and launching new products and securing new product designs. You'll also be involved in sourcing (including offshore), pricing and competitive analysis, all of which are important parts of this role.
Ideally you've developed and promoted multi-sku consumer products and can demonstrate five years' plus business intelligence in both your creative and analytic abilities in new sku or line development. Familiarity with key customers such as Home Depot, Canadian Tire and Rona would be beneficial.  Your experience may be on the vendor or retail side. Post-education in marketing or business is strongly preferred.
Please respond to Wolf Gugler quoting PM-Toronto. You may also apply online on the" Opportunities" page at www.wolfgugler.com. Phone: 888-848-3006. SKYPE: hdhntr53

Key Accounts Manager—Are you a Top Gun?
Are you already an experienced key accounts manager looking for a new challenge? If so, this premiere opportunity will excite you. Our Client is expanding and as such requires a Toronto-based account manager. They're in need of a high performer to take full advantage of Canadian market opportunities with customers such as Home Depot, Lowe's, Rona, Canadian Tire and Home Hardware. There may in fact be two opportunities available.

Manage and direct the sales process for these customers, working in conjunction with the Marketing team. The team is lean, so you're used to and prefer being involved in all aspects on the Retailer's behalf including taking the lead on category management issues including competitive positioning, sales data and forecasting, and cross-selling opportunities. You'll work with a cohesive, dynamic retail products team on merchandising, customer product knowledge/education, and achieving growth through organic and new revenue streams.

Looking for an employer who continually demonstrates a commitment to improving Customer satisfaction and their competitive positon? Contact Wolf Gugler in complete confidence demonstrating your key account Retail expertise and business development. Toronto—based. Apply by clicking this link: http://www.maxhire.net/cp/?E55F6F361D43717B76561A653951526E04
Wolf Gugler & Associates Limited. Telephone: 888-848-3006.
Email: wolf@wolfgugler.com Web site: www.wolfgugler.com

Administrative Sales Support
Prime Source Building Products, Inc., one of the North American's largest wholesale distributors of building supply products, is seeking administration sales support for their Canadian expansion

Responsibilities would include amongst others sales support, credit and inventory control

If you are an individual who welcomes the opportunity to work in a challenging and financially rewarding environment, we want to meet you. PrimeSource offers attractive salaries, and competitive benefits package.

Please send Resumes to Phil Brown General Manager PrimeSource Canada At brownp@primesourcebp.com

NATIONAL ACCOUNTS MANAGER, TORONTO, ONTARIO
A leading North American hardware and building materials manufacturer is seeking a Toronto-based National Accounts Manager responsible for managing several Canadian national retail accounts of the company as well as developing business with potential new national accounts.
MAJOR RESPONSIBILITIES:
Sales to existing National Retail Accounts:

Continually build strong business relationships
Provide product training as required
Identify customer needs and provide solutions

Development of New Accounts and Opportunities:

Identify opportunities for new National Retail Account business
Identify new applications and markets for existing and new products
KEY COMPETENCIES:
Negotiating ability and proven ability to acquire new accounts
Strong communication, presentation, and business relationship skills
Good analytical skills, e.g., budgeting, sales forecasting, etc.
Very detail oriented, organized and disciplined, attention to accuracy
Self-motivated and ability to work independently as well as in a team environment
Ability to multi-task in a fast paced environment
Regular travel to current and potential customers
KEY QUALIFICATIONS:
7-10 years sales experience in the Canadian hardware, building materials, paint sundries markets calling on National Retailers
Post secondary diploma or equivalent ideally in business or related field
Bilingual (English/French) preferred but not required
Proficient in key Microsoft platforms including Excel, Word, PowerPoint, Outlook
Please submit résumé via email to:
Black Eagle Executive Search
c/o Richard Simms at rsimms@blackeagle.ca
Resumés
A goal oriented sales director that has superior management skills, customer oriented, with in depth knowledge of the industry and the ability to achieve results.

view this

resumé

National Field Sales Manager with twelve plus years in power tools and hardware sales/merchandising.

view this

resumé

Business Manager with U.S. & Canadian experience with retail & industrial customers seeks a new opportunity.

view this

resumé

An experienced merchandising executive possessing passion, vision, and a strategic approach to delivering bottom-line.

view this

resumé

Results oriented sales professional with a strong record of achievement in strategic and tactical roles. view this

resumé

Senior sales/marketing leader with experience in all classes of trade wishing new HARDLINES career. view this

resumé

Very Experienced Business Unit Manager, great passion for generating sales and building relastionships.view this

resumé

Worked through my career within the manfucaturer, wholesale and consumer goods industries. view this

resumé

Senior Sales Manager with vast experience in retail and wholesale sales growth in Canada. view this

resumé
Click here to post your resumé

Connect with us!