June 24, 2013, Volume xix, #25
"Laughter is an instant vacation."
—Milton Berle (American comedian, 1908-2002)
______________________________________________________________________
RONA will sell its commercial division to Emco
BOUCHERVILLE, QC — RONA has announced a deal to sell the assets of its Commercial and Professional Market division. The division, which specializes in plumbing and HVAC wholesaling, will be acquired by Talisker Plumbing Corporation, which is part of London, ON-based wholesaler Emco.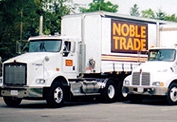 The Commercial and Professional Market division was created when RONA acquired Noble Trade in 2007. Under the direction of Noble president Michael Storfer, who remained with RONA after the acquisition, the division grew rapidly, mainly through a series of acquisitions. Today, it has 1,400 employees in Ontario, Quebec, and British Columbia, operating under the banners: Noble, Don Park, MPH Supplies, Boutique Eaudace, and Boutique Plomberie Decoration.

Emco offers a range of construction products in plumbing and heating, waterworks, industrial, oilfield supply, irrigation, fire protection, HVAC, and refrigeration.

The sale is in line with RONA's strategic priorities, as set out late last year and further codified at its annual general meeting in May. At the time, RONA said it would examine underperforming or non-core businesses. The commercial division is an example of the latter.

The transaction, which is subject to regulatory approvals, is expected to be worth up to $215 million after transaction expenses and fees.

The Commercial and Professional Market division will be classified as a discontinued operation. RONA expects to record a second-quarter pre-tax loss of approximately $125 million resulting from the transaction, mostly related to a write-down of the division's goodwill.
back to top
______________________________________________________________________
Lowe's makes bid for Orchard Supply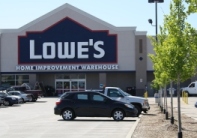 MOORESVILLE, NC — Orchard Supply, the beleaguered home improvement chain in California, is being bought by Lowe's Cos. for a reported $205 million. Orchard Supply, which was a part of Sears Holdings until that company spun it off in 2011, has liabilities totalling $480.1 million, and annual sales of $657 million. It has formally filed for bankruptcy protection under Chapter 11.

 Lowe's will actually be a "stalking-horse" bidder, which means other companies could conceivably put in bids of their own, which Lowe's would have the right to try and top.

Lowe's will acquire at least 60 of the 91stores from the San Jose, CA -based home improvement chain. Most of the Orchard Supply stores are in California, where Lowe's says it is under-represented (Lowe's has 110 stores there), while two are in Oregon. The stores will continue to operate under the Orchard Supply name.
back to top
______________________________________________________________________

Vendors not on the hook when Lowe's buys Orchard Supply

    SAN JOSE, CA — With Orchard Supply under Chapter 11, it was a cause of concern for creditors. In fact, bondholders are expected to lose their investment with the change. However, the outlook for vendors looks brighter.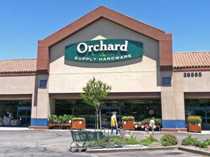 Orchard Supply sent out a letter, signed by Mark Baker, Orchard Supply's president and CEO, and Steve Mahurin, EVP merchandising and marketing, assuring vendors that they intend to live up to ongoing vendor agreements. They say, "[W]e expect to pay our suppliers, not only for the goods and services delivered to our company moving forward, but also for the vast majority of the deliveries made prior to our filing."

Nor will Orchard Supply hide behind its bankruptcy protection to pay pennies on the dollar. The letter explains that new financing and existing cash flow "will ensure we are able to continue meeting all of our financial obligations throughout the Chapter 11 process, including paying you as usual for all goods and services delivered to our company on or after June 17th. As we work through this process, it will be very important that our supplier partners continue to deliver as usual under our existing agreements."

The move indicates a desire by both Orchard Supply and Lowe's to maintain strong relations with the supplier base, as it will likely turn to those same suppliers for support in efforts to turn the company around in the coming months and years.
back to top
______________________________________________________________________

Canadian Tire gets naming rights to Ottawa sport arena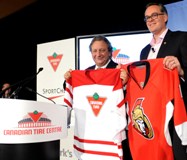 OTTAWA — The home ice of the Ottawa Senators, the former Scotiabank Place, will be renamed the Canadian Tire Centre in honour of its new sponsor, the team has announced. The name is just one part of a wider strategic partnership between the legendary retailer and the Senators. The deal extends for eight years, after which Canadian Tire has the option to keep renewing it in 10-year stretches indefinitely.

The giant retailer has been a sponsor of the Ottawa Senators since 1990. Canadian Tire's fashion and workwear chain, Mark's, will be the official outfitter of the staff at the sports centre. In addition, Canadian Tire stores in the Ottawa region will have kiosks where people will be able to buy tickets for events at the Canadian Tire Centre.
back to top

______________________________________________________________________ 

Renaming of Canadian Tire Centre ignites flurry of wisecracks

      NATIONAL — The renaming of Ottawa's Scotiabank Place following a new sponsorship deal with Canadian Tire Corp. has certainly made Canadians sit up and take notice.

Bloggers and online commenters have been quick to voice their comments, drawing on the many quirks of Canadian Tire's own retail culture, which includes its outdated but highly popular Canadian Tire "money"—and a reputation for poor customer service.

"Great! Can I buy Sens tickets with Canadian Tire money now?" asks one commenter to a story posted on cbc.ca. "So the place is going to be run by 17-year-olds who don't know what to do and run from you when they see you coming down the aisles?" posited a reader at torontosun.com.

In the Twittersphere, the debate was no less heated, or humorous. "Sens arena renamed Canadian Tire Centre. In keeping with Canadian Tire staffing policy, there will now be one usher for every 10,000 fans," was the tweet by Adam Proteau.

back to top

______________________________________________________________________ 

Target Canada prez talks

TORONTO — The opening remarks of Tony Fisher, president of Target Canada, speaking at the recent convention of the Retail Council of Canada, revealed just how well briefed he had been on the market here.

He made lots of hockey references to warm up the audience.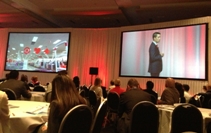 While he didn't quite come off as calculated in his efforts, the presentation was nevertheless very canny, and likely reflects the overall level of preparedness that Target has strived for in its assault on the Canadian retail market here. With 124 stores planned by the end of this year, of which 48 are already open, the giant Minneapolis-based mass merchant has certainly done its homework.

Fisher proceeded to tell the room full of an estimated 800 people about the Target culture. Customers are called "guests," and Target provides a shopping destination that is not, Fisher said, the low-cost offering only. In fact, in 1994 the company made the decision to go for value, and not just have the lowest price.

Did he and his company find marked differences between customers (guests, remember! —Editor) here and in the U.S.? He noted that Canada has far more in common with its American shopping cousins than it has differences, "which is why it's so attractive to many American retailers." But he did acknowledge the high level of "transparency and passion of Canadian consumers. I think that level of transparency has been a big surprise for me—and a good surprise."

He did admit, however, that it costs more to sell stuff in Canada. "Prices are on par with the U.S. on a wide range of goods, but there are some areas where a difference exists. But we will be still be competitive within the Canadian market," he added.
back to top


______________________________________________________________________


Classified Ads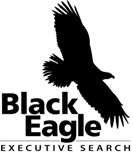 DIRECTOR OF SALES - CANADA
THE GORILLA GLUE COMPANY
TORONTO , ONTARIO
The Gorilla Glue Company www.gorillatough.com based in Cincinnati, Ohio, a market leader in glue, adhesive and tape products, as well as work related skin care products through its subsidiary, the O'Keeffe's Company www.okeeffescompany.com , is seeking a senior Director of Sales - Canada with national and regional account experience across Canada in a variety of market channels.

Reports directly to the Vice-President, Sales in Ohio.

Competitive salary, bonuses + benefits package, and a fun and positive work environment make the company a top place to work.
Black Eagle Executive Search is conducting this search on behalf of The Gorilla Glue Company.
RESPONSIBILITIES
Manage and develop Canadian Sales for the company
Develop sales structure as required for the Canadian market place
Overall management of the company's major national and regional accounts
Increase business with major accounts through strategic account management.
Explore and develop new business opportunities.
Sales forecasting for products, customers
Develop and manage the sales budget re sales expenses and operations
KEY COMPETENCIES
Sales focus
Strong organizational, presentation, communication skills
Excellent negotiation skills
Proven track record of "top 10%" accomplishment.
Strategic planning, execution and implementation skills
Entrepreneurial "ownership mentality"
Self-Starter - ability to work independently and as part of the Gorilla/O'Keeffe's team
KEY QUALIFICATIONS
5-10 years Consumer Packaged Goods experience with focus on Home Centre, Mass Merchant markets.
Post-secondary undergraduate diploma/degree required
Extensive senior sales experience with current key major national retailers required:
Canadian Tire, Wal-Mart, Home Depot, Lowe's, RONA, Home Hardware
Additional channel experience in pharmaceutical, food, automobile after-market, and commercial markets would be an asset.
Proficiency with Microsoft Office suite - Excel, Word & PowerPoint
Bilingual (English/French) not required, but would be an asset.
Ability to travel across Canada and to U.S. head office
Physical ability to set up trade shows, carry goods, etc.  
Please submit résumé to Black Eagle Executive Search via email to Richard Simms at rsimms@blackeagle.ca 
Only candidates of interest will be contacted
 
______________________________________________________________________

New Resumés
Experienced Outside Sales Account Manager with a proven track record for achieving or exceeding forecasts view this

resumé

Creative, ambitious sales engineer and leader with over 10 years of National Account management experience view this

resumé

Experienced Territory Manager Seeks position in Eastern Ontario based in Kingston. view this

resumé

A customer focused Business Management Professional with an innovative and diverse background. view this

resumé

am interested in territory/district manager job in the home improvement industry. view this

resumé

Award-winning sales professional skilled in relationship-building in order to continually enlarge sales territories view this

resumé

Professional with over 25 years of experience in Sales, Marketing, Merchandising and Administration

view this

resumé

Marketing professional with over 10 years experience looking to secure a new full-time position.

view this

resumé

A Sales Professional with over twenty years of experience.view this

resumé

Experienced District Manager with a proven track record with several national chains. view this

resumé