June 3, 2013, Volume xix, #22
"The chief enemy of creativity is good sense."
—Pablo Picasso (Spanish painter and sculptor 1881-1973)
______________________________________________________________________
Hardlines acquires Outstanding Retailer Awards
TORONTO — Canada's premier awards program for home improvement dealers has a new home. The Outstanding Retailer Awards (ORAs) will be owned and managed by Hardlines Inc. Hardlines, which publishes the quarterly hardware/home improvement trade magazine Hardlines Home Improvement Quarterly (HHIQ) and the weekly e-newsletter HARDLINES, has purchased the awards from Hardware Merchandising.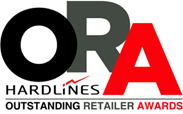 The annual ORAs began in 1992 to recognize excellence in merchandising and retail performance. The ORA ceremony has been held during the Hardlines Conference for the past decade. Hardlines Inc. has now purchased the rights to the program from Hardware Merchandising.

"Some of the greatest retailers in Canada are hardware and home improvement dealers. These awards are an important way to ensure they get the recognition they deserve," said Michael McLarney, editor and president of Hardlines Inc. McLarney inaugurated the ORA program earlier in his career when he was editor of Hardware Merchandising.

"We are pleased to see the ORAs continue uninterrupted and to know that the integrity of the program will be maintained by its founder, Michael McLarney," said Robert Koci, associate publisher, Hardware Merchandising.
The ORAs will be presented at the Annual Hardlines Conference, October 23-24 in Toronto. Hardlines' purchase of the awards completes the Hardlines Conference program. The call for entries to the Outstanding Retailer Awards is effective immediately. For complete application and event information, please visit www.oras.ca.
back to top
______________________________________________________________________
RONA chairman: commitment to building a company
    BOUCHERVILLE, QC — RONA's decision to keep its big box stores outside of Quebec came as a surprise to many, especially as those closings had formed the centrepiece for the company's new strategic plan, as outlined in the fall of 2012.

 But with a new executive chairman and a new president and CEO, RONA has redoubled its efforts to keep the company intact and build it anew. At the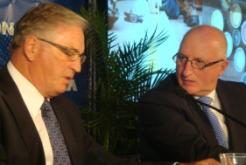 company's annual general meeting last month, executive chairman Robert Chevrier admitted that "RONA's shareholders made it clear that they wanted to see changes" to ensure the company's long-term success as, what he called, "a flagship corporation of Quebec and Canada."

This notion of RONA's status as a flagship corporation emerged again when Chevrier and new president and CEO Robert Sawyer sat with journalists immediately following the AGM. When asked why RONA would hold onto its big box stores outside of Quebec, Chevrier said it was important to operate multiple formats and important to have the right sized stores for each market. He added that he anticipated the company "could sell five or six big boxes, but we have to look at the entire retail landscape." Any retreat could diminish RONA's total presence in Canada and diminish the company's brand.

Later on, Chevrier fielded questions about the Quebec government's protective interference in Lowe's attempt to take over RONA last summer. Although seen as an important asset to Quebec, could that "protection" interfere with future maximum shareholder benefit?

Chevrier's response echoed his opening remarks about RONA's role as a "flagship corporation" —and was almost philosophical. "It's my personal opinion but we should have a mission to build the Canadian economy." He said that investing in Canada through its stores can indeed provide sound investment opportunities for key shareholders. A company like RONA should not have to be sold off to an American or other foreign company to realize a strong return for those shareholders, he said.
back to top
______________________________________________________________________

Castle amps up anniversary with TV, scholarship

 MISSISSAUGA, ON — Castle Building Centres Group continues to celebrate its 50th anniversary this year with a special "Castle 50th Anniversary Week" that runs from June 1-8. To prepare for the event, more than 200 Castle dealers Canada-wide received an anniversary POP kit, and were encouraged to run promotions, specials, flyers, and giveaways of their own.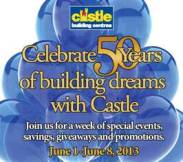 The promotion was backed by print, radio and TV advertising, including a 30-second TV spot, using the group's latest tag line, "Your trusted building—and hardware—supply partner." (The addition of "hardware" reflects the LBM group's affiliation with U.S. hardware wholesaler Orgill.)

To further celebrate the anniversary year, Castle has launched a scholarship program for Castle members and their staff, and Castle employees. The scholarship recognizes both academic excellence and a passion to lead and inspire positive change within their community. Three scholarships of $1,500 will be awarded.
back to top

______________________________________________________________________ 

CanSave draws 250 dealers to annual buying show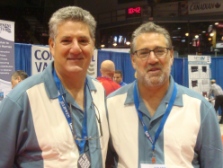 BARRIE, ON — Expo 2013, the latest instalment of CanSave's annual buying show, was again held in the Barrie Arena. Using the theme of "How to Build Your Business," the show played host to some 250 dealers, mostly from Ontario, offering up a full day of buying specials, refreshments, and seminars. The purpose of the show is to provide tools for dealers to grow their own businesses, said Larry Koza, who, with his brother Cully, is co-owner of CanSave. "It's all about making money," he noted.

The event featured displays by the vendors that sell through CanSave's own distribution facilities, as well as a strong presence by CanSave's own in-house Cabinetsmith kitchen business and its door production division. The show also featured a number of vendors in addition to CanSave's own suppliers.

Each vendor had their own "Business Builder" cards, handouts—put together by CanSave—that explained the unique selling proposition of the products being featured.

The day, which included tours of the CanSave distribution centre, ended with a free performance by Canadian rock 'n rollers Myles Goodwyn and April Wine.
back to top

______________________________________________________________________ 

Will smartphone replace your wallet?

TORONTO — A global study commissioned by PayPal paints a dim future for the wallet, especially in the Canadian market. Almost nine in 10 (87%) Canadians indicated they wished they did not have to carry a wallet, followed by 83% of respondents across five countries (Australia, Canada, Germany, the U.S. and the U.K.) wishing they were wallet-free.

Nearly one in four Canadians (23%) and almost half of Canadians (47.9%) between the ages of 18 and 24 would choose a smartphone over a wallet if they could only bring one item when going out. Those in Ontario (28%) and the Prairies (23%) were most likely to choose their smartphone over their wallet.

While Canadian consumers are keen to move to a digital payment future, the businesses that serve them may be lagging behind. Three quarters of Canadians (75%) reported they have been unable to pay for something because they didn't have cash with them. In fact, for more than one third of Canadians (36%) and nearly half (47%) of younger Canadians (between the ages of 18 and 24), this has happened frequently.

The survey, conducted in Australia, Canada, Germany, the U.S. and the UK, found striking similarities in consumer frustration across the globe. In each country, strong majorities of consumers reported they wished they could leave their wallet at home.

back to top


______________________________________________________________________


Classified Ads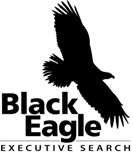 DIRECTOR OF SALES - CANADA
THE GORILLA GLUE COMPANY
TORONTO , ONTARIO
The Gorilla Glue Company www.gorillatough.com based in Cincinnati, Ohio, a market leader in glue, adhesive and tape products, as well as work related skin care products through its subsidiary, the O'Keeffe's Company www.okeeffescompany.com , is seeking a senior Director of Sales - Canada with national and regional account experience across Canada in a variety of market channels.

Reports directly to the Vice-President, Sales in Ohio.

Competitive salary, bonuses + benefits package, and a fun and positive work environment make the company a top place to work.
Black Eagle Executive Search is conducting this search on behalf of The Gorilla Glue Company.
RESPONSIBILITIES
Manage and develop Canadian Sales for the company
Develop sales structure as required for the Canadian market place
Overall management of the company's major national and regional accounts
Increase business with major accounts through strategic account management.
Explore and develop new business opportunities.
Sales forecasting for products, customers
Develop and manage the sales budget re sales expenses and operations
KEY COMPETENCIES
Sales focus
Strong organizational, presentation, communication skills
Excellent negotiation skills
Proven track record of "top 10%" accomplishment.
Strategic planning, execution and implementation skills
Entrepreneurial "ownership mentality"
Self-Starter - ability to work independently and as part of the Gorilla/O'Keeffe's team
KEY QUALIFICATIONS
5-10 years Consumer Packaged Goods experience with focus on Home Centre, Mass Merchant markets.
Post-secondary undergraduate diploma/degree required
Extensive senior sales experience with current key major national retailers required:
Canadian Tire, Wal-Mart, Home Depot, Lowe's, RONA, Home Hardware
Additional channel experience in pharmaceutical, food, automobile after-market, and commercial markets would be an asset.
Proficiency with Microsoft Office suite - Excel, Word & PowerPoint
Bilingual (English/French) not required, but would be an asset.
Ability to travel across Canada and to U.S. head office
Physical ability to set up trade shows, carry goods, etc.  
Please submit résumé to Black Eagle Executive Search via email to Richard Simms at rsimms@blackeagle.ca 
Only candidates of interest will be contacted
 
______________________________________________________________________

Territory Sales Representative Opportunity
Exchange A-Blade is a leader in supplying power tool accessories to retail lumber, home center, hardware and industrial accounts. To support our continued growth, the Company is adding territory sales resources in the Maritimes.
If you are a high-energy Sales achiever, people oriented with exceptional communication skills and ready for the challenge of growing your own territory (Nova Scotia, New Brunswick & P.E.I.), please reply promptly.
Ideal candidates will have a minimum of three years sales experience within the hardware industry, a sound track record of growing a territory and be comfortable with some overnight travel.
A comprehensive package including salary, incentive, benefits and a company vehicle will be offered to the right individual.

Interested candidates should forward their resume to:
______________________________________________________________________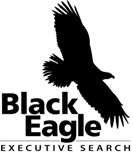 NATIONAL ACCOUNTS MANAGER, HARDWARE
WOODS INDUSTRIES CANADA INC.
MARKHAM, ONTARIO 
Woods Industries Canada Inc., a subsidiary of Coleman Cable Inc. www.colemancable.com , a market leading manufacturer and distributor of electrical products located in Markham, Ontario is seeking a seasoned National Accounts Manager with national and regional account experience across Canada in the hardware channel.

Reports directly to Senior Vice-President - Retail. Competitive salary + bonus, benefit package.

Black Eagle Executive Search is conducting this search on behalf of Woods Industries Canada.
KEY COMPETENCIES
Solid work ethic
Motivated self-starter
Proven negotiation skills
Excellent communication skills both written and verbal
Excellent analytical, forecasting abilities
Strong organizational skills - able to manage multiple tasks simultaneously
KEY RESPONSIBILITIES:
Maintain and enhance market leadership position in the Canadian hardware channel
Drive growth by penetrating existing accounts with full range of product categories
Drive new business/customer development
Enhance account profitability
Develop customer programs, quotations
Manage independent manufacturers' representatives across Canada
Attendance at industry trade shows
Contribute to the development of new products and programs
Regular analysis of sales and profitability overall and for key accounts
KEY QUALIFICATIONS
Post-secondary business degree/diploma
Experience in managing national/regional hardware accounts in Canada especially Home Hardware, RONA and Spancan buying group members
Experience managing and selling to electrical merchants preferred
Experience with multi-product line offering, plan-o-gram development, selling full line programs
Proven ability to work with product and marketing resources from multiple locations
Above average skills with Microsoft Office Applications including Excel, Word, PowerPoint, Outlook
Must be able to travel up to 50% of time including visits to corporate headquarters in the USA
Bilingual (English/French) not required, but would be an asset  
Please submit résumé to Black Eagle Executive Search via email to Richard Simms at rsimms@blackeagle.ca
 Only candidates of interest will be contacted
 
______________________________________________________________________

New Resumés
Experienced Outside Sales Account Manager with a proven track record for achieving or exceeding forecasts view this

resumé

Creative, ambitious sales engineer and leader with over 10 years of National Account management experience view this

resumé

Experienced Territory Manager Seeks position in Eastern Ontario based in Kingston. view this

resumé

A customer focused Business Management Professional with an innovative and diverse background. view this

resumé

am interested in territory/district manager job in the home improvement industry. view this

resumé

Award-winning sales professional skilled in relationship-building in order to continually enlarge sales territories view this

resumé

Professional with over 25 years of experience in Sales, Marketing, Merchandising and Administration

view this

resumé

Marketing professional with over 10 years experience looking to secure a new full-time position.

view this

resumé

A Sales Professional with over twenty years of experience.view this

resumé

Experienced District Manager with a proven track record with several national chains. view this

resumé