June 7 , 2010, Volume xvi, #23
"He who laughs most learns best."
—John Cleese (British actor, comedian and writer, 1939- )
Home Depot meets with vendors to explain MET program
TORONTO — A series of meetings with more than 300 of its active vendors was held last Friday at Home Depot Canada's Innovation Centre. The purpose of the meetings was to familiarize the vendors directly with the giant retailer's new in-store servicing initiative, its Merchandising Excellence Team. MET will eventually replace vendors' own in-store service teams.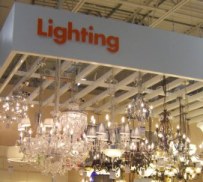 Phase One of the program deals with the lighting and electrical categories. The pilot will be rolled out in mid-late fall across all 179 Home Depot Canada stores. Phase Two will involve seasonal products that have to be ready by spring 2011.

MET is overseen by Joe Allen, Director of Vendor Services, who along with his head-office team, will manage more than 1,000 new employees. He reports to Gino DiGioacchino, Home Depot Canada's Vice-President of Merchandising. DiGioacchino updated HARDLINES on Friday's meetings, which aimed to lay out how Home Depot will actually execute its new program. That includes how the new servicing staff will be trained and how their performance will be measured.

DiGioacchino says sales will be a benchmark, for sure, but adds that the in-stock position of the products will be critical, as well. "Our goal is always to get it at 100%."

Vendors themselves will have a say in measuring the process. "A monthly 'Voice of Supplier' survey will have about 20-30 questions in it so vendors can report back themselves, based on what they see happening with their products on the store shelves."

Vendors are also expected to turn over detailed information about how they did the servicing job themselves before. "One of the key elements we need from the vendors to work on this is their Key Services Guide," says DiGioacchino. It will be used to help MET manage the vendors' products – and the entire category.

"It used to be product-centric," he says. "Now it's category-centric, to help us see the category the way the customer views it. Servicing that strategy is what MET does."

Vendors have expressed concern that some major vendors, such as Moen and Behr, which have dedicated teams of their own, may be allowed to leave those teams intact. "Depending on the level of service they provide, there will be a few," DiGioacchino admits. "These teams are world class and we can learn from them."


U. of Alberta and HARDLINES partner to develop retail careers
WORLD HEADQUARTERS, TORONTO — The University of Alberta's School of Retailing has partnered with HARDLINES to promote and develop careers in hardlines retailing. The Home Hardware SIRE Program (Studies in Retail Excellence) encourages hardlines retailing as a career goal, highlighting the potential for growth within the industry while providing mentoring.

SIRE will develop activities to raise the profile of the University of Alberta, while increasing HARDLINES' role as a networking and industry facilitator. The key initiatives of the Program are: proprietary research on home improvement retailing in Canada; the mentoring and sponsorship of students from the University to meet a broader network of home improvement executives at the annual HARDLINES Conference; and the endowment of an ongoing scholars program for prospective students following the establishment of a sponsorship base.

Home Hardware Stores Limited is the founding sponsor for the SIRE Program.

Professor Kyle Murray, Director of the University of Alberta's School of Marketing, will work jointly with Michael McLarney, Editor and President of HARDLINES Inc., to deliver these programs. "We intend to develop research projects to further understanding of consumer habits and traits," says Professor Murray. This enables the faculty to display the potential of its student body, as the students gain hands-on experience in their desired field."

The results of those surveys will then be presented each fall at the Annual HARDLINES Conference.
back to top

Home's Paul Straus honoured by retail community
TORONTO — Vendors and retailers alike were on hand last week to pay tribute to award-winning retailers, including this year's inductee into Canada's Retail Hall of Fame, Paul Straus, President and CEO of Home Hardware Stores, by the Retail Council of Canada. The induction, considered one of Canadian retailing's top honours, took place in Toronto at the RCC's annual Excellence in Retailing Awards dinner.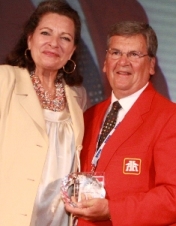 "This recognition reflects the strength of the entrepreneurial spirit and ambition of Home Hardware's 1,070 independent dealers across Canada," said Straus (shown here with RCC President and CEO Diane Brisebois). "Without their hard work and determination to make independent retailing in Canada not only a possibility, but a profitable career path, I would not be receiving this honour."

Inductees to the Canadian Retail Hall of Fame are executives working in retail who have demonstrated leadership in advancing and promoting retail as a career within their company and in the industry, and are strong advocates of retail education and training.

Straus has worked for Home Hardware since its founding in 1964. He became Vice-President Controller of Home Hardware in 1978, Vice-President Finance and Administration in 1985 and was appointed Executive Vice-President and General Manager on January 1, 1989. On April 19, 1999 he was appointed Vice-President and Chief Executive Officer.

At the company's annual meeting in April, 2010 he was appointed President and CEO.

"Mr. Straus is passionate about the future of Canadian retail," said Brisebois at RCC. "He has made a considerable commitment to dealer and employee education at Home Hardware and actively promotes the tremendous prospects of retail as a career. His work benefits the entire industry and helps to build the next generation of leaders in retailing."
back to top

Ontario dealers turn out for CanSave show
BARRIE, Ont. — Dealers from across Ontario came to the Molson Centre here last week for the annual one-day trade show by CanSave, the specialty building materials distributor.

The show provided a forum for dealers from a range of groups, including Castle, TORBSA, Sexton Group, TIM-BR MART and Home Hardware, to view products – and get show specials – from vendors such as Jeld-Wen, Industrial Thermo Polymers, Weathershield, Typar and Henry/Bakor, which list their products through CanSave.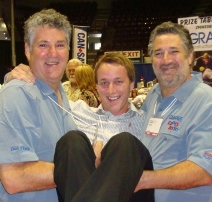 Business was conducted against a backdrop of vendor seminars, live music and charity manicures – plus complimentary meals for dealers and vendors alike. The show's well-organized, yet casual, atmosphere reflected the unique style of the company's owners, Larry and Cully Koza (shown here demonstrating their hospitality to our man Brady Peever).

The CanSave Expo is now in its 19th year.
back to top

Home Depot and RONA tied for green awareness
TORONTO — Canadians perceive themselves to be more "green" than they actually are, says a new survey. According to the second annual Canadian Green Gap Index, by Optimum Public Relations and Summerhill, the largest gap is still in the area of fuel consumption (over 40%) due to low adoption of alternatives such as public transport, hybrid vehicles and carbon offsets.

The Green Gap Index measures environmental behaviours in six key areas: fuel conservation, home energy conservation, purchase preference for green products, recycling, waste reduction, and food and household goods.

Among home improvement retailers, there was no clear winner when it comes to green awareness among consumers. RONA and The Home Depot tied for being the greenest home improvement stores with just 6% of respondents. The primary reason? They are seen to offer environmentally-friendly products.
back to top

Classifieds
Major consumer packaged goods company is seeking a creative, dynamic, "hands –on" marketing professional to manage marketing activities nationwide. Reporting to the Director, Sales & Marketing and working with the company sales mangers and Grocery/Drug brokers, you would be responsible for planning, coordinating and implementing marketing and sales programs to support the WD-40, 3-IN-ONE, Spot Shot and 2000 Flushes brands. This includes marketing strategy, promotions, sales support programs and the communication mix – plus contributing to strategic customer planning through the sales force and brokers.
Qualified candidates would have a minimum of 7-10 years combined consumer brand marketing and sales experience within a consumer packaged goods environment. Preferred background would include advertising, market research, consumer and marketing data interpretation, packaging development, product introduction, promotion, public relations and sales processes. Successful candidate will have experience in the management of grocery brokers, manufacturer's agents and working knowledge of the grocery market.
Knowledge of Microsoft Office applications is a mandatory requirement.
See our website at www.wd40.com for further company information.
Respond by fax or e-mail only by June 21st, 2010.
WD-40 Company Canada (Limited)
Fax: 416 622-8096
Email: gencan@wd40.com

FARLEY, LAW & ASSOCIATES
Recruiting Specialists

CHANNEL MANAGER / MASS MERCHANTS

Based in Oakville, your initial role will be to help increase sales and profitability working with the DIY Retail Channel. Your career to date has had you involved with Home Depot, Canadian Tire, Lowes and Rona. You may have been exposed to these companies through marketing, sales or perhaps merchandising.

You have just started to be recognized for your skills as a sales/marketer but have not found the right culture in which to succeed. You take great pride in your ability to be thorough, equipping yourself with competitive analysis, market trends, and new product initiatives. You have a creative analytical mind, an ability to infiltrate new opportunities and are looking for progressive environment where you can realize your goals.

The successful candidate will be a College or University graduate. It is assumed you possess all the attributes of a professional business person that would include a buttoned down image, great attitude, time management skills, thoughtful articulate communicator, quick study, ability to multi-task and a keen desire to succeed.

This is an outstanding organization where careers are built. If interested please forward resume in strict confidence to bill@farleylaw.net
.
Key Accounts Manager—Are you a Top Gun?
Are you already an experienced key accounts manager looking for a new challenge? If so, this premiere opportunity will excite you. Our Client is expanding and as such requires a Toronto-based account manager. They're in need of a high performer to take full advantage of Canadian market opportunities with customers such as Home Depot, Lowe's, Rona, Canadian Tire and Home Hardware. There may in fact be two opportunities available.

Manage and direct the sales process for these customers, working in conjunction with the Marketing team. The team is lean, so you're used to and prefer being involved in all aspects on the Retailer's behalf including taking the lead on category management issues including competitive positioning, sales data and forecasting, and cross-selling opportunities. You'll work with a cohesive, dynamic retail products team on merchandising, customer product knowledge/education, and achieving growth through organic and new revenue streams.

Looking for an employer who continually demonstrates a commitment to improving Customer satisfaction and their competitive positon? Contact Wolf Gugler in complete confidence demonstrating your key account Retail expertise and business development. Toronto—based. Apply by clicking this link: http://www.maxhire.net/cp/?E55F6F361D43717B76561A653951526E04
Wolf Gugler & Associates Limited. Telephone: 888-848-3006.
Email: wolf@wolfgugler.com Web site: www.wolfgugler.com

Administrative Sales Support
Prime Source Building Products, Inc., one of the North American's largest wholesale distributors of building supply products, is seeking administration sales support for their Canadian expansion

Responsibilities would include amongst others sales support, credit and inventory control

If you are an individual who welcomes the opportunity to work in a challenging and financially rewarding environment, we want to meet you. PrimeSource offers attractive salaries, and competitive benefits package.

Please send Resumes to Phil Brown General Manager PrimeSource Canada At brownp@primesourcebp.com
Leading Canadian manufacturer of building products has the following National - Regional account development and field sales based career opportunity:
Regional Sales Manager – Ontario
We are looking for a college/university educated sales star who is a passionate, energetic, self starter with a minimum of 3 yrs sales management experience and 3-5 yrs of territory sales in building materials who will aggressively grow our market share within Ontario. The successful candidate will:
Drive National / Regional account development
Direct small Ontario sales force
Build upon and foster relationships with existing and new customer partners
Prioritize sales opportunities, develop recommendations and execute sales plans
Take initiative to prospect new accounts and generate new business
Provide regular communication with emphasis on customer calls including action & follow up plans and competitive activities.
Deliver effective product knowledge training
Work independently without supervision
In addition to National - Regional account responsibilities this position requires multiple sales calls on a daily basis throughout Southern Ontario. We offer a competitive compensation package which includes a salary, commissions, car allowance, and benefits.

Please forward resume to brady@HARDLINES.ca with "PO # 7" in the subject line.

NATIONAL ACCOUNTS MANAGER, TORONTO, ONTARIO
A leading North American hardware and building materials manufacturer is seeking a Toronto-based National Accounts Manager responsible for managing several Canadian national retail accounts of the company as well as developing business with potential new national accounts.
MAJOR RESPONSIBILITIES:
Sales to existing National Retail Accounts:

Continually build strong business relationships
Provide product training as required
Identify customer needs and provide solutions

Development of New Accounts and Opportunities:

Identify opportunities for new National Retail Account business
Identify new applications and markets for existing and new products
KEY COMPETENCIES:
Negotiating ability and proven ability to acquire new accounts
Strong communication, presentation, and business relationship skills
Good analytical skills, e.g., budgeting, sales forecasting, etc.
Very detail oriented, organized and disciplined, attention to accuracy
Self-motivated and ability to work independently as well as in a team environment
Ability to multi-task in a fast paced environment
Regular travel to current and potential customers
KEY QUALIFICATIONS:
7-10 years sales experience in the Canadian hardware, building materials, paint sundries markets calling on National Retailers
Post secondary diploma or equivalent ideally in business or related field
Bilingual (English/French) preferred but not required
Proficient in key Microsoft platforms including Excel, Word, PowerPoint, Outlook
Please submit résumé via email to:
Black Eagle Executive Search
c/o Richard Simms at rsimms@blackeagle.ca

Regional Sales Manager

TASK DESCRIPTION
Position: Regional Sales Manager (Central – west)

Supervisor: National Director of Sales – CAN.

Responsibilities:

Managing sales in a territory with existing accounts and sales agencies. Developping new sales and new accounts.
Identify opportunities and develop a plan of action for growth with the home centres and small chains in the territory.
Manage the existing accounts and unveil new opportunities in other product categories to grow sales.
Manage and work with Sales agents to reach sales objectives.
Understand our competition in each specific market. Perform price shop analysis and indentify the actions required to maintain our competitiveness.
Coordination of sales projects with merchandising and marketing dept.
Lead sales meeting with major customers.
Generate regular calls and follow-up to major accounts merchant.
Perform product knowledge to our sales force and/or customers.
3 to 5 years experience
Knowledge of the renovation centre market
Salary: according to experience
Mobility required
Please fax your resume at 514-640-4307 or via e-mail at : aleaunier@colonialelegance.com
Resumés
A goal oriented sales director that has superior management skills, customer oriented, with in depth knowledge of the industry and the ability to achieve results.

view this

resumé

National Field Sales Manager with twelve plus years in power tools and hardware sales/merchandising.

view this

resumé

Business Manager with U.S. & Canadian experience with retail & industrial customers seeks a new opportunity.

view this

resumé

An experienced merchandising executive possessing passion, vision, and a strategic approach to delivering bottom-line.

view this

resumé

Results oriented sales professional with a strong record of achievement in strategic and tactical roles. view this

resumé

Senior sales/marketing leader with experience in all classes of trade wishing new HARDLINES career. view this

resumé

Very Experienced Business Unit Manager, great passion for generating sales and building relastionships.view this

resumé

Worked through my career within the manfucaturer, wholesale and consumer goods industries. view this

resumé

Senior Sales Manager with vast experience in retail and wholesale sales growth in Canada. view this

resumé
Click here to post your resumé

Connect with us!