In This Issue:
"Speak ill of no man, but speak all the good you know of everybody"" —Benjamin Franklin (American statesman, scientist and philosopher, 1706-1790)
Home Depot's Verschuren will headline Hardlines Conference
TORONTO — One of Canada's top home improvement retail executives has agreed to speak at the next Annual Hardlines Conference, being held in Toronto Oct. 22-23, 2009.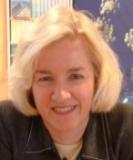 Annette Verschuren, President, The Home Depot Canada and Asia, will make her first speaker appearance at the Hardlines Conference in almost a decade. Considered one of the most influential retail executives in North America, Ms. Verschuren has a stellar pedigree, one that includes growing The Home Depot into one of Canada's largest home improvement retailers. If that wasn't enough, in the fall of 2006, she took over Home Depot Asia, as well. Ms. Verschuren's frank and compelling insights will be a welcome addition to the latest Hardlines Conference. Now in its 14th year, the event attracts the top executives in home improvement retailing from Canada and the U.S. to hear from top international retail and economic leaders. Other confirmed speakers: Susan Robinson, President and CEO of IRLY Distributors; Bob Simko, CEO of Broadleaf Logistics; and Brad Dick, president and co-owner, Newton Enterprises, an independent based in Portage La Prairie, Man. The 14th Annual Hardlines Conference will be held Oct. 22-23, 2009 at the Sheraton Toronto Airport Hotel and Conference Centre. The Hardlines Conference is owned and operated by Hardlines Inc., which publishes the weekly HARDLINES newsletter. For more information or to register at Early Bird rates, call 416-489-3396 or visit our website.

Top.
Canadian Tire evaluates newest store concepts
TORONTO — Canadian Tire is experimenting with two new retail formats, both of which were introduced last year. But despite initial successes with its "Smart" stores and its Small Market concept, both are being tested slowly.The Smart store, which replaces Canadian Tire's "Concept 20/20" program, is in place in just two locations, Welland and Orleans, Ont., although more are planned this year. But before opening too many, the giant retailer wants to scrutinize carefully these initial test stores. "We have more in the pipeline for this year," says Mike Arnett, president of Canadian Tire Retail, "but not too many. This will be the year we will refine the model." That model features significant merchandising changes that feature high walls and ceilings, a boutique approach to departments, a "racetrack" layout and an expanded sporting goods department. These stores also feature a Mark's Work Wearhouse and were the first to feature grocery items. So far, so good, says Arnett. He spoke with Hardlines earlier this year. "They're performing very well. We're delighted to the point that we under-forecast the results." He adds that the new Smart stores performed so well that the company had to scramble to keep them stocked during the '08 Christmas selling season. The Small Market store is Canadian Tire's attempt to expand in smaller, secondary markets with a concept that offers a wide range of the extensive product mix the company is so well known for. Older stores in smaller markets are being refitted or replaced as Small Market stores. The concept reduces the store's footprint to 14,000-18,000 square feet. "We can do everything we need to in 14,000 square feet," says Arnett. The stores comprise a three-season compound and a large outdoor compound to accommodate high seasonal spikes, especially in cottage markets. "This allows us to make these stores behave as though they were much bigger," he adds. "Anything re-opening going forward and anything built new going forward will be Smart stores for the larger stores — so it's replaced 20/20 — and in smaller markets, it will be the smaller store concept."
Home Depot brightens outlook for 2009 earnings
ATLANTA — Home Depot told analysts and investors last week that its future profitability hinges on the ongoing shift of its inventory management to its expanding distribution network. In addition, it says the implementation of several software tools designed to measure the chain's productivity will impose greater business discipline.By exploiting the "power" of its size and market penetration, and by simplifying and streamlining its operations, the company can consistently deliver 10% operating margin and 15% return on capital invested, says CFO Carol Tome. However, she and other Home Depot officers acknowledged several times during this meeting that the company must first correct "competitive disadvantages" in such areas as customer service, information technology, supply-chain management and store operations. Those disadvantages, along with the severe housing recession in the U.S., continue to hamper the Atlanta-based retailer's performance and balance sheet. However, based on stronger spring sales, company officials offered sunnier projections about profitability for 2009. They predict it will be off by 7%, or by 20%-26%, on an adjusted basis. Previously the company was anticipating its adjusted earnings per share to be off by 26%. Home Depot still expects revenue this year to be down 9%, and its same-store sales to be off "in the high single digits." This year, the retailer will open only 13 stores, three of which will be in Canada and three in Mexico. Tome and Frank Blake, the company's chairman and CEO, reiterated Home Depot's new growth policy, which limits any increases in total square footage annually to no more than 1.5%. This meeting focused on the company's U.S. operations, but Blake hinted that the company won't open more stores in China, where it operates a dozen, until it can figure out how to make money there. Surprisingly, he added that the company is looking again at expanding into Latin and South America.
Canadian retailers honoured as Innovators of the Year
INDIANAPOLIS, Ind. — Ten home improvement retailers are being honored for outstanding achievement as owners and managers of independently owned hardware and building supply stores in the U.S. and Canada. They are honorees in the 2009 Retail Innovators of the Year program.Sponsored by power-tool accessories maker Vermont American, the program is organized by the North American Retail Hardware Association and Hardware Retailing magazine and honours independent retailers who are setting new standards for retail innovation in the home improvement industry. (NRHA in Canada is represented by Hardlines—MM)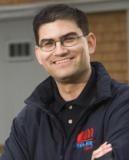 Two Canadian companies are included in this year's list of winners. Marc Robichaud, of Robichaud TIM-BR MART in Meteghan Centre, N.S., was awarded in the category for innovation in green marketing. When other retailers were crafting their green strategies, this fifth-generation retailer was already living them, both at home and in his 140-year-old business. For the past decade, Robichaud has been an expert at helping his customers live greener lives. Through his efforts, he continues to save customers money, reduce their carbon footprint and make them loyal customers. Tom Levi, of Levi Home Hardware Building Centre in Almonte, Ont., was one of just three winners in the "Overall" category. Levi's retail philosophy is that at the end of every transaction, the customer, the staff and the store should all come out a winner. This philosophy is what has helped the store grow by 23% over the past four years. A leader in his community, Levi sponsors many community events throughout the year supporting Big Brothers/Big Sisters, the Canadian Cancer Society, the local hospital and Canadian Troops serving in Afghanistan. In 2007, the store received the Paul Straus Public Relations Award from Home Hardware Stores Limited for demonstrating creative and innovative approaches to store promotion and building customer and community relations through public relations. "These retailers are leading the industry by example in what can be achieved by independent retailers across the home improvement industry," says Bill Lee, NRHA managing director and publisher of Hardware Retailing magazine. "Their example encourages other independent retailers to continue their pursuit of excellence in hardware and home center retailing, and we applaud their efforts." The Awards will be showcased at the upcoming NRHA Annual Convention and All-Industry Conference, July 13-15 at the San Antonio Marriott Rivercenter in San Antonio, Texas. For more information on the 2009 Retail Innovator of the Year Awards or the 2009 NRHA Convention and All-Industry Conference, click here www.nrha.org or email mike@hardlines.ca.
MIBRO purchases wolfcraft in Americas
TORONTO — The MIBRO Group, a supplier of private-label hand tools, power tool accessories, and chain, has announced it will acquire the business of wolfcraft Inc. in North, Central and South America, effective July 1, 2009. This strategic alliance, which gives MIBRO exclusive distribution rights to wolfcraft's DIY products in the Americas, joins wolfcraft's major international brand with MIBRO's expertise in private-label and proprietary brand development.According to MIBRO's CEO, Leon Lapidus, the deal has been in the works for more than seven months. wolfcraft's operations in Canada will be folded into MIBRO's facilities in Toronto's east end. wolfcraft has more than 300 patents that MIBRO will have access to, while many of MIBRO's patents have caught the attention of wolfcraft's executives. The two companies will join in an ongoing collaboration to expand their respective breadth of consumer-oriented programs and new product development, and MIBRO will begin private-labeling many of the wolfcraft products. Both companies will also buy jointly from factories in China.
Roxul to increase production with new plant
MILTON, Ont. — Roxul Inc., the producer of mineral wool insulation, held a grand opening ceremony for its new production facilities just west of Toronto. The 700,000-square-foot production facility represents a $150-million investment that will triple its production and create up to 100 new jobs.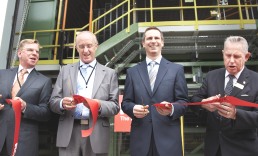 The two-year expansion project was aided by a $10-million interest-free loan from the province's AMIS (Advanced Manufacturing Investment Strategy) program. "Roxul's new facility will create good paying "green" jobs, contribute to Ontario's growth, and increase energy efficiency across North America," said Roxul president Trent Ogilvie. "This state-of-the-art plant also symbolizes the commitment to green growth of our parent Rockwool International and the support of the Ontario government." The Milton facility is considered one of the most advanced of Denmark-based Rockwool's 23 operations worldwide. It uses technologies to minimize emissions, recycle all waste products and deliver zero waste to landfill, reuse water in its production process, and recycle heat from manufacturing to heat the factory and warehouses. In addition to the Milton plant, Roxul has a facility in Grand Forks, B.C. Shown (l-r): Roxul's president Trent Ogilvie; Eelco van Heel, CEO of Rockwool International; Ontario Premier Dalton McGuinty; and Milton Mayor Gordon Krantz.

Canadian Company Seeking Manufacturer's Agents
Novik is a leading manufacturer of Innovative Polymer Siding and Roofing systems for the new construction and renovation markets.  We are seeking quality representation inOntario, Man/Sask, Alberta and BC
Interested candidates can send their CV to Grant Cowx @ gracow@novik.com or by fax to 418-878-6164.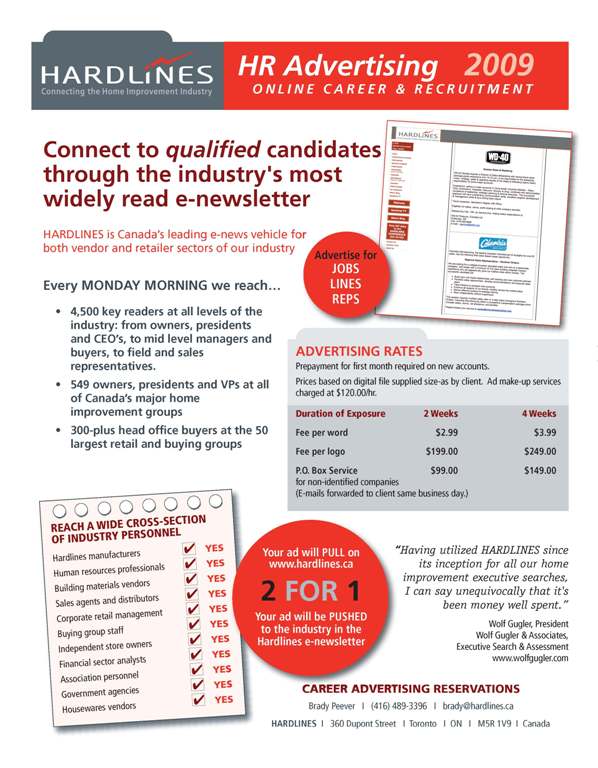 To place an ad in our classified section click here or call 416-489-3396
Leadership, sales and communication skills, seeking a challenging and results-oriented environment.
A creative, strategic thinking and results oriented Sales Professional.
Dynamic business development specialist seeking managment opportunity
Well-spoken, energetic, confident, and personable, the type of person on whom your customers and employees will rely.
A seasoned veteran with a wealth of experience, on the front lines of Retailing. Personable, energetic and dedicated to providing Exceptional Customer Service.
A sales leader experienced in coaching, managing and developing sales teams.
Know someone who is between jobs? We will send a complimentary subscription to anyone who is seeking a job. We also offer a free Online Resumé Service. Ask them to call or email us here at the World Headquarters. (And why not tell your HR department about this service!) Email Brady for more info. —Beverly
Sell your company - or buy one - with HARDLINES Classifieds! Do your executive search, find new lines or get new reps in the HARDLINES Marketplace. Only $2.75 per word for three weeks in the classifieds. To place your ad, call Brady Peever at 416-489-3396 or email: brady@hardlines.ca
To ensure you receive your HARDLINES newsletter each week, please add bev@HARDLINES.ca to your address book.

Did your email system make this newsletter unreadable? You can read it online instead. call us to find out how.

Publishing Details: HARDLINES is published weekly (except monthly in December and August) by HARDLINES Inc. 360 Dupont Street Toronto, Ontario, Canada M5R 1V 9 © 2009 by HARDLINES Inc. HARDLINES™ the electronic newsletter www.HARDLINES.ca Phone: 416.489.3396; Fax: 416.489.6154 Michael McLarney - Editor & President - mike@HARDLINES.ca Beverly Allen, Publisher - bev@HARDLINES.ca Brady Peever - Client Services Manager - brady@HARDLINES.ca Chiaki Nemoto - Accounting - chiaki@HARDLINES.ca The HARDLINES "Fair Play" Policy:Reproduction in whole or in part is very uncool and strictly forbidden and really and truly against the law. So please, play fair! Call for information on multiple subscriptions or a site license for your company. We do want as many people as possible to read HARDLINES each week - but let us handle your internal routing from this end! Subscription:$299 (Canadian subscribers add $14.86 GST = $315.21 per year/ GST #13987 0398 RT).Secondary subscriptions at the same office are only $48.75 (Canadian subscribers add $2.44 GST = $51.19).Ask about our reduced rate for branch offices.You can pay online by VISA/MC/AMEX at our secure website or send us money. Please make cheque payable to HARDLINES.
NEWS IN BRIEF
COTEAU DU LAC, Que. — Canadian Tire will hold the grand opening tomorrow of its new distribution centre in this community 45 minutes outside of Montreal. The 1.5 million-square-foot distribution centre has the capacity to process up to 55 million cubic feet of throughput and will serve Canadian Tire stores in Ontario, Quebec and the Maritimes. GENCO Distribution Systems, a contract logistics company, has been retained to operate the DC, which represents a $240 million investment in the community that will create 600 full-time and 300 part-time jobs.STOUFFVILLE, Ont. — Co-owner Ron Schell tells a local newspaper why he and his partners are switching from Ace to Home Hardware to become the latest member of Home Hardware. Availability of a broader line of hardware, especially seasonal items such as patio furniture, that will help to beef up his store's front end, plus the recognition factor of the Home Hardware name, were the main reasons he cites in the Georgina Advocate. OAK BROOK , Ill. — Ace Hardware has announced plans to switch over to plastic paint cans for its latex paints, which will make both the can and its contents recyclable . Ace Paint also is in the process of researching and pursuing eco-friendly certification for select paint lines through a third-party organization. Ace is the 12th largest paint manufacturer in the U.S., with an annual production capacity of 20 million gallons. RALEIGH , N.C. — Stock Building Supply, currently under Chapter 11 bankruptcy protection, is walking away from more than 100 leases it holds on properties across the country. Stock was recently taken over by The Gores Group, a Los Angeles-based private equity firm. Under Chapter 11, the company is able to "reject" the leases. CHICAGO — Grainger, a wholesale supplier, reported a 10% sales decline last month compared to May sales of last year, due primarily to weak demand across all customer end-markets and regions. The weak dollar affected sales from international operations by approximately two percentage points. Business in the U.S. was down 9% and down 14% in Canada.
RONA receives Phénix environmental award
BOUCHERVILLE, Que. — RONA inc. was rewarded for its environmental initiatives during the Phénix Awards Ceremony held last week at the National Assembly in Quebec City. RONA was one of 13 winners selected by an independent jury to receive the highest environmental distinction bestowed in Quebec.The Phénix Environmental Award honourees were announced by Line Beauchamp, Minister of Sustainable Development, Environment and Parks, and by André Drolet, deputy to Minister of Economic Development, Innovation and Export Trade Raymond Bachand. RONA was recognized for its initiatives based on the life-cycle approach to product development, which examines the impact of a product from manufacture through to the end of its use. Products introduced by RONA that meet these criteria include its RONA ECO line. These products have been selected in partnership with the International Chair in Life Cycle Analysis at the École Polytechnique de Montréal. "This award is acknowledgement of the commitment our teams have shown in helping our customers adopt more environmentally responsible behaviour," says Claude Bernier, RONA executive vice-president, marketing and customer innovation.
DID YOU KNOW?
…that home improvement industry growth began to slow a lot earlier than you might have thought. Sales began to decline even by the end of 2008, reversing a trend of steady year-over-year growth that had been the norm since we began tracking this industry more than a decade ago. (Find out how much the industry has changed, and how the sales of the industry's top 10 players have been affected by the new economy. You'll learn which retail formats are winning — and which ones are losing. Plus: sales by province, how the big boxes are adapting, what's happening to the buying groups, and much more. All in the latest issue of our sister publication, Hardlines Quarterly Report, available June 22. —Michael)
PEOPLE ON THE MOVE
At Signature Aluminum Canada Inc., Éric Longprés has been appointed the new sales rep for the Signature's Quebec territory, which includes Ontario as far west as Kingston. He was formerly at Dispro, an industrial coatings distributor.Simcoe Energy & Technical Services Inc. has made new appointments to its Ontario sales team: Andy Moncrieff is in charge of Western Ontario. He was formerly with Exchange-a-Blade. (519-280-6052; amoncrieff@simcoeenergy.com ) … Jessica Sullivan is in charge of Northern Ontario. (705-471-4940; jsullivan@simcoeenergy.com ) … Paul Curphey now has the Eastern Ontario territory. (613-285-7405 pcurphey@simcoeenergy.com) Bradford, Ont.-based Simcoe Energy is a supplier to the Exchangeable Propane Program under the "Smart Exchange" brand name. To place a listing in our "People on the Move" section, please send me the information, including the person's name, title and contact email or phone number, if desired at mike@hardlines.ca. We reserve the right to edit items for length. —Michael
ECOMIC INDICATORS
The value of building permits in Canada fell 5.4% from March. The drop was due to a 14.4% decline in non-residential permits, as residential permits actually increased by 4.1%. (Stats Canada)
OVERHEARD…
"Regardless of the expansion or contraction of the industry, we will stay focused on driving sales and expanding market share." —Gaither Keene, senior vice-president and general counsel for Lowe's Cos., speaking recently at the company's annual general meeting.
Hardlines Products
Hardlines Quarterly Report
Hardlines Retail Report
Hardlines Hot Product Showcase
Hardlines TV
Free daily news updates
Did you know you can have this newsletter sent to someone else in your office for less than a dollar an issue!