In This Issue:
"One of the best ways of avoiding necessary and even urgent tasks is to seem to be busily employed on things that are already done. " —John Kenneth Gailbraith (Canadian-born economist, 1908-2006)
Lowe's shuffles lineup of Canadian team

TORONTO — Just three years after moving up here to help launch the first international division of Lowe's Cos., Ben Mauceri, formerly vice-president merchandising for Lowe's Canada, has departed the Canadian office. He has returned to the company's Mooresville, N.C., headquarters to assume the role of vice-president international merchandising.Mauceri's role here has been taken over by Bob Sherwood. Formerly merchandise director, building products, he now has the title of vice-president merchandising for Lowe's Canada. In another move, Doug Robinson, formerly president of Lowe's Canada, has landed back at Lowe's head office, following an eight-month hiatus.

Top.
RONA to launch new store concept
TORONTO — This fall, watch for something new from RONA — nothing less than a new retail concept — one that's already being polished and fine-tuned. Claude Bernier, evp marketing and customer innovation, revealed this latest plan from the country's largest home improvement retailer in an exclusive interview to Hardlines.Calling it a "niche concept", Bernier said, "It will be aimed at the consumer and some contractor business." Although he would not share specifics of the new store, he said that it is slated to open sometime this fall. He added that the company is "now searching for the right real estate" for the new concept, although he would not reveal just where the store will be located or how big it will be.
Do-it center is now done in Canada
VICTORIA , B.C. — Do-it center, a once-popular name among independents in this country, is finally gone. The last Do-it center store changed its signage last month.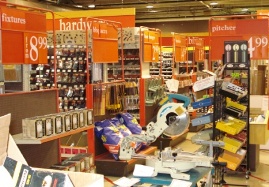 According to Vicki Hagel, co-owner of the business with her husband Frank, the store had been operating "under the radar" since Do-it withdrew from Canada some years earlier. As Castle members for 16 years, she and her husband decided to go with Castle's own store design and imaging program, which was created and implemented by Burlington, Ont.-based Burlington Merchandising & Fixtures. "We were looking to stay somewhat unique to ourselves, and there are no other stores branded Castle in town," says Hagel. "Castle has a really good program for store renovations, so we went with that. The store looks great and the customers are very happy with it," she adds. The Do-it center banner actually had its roots in Canada. In the 1980s, Fort Wayne, Ind.-based wholesaler HWI (now Do it Best Corp.) recruited the Watt Group, a Toronto-based design company that had earned international renown for its innovative branding concepts, including the look for Home Depot's logo and the creation of the President's Choice brand. Using a deep shade of orange — considered a colour that denotes value à la Home Depot — brand guru Don Watt and his team came up with the home centre concept for HWI and named it Do-it center. The program was licensed in Canada by Sodisco-Howden Group, until that group bought Ace Hardware Canada. Ace and Do it Best are competitors in the U.S., so the latter organization ended its licensing agreement with Sodisco-Howden. The newly branded Castle store will hold a grand re-opening at the end of June.
RONA consolidates presence in Windsor market
WINDSOR, Ont. — Two affiliate RONA stores are being closed down and their operations transferred to RONA's corporate big-box location in this city.The Windsor economy in this city is in a slump due to its heavy reliance on the auto sector, so RONA sat down with the owners of the independent operations, two Angileri Building Centre outlets, in Windsor and nearby Amherstburg. They came up with this a partnership plan to move Angileri's owners, Terry Ray, Michael McCallum and Matt McKay, over to the RONA big box as management, bringing their entire staff with them. Angileri is well known for its strong contractor business, and the move aims to bring that business — and the expertise of Angileri's staff — over to the big box location. More than 30 employees from both sites are being transferred to the big box. According to Eva Boucher-Hartling, spokesperson for RONA, market conditions were making it difficult to have three stores growing their business in the same area. "We sat down with our dealers to come up with this partnership idea. They are coming on board as management at the big box store. We will be able to better meet the needs of the local clientele and see our business grow long term." Reluctant to blame the local economy, co-owner Ray says, "We're … seeing it as an opportunity to become stronger and bigger." Ray's stores have had a relationship with RONA for five years. "We're able to consolidate our equipment, trucks, stock and employees in one location, which we believe will be good for our customers."
Cologne fair rebrands to sharpen focus on tools, hardware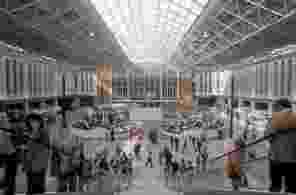 COLOGNE, Germany — The giant hardware show held here every two years is getting a new name for its 2010 edition. The show, to be held Feb. 28 to March 3, 2010, is dropping the "Practical World" moniker it adopted several years ago, and renaming itself the International Hardware Fair Cologne to more clearly reflect the product categories that are presented at the fair. Those products will be presented in five groups: Tools, Industrial Supply, Locks & Fittings, Fastening & Fittings, and Home Improvement.In fact, each of these segments will be allocated its own hall, creating a platform that identifies it specifically. "With this structure, Koelnmesse is addressing the growing significance of industrial supplies and fastening technology in particular," says Oliver P. Kuhrt, executive vice president of Koelnmesse. Although the words "Practical World" will no longer be part of the trade fair's name, home improvement products will still be an important part of the show's product range. DIY products, including electrical supplies, cleaning and maintenance supplies, and interior components, will be presented in Hall 11, the same hall that will house industrial supplies and locks and fittings.

Canadian Company Seeking Manufacturer's Agents
Novik is a leading manufacturer of Innovative Polymer Siding and Roofing systems for the new construction and renovation markets.  We are seeking quality representation inOntario, Man/Sask, Alberta and BC
Interested candidates can send their CV to Grant Cowx @ gracow@novik.com or by fax to 418-878-6164.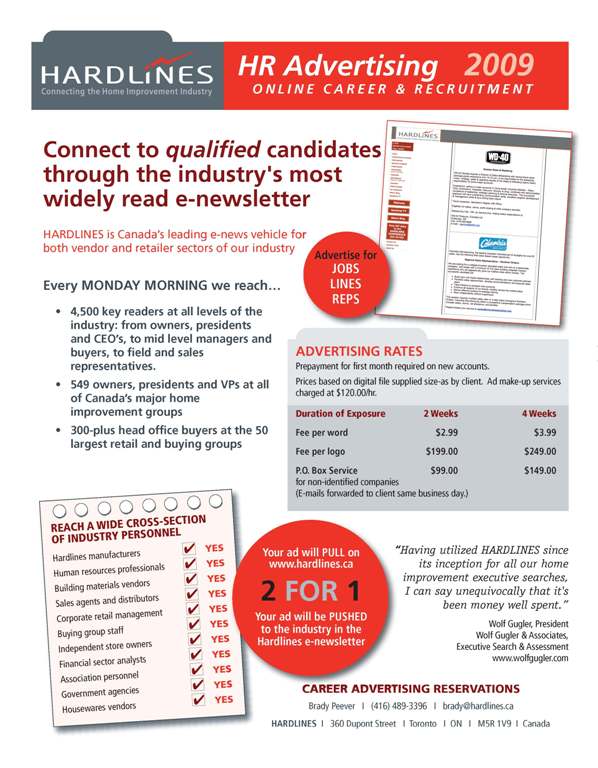 To place an ad in our classified section click here or call 416-489-3396
7 Most Recent Industry Resum

és
Queen's student looking for summer job in GTA
A creative, strategic thinking and results oriented Sales Professional.
Dynamic business development specialist seeking managment opportunity
Well-spoken, energetic, confident, and personable, the type of person on whom your customers and employees will rely.
A seasoned veteran with a wealth of experience, on the front lines of Retailing. Personable, energetic and dedicated to providing Exceptional Customer Service.
A sales leader experienced in coaching, managing and developing sales teams.
Know someone who is between jobs? We will send a complimentary subscription to anyone who is seeking a job. We also offer a free Online Resumé Service. Ask them to call or email us here at the World Headquarters. (And why not tell your HR department about this service!) Email Brady for more info. —Beverly
Sell your company - or buy one - with HARDLINES Classifieds! Do your executive search, find new lines or get new reps in the HARDLINES Marketplace. Only $2.75 per word for three weeks in the classifieds. To place your ad, call Brady Peever at 416-489-3396 or email: brady@hardlines.ca
To ensure you receive your HARDLINES newsletter each week, please add bev@HARDLINES.ca to your address book.

Did your email system make this newsletter unreadable? You can read it online instead. call us to find out how.

Publishing Details: HARDLINES is published weekly (except monthly in December and August) by HARDLINES Inc. 360 Dupont Street Toronto, Ontario, Canada M5R 1V 9 © 2009 by HARDLINES Inc. HARDLINES™ the electronic newsletter www.HARDLINES.ca Phone: 416.489.3396; Fax: 416.489.6154 Michael McLarney - Editor & President - mike@HARDLINES.ca Beverly Allen, Publisher - bev@HARDLINES.ca Brady Peever - Circulation Manager - brady@HARDLINES.ca Kathryn Crosthwait - Accounting - kath@HARDLINES.ca The HARDLINES "Fair Play" Policy:Reproduction in whole or in part is very uncool and strictly forbidden and really and truly against the law. So please, play fair! Call for information on multiple subscriptions or a site license for your company. We do want as many people as possible to read HARDLINES each week - but let us handle your internal routing from this end! Subscription:$299 (Canadian subscribers add $14.86 GST = $315.21 per year/ GST #13987 0398 RT).Secondary subscriptions at the same office are only $48.75 (Canadian subscribers add $2.44 GST = $51.19).Ask about our reduced rate for branch offices.You can pay online by VISA/MC/AMEX at our secure website or send us money. Please make cheque payable to HARDLINES.
NRHA to offer education, vacation at annual convention
The North American Retail Hardware Association Canada invites you to come down to NRHA's Annual Convention and All-Industry Conference in San Antonio, Texas, July 13-15. Highlights of the convention include seminars from some of the industry's most influential experts, plus NRHA's Young Retailer of the Year Awards Gala and the first annual Retail Innovators of the Year Awards.Don't miss out on the "early bird" discounted registration price of only US$229 per person. For a schedule of events or to register online, visit www.nrha.org or call Diane Allen at 1-800-772-4424.
NEWS IN BRIEF
ST. ALBERT, Alta. — In this community northwest of Edmonton, the affiliate RONA store celebrated its Grand Reopening recently. Since joining RONA last year, owner Barry Campbell has expanded the store's front-end offering, adding some 10,000 square feet of retail space. The 35,000-square-foot showroom features an Ambiance paint boutique and a large kitchen display area. Pictured (l-r): Gary Allen, RONA regional manager; Robert Dutton, RONA president and CEO; Barry Campbell, store owner; and Kim Switner, retail manager.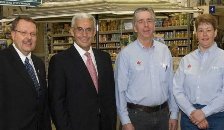 RICHFIELD, Minn. — U.S. consumer electronics retailer Best Buy has announced plans to start selling outdoor living products. The company will now stock patio furniture, fire pits, grills and outdoor heaters in an attempt to make up for sales declines in CDs and movies, according to a CNNMoney.com report. Most of the outdoor living products are being offered through Best Buy's Web site, but a few stores in California are displaying the products on the salesfloor to test consumers' reaction.

MONTREAL — Dorel Industries Inc. says it posted its best year ever in 2008 with revenues of US$2.2 billion and net income of US$113 million. First-quarter 2009 revenues were US$525 million and net income was US$28 million, lower than last year's first quarter. In the Home Furnishings Division, 1Q results were up, with Dorel's Ameriwood domestically-produced RTA furniture leading the way, especially among mass merchants and DIY centres. The company's Cosco Home & Office Division still expects to lose money in 2009, but is forecast to return to profitability next year. BENTONVILLE, Ark. — Eduardo Castro-Wright, vice chairman of Wal-Mart Stores, says he likes to drop in unannounced to Wal-Mart locations and talk to customers about their likes and dislikes. According to an interview in the New York Times, he will then wander into the back of the store to speak with associates. "Almost always, you get enormous insight from those who spend their days taking care of customers," he says. TORONTO — Canadian Tire and Toronto Hydro-Electric System have partnered to kick off energy conservation this spring with Toronto Hydro's "Count Me in Toronto" campaign. It's aimed at promoting energy conservation, will pit Toronto's 44 Municipal Wards against each other in a challenge to see which neighborhood can register the most "acts of green" in a five week period. The campaign, which ran over the past two weekends, offered customers a chance to pick up one of 40,000 free CFL light bulbs and other special offers from participating Canadian Tire stores in the Greater Toronto Area. Customers were then invited to register their "act of green" online for their Ward. NEW DELHI — Wal-Mart's joint venture in India is facing delays in the opening of its first store in this country. Violence in the Northern Indian city of Amritsar has forced the country to hold up opening the wholesale store, reports the Wall Street Journal. BURLINGTON, Ont. — Ikea co-workers were planting trees and shrubs last week as part of the company's "Pick a Tree, Plant a Tree" program in support of Tree Canada. Communities across the country that have Ikea stores benefited from the efforts of IKEA co-workers and Tree Canada advisors, who planted saplings, trees and shrubs in community parks, riverside areas and schools. The initiative is funded by Ikea Christmas tree sales from the past holiday season and from the five-cent charge placed on plastic bags at checkout.
PEOPLE ON THE MOVE
Éric Paradis has been appointed vice-president of merchandising, building materials and forest products at RONA inc. He will report to Normand Dumont, executive vice-president of merchandising (purchasing and marketing). Paradis has close to 20 years of experience in the lumber industry, having worked as director of overseas exports at Matériaux Blanchet, director of international sales at Leggett & Platt, director of sales and marketing at Félix Huard, president of the Catawissa Trading Company, and director of sales and marketing at J. M. Champeau.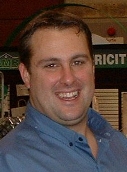 Christian Nadeau, formerly vice-president, hardware for Groupe BMR, has left that buying group to start his own business. He now works directly for Quality Craft Ltd. as vice-president, new product development for imports. (514-629-0886, cnadeau@qualitycraft.ca) To place a listing in our "People on the Move" section, please send me the information, including the person's name, title and contact email or phone number, if desired to mike@hardlines.ca. We reserve the right to edit items for length. —Michael
IN MEMORIAM

Richard (Dick) Gore, one of the three original founders of IRLY BIRD, has passed away at the age of 94. In 1963, three Vancouver-area building materials retailers, Dick Gore of Alpha Lumber, Tremayne Perry of Kerrisdale Lumber and Harold Atkinson of Fletcher Lumber, decided to pool their resources and create a buying group. They named it IRLY BIRD (an acronym for "Independent Retail Lumber Yards"). From a small warehouse on First Avenue the three laid the foundation for today's IRLY Distributors, the eight-acre distribution centre in Surrey that is owned by the IRLY group. There are now 42 independently owned and operated IRLY BIRD stores in B.C. Dick was an avid outdoorsman, who enjoyed skiing, hiking and biking. In the mid 1980s, he became a world traveler, trekking in Nepal, cycling in New Zealand and canoeing the Peace River.
Hardlines Products
Hardlines Quarterly Report
Hardlines Retail Report
Hardlines Hot Product Showcase
Hardlines TV
Free daily news updates
Did you know you can have this newsletter sent to someone else in your office for less than a dollar an issue!