In This Issue
"The hardest job of all is trying to look busy when you're not." — William Feather (American author, 1889-1981) 
ILDC will stay focused on vendor programs under new structure
AJAX, ON — With a small, select membership of only 22 retailers, Independent Lumber Dealers Co-operative has always been known for maintaining strong adherence to the programs it negotiates with vendors. Unlike many groups, which have designated buyers at head office, ILDC's buying is done by members themselves, organized into committees for each product category. Will that loyalty to vendor programs continue now that new members have joined who represent, in turn, hundreds of independent dealers?As reported last week in HARDLINES,

Delroc, Federated Co-Operatives, La Coop fédérée, and the Sexton Group

will join forces with ILDC, effective Jan. 1, 2009, creating a group that will represent sales volumes in excess of $4 billion. "These four new members are expected to continue the way that the co-op has operated over the years," says Andrew Battagliotti, general manager of ILDC. They joined forces with ILDC, he points out, because of the appeal of his group's way of doing business. "Even with these new members, we expect to remain true to vendor commitments and to live up to our promises."

In addition, the relationship between ILDC's hardware buying group, Spancan, and the co-ops, remains unchanged. Coop fédérée and FCL joined Spancan effective, Jan. 1, 2008, after departing from the now-defunct Mutual Hardware. "They are already members of Spancan and wanted to retain their independent status in that group, which has always been very, very positive for them," says Battagliotti. Delroc and Sexton will have access to Spancan's buying programs as part of ILDC.
Home Depot will localize its stores' product mix
CHICAGO — in an effort to improve its gross margins and its appeal to shoppers, Home Depot plans to customize the product assortments in its stores more to local customer tastes.Addressing investors and analysts here last week, Greg Menear, the retailer's executive vice-president of merchandising, said that his company is now less concerned with store growth than it is in driving productivity "in assets we have." In that regard, the company will now concentrate on what Menear calls its "core customer": the DIY homeowner and the small repair and remodeling contractor. Last week, Home Depot's CEO Frank Blake said that the company no longer saw installed sales as one of its growth drivers.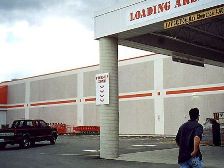 The company has recognized that it needs to make changes in light of current market conditions that are significantly reducing Home Depot's business related to home sales. High oil prices and rising unemployment are also cutting into Home Depot's growth. Menear told his audience that one of Home Depot's goals is to raise its stores' profitability over the next several years by between 1 and 1.4 percentage points. (In the three months ended May 4, the retailer's gross margin on revenue of $17.9 billion was 33.9%, and its operating margin was 4.1%.) To that end, it has been eliminating categories like pet supplies and automotive (which it never really committed to in the first place) which are of little interest to its core customers. More dramatic are Home Depot's plans to localize its stores' product assortments. Its field merchants will be working more closely with buyers at its Atlanta headquarters to devise product mixes that align with buyers' needs in particular markets. Menear added that, in some cases, products will be priced differently from market to market, too.
Mat Plus loses founding member to RONA
WEST ROXBORO, QC — The latest independent to join RONA inc. represents a strategic coup, as well as a recruitment victory, for the giant home improvement retailer. Probex Building Supplies, under its co-owner Carl Strulovitch, was the founder of Mat Plus, a buying group developed in Quebec to serve independent dealers being supplied by Servimat.The decision, made with his business partner, Morris Rudnitsky, to switch Probex, which does about $12 million annually in sales (Probex previously flew the PRO banner), reflected a combination of personal and business choices. Strategically, it fits with a desire to move the company, which currently sells about 80% to contractors, to become more retail friendly. "We're hoping to get it up to about 30% or 35% [retail sales]," says Strulovitch. "It offers better margins, better cash flow." The RONA name's dominance in Quebec was also an attraction for him. On a personal note, the move will fit in, as well, with his own long-term plans for involvement in the business. But ultimately, it was a good deal, he admits. "It's one of those things I didn't expect. They offered me a deal I couldn't refuse," he says. As for his departure from Mat Plus, Strulovitch expresses his sadness. "On an emotional level, it was very, very tough. It was a very hard choice for me to make. But, at the end of the day, it was a business decision."
Industry will stay buoyant despite declining growth
WORLD HEADQUARTERS, TORONTO — The retail home improvement industry is facing a slowdown, one that is expected to deepen over the next 18 months. But considering that it follows "the most buoyant decade of growth in modern history", conditions will remain healthy enough to guarantee moderate growth over the year ahead. That's the conclusion of a new report in the latest edition of Hardlines Quarterly Report.According to the report, the industry grew by a whopping 214% from 1997 to 2006. Even though signs of a slowdown began to emerge as early as 2005, the industry grew to almost $42 billion last year. Consolidation is again one of the driving forces in the industry, as a handful of companies — RONA inc., Home Depot Canada, Canadian Tire, and Home Hardware Stores — represent more than half of all sales by home improvement retailers in this country. The latest issue of HQR also features the Who's Who Directory of the top retail customers in the country. More than 70 retail chains, buying groups, and co-ops are listed, with full contact information, executive teams, and complete buyer listings. (For more info and to order your copy of HQR, including the Who's Who Directory at no extra charge, click here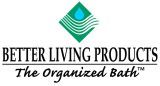 Better Living Products is a dynamic, successful organization that continues to grow internationally and is looking to expand our sales team. Located in Woodbridge, Ontario Better Living Products is an international manufacturer and distributor of bath & shower organizational products to the retail trade, and pioneers of the original award-winning shower organizer The Dispenser TM. Our plans to introduce a whole new range of European designed unique and innovative products to North America has opened up immediate positions in our sales and marketing department. We are currently seeking to fill the following positions: National Account Manager to assist us in achieving our aggressive growth plans by managing specific accounts and channels within Canada and the USA. The successful candidate will possess 3-5 years account management experience and demonstrates exceptional interpersonal, communication and analytical skills. Experience with Mass Merchandise retailers is preferred. This is an intermediate position. Sales Assistant to support us with administrative duties, trade shows, sales analysis, forecasting, planograms, direct marketing campaigns, new product launches and other sales & marketing related projects. Excellent communication and proficient computer skills is required. Both positions will be based at our world-wide corporate headquarters in Woodbridge, Ontario. We offer competitive wages, benefits and a fun working environment. Please submit your resumé and salary expectations to Camillo Caperchione, Executive Vice President, Better Living Products, Telephone: 905-264-7100 Fax: 905-264-3690 Email: camillo@dispenser.com ______________________________________________________________________
Sales Representative

Can-Save Position: Sales Representative (Ottawa & Kingston area) Location: Eastern Ontario, Start Date: Immediately Company Information: www.can-save.ca Can-Save, a progressive building materials distributor – specializing in specialty building products, doors, and kitchen and bath cabinets, has an immediate opening for an Outside Sales Representative for its Eastern Ontario territory The successful candidate will:
Have a proven successful sales call background in the building materials industry; Lumber yards, Big Box Stores. etc. (minimum 3 years experience)
A keen interest to analyze, develop and carry out sale's strategies so as to aid customers in growing their business.
Must have consultative, front-line experience working with customers in a sales capacity.
Ability to navigate and utilize Customer Relationship Management software
Excellent communication and business relationship skills.
Must be a team player able to work with a variety of disciplines and organizational functions.
Travel within the region and participation in trade show events will be required. We offer a competitive remuneration and benefit package. If interested please forward, via e-mail, your resume and salary requirements to the attention the Human Resources manager at hr@can-save.ca We thank all applicants, however only those chosen for an interview will be contacted. Can-Save is an equal opportunity employer. ______________________________________________________________________
SALES AGENT NORTHERN ONTARIO

Colonial Elegance is looking for a Sales Agent for Northern Ontario. The ideal candidate will sell and promote all of Colonial Elegance's products to building supply dealers across Northern Ontario. The territory is already established and has great earning potential. The position includes selling and servicing existing accounts prospecting and adding new clients within the building supply industry. The agent will report to the Sales Director for Ontario. Qualifications
Strong communication skills both written and verbal
Working knowledge of Microsoft Office ie Excel Word Power Point Outlook
Knowledge of Territory and clients
3-5 years of experience working as a sales agent or Outside sales Representative
Proven Sales record
Ability to work with little supervision
Vehicle required
Compensation:
Commission based position
Please forward resume to Colonial Elegance Inc C/O Brant Danard Regional Sales Director 3800 Du Tricententaire Blvd Montreal QC HIB 5T8 Fax 514 640 1744 Email : bdanard@colonialelegance.com ______________________________________________________________________

Black Eagle Consulting provides a variety of Career Transition services in the areas of Executive Search, Outplacement, and Career Counseling. President Richard Simms has many years of experience in the home improvement industry both as a manufacturer and consultant with a wide range of contacts. For more information:
905-842-3010
www.blackeagle.ca ______________________________________________________________________
______________________________________________________________________
Marketplace
Sell your company - or buy one - with HARDLINES Classifieds! Do your executive search, find new lines or get new reps in the HARDLINES Marketplace. Only $2.75 per word for three weeks in the classifieds. To place your ad, call Barb Hills at 416-489-3396 or email: barb@hardlines.ca
More Information
To ensure you receive your HARDLINES newsletter each week, please add bev@HARDLINES.ca to your address book.

Did your email system make this newsletter unreadable? You can read it online instead. call us to find out how.

Publishing Details: HARDLINES is published weekly (except monthly in December and August) by HARDLINES Inc. 360 Dupont Street Toronto, Ontario, Canada M5R 1V 9 © 2008 by HARDLINES Inc. HARDLINES™ the electronic newsletter www.HARDLINES.ca ; Phone: 416.489.3396; Fax: 416.489.6154 Michael McLarney - President - mike@HARDLINES.ca Beverly Allen, Publisher - bev@HARDLINES.ca Brady Peever - Circulation Manager - brady@HARDLINES.ca Barb Hills - Sales Manager - barb@HARDLINES.ca The HARDLINES "Fair Play" Policy:Reproduction in whole or in part is very uncool and strictly forbidden and really and truly against the law. So please, play fair! Call for information on multiple subscriptions or a site license for your company. We do want as many people as possible to read HARDLINES each week - but let us handle your internal routing from this end! Subscription:$285 (Canadian subscribers add $14.25 GST = $299.25 per year/ GST #13987 0398 RT).Secondary subscriptions at the same office are only $46 (Canadian subscribers add $2.30 GST = $48.30).Ask about our reduced rate for branch offices.You can pay online by VISA/MC/AMEX at our secure website or send us money. Please make cheque payable to HARDLINES.
COMPANIES IN THE NEWS
CALGARY — TIM-BR MART has added two new dealers and three locations to their cross-Canada network. Hickeys' Building Supplies operates two retail locations in Newfoundland – Conception Bay South and Harbour Main – and selling primarily to contractors. Cleave Management & Investment Services (operating as "Renovators") in Picton, ON has also joined, identifying TIM-BR MART as an important component to their retail growth in the area.BURNABY, BC — Taiga Building Products Ltd., the building products distributor, reported a dividend of $0.0150 per common share and the stipulated monthly interest payment of $11.6667 per $1,000 principal value subordinated notes. The payments will be made to shareholders and noteholders of record on June 30, 2008 and will be payable on July 15th, 2008. MISSISSAUGA, ON — Weiser Lock has launched a national marketing campaign with the movie version of the great old "Get Smart" TV series. Playing on Weiser's "Get Smart. Get Weiser." advertising campaign, the two-month co-promotion with Warner Brothers Entertainment means that every purchase of Weiser SmartKey handlesets or SmartScan products will include tickets for the "Get Smart" feature film, starring Steve Carell. The promotion will run through to July 31, 2008. NEW BRITAIN, CN — In an effort to further diversify its operations beyond residential construction and remodeling, Stanley Works will spend $275 million in cash to acquire Sonitrol Corp., a security monitoring business, from a group comprised of three private equity investment firms. Stanley has also agreed to sell CST/Berger, its laser measuring business, to Germany-based Robert Bosch Tool Corp. for $205 million. Stanley expects the net proceeds from the CST deal to hit $155 million. QUEBEC CITY — Novik anticipates record-breaking quarter for its second quarter. Revenue for Q2 2008 is anticipated to be in the $7 million range, which would represent growth of close to 55% compared to same period last year. In 3Q 2007, Novik reached $5 million in sales, which anticipated that 2008 second-quarter sales would surpass the company's previous record by 40%.
ECONOMIC INDICATORS
Consumer prices rose 2.2% in May compared with May 2007, up from the 1.7% increase reported in April, driven by big significant increases in gasoline prices, which were up 15.0% year-over-year. The 0.5 percentage point acceleration in the Consumer Price Index was the sharpest since September 2007. (Stats Canada)Retail sales in April increased by 0.6% to an estimated $35.6 billion, the fifth monthly increase in seven months. This gain followed a pause in March that could largely be attributed to adverse weather conditions. (Stats Canada) Wholesale sales rose again in April, this time by 1.4% to $43.4 billion, largely as a result of increased demand in the personal and household goods and the machinery and electronic equipment sectors. The rise in April follows a 0.7% increase in March. (Stats Canada)
NOTED...
The kind folks at Black & Decker Hardware & Home Improvement Group held an open house recently for their new head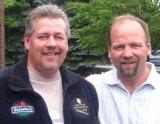 offices in Mississauga, ON. Two good looking guys in attendance were hockey legend Wendel Clark (r), former captain of the Toronto Maple Leafs, and my brother Pat. —Michael
Hardlines Quarterly Report (New issue out now)Hardlines Retail ReportHardlines Webinars (Purchase the CD now!)) Hardlines Annual Conference (Agenda updated and early bird registration now open!) Hardlines Hot Product Showcase Hardlines TV Free daily news updates