In This Issue
"Whatever you do, stamp out abuses, and love those who love you." —Voltaire (1694-1778) 
North American Lumber assiduously affects acquisitions
WINNIPEG — The news last week that North American Lumber had added a location in Kerrobert, SK (see our May 26/08 issue–Editor), is just the latest from a company that began more than a decade ago to expand its operations in earnest.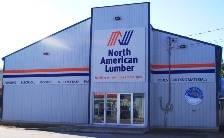 According to Dan Gibson, general manager of North American Lumber, the company initiated a business plan in 1997 to expand by both acquisition and the replacement of existing sites. It has actually picked up three stores through acquisition over the past three years. "We've been increasing, on average, by one store a year," he says. Two retrofits completed last fall, in Red Lake, ON and Radville, SK (shown here), are the company's latest efforts to enhance existing operations and represent North American's flagship efforts to remerchandise. In fact, with this latest addition in Kerrobert, and two more possible deals in the works, "we expect up to three this year," he notes. New stores tend to be existing outlets, owned by dealers who are looking to retire or otherwise exit the business. As a member of TIM-BR MARTS, Gibson relies on that buying group's head office for help on an informal basis. "Sometimes Tim Urquhart [president of TIM-BR MARTS] will pass along tips for acquisition targets." And the focus is, for the most part, smaller, rural markets. The most notable exception is the store in Thunder Bay, one of four in Ontario, and a site in the east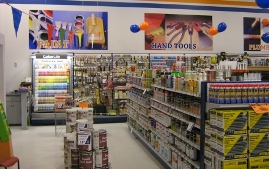 end of Winnipeg. North American now has 19 outlets, from the Lakehead to Saskatchewan, plus two home construction divisions in Manitoba and a concrete plant and roof truss manufacturing facility in Saskatchewan. "We are small-market retailers and that, over the last 102 years, is where we seem to fit best," says Gibson.
Castle creates continued consolidation with co-openings
WARMAN, SK & OLDS, AB — Two existing member dealers of Castle Building Supplies have expanded their operations with new-store openings recently.
Warman Home Centre held its grand opening of a new store in Warman, SK on May 23 and 24. Owner David Holst has been in business since 1984 and became a Castle member in 1988, operating out of the original 6,000-square-foot location. To meet the demands of the rapidly growing business, Holst built this new 46,000-square-foot outlet across the street from the former location. The new store incorporates all aspects of the Castle Store Development Program. Leo's Building Supplies in Olds, AB had a grand opening of its own over the same weekend. A new 22,000-square-foot retail store replaces the existing site for this 12-year-old operation, which joined Castle in the fall of 2006.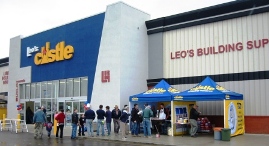 Leo's Castle is a true family operation – along with owner Leo Visser and his wife Ingelise, sons Dan and Jan, and daughter Tina, all are involved full time in the business. Drawing from Castle's Store Development Program, Leo's incorporated new imagery in the store's design.
RONA puts private-label pep into its plans for profitability
BOUCHERVILLE, QC — RONA, Canada's largest home improvement retailer, has a number of initiatives under way to increase profitability in the coming years. Its PEP program ("Productivity, Efficiency, Profitability") is phase one of a strategic plan intended to affect changes between now and 2011.One of these initiatives is to continue increasing the presence of private-label products on the shelves. In the first quarter alone, the company managed to increase sales of private brand products by 10%. This growth has been boosted by the popularity of the RONA by Design program in stores. This "project" approach to sales includes a number of private brand products. The strong demand for the company's Project Guide service is also influencing private brand sales and the sale of installation services. RONA has also been trying to get its inventory levels down, after being stuck with surpluses coming into 2008. It managed in 1Q to shave $83 million, or 9%, off its inventories on a comparable basis to first-quarter 2007. According to Rona CEO Robert Dutton, a number of efficiency improvements were achieved under the PEP program in the first quarter to battle slowing economic conditions. "This program allowed us to improve our gross margin, reduce inventory levels, excluding acquisitions and new stores, optimize the network of existing stores and distribution centres, and improve the results from recent store openings."
TIM-BR MART Dealers develop draw to direct dollars via Air Miles
CALGARY – In a new promotion with Air Miles, TIM-BR MARTS Ltd. will launch what it claims is the biggest in-store consumer contest in the buying group's retailing history. From June 1 to July 31, customers shopping at 225 participating TIM-BR MART stores across Canada will have a chance to win 50,000 AIR MILES reward miles, and second, third and fourth prizes of 15,000, 7,500 and 2,500 reward miles respectively. (For 50,000 reward miles, a family of four can travel round trip from Toronto to Tokyo or take a package vacation to Mexico.)During the contest, shoppers earning a minimum of one qualifying reward mile will have their name automatically entered into the contest. This contest is open to AIR MILES collectors and applies to contractors as well as DIY customers. "This is the largest contest TIM-BR MART has ever done with AIR MILES, and an indicator of the new era of retailing for TIM-BR MART dealers," said Steve Stremecki, vice-president, retail services division at TIM-BR MART. "We'll continue to leverage the strength of Canada's leading loyalty program over the year throughout various consumer touch points." The draws will be made on Sept. 15, 2008.
Product Manager - Vancouver, BC

Since 1968 our client has been providing quality, innovative hardware products, services and solutions to customers across North America. The company has a solid foundation of success, and is poised for aggressive growth across Canada and the US. As our client implements a major re-branding initiative, the Product Manager will play an integral role in the marketing department's business plans and growth expectations. The primary responsibility of the successful candidate will be to represent the voice of a key portfolio of products in all matters. He/She will have the autonomy to lead the creation of strategy and the implementation and execution of annual marketing plans. We are seeking candidates with extensive experience within the Hardware industry on branded consumer goods and have a passion for developing new products. We offer a competitive salary plus bonus, benefits and relocation assistance. Interested parties should submit their resume in confidence to Dawn Longshaw at Holloway Schulz & Partners c/o jobs@recruiters.com (quoting job reference 11406). ______________________________________________________________________
Industrial Thermo Polymers Limited is one of North America's largest polyethylene foam profile extrusion operations, producing a broad range of retail and commercial products. We have an immediate opening for a

NORTH AMERICAN SALES MANAGER

to develop our U.S. and Canadian market. The successful candidate will have a minimum of 3 years experience in Consumer Goods or the Food Service Industry and will have acquired exceptional business development skills. A minimum of community college is required. Travel throughout North America will be necessary.

Duties will include sales and marketing strategy development, market analysis, trade show participation, lead follow up, and customer presentation and follow up. Industrial Thermo Polymers offers competitive wages and a benefit package and we are an equal opportunity employer. Interested applicants should fax or email their resume to: Industrial Thermo Polymers Limited Brampton , ON Attention: Human Resources (905) 846-0363 akelly@tundrafoam.com We thank all applicants for their response however only those selected for an interview will be contacted. No phone calls please.
______________________________________________________________________
Resumés
Andy Moncrieff
has a proven sales record with key national accounts and their independent dealers in the hardware, building materials, and paint industries and superior business development skills.
Click here to download Andy's Resumé
Marketplace
Sell your company - or buy one - with HARDLINES Classifieds! Do your executive search, find new lines or get new reps in the HARDLINES Marketplace. Only $2.75 per word for three weeks in the classifieds. To place your ad, call Barb Hills at 416-489-3396 or email: barb@hardlines.ca
More Information
To ensure you receive your HARDLINES newsletter each week, please add bev@HARDLINES.ca to your address book.

Did your email system make this newsletter unreadable? You can read it online instead. call us to find out how.

Publishing Details: HARDLINES is published weekly (except monthly in December and August) by HARDLINES Inc. 360 Dupont Street Toronto, Ontario, Canada M5R 1V 9 © 2008 by HARDLINES Inc. HARDLINES™ the electronic newsletter www.HARDLINES.ca ; Phone: 416.489.3396; Fax: 416.489.6154 Michael McLarney - President - mike@HARDLINES.ca Beverly Allen, Publisher - bev@HARDLINES.ca Brady Peever - Circulation Manager - brady@HARDLINES.ca Barb Hills - Sales Manager - barb@HARDLINES.ca The HARDLINES "Fair Play" Policy:Reproduction in whole or in part is very uncool and strictly forbidden and really and truly against the law. So please, play fair! Call for information on multiple subscriptions or a site license for your company. We do want as many people as possible to read HARDLINES each week - but let us handle your internal routing from this end! Subscription:$285 (Canadian subscribers add $14.25 GST = $299.25 per year/ GST #13987 0398 RT).Secondary subscriptions at the same office are only $46 (Canadian subscribers add $2.30 GST = $48.30).Ask about our reduced rate for branch offices.You can pay online by VISA/MC/AMEX at our secure website or send us money. Please make cheque payable to HARDLINES.
COMPANIES IN THE NEWS
OAK BROOK, IL — Ace Hardware Corp., the world's largest retailer-owned hardware cooperative, had net income of $10.8 million for the first quarter of 2008, a decrease of $3.3 million, compared to $14.1 million for the first quarter of 2007. After excluding certain non-recurring and unusual items, the company reported EBITDA (earnings before interest, taxes, depreciation and amortization expenses) of $31.2 million, up from $29.2 million.Total revenues for the first quarter decreased 7.2% to $872.1 million. Total continuing merchandise sales in the first quarter of 2008 declined 6.4% while retail service revenues declined 13.1%.COLOGNE, GERMANY — This city on the banks of the Rhine will be the destination for the global lawn and garden and outdoor leisure industry, from Aug. 31-Sept. 2. That's the date of spoga, the fair for Sports, Camping and Garden Lifestyle — which will once again showcase a range of garden furniture, camping gear, outdoor leisure equipment, beach products and barbecue equipment. The show is held in tandem with gafa, the International Garden Trade Fair. For more info, contact: Cheryl Peteherych at 800-206-3360, c.peteherych@koelnmessenafta.com EIGHTY-FOUR, PA — The Forest Stewardship Council has issued chain-of-custody certifications to 26 of 84 Lumber's yards through Scientific Certification Systems (SCS). The certification enables these stores to sell FSC-certified wood products, either out of their own stock and or on a project-by-project basis through special orders. FSC-certified products verify that the lumber was extracted from forests that are environmentally responsible, socially beneficial, and economically viable. HOFFMAN ESTATES, IL — For its first quarter, Sears Holdings reported a loss of $56 million, way down from a profit of $223 million during the same quarter last year. Sales were $11.1 billion, representing a drop of almost 6%. The retailer blamed rising costs of gas and food in the U.S. TORONTO — Sears Canada had first-quarter revenues of $1.25 billion, an increase of 2.9%. Net earnings for the quarter, excluding unusual items, were $34.8 million, up from $5.0 million for the first quarter last year, which ended March 31, 2007. Net earnings for the quarter, including unusual items, were $63.1 million or 59 cents per share compared to $14.3 million or 13 cents per share in the first quarter last year, which ended March 31, 2007. ISSAQUAH, WA — Costco Wholesale Corp. reported a 13% increase in net sales for the third quarter, to $16.26 billion, from $14.34 billion, while net income was $295.1 million, up from $224.0 million. Year-to-date net income was $884.9 million, up from $710.4 million, while net sales for the year to date increased 12% to $48.35 billion, from $43 billion. MONTREAL — MAAX Corp., the manufacturer of residential bathroom products and spas, has signed a deal to sell MAAX Spas Inc., the company's spa division, to Spa Logic, which is based in Thorsby, AB and operates under the brand name "Arctic Spas". The deal is expected to close by June 15.
People on the Move
Dirk Drieberg has joined The MIBRO Group as director of marketing & design. (416-285-9000)
Economic Indicators
According to the latest "Renovation and Home Purchase Survey" , 6% of households across 10 major centres said they intend to purchase a home that will be used as a primary residence in 2008. This is down from 8% in 2007. Of that 6%, just under half (42%) are first-time buyers in 2008. This percentage is identical to the share of actual first-time homebuyers in 2007. The majority of first-time buyers are between the ages of 25 and 34, with a household income between $40,000 and $60,000 annually. (CMHC)Canadian retailers sold an estimated $412.0 billion worth of goods and services in 2007, up 5.8%, an annual rate of growth that was the second highest in five years. Provincially, retail sales in Saskatchewan surged 13.0%, twice the rate of growth in 2006. This was the largest increase in the nation for 2007 and Saskatchewan's fastest annual growth rate since 1991. (Stats Canada)
OVERHEARD...
"Consumer confidence has been shaken for the last few quarters and especially since the beginning of 2008, due to fears of a recession in the United States, the major softening of the manufacturing sector in eastern Canada and the rise in prices for items such as fuel. This situation, combined with the temporary slowdown in the demand for building materials in Alberta and the predicted drop in starts of single-family homes in Canada, will continue to put downward pressure on sales in our industry." —Robert Dutton, president and CEO of RONA inc., during the company's quarterly meeting to report first-quarter results.
Did you know about these other products from Hardlines?
Hardlines Retail Report
Hardlines Webinars
Hardlines Annual Conference
Hardlines Hot Product Showcase
Hardlines TV
Free daily news updates