In This Issue:
"When you have only two pennies left in the world, buy a loaf of bread with one and a lily with the other. " —Chinese proverb
RONA raises cash through stock issue
BOUCHERVILLE, Que. — RONA inc. has closed a public offering of common shares to a syndicate of underwriters led by Scotia Capital Inc. The offering of 11,630,000 shares, at a price of $12.90 per share, resulted in gross proceeds of $150,027,000. The underwriters have a 30-day over-allotment option to purchase up to 1,744,500 more shares at the same price. If the over-allotment option is exercised in full, the total gross proceeds to RONA will be $172,531,050.This equity issue has been floated to strengthen RONA's balance sheet and give it the cash it needs to continue execution of its 2008-2011 strategic plan (see last issue for more details on RONA's strategic plan —your helpful Editor). Specifically, RONA intends to use substantially all the money from the offering to reduce indebtedness. Any remaining cash will be used to fund capital projects and for general corporate purposes. RONA is not alone in its efforts to raise money without borrowing. Canadian Tire recently closed a bond offering of $200 million in seven-year notes with an interest rate of 5.65%. And, according to Statistics Canada, the non-financial corporate sector slowed its level of borrowing, from $58 billion in the fourth quarter of 2008 to $25 billion in the first quarter of this year. Post your comment here.

Top.
IRLY hosts dealers at buying show and AGM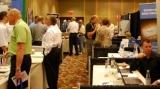 WHISTLER, B.C. — IRLY Distributors held a buying show for the IRLY members here on May 30. The show was held in conjunction with IRLY's annual general meeting and played host to IRLY dealers from all over British Columbia. This was the first time the Surrey, B.C.-based group has held a show with its AGM.The dealers and vendors spoke optimistically about the year, stating that despite the slow start to the year, things have picked up and they feel they will have a better year than expected. "The vendors were happy to meet with all of our dealers in one place," says Catherine Brownlow, IRLY's advertising and communications manager. "Many of them have already told us they will commit to another show next year." In addition to the show, IRLY held a golf tournament and a high-wire ziplining adventure, as well as seminars on succession planning and growth for the independent. IRLY, an acronym for "Independent Retail Lumber Yards", was founded in 1963. There are 42 independently owned and operated IRLY stores in BC. Post your comment here.
Independents will share ideas at NRHA Convention
SAN ANTONIO, Texas — This city will be the destination for the North American Retail Hardware Association's next annual convention, from July 13-15. The Annual Convention and All-Industry Conference will be a bigger, better event that will include two days of seminars, the 13th Annual Young Retailer of the Year Opening Gala and the First Annual Retail Innovators of the Year Awards.This year, the convention seminars will include talks by five top industry experts, along with a panel discussion with your industry peers. The convention will also include an NRHA Family Fun Night and three optional activities to make your trip to San Antonio unforgettable. The San Antonio River Safari and Walking Tour will be held on Tuesday, July 14, and the NRHA Annual Golf Scramble and Shopping the Villages of San Antonio will both be held on Wednesday, July 15. To download a brochure and to register online for the NRHA Annual Convention and All-Industry Conference and a schedule of events, log on to www.nrha.org today.
TSC sizes up new Stephenson's partnership
LONDON , Ont. — A partnership between farm and hardware retailer TSC Stores and rental chain Stephenson's Rental is garnering strong results in its initial weeks, says a TSC exec.The deal gives space to Stephenson's Rental operations within the four walls of existing TSC outlets, enabling Stephenson's to expand in a cost-effective manner beyond its core urban markets into rural markets. At the same time, TSC, which is building increasingly larger stores, can leverage its existing real estate and personnel with a new business, says Greg Hicks, COO of TSC Stores. And even though it's still early for definitive results, the first response has been positive. "It's a nice fit and it's working well," he notes. Tests of the combined concept are being conducted in two of its Ontario stores. The first, in Bowmanville, utilizes a 4,000-square-foot store contiguous to the existing TSC outlet. A hole was knocked in the wall between the two stores to give customers access to both businesses. The second is in Uxbridge and features a "store within a store", close to 2,000 square feet in a gondola run right inside the tool department. This latter approach is augmented with complementary retail products, such as flats of bagged cement or drywall compound. "This," says Hicks, "is the concept we see scaling going forward." The strategy now is to figure out how to increase retail sales of TSC products to Stephenson's mainly contractor customers. So far, customer reaction and results to date have exceeded expectations. "Our rental business in both locations has been rising steadily by 50% for both of the first two weeks." TSC anticipates that the pilot locations will justify an aggressive rollout to many more existing TSC locations. Post your comment here.
Can-Save hosts dealers at Summer Expo
BARRIE, Ont. — A one-day trade show for Ontario building supply dealers was held by the specialty LBM distributor Can-Save last week. Now in its second year at the Barrie Molson Centre (the show had outgrown Can-Save's own distribution centre), the event drew more than 325 dealers from across the province and — in a couple of cases — from Quebec. Most of the major buying groups, including Castle, TIM-BR MART, TORBSA and ILDC, were represented.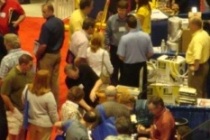 The strong attendance was due, says Larry Koza, co-owner of Can-Save, to a combination of strong show specials, free hotel rooms for dealers who spend a certain minimum, and the education seminars — all crammed in to one day. The hospitality, too, was certainly a factor, as hostesses walked the show continuously offering everyone beer and scotch. They came to take advantage of show specials and attend education seminars by Can-Save's supplier companies, who included Jeld-Wen, Cabinetsmith, Merillat, and its newest supplier partner, Architectural Ornament. The show turned out to be a good one for those exhibiting suppliers, who found dealers generally eager to buy. "My hand was getting sore writing orders," said Mark McIntosh of Industrial Thermo Polymers. He was introducing a new product at the show — a line of polyethylene crown mouldings. "We're always looking for innovative new products," he said. "The dealers love it."
Lowe's donates to job skills training in Ontario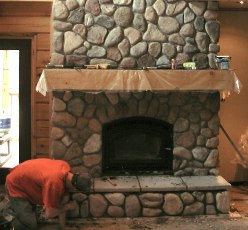 Alex Peever, apprentice for Muskoka Stone Works and graduate of Ontario Masonry Training Centre, puts the finishing touches on a fireplace.

TORONTO — Lowe's Canada has made a $200,000 grant to Skills Canada in Ontario. The donation, from the Lowe's Charitable and Education Foundation, is the largest corporate contribution ever received by Skills Canada Ontario, a not-for-profit organization dedicated to supporting the development of skilled trades and technology among the youth in Ontario. The grant will be used to support community service projects and instructional program enhancements. It will also help fund the Ontario Technological Skills Competition, an annual event to encourage skills education with youth. "Lowe's is committed to supporting community projects that are important to our customers and employees, and we look forward to watching these young men and women contribute to their own communities, as well," says Don Stallings, President, Lowe's Canada. The Ministry of Training, Colleges and Universities will match all donations made to Skills Canada Ontario up to $400,000. In 2008, Lowe's donated more than US$26 million to schools and non-profits to support more than 1,800 community projects across North America.

Canadian Company Seeking Manufacturer's Agents
Novik is a leading manufacturer of Innovative Polymer Siding and Roofing systems for the new construction and renovation markets.  We are seeking quality representation inOntario, Man/Sask, Alberta and BC
Interested candidates can send their CV to Grant Cowx @ gracow@novik.com or by fax to 418-878-6164.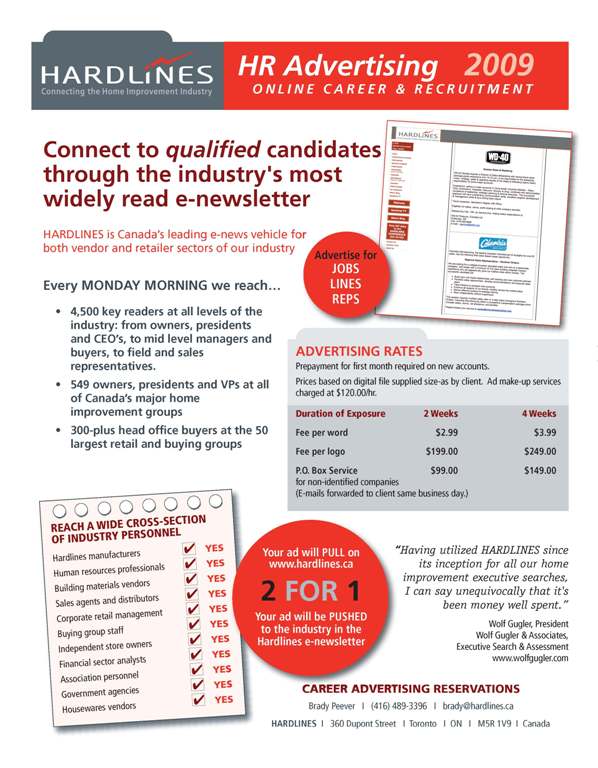 To place an ad in our classified section click here or call 416-489-3396
Leadership, sales and communication skills, seeking a challenging and results-oriented environment.
A creative, strategic thinking and results oriented Sales Professional.
Dynamic business development specialist seeking managment opportunity
Well-spoken, energetic, confident, and personable, the type of person on whom your customers and employees will rely.
A seasoned veteran with a wealth of experience, on the front lines of Retailing. Personable, energetic and dedicated to providing Exceptional Customer Service.
A sales leader experienced in coaching, managing and developing sales teams.
Know someone who is between jobs? We will send a complimentary subscription to anyone who is seeking a job. We also offer a free Online Resumé Service. Ask them to call or email us here at the World Headquarters. (And why not tell your HR department about this service!) Email Brady for more info. —Beverly
Sell your company - or buy one - with HARDLINES Classifieds! Do your executive search, find new lines or get new reps in the HARDLINES Marketplace. Only $2.75 per word for three weeks in the classifieds. To place your ad, call Brady Peever at 416-489-3396 or email: brady@hardlines.ca
To ensure you receive your HARDLINES newsletter each week, please add bev@HARDLINES.ca to your address book.

Did your email system make this newsletter unreadable? You can read it online instead. call us to find out how.

Publishing Details: HARDLINES is published weekly (except monthly in December and August) by HARDLINES Inc. 360 Dupont Street Toronto, Ontario, Canada M5R 1V 9 © 2009 by HARDLINES Inc. HARDLINES™ the electronic newsletter www.HARDLINES.ca Phone: 416.489.3396; Fax: 416.489.6154 Michael McLarney - Editor & President - mike@HARDLINES.ca Beverly Allen, Publisher - bev@HARDLINES.ca Brady Peever - Client Services Manager - brady@HARDLINES.ca Chiaki Nemoto - Accounting - chiaki@HARDLINES.ca The HARDLINES "Fair Play" Policy:Reproduction in whole or in part is very uncool and strictly forbidden and really and truly against the law. So please, play fair! Call for information on multiple subscriptions or a site license for your company. We do want as many people as possible to read HARDLINES each week - but let us handle your internal routing from this end! Subscription:$299 (Canadian subscribers add $14.86 GST = $315.21 per year/ GST #13987 0398 RT).Secondary subscriptions at the same office are only $48.75 (Canadian subscribers add $2.44 GST = $51.19).Ask about our reduced rate for branch offices.You can pay online by VISA/MC/AMEX at our secure website or send us money. Please make cheque payable to HARDLINES.
NEWS IN BRIEF
TORONTO — Lowe's will open its next two stores this month, both in Scarborough, Ont. The North Scarborough is at 6500 Steeles Ave. East and the West Scarborough location is at 800 Warden Ave., below Eglinton, the site of a former Wal-Mart store that's beside a RONA big box. This will bring the number of Lowe's big boxes in this country to 14. Lowe's opened its first three Canadian locations in December 2007 and its 12th store in early May in Oshawa, just east of Toronto. Two more stores are planned for the Lowe's current fiscal year, which ends Jan. 31, 2010. Post your comment here.

BOUCHERVILLE, Que. — RONA inc. unveiled new products last week in its Haussmann and Haussmann Xpert lines. The proprietary brand, which was introduced at RONA's dealer market in Toronto last fall and is exclusive to the retailer, is available across the RONA network, including Totem in Alberta and Réno-Dépôt in Quebec. Products include a nine-inch band saw, ten-inch portable saw bench, twelve-inch sliding compound mitre saw, and 14.4-volt lithium-ion cordless drill. ST. JACOBS, Ont. — Home Hardware Stores Limited recently gave out awards to its dealers across the country for achieving the highest standards in retailing, merchandising, staff performance and overall quality. But one dealer received a special award, the Walter J. Hachborn Store of the Year Award. Quincaillerie Home Hardware in Rimouski, Que., beat out more than 1,000 fellow dealers to earn the top honour. ROCKY HILL, Conn. — Henkel Corp. has announced the sale of its DIY line of tapes, office and housewares products, and kitchen and bath products under the Duck, Painter's Mate Green and Easy Liner brands. These businesses, in both the U.S. and Canada, have been sold to Hickory, N.C.-based Shurtape Technologies. TORONTO — Canadian Tire has been awarded the Retail Council of Canada's 2009 Excellence in Retailing Award for "Retail Store Design for a Large Chain". The company won for its Smart Store format, which features new presentations and a combination of improved category adjacencies, with additional space devoted to Canadian Tire's cornerstone businesses of automotive, sporting goods and tools. In addition, these Smart stores feature boutiques, customer service desks and information kiosks. (A detailed examination of Canadian Tire's newest store formats will appear in the upcoming 2Q edition of our sister publication, Hardlines Quarterly Report—informative Editor) TORONTO — Owens Corning, the building materials and glass fiber reinforcements maker, has installed what it claims is North America's largest solar air heating system. Using the sun's energy to heat ventilation air for commercial buildings, the SolarWall system, invented by Conserval Engineering, has been installed at the company's Toronto-area insulation manufacturing facility. The SolarWall technology is said to reduce substantially traditional heating fuel expenses and carbon dioxide emissions, require no maintenance and last more than 30 years. The Toronto facility will generate an estimated 8,000 million BTUs of thermal energy each year. VANCOUVER — CSA International, the testing and certification organization, has opened a laboratory for the testing and certification of solar panels and other alternative energy equipment. The new facility is designed to help North American manufacturers bring qualified existing and new "green" alternative energy technologies to market. In 2008, world solar photovoltaic market installations grew by 110% and recorded revenues of $37.1 billion, with the U.S. as one of the top three countries recording growth. Photovoltaic prices have declined an average of 4% annually over the past 15 years. TORONTO — Sears Canada Inc. has announced it will begin offering residential painting services in selected markets. The giant department store chain, which also claims to be the nation's largest installed home improvements provider, is tying the new service in to the federal government's new Home Renovations Tax Credit program. Sears is using licensed, insured, professional painters, while Sears' professional consultants will help consumers choose the colours, match fabrics and materials, etc., to produce a full design offering.
PEOPLE ON THE MOVE
Pierre L'Heureux has been named vice-president of marketing, image and sponsorships at RONA inc. He will report to Claude Bernier, executive vice-president of marketing and customer innovations, Pierre brings over 20 years of sales and marketing experience to his new position. Since 1988, he has served as major account manager at Aliments Delisle, vice-president and general manager of marketing at A. Lassonde, and national commercial director at Radio-Canada.To place a listing in our "People on the Move" section, please send me the information, including the person's name, title and contact email or phone number, if desired at mike@hardlines.ca. We reserve the right to edit items for length. —Michael
OVERHEARD…
"I feel like I'm one year older, but 10 years wiser." —Gino Allegro, manager, national accounts for Johns Manville Canada, looking back over the past year of battling an economic downturn that started in the U.S. and then moved north.
Hardlines Products
Hardlines Quarterly Report
Hardlines Retail Report
Hardlines Hot Product Showcase
Hardlines TV
Free daily news updates
Did you know you can have this newsletter sent to someone else in your office for less than a dollar an issue!