In This Issue
"Our deeds follow us, and what we have been makes us what we are." —John Dykes (English clergyman and composer, 1832-76)
IRLY buying group appoints new president
SURREY, BC — IRLY Distributors Ltd., the buying group, and its wholesale distribution division, IRLY Building Centres of BC, have announced the appointment of Susan Robinson to the role of president and CEO. In this new position within the company, Robinson will lead the team with the company's growth and plans for excellence in all facets of the supply chain.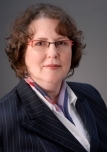 Until now, the company has been headed by executive vice-president and general manager Garry Anderson. Robinson brings extensive strategic business experience and growth management in several industries. She was most recently self-employed in her consulting business, PathMasters International, providing business solutions in procurement, logistics, quality assurance and research and development. She served as vice-president, operations for both B.C. Hot House Foods and Olafson's Baking Co. Robinson also taught operations management and logistics at BCIT for 10 years. Her experience in industries supporting the construction and building sectors includes InterWrap Industries and Gescan Electrical Distributors, where she spent more than 10 years in senior logistics and manufacturing roles. "Susan brings 30 years of senior executive and strategic business experience, including expertise in distribution, warehousing, logistics, manufacturing and growth management," said George Linger, chairman of IRLY. "Her energy and enthusiasm will lead IRLY Distributors in substantial growth in the coming years." IRLY is the only distributor of both hardware and building materials in BC and supplies more than 40 independent retailers in the province.
Can-Save hosts dealers at another successful buying day
BARRIE, ON — Can-Save, the specialty building materials distributor located here, held its 17 th annual Summer Expo last week. This year saw the show move to a new venue at the Barrie Molson Centre, just up the street from the Can-Save offices and distribution centre. The Expo's new home was needed to accommodate the growth in the annual event, which played host this year to more than 700 people representing 205 dealers from across Ontario.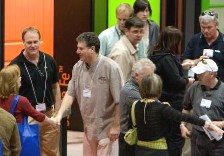 Activity on the show floor was strong and steady throughout the day, reports Can-Save. Dealers enjoyed plenty of food and beverages and had a chance to meet with key representatives from all of Can-Save's manufacturers. The day ended with dinner, booth prizes, a "swag toss", and a performance by Canadian rock and roll legends, April Wine.
Industry logs in to learn slowdown strategies
WORLD HEADQUARTERS, TORONTO — The balance of 2008 will feature a "slowing economy, rising costs and retail customers who won't accept any kind of price increases," said Michael McLarney, editor and president of Hardlines, during our first-ever "webinar", broadcast via the internet with audio by telephone.Some 250 industry individuals logged on for the hour-long, interactive session exploring opportunities in a slowing economy. Speakers were Peter Norman, director at market research firm Altus Clayton; Dan Tratensek, editor of U.S.-based trade
magazine Hardware Retailing; and Derrick Francis, vice-president business strategy for DMD Ltd. In spite of McLarney's sobering introduction, it wasn't all doom and gloom about the economy. Norman pointed out that the slowdown in residential housing starts is not based so much on economic conditions as it is part of "a longer term cycle in housing based on underlying demographic demand." And if there is a slowdown to come, it is a slowdown from an absolutely torrid last 10 years for renovation spending. Norman said that Canadian renovation spending had increased an average of 10.3% each year of the last decade, growing from $20 billion in 1998 to slightly over $50-billion in 2007. Furthermore, Norman said, although housing starts are slowing, renovation spending will still increase "between 7% and 8%" in 2008. "The renovation industry is still relatively healthy," he concluded. Tratensek described conditions that have faced U.S. dealers in recent years. "The U.S. housing market is in its worst downturn in decades," Tratensek said. "It's a trifecta of causes." The three culprits are a crash in housing starts (from 1.6 million last year to a predicted 1.0 million this year), a crash in new home sales (from 825,000 to 600,000), and a similar drop in resale transactions (6.3 million to 5.0 million). Tratensek then outlined a number of initiatives that U.S.-based home improvement retailers are undertaking to stay the course. Among them are: expanding your trading area geographically, selling more "quasi-builder services" (installed sales), introducing loyalty programs, providing favourable credit terms, and focusing on new specialty niches, especially commercial construction, which has been less hard-hit by the homeowner credit crunch. Francis of DMD offered examples of how vendors can work with retailers to provide packaging and merchandising programs to ensure their products stand out on the retailers' shelves. Sometimes, he said, marketing initiatives from head office aren't always reflected consistently in messages at point-of-sale. "Leveraging brands and vendor support assists the consumer in making their purchasing decision," he noted. To order your copy of this landmark webinar on CD-ROM, click here.
Home Depot takes a new view on installed sales
ATLANTA — Home Depot no longer sees installation services as one of its key growth drivers. But it still considers that service an important way to draw more customers into its stores.Frank Blake, CEO of Home Depot, virtually conceded to investors and analysts this week that customers were justified in their complaints over the years about the quality of installation provided through Home Depot's stores. The company does about 10,000 installations per day chainwide, but last year its revenue from professional services fell nearly 8% to $3.5 billion, according to the company's annual report. However, the company continues to operate eight call centres, which provide customers with price quotes and complete orders for customers who go into stores to order products and labour. Blake said the company remains committed to offering installation, but primarily as an incentive to drive store traffic. This is an almost complete reversal of the goals for installed sales set for by Blake's predecessor, Bob Nardelli, who saw installation as one of the linchpins to cultivating more sales from professional customers. In 2002, Nardelli was projecting that Home Depot could expand its installed sales to $10 billion in sales by 2005. The person who spearheaded that program for Nardelli was Blake. Now that he's running the company, Blake is more focused on improving the customer service within Home Depot's stores. Reuters quotes Blake as saying the retailer would continue to improve aging stores that most drive its earnings and sales growth. Home Depot has more than 650 stores that are older than 10 years, and these stores as a group are almost 20% more productive than the company average.
Cologne attracts big brands to outdoor leisure show
COLOGNE, GERMANY — This city on the banks of the Rhine will be the destination for the global lawn and garden and outdoor leisure industry Cologne is preparing for a full house for the 50th anniversary of spoga from Aug. 31-Sept. 2, 2008 Spoga, the fair for Sports, Camping and Garden Lifestyle — will once again be showcasing a top-quality range of garden furniture, camping gear, outdoor leisure equipment, beach products and barbecue equipment. The show is held in tandem with gafa, the International Garden Trade Fair.

This year marks the 50th edition of spoga — and the show will feature a wide range of products from many of the industry's leading names. This year, the segment for Plants & Plant Care will feature Landgard as an exhibitor for the first time. The Florists' Supplies & Decoration section promises to be bigger and better this year, featuring names such as Elho, Deroma, Grosfillex, Lechuza, Marchioro, Scheurich und Soendgen, Kirschke and Gusto. With wood now playing an increasingly important role in gardens, more and more space is being devoted to related products. Hall 8 is now almost completely booked with many of the leading names in this sector, including Arrow Group, BM Massivholz, Jungle Gym, KBT, Kiehnholz, Kraus, Ubbink, Universo, Videx WEKA and wolff Finnhaus. Outdoor power equipment manufacturers on hand will include Agria, AL-KO, Blount Oregon, Echo, GGP, Grillo, IKRA, Kohler, Ratioparts, SABO John Deere, Telsnig, Tielbürger and Wolf-Garten. These will be joined by a further 295 companies in sections for hand tools and accessories, water & outdoor lighting (e.g. Brill/Gloria, OASE), and garden structures.
SALES AGENT NORTHERN ONTARIO

Colonial Elegance is looking for a Sales Agent for Northern Ontario. The ideal candidate will sell and promote all of Colonial Elegance's products to building supply dealers across Northern Ontario. The territory is already established and has great earning potential. The position includes selling and servicing existing accounts prospecting and adding new clients within the building supply industry. The agent will report to the Sales Director for Ontario. Qualifications
Strong communication skills both written and verbal
Working knowledge of Microsoft Office ie Excel Word Power Point Outlook
Knowledge of Territory and clients
3-5 years of experience working as a sales agent or Outside sales Representative
Proven Sales record
Ability to work with little supervision
Vehicle required
Compensation:
Commission based position
Please forward resume to Colonial Elegance Inc C/O Brant Danard Regional Sales Director 3800 Du Tricententaire Blvd Montreal QC HIB 5T8 Fax 514 640 1744 Email : bdanard@colonialelegance.com ______________________________________________________________________

Black Eagle Consulting provides a variety of Career Transition services in the areas of Executive Search, Outplacement, and Career Counseling. President Richard Simms has many years of experience in the home improvement industry both as a manufacturer and consultant with a wide range of contacts. For more information:
905-842-3010
www.blackeagle.ca ______________________________________________________________________
Product Manager - Vancouver, BC

Since 1968 our client has been providing quality, innovative hardware products, services and solutions to customers across North America. The company has a solid foundation of success, and is poised for aggressive growth across Canada and the US. As our client implements a major re-branding initiative, the Product Manager will play an integral role in the marketing department's business plans and growth expectations. The primary responsibility of the successful candidate will be to represent the voice of a key portfolio of products in all matters. He/She will have the autonomy to lead the creation of strategy and the implementation and execution of annual marketing plans. We are seeking candidates with extensive experience within the Hardware industry on branded consumer goods and have a passion for developing new products. We offer a competitive salary plus bonus, benefits and relocation assistance. Interested parties should submit their resume in confidence to Dawn Longshaw at Holloway Schulz & Partners c/o jobs@recruiters.com (quoting job reference 11406). ______________________________________________________________________
Industrial Thermo Polymers Limited is one of North America's largest polyethylene foam profile extrusion operations, producing a broad range of retail and commercial products. We have an immediate opening for a

NORTH AMERICAN SALES MANAGER

to develop our U.S. and Canadian market. The successful candidate will have a minimum of 3 years experience in Consumer Goods or the Food Service Industry and will have acquired exceptional business development skills. A minimum of community college is required. Travel throughout North America will be necessary.

Duties will include sales and marketing strategy development, market analysis, trade show participation, lead follow up, and customer presentation and follow up. Industrial Thermo Polymers offers competitive wages and a benefit package and we are an equal opportunity employer. Interested applicants should fax or email their resume to: Industrial Thermo Polymers Limited Brampton , ON Attention: Human Resources (905) 846-0363 akelly@tundrafoam.com We thank all applicants for their response however only those selected for an interview will be contacted. No phone calls please.
______________________________________________________________________
Marketplace
Sell your company - or buy one - with HARDLINES Classifieds! Do your executive search, find new lines or get new reps in the HARDLINES Marketplace. Only $2.75 per word for three weeks in the classifieds. To place your ad, call Barb Hills at 416-489-3396 or email: barb@hardlines.ca
More Information
To ensure you receive your HARDLINES newsletter each week, please add bev@HARDLINES.ca to your address book.

Did your email system make this newsletter unreadable? You can read it online instead. call us to find out how.

Publishing Details: HARDLINES is published weekly (except monthly in December and August) by HARDLINES Inc. 360 Dupont Street Toronto, Ontario, Canada M5R 1V 9 © 2008 by HARDLINES Inc. HARDLINES™ the electronic newsletter www.HARDLINES.ca ; Phone: 416.489.3396; Fax: 416.489.6154 Michael McLarney - President - mike@HARDLINES.ca Beverly Allen, Publisher - bev@HARDLINES.ca Brady Peever - Circulation Manager - brady@HARDLINES.ca Barb Hills - Sales Manager - barb@HARDLINES.ca The HARDLINES "Fair Play" Policy:Reproduction in whole or in part is very uncool and strictly forbidden and really and truly against the law. So please, play fair! Call for information on multiple subscriptions or a site license for your company. We do want as many people as possible to read HARDLINES each week - but let us handle your internal routing from this end! Subscription:$285 (Canadian subscribers add $14.25 GST = $299.25 per year/ GST #13987 0398 RT).Secondary subscriptions at the same office are only $46 (Canadian subscribers add $2.30 GST = $48.30).Ask about our reduced rate for branch offices.You can pay online by VISA/MC/AMEX at our secure website or send us money. Please make cheque payable to HARDLINES.
COMPANIES IN THE NEWS
MISSISSAUGA, ON — Castle Building Centres, the national buying group for independent lumber and building materials retailers in Canada, has announced the signing of three new members. They are: DEL Warehousing Inc. in Little Britain, ON; UDO Lumber Sales Inc. in Winnipeg Beach, MB; and Reimer Lumber & Hardware Ltd. in Roseau River, MB.BOUCHERVILLE, QC — RONA is launching a new advertising campaign that showcases its participation as a National Partner in the Olympics. The first of a series of eight different TV spots started airing last week, and featured the RONA Fabrication Shop, where items such as wheelchair ramps, warming huts, fencing and sports racks are constructed. The shop is also where individuals get carpentry skills training and supported job experience to enter the workforce. LONDON — Kingfisher plc, which owns B&Q and Castorama, posted an 8.9% overall increase in pre-tax profits for the first quarter, despite business dropping by 8.5% in its home market of the U.K. Plans to build business over the remaining year, which is expected to be a tough one, include expanding in Eastern Europe and rationalizing operations in Asia, where its big box stores are having a tough time making money. BOUCHERVILLE, QC — Consumers can now run to RONA with their burnt out compact fluorescent bulbs. RONA inc. has announced a new Canada-wide collection program for CFLs at participating RONA stores, including the Réno-Dépôt, Totem and Chester Dawe banners, where the bulbs will be collected for safe recovery. MISSISSAUGA, ON — Wal-Mart Canada is initiating reduced summer lighting in 270 of its 299 stores nationwide. The reduced summer lighting program was piloted in Wal-Mart stores throughout Ontario in the summers of 2005 and 2006 and was originally initiated in response to ongoing summer energy concerns in the province. Wal-Mart Canada has adopted numerous other energy-saving initiatives across its operations to minimize its environmental footprint. The company is in the process of changing its 1.75 million light bulbs chain wide to lower wattage bulbs, and switching exterior signage to lower wattage LED lights. The company has added insulation to the roofs of new and converted stores and reduced energy loss by 25% last year. ISSAQUAH, WA — Costco Wholesale Corp. reported net sales of $5.77 billion for May, an increase of 12% from $5.14 billion in the same period last year. For the first 39 weeks of its fiscal year, which ends June 1, 2008, Costco reported net sales of $52.69 billion, up 13% from $46.81 billion during the similar thirty-nine-week period last year. Same-store sales were up 7% in May, and up 6% year-to-date. SHERBROOKE, QC — Residential furniture maker Shermag Inc. has obtained an order from the Quebec Superior Court to extend the period of the Court-ordered stay of proceedings against Shermag and its subsidiaries, Jaymar Furniture Corp., Scierie Montauban Inc., Megabois (1989) Inc., Shermag Corp., and Jaymar Sale Corp., under the Companies' Creditors Arrangement Act, until Sept. 8, 2008. The delay is to provide Shermag with an opportunity to develop a plan to pay off creditors. MONTREAL — MAAX Corp., the maker of residential spas and bath products, has withdrawn from a previously announced agreement to sell its MAAX Spas division to Thorsby, AB-based Spa Logic . Instead, MAAX Spas will continue to be managed under its current operating structure.
People on the Move
TORBSA Group, the buying group for commercial and gypsum dealers in Ontario, appointed new members to its board at its recent annual general meeting. Doug Portiss of Sarnia Drywall Supply Ltd. has been elected as president of TORBSA Ltd. for 2008. In addition to Portiss, the 2008 board, which represents 25 members with 41 outlets throughout the province, now consists of past president Mike Mayhew, Select Acoustic Supply Inc., Concord; vice-president Dave Hewson of Hewson Brothers Supply Ltd., Brantford; secretary Dante DiGiovanni of Blair Building Materials Inc., Maple; vice-president operations Claude Morin of Morin Bros. Building Supplies Inc., Ottawa; and Treasurer Blake Oldershaw of Oldershaw Building Supply Co. Ltd., Chatham.Robert M. Simko has been appointed CEO of Broadleaf Logistics. He was born and educated in Canada and has held senior positions in both the Canadian petrochemical and U.S. packaging & paperboard business, with a diverse background in operations and supply chain management. Most recently, he was senior vice-president, Paperboard Division, for Graphic Packaging International, working out of Atlanta, GA. Simko will be relocating to Vancouver … He replaces Paul Perkins, who had been acting as interim CEO ever since Broadleaf was formed by the sale of the Weyerhaeuser Canadian distribution assets more than a year ago. Perkins will continue to have an advisory involvement with Simko and Broadleaf. SAINT JOHN, NB — T.S. Simms, a fixture in New Brunswick for nearly 150 years, has named Charles (Chuck) Martin as its new president. He has held a number of key managerial positions

at T.S. Simms over the past 25 years, most recently as plant manager … Martin replaces Thomas S. Simms, who will remain in his role as CEO, working closely on the day-to-day operations with Martin … Also at T.S. Simms, Louis Trépanier has joined as vice president, sales … Douglas Ells has been appointed plant manager. According to Thomas Simms, "These appointments position Simms extremely competitively as we usher in a new era of innovation."
Economic Indicators
Canada's home ownership rate reached its highest level in 2006 since 1971, according to a new detailed analysis of data on housing, homeownership and shelter costs from the 2006 Census. Of the 12.4 million households in Canada, more than 8.5 million, representing more than two-thirds (68.4%), owned their home, the highest rate since 1971. An estimated 3.0 million households, or 24.9% of the total, spent 30% or more of their income on shelter, a slight gain from 2001. (Stats Canada)The total value of residential construction investment reached $19.8 billion in the first quarter of 2008, an increase of 7.5% compared with the first quarter of 2007. (Stats Canada)
Noted...
NRHA Canada (represented, of course, by HARDLINES) sponsored a contest that will send the owners of a Home Hardware store to the NRHA's annual convention this summer. Paul and Marie South of Shields Home Hardware in Coboconk, ON will enjoy a vacation in Monterey, CA from July 28-30. They'll get to participate in the seminars and networking – and maybe even some whale watching – during their trip, all courtesy of NRHA! —Michael
Did you know about these other products from Hardlines?
Hardlines Retail Report
Hardlines Webinars
Hardlines Annual Conference
Hardlines Hot Product Showcase
Hardlines TV
Free daily news updates