In This Issue:
"Men are the only animals who devote themselves assiduously to making one another unhappy." —H.L. Mencken (American editor and essayist, 1880-1956)
Anti-competition legislation may challenge buying groups
SPECIAL REPORT — When the Conservative Government put through its latest budget bill on March 13, an amendment to the Competition Act was put through at the same time. That new legislation, which takes aim at price-fixing cartels, may have caught buying groups in its cross-hairs.The major revision to the law that could affect this industry is the one that states that agreements between competitors "that relate to fixing prices, allocating customers or markets, or agreeing on supply will be illegal regardless of the effects on competition." In other words, even if the group's collective buying efforts do not have an impact on the final selling price to their customers, the buying group arrangement could come under scrutiny. "The Competition Bureau looks upstream and downstream," says Richard Annan, Counsel for Goodmans LLP in Toronto. In the case of competing buying groups that have joined forces, "it could be problematic." He adds that his observations do not constitute legal advice, especially as the law has yet to be tested. However, he says as a policy matter, a strong argument could exist for the Bureau to test the buying group arrangement that involves competing groups. Andrew Battagliotti is general manager of Independent Lumber Dealers Co-operative. This national buying group counts now in its membership some other groups, including Sexton and Delroc, and two co-ops, Federated Co-operatives and Coop fédérée, whose members compete against one another in certain markets nationally. In addition, ILDC is a member, along with another competing group, TIM-BR MART, in the hardware buying group Spancan. He notes that, although the member groups buy together, they have no relation on the selling side and none of the members ever fixes or discusses pricing with another member. ILDC's organization was based on an interpretation of the anti-competition law from more than a decade ago. Nevertheless, Battagliotti is doubtful that the revised legislation will have an impact. "I don't think that either ILDC or Spancan are in any way affected by this." However, that may not be enough. "Basically, the policy here is to get at the hardcore cartels that covertly fix prices and allocate customers," Annan admits, but adds, "The

fact that it's above-board doesn't necessarily mean it's legal."

The latest revisions to the Competition Ace will not be implemented for one year. The delay will enable companies and groups to review their structures and get guidance from the Competition Bureau. (For a summary of the new bill, click here)

Top.
RONA is "Doing it Right" in newest ad campaign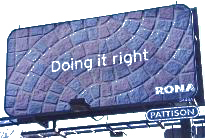 BOUCHERVILLE, Que. — RONA inc. has launched a new advertising campaign under the theme "Doing it Right". The slogan, which replaces the well-known tag line, "The Canadian How-To People", is getting a full range push on TV, in print, and on radio, as well as through outdoor billboards in certain markets."The campaign's series of dynamic messages are designed to enhance RONA's visibility and ensure our innovations in the area of client experience are better known," says Claude Bernier, RONA executive vice-president, marketing and customer innovations. "The ads introduce our environmental initiatives, while they also showcase RONA's products and services, demonstrating our leadership in the home improvement industry." The new campaign was developed by the advertising agency BOS, RONA's new marketing partner, in collaboration with Carat, RONA's media planning partner. The "Doing it Right" slogan aims to focus on the steps RONA has taken towards sustainable development. These include the sale of eco-responsible products — including the RONA by Design brand and its private-label Eco products, plus its paint recycling initiatives and its new policies on pesticide sales and wood products procurement. In its first phase, the advertising campaign will centre on four Canada-wide TV messages. One of the spots dealing with RONA's paint recycling will be broadcast in Quebec, Ontario and Maritimes. Two other spots deal with renovation projects. A fourth message, which will hit the airwaves in the coming weeks, will feature the RONA Eco line. Print ads in daily newspapers, focusing on sustainability, will include a personal message from RONA President and CEO Robert Dutton. Radio spots will feature promotional offers on products or renovation projects plus Air Miles promotions and financing options. Outdoor billboards in the Greater Toronto Area will also be used. The campaign's second phase, planned for fall 2009, will focus on RONA's 70th anniversary and the 2010 Vancouver Olympic and Paralympic Winter Games.
B.C. association postpones trade show until next year
SURREY, B.C. — The Building Supply Industry Association of British Columbia, in response to concerns from retail and supplier members throughout the province regarding the current economic conditions in the province, will suspend its annual trade show for one year.According to a release sent out to the members last week, the BSIA board of directors "decided to act in the best interests of the members, and postpone the Westcoast Building & Hardware Show scheduled for May 7-8, 2009." The show is rescheduled for May 6-7, 2010, in Penticton.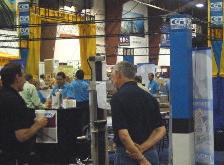 The release says, "We heard concerns from retail and supplier members throughout the province, regarding the current economic condition in B.C., and its impact on our industry. Many suppliers are telling us it would not be an opportune time to participate in a trade show, when retailers need their support directly in the marketplace." BSIA President Thomas Foreman says a number of surveys were conducted of the membership, which comprises retailers, manufacturers and suppliers. "Given the economy, and the fact that so many stores have reduced staff and increased workloads, they'll have a tough time justifying sending people to the show." Some suppliers, as well, "breathed a sigh of relief." The revised dates, however, are being well received by the industry, he notes.
Quebec association hosts first-ever conference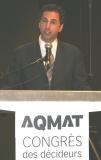 MONTREAL — This past weekend, the Quebec Hardware and Building Materials Association (AQMAT) brought together retailers, wholesalers and vendors from around the province for a one-day "Congrès des décideurs". The association used the event to reaffirm its new mandate, under President and General Director Richard Darveau, to represent the province's industry more comprehensively than in the past.

It also presented results of a newly-commissioned survey undertaken by Impact, a division of Cossette, which found that 38 percent of Quebecers intend to undertake some sort of renovation project over the next 12 months. Of those respondents, 31 percent will do exterior work, while 18 percent will take on an interior reno project. Eleven percent intend to do both exterior and interior renovations in the year ahead. People will be doing it themselves in the majority of cases, with 69 percent saying they'll do exterior renovations themselves, and 58 percent saying they'll do interior work on their own.
Quebec convention-goers learn about small-store strategies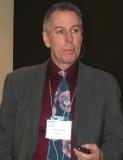 MONTREAL — The first-ever convention of the Quebec Hardware and Building Materials Association (AQMAT) featured a presentation by Hardlines' own itinerant Editor, Michael McLarney. He explained how the arrival of Lowe's to Canada is having an impact on retailing in Quebec, even though Lowe's has no immediate plans for stores there. He pointed out that Lowe's has "raised the bar" for merchandising in this country, and competitors like Home Depot have responded with improved in-store experiences.He warned that independents, who have always enjoyed a strong relationship with their local markets and a solid business with contractor customers, will find their markets encroached upon by the larger chains. Home Depot, Canadian Tire, and RONA are all focusing on smaller stores in smaller markets. For example, Home Depot recently opened a store in the small cottage community of Parry Sound, in Northern Ontario that is just 45,000 square feet in size and features an exterior lumberyard.
"Dream Ace" dealer announces plans to close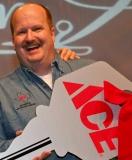 SPRING, Texas — Gleannloch Ace Hardware will close its doors sometime this spring. The store was opened in June 2007 by Gower Tally, who beat out more than 5,400 hopeful entrepreneurs in a nationwide "Dream Ace" contest and was awarded the $1-million Ace store.Tally posted a statement on his Web site confirming his plans to close the store and return to his home state of Oregon. He says, "This has been an extremely rewarding experience; however this is not where my family and I want to be permanently. It is time for my family and I [sic] to come home. I am liquidating my assets in Houston, and I will be returning to the Portland, Ore., area in spring 2009." In a letter in an online forum for Ace dealers, Tally gave a little more information about his decision. He insists he was committed to the business, but costs kept mounting. The cost of occupancy alone at the store was "well over" $300,000 per year. He further insists that liquidating was a measure of last resort. "We went into this for the long haul. We bought the house behind our store. We will lose money when we sell it." His comments on the website, he added, were vetted by his lawyer.
Green building products could yield big sales by 2013
CLEVELAND — Annual sales of green building materials, which last year hit an estimated $57 billion in the U.S., could shoot up beyond $80 billion within the next five years, according to the latest study of this market by the research firm Freedonia Group, which tracks the shipments and sales of many construction- and home improvement-related products.To achieve that increase, the market for green building materials would need to grow at an annual rate of 7.2 percent. And that growth will undoubtedly hinge on how quickly America's housing market recovers from its current recession. Freedonia predicts that the rate of growth for green building materials will outpace the growth of construction expenditures in general through 2013. The researcher also foresees faster growth for such "green" products as water-saving plumbing fixtures and energy-efficient electrical items. Freedonia expects demand for such products to increase by double-digit annual rates over the next five years. Freedonia also believes that the greatest gainer could end up being floor coverings made from renewable resources, such as bamboo. The same could be true for concrete made from recycled materials, whose demand Freedonia expects to increase by 8.4 percent per year, to $14.3 billion in 2013.

 

DIRECTOR OF SALES & MARKETING

A leading Toronto-based building products manufacturer is seeking a sales and marketing professional responsible for all sales to retail clients in Canada and U.S., supervision and development of all sales and marketing personnel, new business development, and marketing strategy and execution.

Key competencies required are a proven ability to acquire new business, self-starter requiring a minimum of supervision, strong analytical skills, team player. Minimum qualifications for this position are: post secondary degree, experience in the building materials industry especially with "Big Box" retailers, minimum of 10 years retail sales experience including at least 5 years in management roles; marketing experience; ability to travel; MS Office Suite proficiency. Bilingual (English/French) would be an asset. Please submit your résumé via email to: Black Eagle Executive Search c/o Richard Simms at rsimms@blackeagle.ca

Regional Sales Manager

We are a market leading manufacturer in the Building Materials Industry. Canadian owned and operated with production facilities worldwide. We are currently seeking motivated and results oriented regional sales manager to join our team. Territory management and strong organizational skills are essential. Covering the province of Ontario, the manager must be able to maintain and grow our business within the region. Sales and management skills are essential to be considered for this position. The company offers a comprehensive compensation package including salary, bonus, company car and a complete benefit package. Please send your resume to susanne.kalbhenn@iko.com
Resum

és
Know someone who is between jobs? We will send a complimentary subscription to anyone who is seeking a job. We also offer a free Online Resumé Service. Ask them to call or email us here at the World Headquarters. (And why not tell your HR department about this service!) Email Brady for more info. —Beverly
Sell your company - or buy one - with HARDLINES Classifieds! Do your executive search, find new lines or get new reps in the HARDLINES Marketplace. Only $2.75 per word for three weeks in the classifieds. To place your ad, call Brady Peever at 416-489-3396 or email: brady@hardlines.ca
To ensure you receive your HARDLINES newsletter each week, please add bev@HARDLINES.ca to your address book.

Did your email system make this newsletter unreadable? You can read it online instead. call us to find out how.

Publishing Details: HARDLINES is published weekly (except monthly in December and August) by HARDLINES Inc. 360 Dupont Street Toronto, Ontario, Canada M5R 1V 9 © 2009 by HARDLINES Inc. HARDLINES™ the electronic newsletter www.HARDLINES.ca ; Phone: 416.489.3396; Fax: 416.489.6154 Michael McLarney - Editor & President - mike@HARDLINES.ca Beverly Allen, Publisher - bev@HARDLINES.ca Brady Peever - Circulation Manager - brady@HARDLINES.ca Kathryn Crosthwait - Accounting - kath@HARDLINES.ca The HARDLINES "Fair Play" Policy:Reproduction in whole or in part is very uncool and strictly forbidden and really and truly against the law. So please, play fair! Call for information on multiple subscriptions or a site license for your company. We do want as many people as possible to read HARDLINES each week - but let us handle your internal routing from this end! Subscription:$285 (Canadian subscribers add $14.25 GST = $299.25 per year/ GST #13987 0398 RT).Secondary subscriptions at the same office are only $46 (Canadian subscribers add $2.30 GST = $48.30).Ask about our reduced rate for branch offices.You can pay online by VISA/MC/AMEX at our secure website or send us money. Please make cheque payable to HARDLINES.
NEWS IN BRIEF
ATLANTA — Home Depot CEO and Chairman Frank Blake discussed recently the slowdown of new store development with company investors, saying that the retailer has "dramatically reduced (its) new store pipeline" in order to focus on improving efficiency and sales at existing stores. Blake spoke at the Bank of America-Merrill Lynch 2009 Consumer Conference and said that Home Depot will open only "a dozen" stores in fiscal 2009; half of those will be located in the United States. The company plans on adding six to seven regional distribution centers in 2009 and completely revamp its distribution system by 2010, Blake says. The year ahead is expected to be a rough one: total sales are expected to decline by 9 percent.EIGHTY FOUR, Pa. — The downsizing continues at 84 Lumber. The national pro dealer closed another six stores last week, a move that affected 50 of its employees. That leaves the company with 304 retail yards nationwide, as well as six component plants. A company spokesman told the Pittsburgh Post-Gazette that the stores were closed in Erie, DuBois and Mount Pocono, Pa., as well as in Vineland, N.J., Crystal Lake, Ill., and West Houston, Tex. As previously reported in Hardlines, 84 Lumber reported a 33 percent decline in its 2008 revenue, to $2.1 billion. MONTMAGNY & DRUMMONDVILLE, Que. — Mercier Wood Flooring has been registered as compliant with the International Standard ISO 9001:2000. Founded in 1980 in Montmagny, Mercier is a hardwood floor designer and manufacturer that has grown by developing leading-edge technological processes. The company has 230 employees. BENTONVILLE, Ark. — Wal-Mart is revamping much of its product line under its Great Value house brand. The private label will benefit from a reformulation of hundreds of grocery and household products as the giant retailer looks for more ways to capture consumer dollars during the downturn. CHANDIGARH, India — Moen India will open two more faucet boutiques in the coming months. The two stores are in Bangalore and Mumbai, which will join 15 other cities in the country that now feature Moen outlets. LONDON — Sales by the U.K. retail group Argos fell 1.6 percent, and its home improvement subsidiary, Homebase, suffered a 10.2 percent drop in sales for the first two months of the year. TORONTO — Loblaw Companies Ltd., the giant Canadian grocery chain, has launched a line of cosmetics under its "Joe Fresh" label. The "collection of stylish and well-priced" cosmetics is called Joe Fresh Beauty and will be available this month in more than 250 stores across Canada.
HARDLINES Quarterly Report 1Q

* How many new home enhancement store formats were introduced to Canada last year?

* How many buying groups disappeared last year?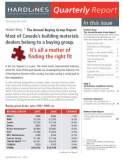 * What one thing are RONA, Canadian Tire and Home Depot all doing to compete with independents? * Where is Home Depot quietly offering a new at-home service through its stores?
PEOPLE ON THE MOVE
Kingfisher plc, Europe's leading home improvement retailer, has announced that Chairman Peter Jackson will retire after the company's annual general meeting on June 3, 2009. He has indicated a desire to reduce his business commitments … Daniel Bernard has been selected to take his place as chairman. Bernard is currently deputy chairman of Kingfisher … John Nelson will continue as the senior independent director and become deputy chairman.In memoriam: Bill Davidson, the owner and CEO of the glass and insulation giant Guardian Industries, died on March 13, after a lengthy illness, at the age of 86 in his home in Bloomfield Hills, Mich. During his 52 years with the company, Davidson helped build Guardian into one of the world's largest manufacturers and distributors of float glass and glass insulation products. Along the way, Guardian acquired the employee-owned distributor Builder Marts of America in 1989 and the national distributor Cameron Ashley Building Products in 2000. Guardian filed for bankruptcy protection in 1957, two years after he became the company's president. (It emerged from Chapter 11 in 1960.) But he took the company public in 1968, and its shares began trading on the New York Stock Exchange five years later. Davidson oversaw the global expansion of a company that now has 19,000 employees in 21 countries. Davidson's interests beyond his manufacturing businesses included his ownership of the Detroit Pistons professional basketball team. (Davidson was inducted into the NBA's Hall of Fame last September.) He also owned the Detroit Shock in the WNBA and until last year owned the Tampa Bay Lightning professional hockey team. As a philanthropist, Davidson reportedly gave away more than $80 million of his wealth. Recipients included the University of Michigan, where he was one of its largest donors. Today, the centerpiece of the college's new Ross School of Business facility bears his name: The Davidson Winter Garden. To place a listing in our "People on the Move" section, please send me the information, including the person's name, title and contact email or phone number, if desired at mike@hardlines.ca. We reserve the right to edit items for length.—Michael
ECONOMIC INDICATORS
 

Retail sales rose 1.9 percent in January to $33.7 billion, after declining 5.2 percent in December. Sales rose in five of the eight retail sectors, led by a 3.8 percent increase in the automotive sector (+6.4 percent). However, two sectors registered sales declines in January —building and home supplies stores fell 1.4 percent, while sales at furniture, home furnishings and electronics stores were down 0.7 percent. (Stats Canada)The Consumer Price Index rose 1.4 percent in February from the same month a year earlier, up from the 1.1 percent increase in January. Food and shelter costs were the main culprits, with food prices up 7.4 percent. Shelter costs increased 3.0 percent. However, gasoline prices were down 19.7 percent from February last year. (Stats Canada) Wholesale sales declined 4.2 percent to $41.1 billion in current dollars in January. Lower activity in the automotive products sector was a major factor behind the decrease. Excluding the automotive products sector, which fell 22.9 percent, wholesale sales fell only 0.9 percent. However, the building materials sector was down by 6.2 percent. (Stats Canada) Manufacturing sales decreased 5.4 percent to $41.7 billion in January, falling to the lowest level in almost 10 years. The auto industries, particularly in Ontario, reported record decreases during the month. Excluding motor vehicles, parts, and accessories, manufacturing sales decreased by a more moderate 1.2 percent compared with December. (Stats Canada)
NOTED...
The Worldwide DIY Council will host a seminar on May 4th, the day before the National Hardware Show in Las Vegas. With speakers from Ace Hardware, Arrow Fasteners, DAP and Asia Inroads, the program is designed to get members and guests in tune to the very latest hardware business climate around the world. The program will begin at 4 p.m. in room N231 at the Las Vegas Convention Center and a cocktail and hot buffet reception will follow at 7 p.m. in room N233. Cost for members of the Council is $100 per person and $150 for non-members.On May 7, the Worldwide DIY Council will again host its annual retail store bus tour for international visitors to the National Hardware Show. The tour will include visits to an Ace Hardware Store, a Home Depot, a Lowe's, a Wal-Mart, and a large building supply store. A cocktail reception will follow. Cost is $100 per person for international visitors and Council members; $150 for others. For more information and to register, contact Don Droesch at ddroesch@cox.net.
Well-spoken, energetic, confident, and personable, the type of person on whom your customers and employees will rely. Click here to download this resumé
A seasoned veteran with a wealth of experience, on the front lines of Retailing. Personable, energetic and dedicated to providing Exceptional Customer Service. Click here to download this resumé
A sales leader experienced in coaching, managing and developing sales teams. Click here to download this resumé
A high energy, results oriented, hands on sales professional with proven successes. A leader and team player , able to get the job done. Click here to download this resumé 
Results-oriented, charismatic and confident female for Account Management in the Calgary area. Inherent aptitude and seven renovation projects under belt ensures industry product knowledge. Click here to download this resumé
A problem solving Sales and Marketing Manager with over 25 Years of marketing, sales and communication experience with major retail, industrial and automotive accounts in Canada. Click here to download this resumé
LBM and home improvement industry specialist looking for a position that he can add value to the corporation or buying group. Click here to download this resumé
Accomplished strategic marketing management professional and team leader who leverages strong interpersonal skills, flexibility and teamwork to achieve business objectives. Click here to download this resumé  
A Senior Marketing Professional with extensive experience in the non-food CPG industry, focusing on product and channel management.. Click here to download this resumé
I am an accomplished sales professional and solution-oriented person who thrives in challenging, fast paced environments where my performance directly impacts the bottom line. Click here to download this resumé
Experienced Sales Accounts Manager - Senior Buyer with 20 years of knowledge and contacts in the building supply industry. Click here to download this resumé
Enthusiastic, versatile buyer/category manager with experience in sourcing a wide assortment of goods and services. Click here to download this resumé
Entrepreneurially focused, front-line retail marketing professional with organizational and strategic marketing talents. Click here to download this resumé
Seasoned Territory Manager - skilled in building and maintaining customer relationships in the retail building supply channel and industrial tooling & consumables sector. Click here to download this resumé
Well respected Sales Professional, established relationships in Mid West and South West Ontario. An excellent team player who achieves ongoing success with peers and customers.
Click here to download this resumé
Strategic Sales and Marketing Executive available to achieve your top line and bottom line results during these challenging economic times…..If it is leadership, entrepreneurial spirit and passion you seek, look no further.
Click here to download this resumé
Sales professional - established relationships with key clients in the hardware, building materials, and paint industries, team player, superior business development skills, competitive, enjoys challenges.
Click here to download this resumé
Hardlines Quarterly Report
Hardlines Retail Report
Hardlines Hot Product Showcase
Hardlines TV
Free daily news updates
Did you know you can have this newsletter sent to someone else in your office for only $4.06 a month per person?
Click the link below to spread the news to your whole office!