In This Issue:
"My husband once worked for a company that had a merit pay system. After six months they told him that he owed the company money." —Phyllis Diller (American comedian, 1917– )
CanWel reports dip in annual sales
VANCOUVER — For the year ended Dec. 31, 2008, CanWel Building Materials Income Fund had revenues of $804 million, down from $862 million in 2007. The drop was attributed primarily to the continued downward price pressure on lumber and panel products.CanWel's gross margin for the year was $101 million or 12.6 percent of sales, vs. $108 million or 12.5 percent of sales in the prior year. Gross margin remained strong due to the focus on higher margins in sales of specialty and hardware products. The company made a profit of $16.9 million, down slightly from $17.3 million in 2007.

"Overall, I am pleased with the Fund's strong performance in 2008 given the challenging macro-economic environment we have been working through," says Amar Doman, chairman of CanWel, in a release. He says further that the company will "wait for signs of improvement in home renovation, housing starts and other long-term leading indicators of the prosperity of our business." Third-quarter revenues were $165.5 million, down from $188.7 million in 2007. Profits more than doubled, however, to $2.5 million from $1.1 million. " As a result of the current weak economic environment and a deterioration of the home renovation market and housing starts in the second half of 2008, our focus has been to maintain the strength and stability of our operations," says Tom Donaldson, CanWel president and CEO.

Top.
Taiga offering gets low shareholder response
BURNABY, B.C. — Taiga Building Products Ltd. says it has received limited support for its current rights offering, which gives shareholders one right for each common share held to purchase 2.218 common shares of Taiga at a price of $0.14 per share. The rights price of $0.14 per share no longer represents a meaningful discount to the current trading price of the common shares, which has resulted in less than 1 percent of the rights being exercised. That failure to participate includes the corporation's two principal shareholders. The offering had initially been made to raise funds to address Taiga's working capital and liquidity requirements.Based upon its internal, unaudited forecasts, Taiga anticipates that it will be in a position to defer monthly interest payments on its subordinated notes, effective early April 2009. It is also undertaking major cost-reduction initiatives to re-size to

meet declining product demand. Cuts are being made to inventory, while selling expenses, incentive compensation and general overhead are all being affected. It expects to achieve approximately $22 million in cost savings in the next fiscal year as a result of these moves.
Home Depot returns to its roots with new ad campaign
ATLANTA — The Home Depot is launching a new multimedia advertising campaign that emphasizes low prices and the same do-it-yourself ethic that put the retail giant on the map in the early 1980s.The Atlanta Journal-Constitution reports that the campaign's new slogan — "More savings. More doing" — represents Home Depot's attempt to woo customers who are looking for ways to reduce their expenditures during tough times. The retailer's chief marketing officer, Frank Bifulco, told the newspaper that by returning to its core and stressing value, Depot is presenting itself as "being real, authentic and genuine. We knew the consumer was hunkering down and making fewer trips to stores, and only going where the dollar went the furthest," he says. Home Depot is also attempting to sustain some of its momentum from the last quarter, when it reportedly gained market share from rival Lowe's in nine of 13 department categories. During that period, Home Depot made a major switch in its pricing strategy away from sporadic promotions and back to everyday low prices, which had been the company's trademark up until a few years ago. The new slogan appears to be part of a trend. Just last week, RONA inc. launched a new advertising campaign under the theme "Doing it Right". The slogan replaces a former tag line, "The Canadian How-To People" and focuses on RONA's commitment to sustainable development. Last fall, Home Hardware unveiled a new slogan of its own, "Home Owners helping Homeowners", to put focus on the independent status of Home Hardware dealers in their respective communities.
Kingfisher reports year-end sales rise, unveils strategy for China
LONDON — Kingfisher plc, which owns B&Q in the U.K. and Castorama in Europe, reported an 11 percent increase in annual sales for its 2008 year end. Results were mixed, however, with retail profit of £283 million in France on sales that were up 3 percent to £3.9 billion. Sales in the U.K. were down 2.6 percent to £4.3 billion, with a profit of £129 million.Sales in other international markets were up 7 percent to £1.8 billion, with a profit of £91 million.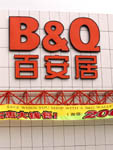 The biggest challenge remains B&Q China, where sales declined 24 percent to £431 million, and the company suffered a loss of £52 million. However, Kingfisher has unveiled a "comprehensive China repositioning" strategy, that includes letting go of 22 of its 63 stores in that market, for which Kingfisher will take a £124 million intangible goodwill write-off. The remaining 41 stores will be revamped, with an emphasis on product mix and service. The company has set aside about £30 million for the repositioning.
Wood demand will dip to historic lows this year
PORTLAND, Ore. — While there have been some recent signs of life in the U.S. economy, and the housing sector in particular, the demand for wood products is still expected to dip to its lowest level in modern history, according to projections released by the Western Wood Products Association (WWPA).The trade group, which represents manufacturers in a dozen states in the western U.S., estimates that lumber demand will decline by 30 percent this year to 28.9 billion board feet. That figure is 55 percent below the all-time high demand of 64.3 billion board feet in 2005, when the housing market in the U.S. was at its peak production. New home construction typically accounts for around 45 percent of annual lumber consumption, says WWPA. But production this year is expected to be only half of what it was in 2008, and one-fifth of what was consumed in 2005. WWPA forecasts that imports from Canada will be down by nearly 35 percent from 2008.
To place an ad in our classified section click here or call 416-489-3396
Resum

és
Know someone who is between jobs? We will send a complimentary subscription to anyone who is seeking a job. We also offer a free Online Resumé Service. Ask them to call or email us here at the World Headquarters. (And why not tell your HR department about this service!) Email Brady for more info. —Beverly
Sell your company - or buy one - with HARDLINES Classifieds! Do your executive search, find new lines or get new reps in the HARDLINES Marketplace. Only $2.75 per word for three weeks in the classifieds. To place your ad, call Brady Peever at 416-489-3396 or email: brady@hardlines.ca
To ensure you receive your HARDLINES newsletter each week, please add bev@HARDLINES.ca to your address book.

Did your email system make this newsletter unreadable? You can read it online instead. call us to find out how.

Publishing Details: HARDLINES is published weekly (except monthly in December and August) by HARDLINES Inc. 360 Dupont Street Toronto, Ontario, Canada M5R 1V 9 © 2009 by HARDLINES Inc. HARDLINES™ the electronic newsletter www.HARDLINES.ca ; Phone: 416.489.3396; Fax: 416.489.6154 Michael McLarney - Editor & President - mike@HARDLINES.ca Beverly Allen, Publisher - bev@HARDLINES.ca Brady Peever - Circulation Manager - brady@HARDLINES.ca Kathryn Crosthwait - Accounting - kath@HARDLINES.ca The HARDLINES "Fair Play" Policy:Reproduction in whole or in part is very uncool and strictly forbidden and really and truly against the law. So please, play fair! Call for information on multiple subscriptions or a site license for your company. We do want as many people as possible to read HARDLINES each week - but let us handle your internal routing from this end! Subscription:$285 (Canadian subscribers add $14.25 GST = $299.25 per year/ GST #13987 0398 RT).Secondary subscriptions at the same office are only $46 (Canadian subscribers add $2.30 GST = $48.30).Ask about our reduced rate for branch offices.You can pay online by VISA/MC/AMEX at our secure website or send us money. Please make cheque payable to HARDLINES.
NEWS IN BRIEF
OTTAWA — Retailers protesting card credit high fees have rallied behind the "Stop Sticking It to Us" Coalition, representing over 200,000 Canadian businesses. The coalition, organized by the Retail Council of Canada, took its case to Ottawa last week. Visa and MasterCard are being targetted, and RCC President, Diane J. Brisebois spoke on behalf of the retailers before the Senate Banking Committee. As a result, the Committee will open hearings that will "study the credit and debit card systems in Canada and their relative rates and fees, in particular for businesses and consumers." According to RCC, Visa and MasterCard now control more than 75 percent of the debit card market in the U.S.MONTREAL — Richelieu Hardware, the specialty hardware distributor, reported first-quarter consolidated sales of $94.2 million, down 2.0 percent from $96.1 million for the same period in 2008. Sales to manufacturers amounted to $77.1 million, down 1.8 percent or $1.4 million. Sales to hardware retailers fell 3.1 percent to $17.0 million. Net earnings were $4.3 million for quarter. In Canada, sales totalled $76.0 million, down 3.6 percent or $2.8 million,, while U.S. sales totalled US$14.7 million, down 14.5 percent. TORONTO — Sears Canada Inc. is continuing its new incentive program that adds to the federal government's new Home Renovations Tax Credit program (HRTC) for residential renovations and improvements. The latest offer saves customers 10 percent on the cost of installed custom blinds and shades from Hunter Douglas, Levolor, Shade-O-Matic, and Boutique, and includes free basic installation. This offer applies to bookings made from March 26 to April 2, 2009. The HRTC kicks in for eligible expenditures of more than $1,000 up to a maximum $10,000 before taxes, but Sears latest offer allows customers to begin saving on the first $1,000 they spend towards the HRTC, with a minimum $500 purchase before taxes. BENTONVILLE, Ark. — Wal-Mart has increased its cash bonuses to about one million hourly staff by more than 46 percent. The average bonus works out to $933.60 per person in cash, plus another $788.60 in profit sharing and pension contributions. Combined contributions will total some $2 billion, up 11 percent over last year's $1.8 billion. SAN FRANCISCO — Housewares retailer Williams Sonoma saw its net income plummet by 90 percent in the three months ending Feb. 3 to $12.2 million, on revenue that was off 26.7 percent to just over $1 billion. The chain — whose banners include Pottery Barn and West Elm — reported a 14.8 percent drop off in sales, to $3.36 billion, for its fiscal year, during which its earnings fell by 84.7 percent to $30 million. Williams Sonoma will concentrate on five key strategies in fiscal 2009: repositioning its stores' inventories to emphasize value, improving customer service, boosting direct marketing and ecommerce, driving efficiencies in its global supply chain and controlling overhead expenditures. STONEY CREEK, Ont. — Selkirk, the HVAC and venting company, has introduced an online literature order system for its customers. The service provides a range of order options for literature and includes complete shipping information. Customers receive email confirmation of the order, which is processed within 24 hours direct from Selkirk's literature supplier. (www.selkirkcorp.com) BURLINGTON, Ont. — Ikea has made a global commitment to reduce greenhouse gas emissions from its stores. By actively implementing new practices and technologies, the giant retailer will, by the end of April, have reduced its energy consumption in its stores by 25 percent. The milestone was marked by participation by all of Ikea's Canadian stores in World Wildlife Fund's Earth Hour, held 8:30 p.m. on March 28 to show support for action on climate change. Globally, Ikea is cooperating with WWF on several projects to reduce the negative impact on the climate. These include promoting responsible forestry and better cotton production.
DID YOU KNOW?
…that Delroc Industries, Federated Cooperatives, La Coop fédérée de Québec, and the Sexton Group Ltd., which joined forces with Independent Lumber Dealers Co-operative at the beginning of this year, will make ILDC a $4 billion organization with 1,000 points of sale across the country. (Learn more about the buying groups, the big boxes, and the entire industryin our sister publication, Hardlines Quarterly Report —Michael)
ECONOMIC INDICATORS
 

The February composite leading index fell 1.1 percent after a 0.9 percent decrease in January, with nine of the 10 components declining. The housing and stock markets continued to post the largest declines, while losses in manufacturing steepened as the auto industry began to implement extensive shutdowns at the turn of the year. (Stats Canada)
NOTED...
A recent survey conducted by Wolf Gugler & Associates asked the question: "What, other than cash compensation, do you most value from your employer?" The answer may surprise you: onsite child care or child-care assistance was by far the leading response.
Well-spoken, energetic, confident, and personable, the type of person on whom your customers and employees will rely. Click here to download this resumé
A seasoned veteran with a wealth of experience, on the front lines of Retailing. Personable, energetic and dedicated to providing Exceptional Customer Service. Click here to download this resumé
A sales leader experienced in coaching, managing and developing sales teams. Click here to download this resumé
A high energy, results oriented, hands on sales professional with proven successes. A leader and team player , able to get the job done. Click here to download this resumé 
Results-oriented, charismatic and confident female for Account Management in the Calgary area. Inherent aptitude and seven renovation projects under belt ensures industry product knowledge. Click here to download this resumé
A problem solving Sales and Marketing Manager with over 25 Years of marketing, sales and communication experience with major retail, industrial and automotive accounts in Canada. Click here to download this resumé 
LBM and home improvement industry specialist looking for a position that he can add value to the corporation or buying group. Click here to download this resumé
Accomplished strategic marketing management professional and team leader who leverages strong interpersonal skills, flexibility and teamwork to achieve business objectives. Click here to download this resumé  
A veteran Sales & Marketing Professional with extensive, broad based experience in consumer products industries, with an emphasis on product and trade marketing. Click here to download this resumé
I am an accomplished sales professional and solution-oriented person who thrives in challenging, fast paced environments where my performance directly impacts the bottom line. Click here to download this resumé
Experienced Sales Accounts Manager - Senior Buyer with 20 years of knowledge and contacts in the building supply industry. Click here to download this resumé
Entrepreneurially focused, front-line retail marketing professional with organizational and strategic marketing talents. Click here to download this resumé
Seasoned Territory Manager - skilled in building and maintaining customer relationships in the retail building supply channel and industrial tooling & consumables sector. Click here to download this resumé
Well respected Sales Professional, established relationships in Mid West and South West Ontario. An excellent team player who achieves ongoing success with peers and customers.
Click here to download this resumé
Strategic Sales and Marketing Executive available to achieve your top line and bottom line results during these challenging economic times…..If it is leadership, entrepreneurial spirit and passion you seek, look no further.
Click here to download this resumé
Sales professional - established relationships with key clients in the hardware, building materials, and paint industries, team player, superior business development skills, competitive, enjoys challenges.
Click here to download this resumé
Hardlines Quarterly Report
Hardlines Retail Report
Hardlines Hot Product Showcase
Hardlines TV
Free daily news updates
Did you know you can have this newsletter sent to someone else in your office for only $4.06 a month per person?
Click the link below to spread the news to your whole office!