In This Issue
"Whoso would be a man must be a non-conformist." — Ralph Waldo Emerson (1803-82)
BMR unveils new hardware banner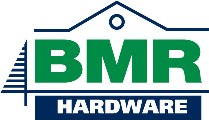 LAVAL, QC — Groupe BMR Inc. has unveiled a new banner dedicated to hardware dealers. The launch took place during the buying group and wholesale distributor's retailer supply show last week.Called BMR Hardware/BMR Quincaillerie, the program has, in fact, been available — quietly — for six weeks and so far nine dealers have signed up. The dealers are in Ontario, Quebec and Atlantic Canada and represent new members, not conversions, for BMR. The first anglophone to sign up was Bill Towndrow, a former PRO dealer in Lunenburg, NS. "The new option is a perfect answer to the needs of a great many independent retailers and, of course, to the needs of their customers," said BMR president and CEO, Yves Gagnon. The new program will help BMR in two ways. It provides a hardware distribution opportunity as the group is already supplying a growing number of building centre members from Windsor, ON to Sidney, NS. But the new program is also going to enhance the group's recruitment efforts, as it seeks members outside of its home province of Quebec. "We'll keep on growing and answering the needs of independent dealers – big, small or whatever." said John Falardeau, vice-president of BMR.
TIM-BR MARTS hires commercial division manager
CALGARY — TIM-BR MARTS Ltd. has hired Trevor MacDonald, formerly of Patene Building Supplies, as the manager of the group's Commercial Division. MacDonald
brings more than 15 years of industry experience to the job. Besides Patene, MacDonald has worked for Dietrich Metal Framing Canada and Commercial Drywall Supply.He also has experience on the supplier side, having worked for CGC, where he built relationships in the company's sales division, eventually becoming CGC's regional sales manager. MacDonald joins as Ken Pompey has left the group's non-core products unit, TSG. Based out of the Toronto (Mississauga) office, he reports directly to TIM-BR MARTS' president and CEO, Tim Urquhart, in Calgary.
Home Hardware makes gift card deal with Ernex
ST. JACOBS, ON — Home Hardware Stores Ltd. has partnered with a new provider for its private-label gift card program. The multi-year arrangement is with Ernex, a division of Moneris Solutions Corp., and replaces an agreement with a U.S. provider.

Ernex provides private-label, gift cards and reward fulfillment services and manages Home's Aeroplan loyalty program. All of Home Hardware's electronic card processing, including debit, credit, loyalty and gift cards, is now provided by Moneris.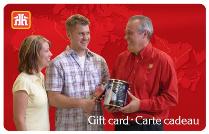 The gift cards are now available at all 1,000-plus Home Hardware stores nationwide, and in Shoppers Drug Mart stores. They come in four themes – spring/summer, holiday gift-giving season, celebrations (Mother's Day, graduation, etc.) and a generic gift card. They are re-loadable and have no expiry. "This solution simplifies operations, allows our dealers to achieve economies of scale, and provides us with a single source of support for all of our card processing needs," says Bill Ferguson, director of dealer support for Home Hardware Stores.
Execs offer straight talk on RONA's performance
MISSISSAUGA, ON — RONA's senior management has been on the road meeting with front line managers, dealers and employees in a "Great Canadian Tour". The last of four tour stops (previous events were held in Vancouver, Calgary and Montreal) took place at the Mississauga Living Arts Centre auditorium on March 27 in front of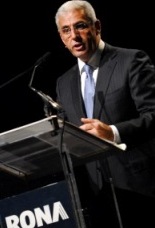 an audience of about 800 RONA personnel, the bulk of them store staff.The business portion of the program consisted of a mock "talk show" featuring "guests" who included Robert Dutton, RONA's president and CEO, Claude Bernier, vp of proximity and specialized stores; Michael Brossard, vp of marketing; and Pierre Dandoy, vp of big-box stores. Dutton mixed humour and unvarnished straight talk during his wrap-up speech. "RONA is in expansion mode," he said. "I always say that we manage our affairs as if we were on the brink of a recession. So no matter what the economic situation is, cuts are not on the table. And besides, we have to put things in perspective. "Our share price has dropped, it's true, but our earnings last year were $185 million. Things aren't going as well as we hoped, but things aren't going badly. Far from it."
Attendance holds steady for latest ABSDA Show
MONCTON, NB — The latest edition of the Atlantic Building Materials Show, held here March 13-15, drew increased dealer attendance, confirming the efficacy of the event for yet another year.However, says Don Sherwood, president of the Atlantic Building Supply Dealers Association, which mounts the show, it is not without its challenges. Attendance overall was up by 77 people, to 1,179 over last year, and 249 retail organizations were represented – accounting for 84% of ABSDA's membership. Large members like Kent sent strong contingents, all placing a lot of orders. Nevertheless, Sherwood and his board continue to look for ways to fine-tune. In fact, the ABSDA board is considering taking the show to only two days in 2009. "The time to make changes is when your show is successful, and as far as I'm concerned we had a very successful show," says Sherwood. He also wants to get more non-member retailers, especially specialty flooring and paint retailers to come to the show. However, he acknowledges that the buying groups, namely TIM-BR MART, Castle, Sexton, BMR, and even Home Hardware, got their dealers out. "And they're the key to the success of these regional shows."
Classifieds
Product Manager (2)—GTA

Due to their growing list of successes, a well-established international company needs to add 2 marketing performers to their team. You'll manage and direct Canadian product marketing sales strategies for two premier product lines sold to mass merchants, home improvement and specialty retailers. Align functional experts in Engineering, Manufacturing, Development and Finance and interact closely with Sales, Graphics Design and the US team.

You can demonstrate successes in channel management, new product launches, speed-to-market turnaround and the ability to transform concepts into reality. Competitive salary, bonus, RSP. Toronto location. To explore this opportunity in complete confidence, please contact Wolf Gugler, quoting PM-GTA. Email: wolf@wolfgugler.com. Phone: 888-848-3006.
Review this and other opportunities at www.wolfgugler.com. Need to discuss your corporate recruitment needs? We'll be attending the National Hardware Show in Las Vegas…call to book a confidential appointment.
Account Representative - Alberta
American Standard, an industry leader in Bath and Kitchen products, is seeking an Account Representative ideally based out of Calgary, Alberta.
Basic Function:
As a member of the National Retail Sales Team this position will focus on all key retail account with emphasis on "big box" stores.
This individual must have the ability to develop and implement in-store promotions, develop training programs, process returns, be responsible for inventory management, react to any in-store issues and demonstrate strong problem solving skills.
This position requires a unique individual that is able to develop strong communications with both Store staff and Key management personnel.
Position Qualifications:
Post Secondary Education or equivalent sales/marketing experience.

Previous retail sales experience in a manufacturing environment would be an asset.

Computer experience in Microsoft Office - working with Excel, Word and PowerPoint is an asset.

Strong Communication skills.

Strong problem solving skills.
Qualified applicants should send their resume and salary requirements via email to hrmississauga@americanstandard.com. No phone calls please.
DIRECTOR, NATIONAL DEALER DEVELOPMENT
Home Hardware Stores Limited, Canada's largest independent hardware, lumber and building materials, and furniture retailer with more than 1,000 stores across Canada under the Home Hardware, Home Building Centre, Home Hardware Building Centre, and Home Furniture banners, with annual retail sales of $4.8 billion, is seeking an individual for the role of Director, National Dealer Development.
MAJOR TASKS AND LEVEL ACCOUNTABILITY
Reporting to the Vice-President, Operations, the successful candidate will be responsible for the implementation of Home Hardware's strategic growth plan, as well as, the recruitment and membership application.
A strong understanding of the Canadian Home Improvement Market is required, along with at least five years experience in sales force management.
SPECIFIC RESPONSIBILITIES
Establish and manage Home's Dealer Development organization.

Provide ongoing coaching and support to Dealer Development Managers to help them achieve growth targets.

Recruit and present Home Hardware to prospective new Dealers.

Maintain understanding of the market and develop strategies that will maximize Home's growth.
Manage the recruitment and membership application process.
IDEAL CANDIDATE
Results oriented individual with a strong understanding of retail operations and the strategy needed to succeed in a highly competitive market.

Strong leadership capabilities, including coaching, training and development of talent.

Ability to interpret financial statements and present budgets.

Excellent communication, oral and written, with strong planning, organizational and presentation skills.

Computer literate with strong knowledge of MS Office.

Strong negotiating and budget management skills.

Experience recruiting new members.

Must be able to multitask and complete priorities effectively.

Preference to a bilingual candidate.
This position includes extensive travel.
We offer a competitive salary and great working conditions. If you are interested in becoming part of Home Hardware, please forward your resume, quoting Director, National Dealer Development #1247, by Friday, April 4, 2008 to:
Human Resources Department
Home Hardware Stores Limited
34 Henry St. W. , St. Jacobs, ON N0B 2N0
E-mail: hr@homehardware.ca (Microsoft Products Only)
Fax: 519-664-4711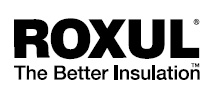 Roxul is a leading manufacturer and marketer of mineral wool insulation products in the North American marketplace with our head office in Milton and production facilities in both Milton (ON) and Grand Forks (BC). Our expanding company is a subsidiary of Rockwool International, manufacturing quality, high performance mineral wool products. We are searching for talented, energetic individuals with drive and determination to join us at our Milton facility.
Product Manager
Reporting to the Marketing Manager, you will be responsible for product management and overall coordination of the product management function.You have the ability to develop detailed marketing/business plans, market analyses, competitive analyses as well as propose actions and strategies. A university degree in marketing, business or the equivalent coupled with 5-10 years' experience including at least two years' sales experience are essential. Excellent strategic thinking, decision-making, planning, organizational, and computer skills are also requirements.
We offer a dynamic environment with significant growth potential and have an excellent benefit and remuneration package. If you feel you meet the above requirements, please apply to:
Human Resources ROXUL Inc. 420 Bronte St., Suite 105 Milton , ON L9T 0H9
e-mail: jobs@roxul.com
fax: (905) 878-8077
Sell your company - or buy one - with HARDLINES Classifieds! Do your executive search, find new lines or get new reps in the HARDLINES Marketplace. Only $2.75 per word for three weeks in the classifieds. To place your ad, call Brady Peever at 416-489-3396 or email: brady@hardlines.ca
To ensure you receive your HARDLINES newsletter each week, please add admin@HARDLINES.ca to your address book.

Did your email system make this newsletter unreadable? You can read it online instead . Publishing Details:

HARDLINES is published weekly (except monthly in December and August) by HARDLINES Inc. 360 Dupont Street Toronto, Ontario, Canada M5R 1V9

© 2008 by HARDLINES Inc. HARDLINES™ the electronic newsletter www.HARDLINES.ca ; Phone: 416.489.3396; Fax: 416.489.6154

Michael McLarney - President - mike@HARDLINES.ca Beverly Allen, Publisher - bev@HARDLINES.ca Judy Jacket - Accounts Manager - judy@HARDLINES.ca Brady Peever - Circulation Manager - brady@HARDLINES.ca

The HARDLINES "Fair Play" Policy:

Reproduction in whole or in part is very uncool and strictly forbidden and really and truly against the law. So please, play fair!

Call for information on multiple subscriptions or a site license for your company. We do want as many people as possible to read HARDLINES each week - but let us handle your internal routing from this end! Subscription:

$285 (Canadian subscribers add $14.25 GST = $299.25 per year/ GST #13987 0398 RT).

Secondary subscriptions at the same office are only $46 (Canadian subscribers add $2.30 GST = $48.30).

Ask about our reduced rate for branch offices.

You can pay online by VISA/MC/AMEX at our secure website or send us money. Please make cheque payable to HARDLINES.
COMPANIES IN THE NEWS
LONDON — Kingfisher plc, which owns B&Q in the U.K. and Castorama in France, has reported an annual profit of £386 million ($786.6 million) (US$772.7 million) for the year ended Feb. 2, down 2.8% from £396.6 million a year earlier. Sales overall for Kingfisher were up 7.9% to £9.36 billion ($19.1 billion) (US$18.8 billion). Profitability was affected by the company's B&Q stores in Asia, which are still having a tough time making money. In the U.K., however, sales were up 2.7% to £3.9 billion, the first rise in three years. In France, profit was up 1

3.2% to £237 million. The company cut its yearly dividend in half on the results.

HALIFAX — RONA will open its first big-box store in Nova Scotia on April 2 at 350 Horseshoe Lake Drive, Bayer's Lake. This will add to RONA's Atlantic Canada network of 24 stores. The company says the opening of this store in the Halifax area represents a $20 million investment in the community and will create 150 jobs. Last week, RONA opened a 52,000-square-foot proximity store in Thetford Mines, QC and a 105,000-square-foot Réno-Dépôt in Candiac, QC.MONTREAL — Richelieu Hardware, the cabinet and woodworking hardware supplier, enjoyed record first-quarter sales of $96.1 million. Sales were up by 3% in Canada, while its U.S. operations grew by more than 11% and now comprise 18% of Richelieu's business. Profits overall were up 11% to $6.6 million. The company also announced the signing of an agreement in principle to purchase another eastern U.S.-based company. The deal is expected to close in April. TORONTO — After more than 80 years, Canadian Tire Corp. is terminating its print catalogue, which has been distributed twice a year to some six million Canadian households. The company has determined that customers are relying more and more on the Internet to shop. Canadian Tire plans to spend more on advertising and website promotion. TORONTO — Sears and Hudso n's Bay stores participated in Saturday's Earth Hour 2008, as part of a global environmental sustainability movement to raise awareness about global warming. Hbc stores from coast to coast turned off or reduced all lighting for one hour starting at 8 p.m. on March 29, with store lighting reduced enough not to compromise customer and staff safety. During the hour, PA announcements alerted shoppers to the Earth Hour movement. Sears turned off all non-essential lighting in non-customer areas and reduced the lighting on its selling floors for the hour. Signs were placed in stores to explain why the lighting was dimmed during the Earth Hour.ATLANTA — The Home Depot Foundation has pledged $30 million to Habitat for Humanity International, a donation that will be earmarked for the construction of energy-efficient homes. Its pledge, one of the largest that Habitat has received from any one contributor, includes in-kind donations of supplies and products. It will go towards the construction of 5,000 sustainable homes to be built by Habitat's affiliates over the next five years. DEARBORN, MI — Wal-Mart has opened a pilot store here that caters to the tastes of Arab-American shoppers, according to Business Intelligence – Middle East. The 200,000-square-foot store features 550 items of a Middle Eastern nature, including grocery items and Islamic greeting cards. It also has 35 employees who speak Arabic, and local Arab-American educator to oversee cultural sensitivity. KIRKEL, GERMANY — Praktiker, the German DIY chain, intends to focus on international expansion in 2008, with as many as 20 new stores planned in eight countries. These will include one each in Poland and Turkey, at least five in Romania and three in Ukraine. Praktiker also intends to open in Albania this year. TOWSON, MD — Black & Decker has devised a staff retention plan to staunch the flow of its people being lured away by competitors. (Joe Galli left earlier in the year to join TTI.) Launched back in February, it's called the "Executive Long-Term Incentive/Retention Plan" and involves cash awards to execs payable in January 2011.
People on the Move
Mike Thompson of Toronto-based Ontario Acoustic Supply Ltd. has stepped into the newly created role of president of TSG Non-core. The group's role is to leverage collective buying of non-core products, such as employee benefits programs, gas, etc., on behalf of all TIM-BR MARTS members. Thompson has effectively taken over the roles and responsibilities of Ken Pompey, formerly general manager of TSG.Steve Mahurin, the former executive with Home Depot and True Value Hardware, is joining Office Depot, the office-supply retailer, as its executive vice-president of merchandising, effective March 31. Mahurin will report to Office Depot's president-North American Retail Chuck Rubin, who had held the merchandising position until 2006 when he was promoted into his current post.
Economic Indicators
Retailers in Canada saw their sales increase by 1.5% in January to an estimated $35.8 billion, the third consecutive month. The strongest increase was in building and outdoor home supplies stores (+3.2%), representing the second highest rate of growth since May 2007. This increase can primarily be attributed to a 2.3% rise in sales at home centres and hardware stores. Sales by specialized building materials and garden stores were up by 7.0%, following two consecutive months of decreases.Sales of existing homes in the United States rose by 2.9% in February over January, to a seasonally adjusted annual rate of 5.03 million units. That number, while the first monthly gain since July, was still 24% below the annual rate in February 2007. (National Association of Realtors) U.S. new home sales in February 2008 fell 1.8% from the prior month and declined 29.8% from one year ago, to 590,000. (Commerce Dept.
Noted...
At NHS in Las Vegas: Hardlines and Presidents Council will co-host an International Panel of top retailers from around the world to discuss the state of the global marketplace and its impact on retailers of all sizes. It's at 3 p.m. on Wed., May 7, followed by an International Reception.