March 11, 2013, Volume xix, #10
"A verbal contract isn't worth the paper it's printed on."
— Samuel Goldwyn (Polish-born American film producer, 1879-1974)
______________________________________________________________________
Independents face challenges from new retailers
            WINNIPEG — Even though home improvement dealers won't necessarily compete directly with Target when it arrives in Canada this month, they will feel the ripple effects of the arrival of this giant U.S. mass merchant.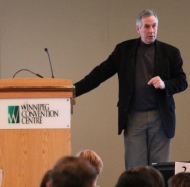 This was just one of the messages delivered by Michael McLarney, editor of HARDLINES, when he spoke to at Profitmaster's annual users' group conference. He pointed out that Target's loyalty program is terrifically sophisticated, enabling the retailer to develop detailed profiles of the shopping habits of its customers. And Target's range of products will be a big enticement to Canadian shoppers, siphoning off consumer dollars that might otherwise have gone into the hardware channel.

McLarney was the keynote speaker at Profitmaster's Business Partner Conference, held earlier this year at the Delta Hotel in Winnipeg. Following the theme of the event, "Rewriting the Future," McLarney talked to the roomful of dealers about the end of the big growth years in home improvement retailing, and warned that the big competitors to independents are all aggressively reinventing their businesses.

"While Home Depot has not opened any stores in Canada in two years, it is aggressively fine-tuning its services to cater more effectively to contractors," he said. "And Canadian Tire may not open many more new stores, but it will continue to expand or relocate many of its existing locations."

Nor is new competition coming just from U.S. retailers like Target and Lumber Liquidators. Online retailing is a growing threat to bricks-and-mortar retailers. McLarney encouraged every dealer to develop an online strategy, even a modest one to suit their local market.

(To find out how e-retailing is evolving, HARDLINES has invited eBay Canada, Shop.ca, and the experts at PwC to speak at the first-ever Canadian E-Retailing Conference, March 20 in Toronto. Click here to register now .)
back to top
______________________________________________________________________
Target opens first Ontario locations
    MISSISSAUGA, ON — Target opened its first three pilot stores in Ontario on March 5. They were at Stone Road in Guelph, Milton Mall Shopping Centre in Milton, and Gates of Fergus in Fergus. They are the first Target locations to open in Canada, and the first of 124 Target stores that will open across the country throughout 2013.

This marks the final phase in a testing process, which was designed to prepare systems, train team members, and determine operational readiness as the first wave of 24 stores will have their soft openings across Ontario later in March.

Even as Target prepares to open, some Zellers stores continue to close down, with shelves bare and whole sections of the stores empty of product—and racking. Hudson's Bay Co., which owns Zellers, has said it will keep three stores open for now. Those stores are in Kipling Queensway Mall in Etobicoke, ON; Semiahmoo Shopping Centre in Surrey, BC; and Place Bourassa, Montréal-Nord, QC.
______________________________________________________________________
National Hardware Show adds farm, outdoor, and pets
NORWALK, CN — The 2013 National Hardware Show will add new three categories to broaden the range of products at the show.

Farm and Ranch; Pet Products; and Outdoors, Tailgate and Recreation represent fast-growing categories within home improvement retailing. They will join the traditional categories at NHS: Hardware and Tools; Homewares; International Sourcing; Inventor's Spotlight; Lawn, Garden; PDRA Paint and Accessories; Plumbing and Electrical; and Storage and Organization.

The show will be held May 7-9 at the Las Vegas Convention Center.

"We know we have to be responsive to the trends that are shaping our channel, and that's exactly what drove our decision to add areas such as Farm and Ranch and Pet Products, which together account for nearly 20,000 additional square feet of exhibit space," says Sonya Ruff Jarvis, vice president of attendee programs for Reed Exhibitions, which owns the National Hardware Show.

With U.S. housing markets and the home improvement industry beginning to turn around, anticipation is growing that this year's NHS will continue to gain momentum following the recession years that wreaked havoc on the economy in America and around the world.

Building products will also make a return to 2013 National Hardware Show—another indication of the growing strength of the U.S. housing market. Other special areas have also been established at the show to highlight products that are made in the USA or are energy-efficient. NHS will also showcase the best new ideas and items to hit the market at the New Product World, the New Product Launch Spotlight, and the Inventor's Spotlight.
back to top

______________________________________________________________________ 

Atlantic Windows enters Ontario market

PORT ELGIN, NB — Atlantic Windows is expanding into the Ontario market. The move follows the closure of MDL Doors after a fire razed its 60,000-square-foot manufacturing facility in Brussels, ON, at the end of January. (MDL arranged to transfer its orders to Masonite International.)

Atlantic's president, Rob Miller, was able to hire two of MDL's sales people, Adrienne Burgess as Ontario sales manager and Chris Kilgour as Ontario sales representative. Together, they bring with them over 43 years' experience in the window and door industry. "Atlantic Windows is looking to grow in to the Ontario market," says Miller. "To have this market in sight through knowledgeable people will be a key to our success."

Wholly Canadian owned and operated, Atlantic Windows has its corporate office and window operations in Port Elgin, NB, with a separate door manufacturing facility in Amherst, NS. Atlantic has been in business for 25 years and offers a complete line of PVC Windows, plus patio doors and steel or fiberglass entrance systems, as well as the first steel entrance system to be CSA-tested in Atlantic Canada.

The company sells already throughout New Brunswick, Nova Scotia, P.E.I., and Newfoundland.

back to top

______________________________________________________________________ 

The Bay new name harks back to its roots

TORONTO — Department store chain The Bay has been renamed "Hudson's Bay," (La Baie d'Hudson in Francophone markets) taking the brand back to the company's roots as Canada's oldest company. A new logo, which includes HBC's coat of arms, was introduced last week.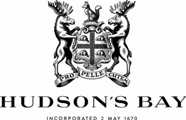 In the company's first major logo rebrand since 1965, Hudson's Bay says it is returning to its classic full name, plus an additional full-dress version used for packaging and select materials.

The company was founded by Royal Charter in 1670 as The Governor and Company of Adventurers of England trading into Hudson's Bay, a fur-trading company whose activities were pivotal to the exploration and expansion of Canada to European settlement. Today, HBC is owned by NRDC Equity Partners, a U.S. private equity firm that also owns the upscale department store chain Lord & Taylor.

"We've taken what is a very meaningful two-pronged approach to the redesign: maintaining our heritage while modernizing the new Hudson's Bay Company. It's a throwback to our remarkable history and an image for the direction we're heading in," says Tony Smith, Creative Director, HBC.
back to top

______________________________________________________________________


Classified Ads

Regional Account Manager
We have an exciting role as a Regional Account Manager to manage our Quebec and Maritimes home improvement retail customers. This position is responsible for the management of Customer Relationships, as well as generating revenue and maintaining profits as it relates to the territory. Responsibilities may also include management responsibilities for internal sales support functions.
Essential Responsibilities:
Responsible for driving additional revenues and profits at the dealer base
Responsible for the annual territory business plan through the utilization of Category Management, Promotional Planning, Financial Analysis and Program Planning
In accordance with Henkel's goals and objectives and in tandem with the Director of Sales, Trade Marketing and Product Managers, annually develop product placement and promotional strategies for the assigned accounts in the territory
Increase distribution of core Henkel branded products via a placement in both current and new retail locations
Consistently review with Customer Care, Logistics, Marketing, Finance and other internal parties, the necessary requirements needed in serving key account customers
Position Requirements:
Post-secondary education, BA in business strongly preferred
Three or more years Regional and/or National Account Manager experience
Must be competent in the verbal/written use of the French and English languages
Proficiency with Microsoft Word, Excel, PowerPoint required
Must be able to work from candidate's home office
______________________________________________________________________
National Account Director- Oakville, ON
World Kitchen products have led the housewares industry for over 100 years. Our trusted portfolio of brands include CorningWare®, Pyrex®, CORELLE®, Snapware®, Revere®, EKCO®, Baker's Secret®, Magnalite®, Chicago Cutlery®, and OLFA®. Headquartered in the Greater Chicago area, the Company has established a footprint with approximately 3,000 employees worldwide.
Reports To: VP/GM OLFA Business Unit
Charged with managing a customer portfolio totaling $15M-$20M plus in annual sales revenue
Develops a coherent business plan rooted in profitability that drives baseline and new item placement
Works collaboratively cross-functionally to develop business process that support seamless execution against programs, while demonstrating an unwavering commitment to improving P&L metrics in the areas of COGS, trade deployment, sourcing, and freight/distribution outlays
Demonstrates strong horizontal and vertical penetration focused on providing superior service against customers, penetrating at all levels
Is the central figure in developing Customers capabilities in the areas of strategy development, distribution, merchandising, pricing, promotion, and replenishment
Effectively deploys trade resources, driving profitable market share by developing strong retail attainment programs, which reduce markdown and returns (backend inefficiencies)
Required Qualifications:
BA/BS required; MBA preferred
5-10 years of large account management skills
Strong financial acumen and P&L management competencies rooted in analytics
Particularly adept in negotiations, business planning, and trade management
Utilizes a combination of fact based and relationship selling in developing retail partnerships
Strong critical thinking skills that can develop creative solutions to business issues or
Track record in leading complex business and improving customer profitability
Adept in selling to consumption and providing accurate forecasts
Ability to determine market trends and apply those trends to update business plans to insure success
25%-50% travel requirement
To apply for this position go to www.worldkitchen.com and click on the Careers Tab
Only candidates of interest will be contacted
______________________________________________________________________
Resumés
Persuasive, conscientious and intuitive sales professional who acts as the champion for the customer view this

resumé

Professional with over 25 years of experience in Sales, Marketing, Merchandising and Administration

view this

resumé

Marketing professional with over 10 years experience looking to secure a new full-time position.

view this

resumé

A Sales Professional with over twenty years of experience.view this

resumé

Experienced District Manager with a proven track record with several national chains. view this

resumé

A conscientious, highly motivated manager with a results-oriented track record in developing new business.

view this

resumé

An experienced merchandising executive possessing passion, vision, and a strategic approach to delivering bottom-line.

view this

resumé

Senior sales/marketing leader with experience in all classes of trade wishing new HARDLINES career. view this

resumé