March 12, 2012, Volume xviii, #11
"We must always change, renew,
rejuvenate ourselves; otherwise, we harden." 
—Johann Wolfgang von Goethe (German writer and poet, 1749-1832
______________________________________________________________________


______________________________________________________________________
Canadians enjoy momentum of Cologne Fair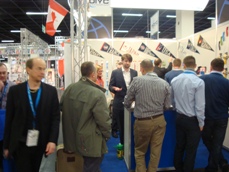 COLOGNE, Germany — With small signs that the European economy may have bottomed out at last, dealers and buyers were out in force for Eisenwarenmesse, the International Hardware Fair, held here last week.

The show, which has a history that spans more than 50 years, went through a rough patch during the world recession of 2008-2009, but numbers are returning to pre-recession levels with this latest show.

Canadian presence was also stronger than in recent years, with a dozen companies taking booths at the show, almost double the presence of the last show, in 2010. A number of Canadians exhibited within a group stand hosted by the Worldwide DIY Council, an association of exporting companies from North America. WDIYC is currently headed by our own Jayne Seagrave of Vancouver Tool Corp. Other Canadian exhibitors included Sicom Industries,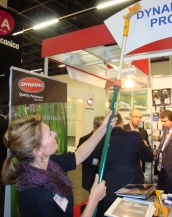 Cobra Anchors, Dynamic Paint Products, GRK Fasteners, Megapro Tools, RAD Torque Systems, Sun-Mar Corp., Rapid Tools, Regal Ideas and Invent Smart Inc. Companies walking the show included Richelieu, Super Remover and Masterlock.

Canadian retailers were also here. RONA reportedly sent six buyers, while a couple of members of the Lowe's Canada buying team were here, too, complementing the presence of the Global Sourcing team from Lowe's head office. Canadian Tire also sent over a contingent of buyers.

Overall attendance at the show is expected to reach almost 55,000 people over the four days, according to the show's organizers.
back to top



______________________________________________________________________
Innovation in abundance at Cologne show
COLOGNE , Germany — With some 2,600 exhibitors from 50 countries worldwide, the International Hardware Fair was a showcase for a range of new products, in everything from hand and power tools to imaginative fastener systems and ergonomic storage products.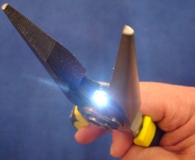 Innovations included needle nose pliers from LightTools in the U.S. with a built in light for close work, a tradesman's tool chest from Matador in the Netherlands that swings out of the back of the van and flips into a wheelbarrow configuration to transport to the job site, a ladder attachment from Hailo in Germany that adjusts to uneven surfaces, and a brush and roller extension with a flexible shaft from Canada's Dynamic Paints.

(Click here for a quick TV clip that features some new products at the International Hardware Fair!)
______________________________________________________________________
RONA proximity to replace some big boxes
BOUCHERVILLE, QC — RONA's year-end results included a 2.6% increase in sales, but that was due to acquisitions, rather than organic growth, as same-store sales were down 2.3%. But despite negative overall same-store sales, RONA's new proximity model, at 35,000 square feet, enjoyed 2.7% positive same-store sales. Because of the success of the model, RONA is going ahead with a dramatic downsizing or closing of at least 20 big-box stores across the country.

Those stores, while not finalized, will likely include a number of Ontario big boxes, including many in the Greater Toronto Area and Southwestern Ontario. In addition, one store in Edmonton and one in Calgary, as well as the company's only big box in Atlantic Canada, in Dartmouth, NS, are reportedly under consideration. Ten of these will be transformed into smaller proximity stores. The existing buildings will be partitioned, with space devoted to a proximity store and the balance turned over to new, presumably non-competing, tenants. Another 10 boxes will be replaced by 15 smaller stores in the same markets, consisting of 10 proximity stores and five smaller hardware stores.

RONA intends to continue investing in the growth of its dealers and identifies "many opportunities for regional market consolidation," according to a release. The dealers themselves plan to invest more than $60 million in 2012, many of them expected to convert their operations to the new proximity store concept.
______________________________________________________________________
TruServ affirms support for Canadian vendors
TORONTO — "We are committed to Canadian vendors," says Bill Morrison, president of TruServ Canada. In fact, his company's first choice is to look domestically for supply, and "90% of all our purchases are supported by Canadian vendors."

Speaking recently to a group of vendors at a meeting here hosted by the Canadian Hardware and Housewares Manufacturers Association, Morrison pointed out that U.S. suppliers, like Orgill, will continue to come over the border and he expects that Ace will be next. In the face of this intense competition, "Canadians have to quit being so d**ed humble – we should be more willing to blow our own horn. We should be competing confidently."

To back up this assertion, TruServ has extended a low-price guarantee to its dealer customers to match prices with any other distributor operating in Canada, whether they are domestic or not.

"The values of buying Canadian are important, but I don't think for a minute that we don't have to be able to compete on price and on service," Morrison added.
______________________________________________________________________
Orgill tackles new regions in Canada
ORLANDO, FL — The Orgill Dealer Market made a strong pitch to the 150 Canadian dealers that attended last month with a complete "Canadian" hardware store right on the show floor. The 4,000-square-foot model store,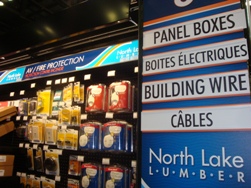 called "North Lake Lumber," featured more than 12,000 SKUs that Orgill claims meet standards of packaging and language and are Canadian compliant. Many of the products were packaged under Orgill's private-label "MintCraft" brand, while brands like Weiser and Olfa were included to reflect Canadian brand preferences.

Like the products themselves, the store was completely bilingual, reflecting Orgill's desire to expand in francophone markets in Canada.

Ron Beal, president of Orgill, told HARDLINES that his company "is serious about Quebec." But first, the giant Memphis-based wholesaler had to figure out distribution, product packaging, and invoicing. "We're working to get those documents so we have everything – from invoicing to advertising – in French."

Orgill, in partnership in Canada with Castle Building Centres Group, is also shipping to well beyond the ribbon of population that resides near the U.S. border. Companies in Northern Ontario and Northern British Columbia are getting product, and Orgill's biggest customer, Notre Dame Agencies, is in Newfoundland. In fact, Notre Dame is the first Canadian customer to earn Orgill's "Pinnacle Award," which is given to dealers who reach $1 million in sales. And Beal says he expects Notre Dame Agencies to triple its purchase volumes with Orgill over the coming year.
______________________________________________________________________
International retailers will get VIP treatment at Vegas show
LAS VEGAS — The organizers of the National Hardware Show have developed a special program for international buyers and retailers who plan to come to Las Vegas May 1-3.

Reed Exhibitions, the organizers of the show, have put together a travel package that includes accommodations at any official NHS hotel that includes breakfast, lunch, and dinner for a flat rate of $145 per day. Reed says you simply have to indicate which days you will stay when you register for the show, and they'll handle hotel details.

Other features of the program include an international reception on Wednesday, May 2 on the second-floor main lobby, and featuring networking and refreshments. A buyers' lounge is being installed in the International Sourcing area (Hall C5), which will feature free refreshments and internet access daily throughout the show.

For more information visit nationalhardwareshow.com.
INTERNATIONAL RECEPTION
Wednesday, May 2, 5:00pm - 7:00pm
We invite all International Retailers to this Networking Reception with free cocktails and refreshments.
(NEW Innovation Station, 2nd Floor Main Lobby)
BUYERS LOUNGE
International Sourcing area (Hall C5)
Tuesday, May 1, 10:00pm - 5:00pm
Wednesday, May 2, 10:00pm - 5:00pm
Thursday, May 3, 10:00am -3:00pm
FREE Refreshments and Wi-Fi
COMPLIMENTARY COCKTAILS |+|AMP|+| REFRESHMENTS (Retailers Only)
Tuesday, May 1, 3:00pm - 5:00pm Happy Hours (Tailgate & Outdoor Recreation, Silver Parking Lot)
Wednesday, May 2, 4:30pm - 6:30pm (Annual Tailgate Party, Tailgate & Outdoor Recreation, Silver Parking Lot)
Thursday, May 3, 9am - 10:30am BBQ Breakfast (Tailgate & Outdoor Recreation, Silver Parking Lot)
back to top




______________________________________________________________________
Classifieds
______________________________________________________________________

Position: Account Executive
Location: Western Canada ( flexible depending upon location of candidate: Alberta, Saskatchewan, or Manitoba)
This position will be responsible for selling and supporting retail store level opportunities. The primary focus on targeting line extensions, expanded Plan-O-Grams, Introduction of New Products, displacing competitive activity, securing incremental opportunities and overall store level support for the provinces of Alberta, Saskatchewan and Manitoba. This position will support both Regional and Independent businesses, as well as our National Account(s), at store level(ie. Home Hardware, RONA, TimBrMart, etc).
RESPONSIBILITIES: 
Minimum 3 yrs Sales and or Sales Related experience 
Experience and proven ability to conduct outside sales calls 
Must demonstrate strong communication skills both oral & written 
Must demonstrate problem solving skills and be able to effectively resolve conflict 
QUALIFICATIONS:  
High School Diploma required; Bachelor's Degree preferred 
Must be able to travel 95% of time  
Highly organized and extremely flexible to cover 3 provinces efficiently  
Hardware industry experience an asset 
Must be willing to work some weekends (Trade and Consumer Shows) 
Must possess Valid Drivers License
E-mail: laura.a.weaver@sherwin.com
No agencies, please.
We appreciate your response; however, only candidates under consideration will be contacted.
_______________________________________________________________________
Retail Support Specialist
ON, AB, MB
Positions Summary
The new created position of Retail Support Specialist is responsible for the visual merchandising of product assortments for retailers such as lumberyards, hardware stores, home centres etc., within the assigned region. The incumbent is also responsible for the implementation of new retail programs and strategies, targeting the enhancement and the strengthening of the retailer's business model.
Qualifications
Post-Secondary Education in Marketing or Business Administration
1- 3 years of retail experience preferable with a solid knowledge of merchandising
Ability to travel within Canada up to 80% of the time is required
Additional notes:
TIM-BR MART/Chalifour Canada is an equal opportunity employer. Please take note that only the applicants selected to be offered an interview will be contacted.

Contact
Please apply by sending your current resume and, if you desire so, your particularized motivation letter to:
HR.RH@chalifourcanada.com
C/o: Human Resources Department
Please note the job title in the subject line
This posting will close on March 06, 2012, no application received after that time will be considered
_______________________________________________________________________
Resumés
Experienced District Manager with a proven track record with several national chains.

view this

resumé

A conscientious, highly motivated manager with a results-oriented track record in developing new business.

view this

resumé

A goal oriented sales director that has superior management skills, customer oriented, with in depth knowledge of the industry and the ability to achieve results.

view this

resumé

An experienced merchandising executive possessing passion, vision, and a strategic approach to delivering bottom-line.

view this

resumé

Senior sales/marketing leader with experience in all classes of trade wishing new HARDLINES career. view this

resumé

Very Experienced Business Unit Manager, great passion for generating sales and building relastionships.view this

resumé

Worked through my career within the manfucaturer, wholesale and consumer goods industries. view this

resumé

Senior Sales Manager with vast experience in retail and wholesale sales growth in Canada. view this

resumé