March 15, 2010, Volume xvi, #11
"Criminals are a superstitious cowardly lot — so I have to wear a disguise that will strike terror into their hearts! I must be a creature of the night, black, terrible, like a... a... a bat!" —Bob Kane (American comic artist, 1915–1998, transforms Bruce Wayne into Kane's greatest creation, the Batman)
Wholesalers vie for market share following Broadleaf buyout
SPECIAL REPORT — The takeover of building materials wholesaler Broadleaf Logistics by rival CanWel Building Materials Ltd. creates, with one fell swoop, the largest LBM distributor in the country.

But it also creates some opportunities for smaller competitors, who have been eyeing manufacturers that don't "make the cut" as CanWel-Broadleaf rationalizes overlapping lines, if and when CanWel decides which suppliers it will stick with.

"There are going to be some lines that will be coughed up," predicts Richard Goodfellow, president of Goodfellow Inc., the Delson, Que.-based building products distributor that specializes in hardwood flooring.

AFA Forest Products, will add allied (hardware) lines this year based on how CanWel consolidates its own mix of suppliers, says AFA's chief executive Al Jack. Jim Bradshaw, CEO of Taiga Forest Products, based in Burnaby, B.C., also thinks his company might pick up market share as CanWel streamlines its operations — depending on how the market shakes out.

( Excerpted from "Wholesale distributors face new challenges", a special report in the latest edition of our sister publication, Hardlines Quarterly Report. Click here for more info! —Michael)
back to top

Edmonton store is latest from RONA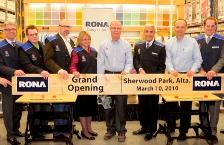 EDMONTON — RONA inc. opened its latest store here, in the city's Sherwood Park area. The 52,000-square-foot store, located at 301 Wye Rd., represents a $16 million investment in Sherwood Park and provides 72 local jobs, 40 of which are new positions.

It replaces an older, existing store in the same neighborhood, and is twice the size. It will also be the first of the company's RONA-bannered stores to apply for LEED (Leadership in Energy and Environmental Design) certification in Alberta. A new Totem store in Strathmore, Alta., and a RONA in Saint-Georges, Que., have also applied for the certification.

The evaluation criteria includes measures to protect air quality, such as using low-emissions materials (like paint, adhesives and waterproofing materials), and measures for reducing energy consumption, including a white energy-efficient roofing system; additional insulation in the building envelope; T5 fluorescent lighting; a high-end control system for store lighting; timers to regulate lighting, air-conditioning, and heating throughout the day; and low-flow sanitation equipment.

Included in the new store are a 9,500-square-foot outdoor garden centre, a 20,000-square-foot lumber yard inside and a 68,400-square-foot outside yard. The outlet carries more than 22,000 SKUs.
back to top

Castle adds members in all divisions
MISSISSAUGA, Ont. — Castle Building Centres Group Ltd. continues to grow its ranks with members in each of its three divisions: Retail, Commercial and Specialty.

Joining the Retail ranks is True Value in Neepawa, Man. Under owners Darryl and Michelle Gerrard, the store is expanding to include lumber and building materials. Another new member, Canadian Trade International in Saskatoon, has just completed a new retail showroom and has joined Castle to add hardware and building materials. The third new Retail member is Victoria Carpet Shoppe, Victoria, Nfld. This family-owned business added a showroom in 2008 and expanded into windows and doors. The dealer has joined Castle to further expand its building materials offering.

Castle's Commercial division, CBS, has added one new member, Broadway Drywall Distribution in Williams Lake, B.C. This brand new business will specialize in the supply and service of building material products to the commercial and residential construction industry. Major product lines will include lumber, panel boards, engineered wood products, gypsum, insulation, steel and hardware.

Castle's newest division, for specialty dealers, welcomes Maritime Truss in Truro, N.S. This family-owned operation has supplied prefabricated wood roof, floor trusses and LVL beams to the Atlantic Provinces for more than 20 years. MTL joined Castle to diversify its product offering with related building materials.

Castle comprises more than 270 dealers from coast to coast, representing about $700 million in purchases annually.
TSC steps up expansion strategy through franchise model
LONDON, Ont. — The  announced purchase last week of a Country Depot store by TSC is the second such acquisition, and the latest step in testing of TSC's franchise-driven expansion model.


Country Depot, a farm and hardware banner owned by TruServ Canada, has similarities to TSC's own agro-focused merchandising. The two acquisitions, one in Milton, Ont., and the second in Kingston, Ont., have become test stores for a new "Villager Hardware" concept.

"We did some major leasehold improvements in late 2008, re-merchandised the store in early 2009, dropped in our systems in the late spring, and started to drop flyers in the market place in the fall," says Greg Hicks, COO of TSC Stores, of the Milton store. Early this year, we implemented a pull replenishment system that will be the basis of our inventory management system for TSC Villager."

The TSC Villager program is aimed at attracting independent farm supply retailers looking for scale, retail knowledge and marketing support. But, says Hicks, he expects to attract independent farm supply retailers looking for a succession plan, as well. "We will look to consolidate the market and convert existing businesses to the TSC Villager brand," he says.

There is a big opportunity for traditional hardware retailers, operating in rural communities who wish to differentiate themselves from other hardware banners, and for entrepreneurs looking to build a branded farm supply business, Hicks adds. "Our retail value proposition is one of true differentiation in the hardware industry and we are looking at this new strategy to expand our store footprint."

Hicks says that, in addition to the Villager program, he is "very bullish on our opportunity to continue to drive exciting organic growth within the four walls of our existing corporate store network. The development of our TSC Villager franchise business model allows us to further penetrate and embed our brand into smaller, rural communities.
back to top

Overseas opportunities ignite at Cologne Hardware Fair
COLOGNE, Germany — The International Hardware Fair closed last week with results that reflect the tough economy in Germany and throughout Europe. Nevertheless, some 56,500 trade visitors from 124 countries obtained information over four days about the new products and innovations in tools, industrial supply, fastenings and home improvement. The satisfied delegates included a number of Canadian vendors and buyers.

"During troubled economic times, the International Hardware Fair has generated positive market impulses for the national and international hardware industry," says Oliver Kuhrt, executive vice-president of Koelnmesse GmbH, which owns the show.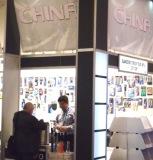 More than 80% of the exhibitors were from outside Germany, including large contingents from China, Taiwan, India and the U.S. The largest European exhibitor country was Italy, followed by Great Britain, France and Spain.

Canadian presence at the show remained strong, relative to the size of the country and the drop in attendance from other countries. For example, U.S. exhibitor numbers were down from 89 at the previous show in 2008 (it's a biannual event) to 64 this year, while the Canadian exhibitors actually increased from nine to 10.

Attendance at the show overall was down 20%, reported Hans-Joachim Kampen, product manager of the International Hardware Fair. However, he added, attendance from Asian suppliers, especially China and Taiwan, remained constant from show to show, reflecting the recovery in Asia that is occurring more quickly than in Europe.

In 2012, the International Hardware Fair Cologne will be held March 4-7.
back to top

Classifieds


Sales Representative ( Eastern Ontario)
 
A building materials distributor has an immediate opening for an Outside Sales Representative for its Eastern Ontario territory. The successful incumbent will possess;
Proven successful sales call background in the building materials industry;
Consultative, front-line experience working with customers in a sales capacity.
Established communication and business relationship skills
A keen interest to analyze, develop and carry out sale's strategies so as to ensure sales growth for customers and suppliers.
The ability to work within a variety of disciplines and organizational functions, including call reporting, sales strategy execution, and identifying potential opportunities.

If interested please forward your resume to the attention of the Director Human Resources, 9251 Yonge Street, Suite 884, Richmond Hill, Ontario, L4C 9T3.
Hitachi Power Tools is seeking a Junior National Account Executive based in Mississauga.
The successful candidate will possess:
A minimum of 3 years experience in a territory sales role
Strong organizational skills with ability to plan and manage territory
Strong communication, presentation and business relationship building skills
A self-starter with ability to work both independently and as part of a team
Knowledge of trades (i.e. construction, electrical, woodworking) an asset
Please visit our website at www.hitachipowertools.ca/en/CompProfile/Careers for more details. If interested please forward your resume and cover letter to melissaf@hitachi-powertools.com
We thank all applicants, however only those selected for an interview will be contacted.

Looking for that perfect candidate?
Save time and money using online adveritsing
It's cheaper than print and you connect directly with qualified candidates.
Only $2.99 per word for 2 weeks.

Have your ad right here this time next week!

Click here or call 416-489-3396 to place a classified ad

Place a classified with Hardlines and we will give your new hire a complimentary subscription to the newsletter for a full year!
.
back to top

Resumés
Business Manager with U.S. & Canadian experience with retail & industrial customers seeks a new opportunity.

view this

resumé

An experienced merchandising executive possessing passion, vision, and a strategic approach to delivering bottom-line.

view this

resumé

Results oriented sales professional with a strong record of achievement in strategic and tactical roles. view this

resumé

Senior sales/marketing leader with experience in all classes of trade wishing new hardlines career. view this

resumé

Very Experienced Business Unit Manager, great passion for generating sales and building relastionships.view this

resumé

Worked through my career within the manfucaturer, wholesale and consumer goods industries. view this

resumé

Senior Sales Manager with vast experience in retail and wholesale sales growth in Canada. view this

resumé
Click here to post your resumé

Connect with us!