March 18, 2013, Volume xix, #11
"There are two times in a man's life when he should not speculate: when he can't afford it and when he can." — Mark Twain (American author and satirist, 1835-1910)
______________________________________________________________________
Federated Coop updates stores
            SASKATOON — Retail co-operatives are investing in and updating approximately half of their home centre and building supply outlets across Western Canada.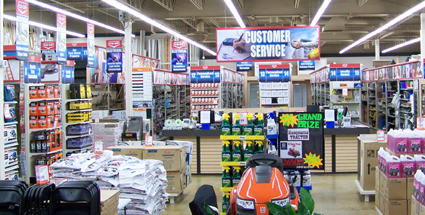 "The financial commitment and enhancements to these facilities will enable us to better meet the increasing needs of our loyal members and customers in communities both large and small throughout the West," says Doug Knowles, manager of retail operations and technology in the Home and Building Supplies Department at Federated Co-operatives Limited (FCL). Based in Saskatoon, FCL provides wholesale, manufacturing, and administrative services to its 235 owner-member retail co-operatives from British Columbia to Northwestern Ontario.

For years, conventional gondola and shelving fixtures had typified many of its stores—as it has for many other retailers. But, says Knowles, his team decided that approach was not working as well as it should any more and years ago FCL implemented a plan to update the locations. It recruited Burlington Merchandising & Fixtures, which specializes in the hardware and building supply sector.

So far 12 upgrades have been completed with many more stores planned for the coming years.

"Over time we would like all existing Co-op stores to be refurbished, and all new stores will have the new modern look," Knowles says.

The refurbishment process includes getting more product out of the back of the stores and onto the shelves. Knowles cites one example of a store with a large attached storage warehouse that was converted to retail. As part of the re-fixturing, core hardware categories are being given more emphasis, most notably plumbing. "In every store we've done, we've dramatically improved the presentation of the plumbing category," he says.

While most of the stores are focused on hardware and building materials, some agro stores are also implementing the new look. "It looks good in these stores, as well," he notes. Currently, two of FCL's largest members, Saskatoon Co-op and Rocky Mountain House Co-op, are going through the conversion.

"We are quite excited about the program, and more importantly, so are our customers," Knowles adds.
back to top
______________________________________________________________________
______________________________________________________________________
Canadian Tire readies for Target with smaller margins, bigger data
    TORONTO — Canadian Tire Corp. has made a number of strategic moves to prepare for this month's openings by Target of a network of stores across Canada. First, Canadian Tire has identified geographically the locations that compete most directly with Target stores, to make sure those stores have the latest upgrades, displays, and merchandising assortments.

Increased focus on margins indicates that Canadian Tire's retail business is trying to be more competitive price-wise, as well. However, that initiative has had an impact on sales. According to Marco Marrone, COO, Canadian Tire Retail, "We knew that, as we focused on margins, there would be an impact on top line sales, and CTR's fourth-quarter retail sales decline of 0.5% reflects this in part. However, the actions we have taken reflect that our focus is not on driving top-line at all cost."

Another area that Target understands well is the profile of its customers based on data generated by its loyalty programs. To meet that challenge, Canadian Tire began offering online loyalty rewards in addition to its Canadian Tire money. With that data, Canadian Tire now has the analytical capability to understand which customers are buying what products, and how they're actually buying those products.

"With the data generated by our loyalty product, we are able to gain valuable insights," said Marrone. "Through our loyalty data, we are able to determine if those customers are high-value customers, and we are able to look at prior purchases as well as understand the correlation across categories. All of this will sharpen our ability to target and focus promotional activity that will help in improving sales and margins."

CTR does not expect a nationwide rollout this year, but expects to move the loyalty program into Nova Scotia by early 2014.
______________________________________________________________________
CanSave ups ante with re-positioned sales force
BARRIE, ON — CanSave, the specialty LBM distributor and door and kitchen manufacturer, has developed a new initiative for its sales teams. Called "Business Builders," the initiative effectively repositions the sales teams as partners for the dealers that CanSave supplies. According to Larry Koza, co-owner of CanSave, the initiative even goes to "rebranding" his sales managers as sales "coaches."

"It's really about making the team learn to work more closely with the customers," Koza says. That relationship has a number of aspects, and things like service and price are a given, he notes. "If you're still in business right now, you've got good service—but that's just the beginning."

Koza outlines a number of points that Business Builders operates on: market positioning (are you selling the right SKU?); working out a competitive strategy with each dealer to help them identify their customers and sell to them); online quoting and a design service that both consumers and designers can access; and "showroom optimization"—creating the right display in-store to deliver that dealer's message.

CanSave's sales team is also committed to pull-through sales, helping dealers by actively going after contractors on the job sites. Behind the scenes, the new program is being supported by staff training.

"These points simply reinforce that we have proven, profitable lines and we're going to help you make a profit. That's what Business Builders is about," Koza concludes.
back to top

______________________________________________________________________ 

NRHA Convention will again join Vegas Hardware Show

LAS VEGAS — The 2013 National Hardware Show will once again play host to the North American Retail Hardware Association (NRHA) All-Industry Conference, which will feature a dynamic slate of seminars to keep attendees informed about changing industry trends and consumer shopping habits.

The theme for this year's seminar lineup revolves around today's changing consumer and the role that emerging technology plays in the future of the industry. The three-day educational program will include some of the leading authorities on multi-channel markets and will feature a special keynote address by Kathy Daly-Jennings, a retail executive from Google who will discuss consumers' multi-screen lifestyles.

Along with Daly-Jennings, other speakers will include noted consumer trend authority Brian Kilcourse, who will discuss how today's retail environment is evolving to meet the needs of a more tech-savvy consumer; and Timothy Dahl, a well-known home improvement industry blogger and former producer of This Old House, Elle Decor, Metropolitan Home, and Woman's Day magazines, who will present on how to best find, engage and maintain customers online.

back to top

______________________________________________________________________ 

RONA may seek buyers for some corporate stores

SPECIAL REPORT — Building on that framework of dealer support does not mean buying up more independents' stores. RONA is still looking for ways to continue growing its independent dealer network, but it will no longer be the consolidator, the great acquisitor that marked its legacy under Robert Dutton. With so much growth for so many years, the company is now carefully assessing the value of each of those acquisitions and how they affect the core distribution business.

"It's time to take a step back. It's time to take a breather," Dominique Boies, acting CEO, says frankly.

Building on that framework of dealer support does not mean buying up more independents' stores. Instead, the company will develop dealer affiliations. In fact, says Boies, the company will explore reversing the trend: "There's also an opportunity to sell some of our corporate stores to our dealers. They are way better operators than we are." However, the company recognizes that such a plan offers financing challenges for those potential dealers.

Boies is confident that RONA can deliver a winning formula for independent dealers. "We can give the dealers a competitive edge," he says. "Nobody can buy better in this country than we can."

(Our full interview with Dominique Boies, acting CEO of RONA, will appear in the next edition of our sister publication, Hardlines Home Improvement Quarterly. —Editor)

back to top

______________________________________________________________________ 

True Value unveils new branding initiative

ATLANTA — The team at True Value Co. is going back to the drawing board to re-brand the company's image around a message that it feels will resonate with different age groups and create a more intimate bond with today's consumers.

Blake Fohl, True Value's vice president of marketing and chief customer officer, made the announcement about the new branding initiative at the Chicago-based co-operative's Spring and Rental Market, held recently in Atlanta.

Based on input from the dealers themselves, the process began in June of last year, with the help of Solve, a Minnesota-based advertising and branding agency. Prior to forming Solve, the agency's leadership had worked together on notable brands such as Harley Davidson, IKEA, Subaru and Tractor Supply Co.

While True Value is not releasing many details around the new branding effort, Fohl said it will focus on the "values" that are already engrained in the company and its members—such as putting customers first and helping DIYers take pride in a completed project.

Fohl added that the first phase in the rebranding process will focus on communicating the brand's message effectively to the co-op's more than 3,000 core hardware stores.

back to top

______________________________________________________________________ 

Mood upbeat at latest Ace show

NEW ORLEANS — While Ace CEO Ray Griffith addressed the crowd at the General Session of Ace's Spring Convention and Exhibits, his last time doing so before his retirement in March, he pointed to the co-op's future leaders as the reason for the industry's prospective growth.

That theme of optimism in the future carried over into the rest of the show, held February 21-23, with other Ace executives and retailers as well as vendors mentioning the industry's positive momentum.

Ace COO and President John Venhuizen, who will become Griffith's successor at the end of March, is set to take the helm at a time when Ace retailers are experiencing growth across the board. The co-op reported a 3.6% increase in corporate revenue, a 3.6% same store sales increase and 159 new domestic stores at the end of 2012.

Market attendees also were able to learn more about Ace's other new programs, including staff training programs and a new business-to-business e-commerce site set to launch in early 2014. 

back to top

______________________________________________________________________


Classified Ads

National Sales Manager – Mass Retail
Taymor is a successful nationally recognized custom manufacturer of doorware, bathware, faucets and commercial hardware serving the home improvement and builder markets across North America. We design and deliver products for the home that are Functional, Fashionable and Affordable. Our customers include Fortune 100 companies, national and regional retail brands, specialty retail stores and major commercial, single family and multi-unit home builders. This position will operate out of our Mississauga office.

We are positioning for our next level of growth and require an experienced National Sales Manager - Mass Retail to drive our growth in this sales channel. The primary function of this role is to develop and implement strategic and tactical selling plans, while building strong relationships with Canada's largest home improvement and big box retailers. Please visit www.taymor.ca/careers for complete details and to apply.

______________________________________________________________________
ONTARIO ACCOUNTS MANAGER:
A major North American building materials manufacturer located in Mississauga, Ontario is seeking an Accounts Manager with regional account experience for the Ontario building materials/hardware/paint industry.

The Company requires an Account Manager who will detail the day-to-day sales with national and regional key contacts in Ontario. Reports directly to General Manager.
Competitive Salary + Bonus, vehicle & benefit package.

KEY QUALIFICATIONS:
POST SECONDARY BUSINESS DEGREE/DIPLOMA
3 YEARS + OF REGIONAL ACCOUNT SALES EXPERIENCE IN THE BUILDING MATERIALS/HARDWARE INDUSTRY
PROVEN TRACK RECORD WITH DEMONSTRATABLE ACCOMPLISHMENTS
EXPERIENCE WITH MULTI SKU PROGRAM ASSORTMENT, PLAN-O-GRAM SELLING; IN-STORE AND TRADE SHOW PK
ABILITY TO TRAVEL
PROFICIENCY WITH MICROSOFT OFFICE APPLICATIONS
SPECIFIC DUTIES will include:
development of relationships with key retailer personnel merchants and buyers
filed analysis, recommendations, competitive and market activity reporting
Assist in corporate projects including but not limited to new product launch, pricing and training programs
Key account and local account management
Self-driven, competitive and success oriented
Please submit resume, to include Salary Expectations via email to: sales@ghinternational.ca
ONLY CANDIDATES OF INTEREST WILL BE CONTACTED

______________________________________________________________________

Regional Account Manager - Henkel - Lepage Adhesives
We have an exciting role as a Regional Account Manager to manage our Quebec and Maritimes home improvement retail customers. This position is responsible for the management of Customer Relationships, as well as generating revenue and maintaining profits as it relates to the territory. Responsibilities may also include management responsibilities for internal sales support functions.
Essential Responsibilities:
Responsible for driving additional revenues and profits at the dealer base
Responsible for the annual territory business plan through the utilization of Category Management, Promotional Planning, Financial Analysis and Program Planning
In accordance with Henkel's goals and objectives and in tandem with the Director of Sales, Trade Marketing and Product Managers, annually develop product placement and promotional strategies for the assigned accounts in the territory
Increase distribution of core Henkel branded products via a placement in both current and new retail locations
Consistently review with Customer Care, Logistics, Marketing, Finance and other internal parties, the necessary requirements needed in serving key account customers
Position Requirements:
Post-secondary education, BA in business strongly preferred
Three or more years Regional and/or National Account Manager experience
Must be competent in the verbal/written use of the French and English languages
Proficiency with Microsoft Word, Excel, PowerPoint required
Must be able to work from candidate's home office
______________________________________________________________________
National Account Director- Oakville, ON
World Kitchen products have led the housewares industry for over 100 years. Our trusted portfolio of brands include CorningWare®, Pyrex®, CORELLE®, Snapware®, Revere®, EKCO®, Baker's Secret®, Magnalite®, Chicago Cutlery®, and OLFA®. Headquartered in the Greater Chicago area, the Company has established a footprint with approximately 3,000 employees worldwide.
Reports To: VP/GM OLFA Business Unit
Charged with managing a customer portfolio totaling $15M-$20M plus in annual sales revenue
Develops a coherent business plan rooted in profitability that drives baseline and new item placement
Works collaboratively cross-functionally to develop business process that support seamless execution against programs, while demonstrating an unwavering commitment to improving P&L metrics in the areas of COGS, trade deployment, sourcing, and freight/distribution outlays
Demonstrates strong horizontal and vertical penetration focused on providing superior service against customers, penetrating at all levels
Is the central figure in developing Customers capabilities in the areas of strategy development, distribution, merchandising, pricing, promotion, and replenishment
Effectively deploys trade resources, driving profitable market share by developing strong retail attainment programs, which reduce markdown and returns (backend inefficiencies)
Required Qualifications:
BA/BS required; MBA preferred
5-10 years of large account management skills
Strong financial acumen and P&L management competencies rooted in analytics
Particularly adept in negotiations, business planning, and trade management
Utilizes a combination of fact based and relationship selling in developing retail partnerships
Strong critical thinking skills that can develop creative solutions to business issues or
Track record in leading complex business and improving customer profitability
Adept in selling to consumption and providing accurate forecasts
Ability to determine market trends and apply those trends to update business plans to insure success
25%-50% travel requirement
To apply for this position go to www.worldkitchen.com and click on the Careers Tab
Only candidates of interest will be contacted
______________________________________________________________________
Resumés
Persuasive, conscientious and intuitive sales professional who acts as the champion for the customer view this

resumé

Professional with over 25 years of experience in Sales, Marketing, Merchandising and Administration

view this

resumé

Marketing professional with over 10 years experience looking to secure a new full-time position.

view this

resumé

A Sales Professional with over twenty years of experience.view this

resumé

Experienced District Manager with a proven track record with several national chains. view this

resumé

A conscientious, highly motivated manager with a results-oriented track record in developing new business.

view this

resumé

An experienced merchandising executive possessing passion, vision, and a strategic approach to delivering bottom-line.

view this

resumé

Senior sales/marketing leader with experience in all classes of trade wishing new HARDLINES career. view this

resumé