March 22, 2010, Volume xvi, #12
"To a brave man, good and bad luck are like his left and right hand.
He uses both." —St. Catherine of Siena (Italian philosopher,
visionary and theologian, 1347-1380)
Lowe's Canada makes paint deal with Para
TORONTO — Lowe's Canada and Para Paints have formed a strategic alliance to make the Canadian paint manufacturer's products available in all Lowe's Canada stores by mid-April. Lowe's will carry two Para sub-brands, Para Lifestyles paint for consumer markets, and Para Professional Precision, which caters to both consumer and painting contractor customers.

Since Lowe's arrival in Canada, the retailer has made efforts to source from national and regional suppliers, even as many merchandising decisions, especially at the outset, were dictated by head office in Mooresville, N.C.

"Partnering with well-established Canadian paint brands like Para allows us to continue our efforts to offer Canadians the best products at the best prices," said Bob Sherwood, vp of merchandising for Lowe's Canada, in a release. "By partnering with a trusted brand, we are ensuring that our customers have even more choice when it comes to choosing the right product to compliment their design and home improvement needs."

Brampton, Ont.-based Para was purchased by Sico, Canada's largest paint company, for $16.9 million in May 2003. Sico, which is based in Longueuil, Que., is just down the road from RONA's head office, and is a key supplier to that retailer. Sico was itself acquired by global coatings giant Akzo Nobel in April 2006.

Lowe's will use Para's home colour system, which features more than 2,150 designer shades, along with Para's Canadian Heritage Collection. The program will be supported by new themed colour brochures and colour coordinating idea cards when it's launched later this spring.
back to top

Latest market positions Orgill as source for pro dealers
ORLANDO, Fla. — The latest dealer market by U.S. hardware wholesaler Orgill featured a new custom store plan for DIY and one for pro customers. The latter really reflects Orgill's effort to offer independents an effective means to build their front end.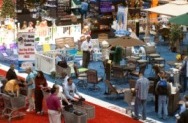 That front end is what is attracting a lot of Canadian independents, many of whom went down to the Spring Dealer Market, held in Orlando, Fla., Feb. 25-27, as either existing or prospective Orgill customers. They included a number of Canadian dealers from across the country.

"Every time we hold a market, it is our goal to provide our customers with the types of products they need to drive their businesses and the world-class retail programs they need to run better and more profitable operations," said Ron Beal, Orgill's president and CEO. "Particularly now, when home improvement retailers are facing a challenging economic climate, it is important that we not only live up to this goal at our Markets but continue to find ways to exceed our customers' expectations."

The Market featured two model stores, which showcased a range of goods and services that Orgill offers its customers. The model store idea was launched last year at Orgill's Fall Dealer Market in Boston.

In addition to the model hardware store, Orgill also featured a complete store set on the floor that featured its "Pro Source" program, which is aimed at the pro-oriented retailers. "We know that today's pro-oriented retailer is looking for ways to drive more sales," said Philip Walker, vice-president of marketing. That offering for pro dealers is one of the things that is attracting Canadians, as they look for new ways to expand their retail, or "front end" offering.

Pro Source is an Orgill program designed to help pro-oriented lumber retailers capture more under-roof sales.
back to top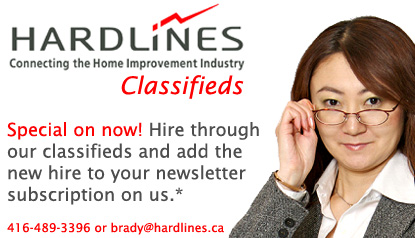 *Your company must have a current subscription
Click here or call 416-489-3396 to place a classified ad

BMR launches rewards card
BOUCHERVILLE, Que. — BMR Le Groupe launched its new 360 BMR Reward Program last week. The program allows consumers and contractors to accumulate BMR points on all products and services purchased at any of the participating BMR merchants.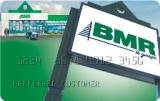 In fact, the card's name reflects the comprehensive nature of the program, "a full 360-degree view of construction and renovation products, and much more" according to a release from BMR.

BMR has also partnered with Transat Holidays and Nolitours, so that cardholders can exchange their BMR points for travel credits for trips to the Caribbean, Mexico, Central America, South America and Europe, as well as cruises.

"The BMR 360 Reward Program is innovative and meets consumers' and contractors' expectations. The program is also flexible and can be adapted as our customers' needs evolve," says Yves Gagnon, president and CEO of BMR Le Groupe Inc.

BMR is an umbrella association of independent merchants who operate some 180 renovation centres and hardware stores in Quebec, Ontario, New Brunswick, Nova Scotia and Prince Edward Island. Annual retail sales of BMR's members are estimated at more than $1.2 billion.
Quebec home improvement sales flat in 2009
MONTREAL — In 2009, both Quebec and Canada saw a decline in retail sales after fourteen consecutive years of growth. In Quebec, sales were down by only 1.4%, or $94 billion, compared with a decrease of -3.6% to $410.9 billion in all of Canada.

These are just some of the results of the latest survey by the Retail Council of Quebec on the status of the retail industry and consumer spending in Quebec and Canada for the year 2009 and its outlook for 2010. The study was conducted with the cooperation of Groupe Altus.

In Quebec, two sectors showed negligible variations in sales compared with the previous year: renovation, hardware, building and gardening centres (+0.1%) and miscellaneous store retailers (-0.1%).

Five retail sub-sectors saw an increase in sales, including home furnishings stores (+3.7%) and general merchandise stores (+2.9%). However, sales underperformed in seven sub-sectors, including furniture stores (-5.2%) and electronics and appliance stores (-4.1%).
back to top

Lowe's, Home Depot prepare for 2010
ATLANTA & MOORESVILLE, N.C. — Following year ends that found both Home Depot and Lowe's better off than a year earlier, the world's two largest home improvement retailers are looking for ways to make 2010 even better.

The Home Depot projected that its revenue in 2010 would increase by 2.5%, its comp-store performance would improve by the same percentage, and the company would open six new stores, after a period when it had put store expansion on hold. Lowe's, on the other hand, expects to open between 40 and 45 new stores in 2010 (11 of them in the first quarter of the year). Its officials project 2010 sales increases between 4% and 6%.

During the fourth quarter, Lowe's repurchased 21.9 million shares of its outstanding stock for $500 million. It has $1.7 billion in repurchase capacity left under a 2007 authorization by its board of directors, which in the last quarter authorized the repurchase of another $5 billion in stock, which the company expects to do over the next three years.
back to top

Classifieds


Sales Representative ( Eastern Ontario)
 
A building materials distributor has an immediate opening for an Outside Sales Representative for its Eastern Ontario territory. The successful incumbent will possess;
Proven successful sales call background in the building materials industry;
Consultative, front-line experience working with customers in a sales capacity.
Established communication and business relationship skills
A keen interest to analyze, develop and carry out sale's strategies so as to ensure sales growth for customers and suppliers.
The ability to work within a variety of disciplines and organizational functions, including call reporting, sales strategy execution, and identifying potential opportunities.

If interested please forward your resume to the attention of the Director Human Resources, 9251 Yonge Street, Suite 884, Richmond Hill, Ontario, L4C 9T3.
Hitachi Power Tools is seeking a Junior National Account Executive based in Mississauga.
The successful candidate will possess:
A minimum of 3 years experience in a territory sales role
Strong organizational skills with ability to plan and manage territory
Strong communication, presentation and business relationship building skills
A self-starter with ability to work both independently and as part of a team
Knowledge of trades (i.e. construction, electrical, woodworking) an asset
Please visit our website at www.hitachipowertools.ca/en/CompProfile/Careers for more details. If interested please forward your resume and cover letter to melissaf@hitachi-powertools.com
We thank all applicants, however onlyhose selected for an interview will be contacted.
Resumés
National Field Sales Manager with twelve plus years in power tools and hardware sales/merchandising.

view this

resumé

Business Manager with U.S. & Canadian experience with retail & industrial customers seeks a new opportunity.

view this

resumé

An experienced merchandising executive possessing passion, vision, and a strategic approach to delivering bottom-line.

view this

resumé

Results oriented sales professional with a strong record of achievement in strategic and tactical roles. view this

resumé

Senior sales/marketing leader with experience in all classes of trade wishing new hardlines career. view this

resumé

Very Experienced Business Unit Manager, great passion for generating sales and building relastionships.view this

resumé

Worked through my career within the manfucaturer, wholesale and consumer goods industries. view this

resumé

Senior Sales Manager with vast experience in retail and wholesale sales growth in Canada. view this

resumé
Click here to post your resumé

Connect with us!