March 26, 2012, Volume xviii, #13
"If you don't read the newspaper, you're uninformed. If you read the newspaper, you're misinformed." ―Samuel Langhorne Clemens
(aka Mark Twain, American author and satirist, 1835-1910)
______________________________________________________________________


______________________________________________________________________
Canada a fit for Lowe's "flexible sourcing" model
MOORESVILLE, NC — Lowe's Cos. is examining the shift in world production and developing a sourcing model that will be less reliant on traditional Chinese suppliers.

The "flexible sourcing" model means looking beyond China as that country is outsourcing some of its own sub-production to countries such as Vietnam , Mexico, and India. Even vendors in Europe are gaining attention once again, to the point that Lowe's global buying division (LG Sourcing) is reportedly considering putting a buying office there.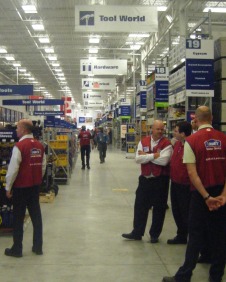 But flexible sourcing also reflects an evolution in the stores. LG Sourcing is not necessarily looking for all its biggest vendors to supply all of its stores. Instead, the buyers intend to test programs and products in limited markets – including Canada's 26 stores and the growing ranks of Masters stores being developed in Australia. Canada is considered ideal by Lowe's for this type of experimentation, as Lowe's Canada is now big enough to support dedicated distribution.

Lowe's head office is in the process of seeking an international merchandising manager to work out of Mooresville. The purpose of that position will be "to define, develop, and implement an International Merchandising Process that will provide Lowe's and LG Sourcing the ability to merchandise internationally sourced products in a method that is consistent with our customer's expectations," the company states in an online job profile. That individual will also develop a team of international merchandising managers to implement the model and work with the overseas offices. 
back to top



______________________________________________________________________
LBMAO sets dates for 2012 buying show and conference
TORONTO — After moving its show from February to November last year, the Lumber and Building Materials Association of Ontario has made a firm commitment to the new time frame for the coming year. The Canadian Home Improvement Show will be held Nov. 28-29 at the Toronto Congress Centre.

The show is also making dramatic changes to its offering to dealers. Day one will now feature an expanded conference program in the morning and an afternoon of product knowledge and demonstrations by exhibiting vendors to round out the buying aspect of the show.

"CHIS is building and growing to provide a knowledge-based experience for its attendees by expanding the conference portion, as well as focusing on new products and product demos," said Dave Campbell, president of LBMAO. "Our attendees tell us that new goods are the lifeblood of the industry, as well as product knowledge. We intend to provide a forum that offers both."

As a result of the success of last year's education program, the Johns Manville Dealer Conference by HARDLINES has been expanded to a full morning of presentations to grow dealers' business.

"Dealers will get the lowdown on housing starts and their impact on the home improvement business," said Michael McLarney, editor of HARDLINES, "as well as insights into one of the hottest topics in retail today – how to capitalize on social media."

The show remains committed to a strong entertainment and networking program, as well. This year's annual dinner will again be hosted by comedian Mike Bullard, with music by famed bluesman Colin James. For more info, contact Candice Ragoonanan; 519-200-1546.
______________________________________________________________________
Home builders share tips for working with dealers
MONCTON, NB — At the Atlantic Building Materials Show, held here last month, a breakfast seminar for dealers and vendors featured three Maritime home builders who gave insights and shared complaints ― about the service they receive.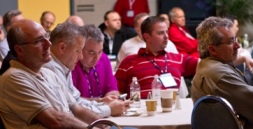 The panel stressed the importance of under-promising and over-delivering on service capability. Home builder Glen Chamberlain said he just wants honest answers about issues such as delivery times and product availability. Added fellow panelist Sylvio LeBlanc, chair of the Greater Moncton Home Builders Association: "I don't want my suppliers to tell me what they'll do for me. I want them to show me."

Product knowledge, or the lack of it, was a common concern. For a store's outside sales force, "I think honesty is a more appealing quality than salesmanship," said Scott Costain, a past chair of the Prince Edward Island Home Builders Association. He doesn't want a salesperson to try and sell him just on price. "The ability to articulate the value of the product is more important."

Knowledge about the product as it relates to both national and local building codes is also important — but an area where many dealers were considered to be lacking, to say the least. "I find that most dealers don't have a clue about the building code," said Costain.

(The full text of this story appears in the next edition of our print publication, Hardlines Home Improvement Quarterly, coming out next month! —Editor)
______________________________________________________________________
JM Dealer Conference offers expanded content
TORONTO — A re-working of the Canadian Home Improvement Show, being held Nov. 28-29 at the Toronto Congress Centre, will feature an expanded education program for independent dealers. The Johns Manville Dealer Conference by HARDLINES will now take up a full morning of day one of the show, with keynotes who will address current dealer issues:
Consumer and Economic Trends in Home Building – presented by Peter Norman, chief economist at Altus Group. Mr. Norman is an industry-recognized urban economist and forecaster specializing in economic and demographic analysis, construction economics, building products, and forecasting.

Retailer Best Practices – presented by Martha Konantz, president, North American Lumber. Ms. Konantz heads up a major chain of small yards throughout Western Canada. Hear one of Canada's leading regional building supply dealers share her experience building the business in a slow economy, dealing with succession issues, and positioning her company's stores for future growth.

Retail Success with Social Media – The hot-button issue for dealers today is how to manage the conversation with your customers in the electronic age. Our expert will give you guidelines for building your business online.
______________________________________________________________________
Education and insights at CHHMA Spring Conference
SCARBOROUGH, ON — The Canadian Hardware and Housewares Manufacturers Association will hold its Spring Conference and AGM on April 11 at the International Centre in Mississauga, ON.

The conference continues to expand its educational offerings and this year speakers range from an economist to a futurist. Craig Alexander, senior vp and chief economist at TD Bank, will kick off the conference with an economic outlook on the Canadian, U.S., and world economies.



The second keynote will be retail futurist Doug Stephens. His presentation, "What's In-Store?," will focus on the latest trends affecting the industry, particularly the demographic and technological shifts affecting today's customer and how your company stay ahead of the curve. (He also spoke at our Dealer Conference a couple of years ago and did a fantastic job —Michael)

The closing speaker will be John Morioka, senior vice-president of merchandising at Target Canada. He will discuss Target's approach to doing business, collaboration with vendors, and the latest progress into the Canadian market.

Breakout sessions during the day include tax changes, data synchronization and QR codes, business competitiveness.

In addition, two outstanding individuals are being inducted into the CHHMA's Industry Hall of Fame during lunch. Marc Turgeon (retired president of Groupe SEB Canada) and Bill Wilson (former senior vp of merchandising with D.H. Howden and TSC Stores, and currently Retail Advisor for the North American Retail Hardware Association – Canada) are this year's inductees.

Individual tickets are available for $350+HST; a corporate package (four tickets) costs $1,000+HST. To register for the CHHMA's annual conference and AGM, visit www.chhma.ca or call Pam Winter at 416-282-0022 ext. 21.
back to top




______________________________________________________________________
Classifieds
______________________________________________________________________

SENIOR NATIONAL ACCOUNTS MANAGER for GROUPE SEB CANADA INC.
TORONTO, ONTARIO
Groupe SEB is the global leader in Small Household Appliances with a number of leading brands including T-Fal, Moulinex, Krups, and Rowenta & All-Clad. The company is seeking a Senior National Accounts Manager who will provide leadership and strategic direction to increase revenue, drive strategy and execute sales initiatives to maximize Groupe SEB Canada's sales volumes and profitability. The Senior National Accounts Manager will lead all sales strategies specifically at Wal-Mart Canada and will manage a small portfolio of other accounts. Attractive compensation package including salary, performance bonus, and benefits. Position reports directly to the Commercial Sales Director for Canada.
 MAJOR RESPONSIBILITIES
Develop and maintain strong partner relationships at national account level with Wal-Mart Canada and designated other retail accounts
Capitalize on these relationships to achieve sales objectives, insure alignment with customer objectives, and develop action plans to drive POS revenues, profitability and inventory turns.
KEY COMPETENCIES
Leadership skills
Strategic thinker
Proven negotiation skills
Relationship building - strong communication skills in developing new and existing business opportunities.
Organizational and planning ability
 KEY QUALIFICATIONS
Post secondary business degree/diploma
7 - 10 years of senior national account sales/category management experience in housewares or related industries and/or fast moving consumer goods (FMCG) industries.
National account experience with Wal-Mart Canada required
Proven track record with demonstrable accomplishments.
Excellent analytical abilities
Proficient in Microsoft Office Applications including: Excel, Word and Power Point programs
Please submit résumé via email to:
Black Eagle Executive Search
c/o Richard Simms at rsimms@blackeagle.ca
Only candidates of interest will be contacted.
_______________________________________________________________________
Resumés
Experienced District Manager with a proven track record with several national chains.

view this

resumé

A conscientious, highly motivated manager with a results-oriented track record in developing new business.

view this

resumé

An experienced merchandising executive possessing passion, vision, and a strategic approach to delivering bottom-line.

view this

resumé

Senior sales/marketing leader with experience in all classes of trade wishing new HARDLINES career. view this

resumé

Very Experienced Business Unit Manager, great passion for generating sales and building relastionships.view this

resumé

Worked through my career within the manfucaturer, wholesale and consumer goods industries. view this

resumé

Senior Sales Manager with vast experience in retail and wholesale sales growth in Canada. view this

resumé