March 4, 2013, Volume xix, #9
"Men of few words are the best men."
— William Shakespeare (English playwright and poet, 1564-1616)
______________________________________________________________________
E-Retailing poised to become world's largest retail platform
            WORLD HEADQUARTERS, TORONTO — With an explosion in internet sales, multi-channel is dramatically changing the face of retailing. In fact, Amazon is already talking about becoming the world's biggest retailer by the year 2016,

overtaking Wal-Mart. With sales now exceeding $61 billion, Amazon is enjoying sales increases of 27% compared to over a year ago. And while it showed a loss at year-end, that was only because of the cost of setting up another 20 distribution centres.

Meanwhile, eBay saw revenues increase 20.8% in 2012.

With the greatest threat to retail coming from online, HARDLINES has invited eBay Canada and other online retail experts to speak at the first-ever Canadian E-Retailing Conference, March 20 in Toronto. Click here to register now .
back to top
______________________________________________________________________
RONA's acting CEO stresses renewed focus on dealers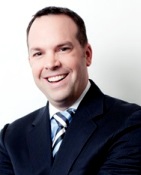 SPECIAL REPORT — After months of wooing investors following an unwanted bid by Lowe's, the ouster of its long-time CEO, and a major reshuffle of its board, RONA is getting its house in order. Shareholders have been placated. Now Dominique Boies, acting president and CEO of RONA, wants to send a clear message of support to RONA's dealer network.

In conversation with HARDLINES, Boies explains that RONA's growth over the past decade made it Canada's number-one home improvement company. But as RONA's structure kept evolving, that growth put demands on the company's internal operations. One side effect was diminished focus on RONA's core businesses—hardware distribution to local hardware and home improvement stores.

And since a large portion of those outlets are independent dealers, Boies is eager to stress his company's renewed conviction to manage the business in their favour. To do that, he says, "We really need to simplify our business. We've lost focus over time. We've tried to be everything to everyone."

 But how best to serve those dealer customers, who comprise 35% of RONA's business?

 "The goal is to simplify the way we do business with our dealers." That means, he explains, more transparency, more simplicity in everything from pricing to billing practices. He gives an example: "When dealers get pricing on a product, it does not reflect the year-end rebates and the volume discounts they would receive later on. So it makes it hard for them to calculate their actual costs of doing business. More transparency means outlining those true costs right on their bills."

Another way RONA seeks to help dealers is to make a careful review of its product lines, develop new pricing, and add more regional pricing. That will include, over the next year, a review of all SKUs, says Boies, with reductions in assortments where needed.

(Our full interview with Dominique Boies, acting CEO of RONA, will appear in the upcoming edition of our sister publication, Hardlines Home Improvement Quarterly . —Editor)
______________________________________________________________________
Home Depot's strong results aided by Sandy, extra week
  ATLANTA — The world's largest home improvement retailer reported strong year-end results, thanks to a recovering housing market in the U.S. and to repair expenditures in regions hit by Hurricane Sandy.

For the fourth quarter of 2012, Home Depot's sales were up 13.9% to $18.2 billion. Same-store sales for the quarter increased 7.0%. Home Depot's results also benefited from the addition of an extra week, which added about $1.2 billion in sales for the quarter and the year. However, even without the 14th week, fourth-quarter sales increased by 6.3%. Net earnings for the fourth quarter were $1.0 billion, up from $774 million.

For the year, sales were up 6.2% to $74.8 billion. Excluding the 53rd week, sales for 2012 increased by 4.5%. Total company same-store sales increased 4.6%, and same-store sales for U.S. stores were 4.9% for the year.

The board of directors also authorized a $17.0 billion share repurchase program. Since 2002, Home Depot has re-purchased about one billion shares worth $37.5 billion.
______________________________________________________________________
Lowe's same-store sales up in fourth quarter and fiscal year
MOORESVILLE, NC — Lowe's Cos. had to cope with a shorter fiscal year in 2012, resulting in a 10.6% decline in net earnings to $288 million for the fourth quarter. For the fiscal year, the impact of the extra week in the previous year had a lesser effect (unlike Home Depot, which had the extra week in fiscal 2012), as net earnings were up 6.5% to $2.0 billion.

Sales in 2012 reached $50.5 billion, up 0.6%. Same-store sales rose 1.4% for the year for the entire business, with better performance from U.S. stores, which saw same-store sales rise by 1.5%.

Forecasting out to the end of this year, Lowe's anticipates sales to rise by 4% in 2013 and same-store sales are expected to increase approximately 3.5%. The company expects to open about 10 stores in fiscal 2013.
back to top

______________________________________________________________________ 

Home Hardware named one of Canada's best companies

ST. JACOBS, ON — Home Hardware Stores Limited has been selected as one of Canada's Best Managed Companies. The business awards program, sponsored by Deloitte, CIBC, National Post, and Queen's School of Business, recognizes excellence in Canadian-owned and managed companies.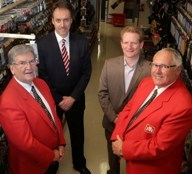 Shown (l-r): Paul Straus, Home Hardware CEO; Dino Medves, CIBC; John Hughes, Deloitte; and Terry Davis, COO of Home Hardware.
The application process required Home to illustrate its mission, beliefs, values, and vision with actual results and measures of success.

In a letter to staff, Home Hardware president and CEO Paul Straus said, "This accolade comes at the end of our five-year strategic plan, which carried us through one of the most unpredictable economic periods. This plan was a successful tool in allowing us to remain focused on our overall mission: helping Home dealers operate effective and efficient stores at a profitable level, allowing them to serve customers with competitive prices and superior service."
back to top

______________________________________________________________________ 

Canadian Tire and RONA results reflect sluggish recovery

TORONTO — RONA's results came out earlier this month on the same day as Canadian Tire's, and both companies, while showing gains, were indicative of the erratic year experienced by home improvement dealers everywhere. This is just one of the views expressed by Michael McLarney, editor of HARDLINES, during a recent interview on BNN Television. While the country had some pockets of solid growth, the industry overall grew by only 2.4%, according to the Hardlines Retail Report .

"The industry in general has not had a great year," said McLarney.

Nevertheless, both RONA and Canadian Tire did have increased sales in 2012. And even though Canadian Tire's earnings missed expectations, its Canadian Tire retail stores were up 0.8% year-over-year and same-store sales growth was positive at 0.3%. "It's in the same boat in many ways as RONA." The home improvement, the hardware side, is still a slow-growth business," he noted.

As Canadian retailers brace for the arrival this month of Target, Canadian Tire's advantage—and perhaps its challenge—is its unique product mix. In some ways, the fact that it is so varied in its hardlines assortments makes it less vulnerable than other, more traditional mass merchants, to the arrival of Target, McLarney said.

(Michael shares his views on RONA's latest results and new strategy on BNN Television. Click here to watch!)

back to top

______________________________________________________________________


Classified Ads

National Account Director- Oakville, ON

World Kitchen products have led the housewares industry for over 100 years. Our trusted portfolio of brands include CorningWare®, Pyrex®, CORELLE®, Snapware®, Revere®, EKCO®, Baker's Secret®, Magnalite®, Chicago Cutlery®, and OLFA®. Headquartered in the Greater Chicago area, the Company has established a footprint with approximately 3,000 employees worldwide.

Reports To: VP/GM OLFA Business Unit
Charged with managing a customer portfolio totaling $15M-$20M plus in annual sales revenue
Develops a coherent business plan rooted in profitability that drives baseline and new item placement
Works collaboratively cross-functionally to develop business process that support seamless execution against programs, while demonstrating an unwavering commitment to improving P&L metrics in the areas of COGS, trade deployment, sourcing, and freight/distribution outlays
Demonstrates strong horizontal and vertical penetration focused on providing superior service against customers, penetrating at all levels
Is the central figure in developing Customers capabilities in the areas of strategy development, distribution, merchandising, pricing, promotion, and replenishment
Effectively deploys trade resources, driving profitable market share by developing strong retail attainment programs, which reduce markdown and returns (backend inefficiencies)
Required Qualifications:
BA/BS required; MBA preferred
5-10 years of large account management skills
Strong financial acumen and P&L management competencies rooted in analytics
Particularly adept in negotiations, business planning, and trade management
Utilizes a combination of fact based and relationship selling in developing retail partnerships
Strong critical thinking skills that can develop creative solutions to business issues or
Track record in leading complex business and improving customer profitability
Adept in selling to consumption and providing accurate forecasts
Ability to determine market trends and apply those trends to update business plans to insure success
25%-50% travel requirement
To apply for this position go to www.worldkitchen.com and click on the Careers Tab
Only candidates of interest will be contacted
______________________________________________________________________

NATIONAL ACCOUNTS MANAGER, TORONTO , ONTARIO 
A leading North American building materials manufacturer located in the Greater Toronto Area is seeking a seasoned National Accounts Manager with national and regional account experience across Canada in the building materials/hardware industry.

The company requires a National Accounts Manager who will be the day-to-day sales contact with major national accounts, key contact with major regional accounts across Canada, and manage agency sales representatives. Reports directly to the Director of Sales & Marketing. Competitive salary + bonus, benefit package.
KEY COMPETENCIES
Excellent communication skills both written and verbal
Disciplined self-starter
Proven negotiation skills
Team player
Strategic thinker
Excellent analytical, forecasting abilities
Organizational and planning ability
KEY QUALIFICATIONS
Post-secondary business degree/diploma
7 - 10 years of national/regional account sales, supervisory experience in the building materials/hardware industry across Canada required
Proven track record with demonstrable accomplishments
Experience with multi-SKU product lines; program/assortment/plan-o-gram selling; in-store and trade show set-ups, tear downs
Bilingual (English/French) not required, but would be an asset.
Proficiency with Microsoft Office Applications including: Excel, Word, PowerPoint
Ability to travel regularly across Canada  
Please submit résumé via email to Black Eagle Executive Search
c/o Richard Simms at rsimms@blackeagle.ca
Only candidates of interest with be contacted
______________________________________________________________________
Resumés
Professional with over 25 years of experience in Sales, Marketing, Merchandising and Administration

view this

resumé

Marketing professional with over 10 years experience looking to secure a new full-time position.

view this

resumé

A Sales Professional with over twenty years of experience.view this

resumé

Experienced District Manager with a proven track record with several national chains. view this

resumé

A conscientious, highly motivated manager with a results-oriented track record in developing new business.

view this

resumé

An experienced merchandising executive possessing passion, vision, and a strategic approach to delivering bottom-line.

view this

resumé

Senior sales/marketing leader with experience in all classes of trade wishing new HARDLINES career. view this

resumé

Very Experienced Business Unit Manager, great passion for generating sales and building relastionships.view this

resumé

Worked through my career within the manfucaturer, wholesale and consumer goods industries. view this

resumé

Senior Sales Manager with vast experience in retail and wholesale sales growth in Canada. view this

resumé