March 8, 2010, Volume xvi, #10
"Competition brings out the best in products and the worst in people." —David Sarnoff (Russian-born American businessman,
president of RCA and founder of NBC Radio, 1891–1971)
Hardware Fair proves successful for Canucks abroad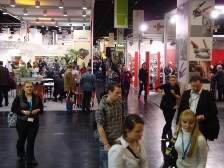 COLOGNE, Germany ― The International Hardware Fair, held here last week, drew healthy attendance from international delegates, which was good news for Canadian companies exhibiting. First-time exhibitors such as Dynamic Paint and Metaltech-Omega joined veterans including Vancouver Tool to present Canadian innovation and reliability.

Simon Medhurst of Burlington, Ont.-based Rapid Tool said the show was even better than the previous show held in 2008 (the Hardware Fair is a biennial event), and found the quality of leads to be better than he finds in some North American shows.

Richard Davidson, director of sales and marketing for Metaltech, Laval, Que., said his experience as a new exhibitor had been nothing but positive. "I find it good for us," he said. His goal was to line up five distributors in five countries; he expected to exceed that goal before the show had finished.

In addition, a number of Canadian buyers found value in the trip overseas. First-time visitor Bruce Webster, from Home Hardware Stores in St. Jacobs, Ont., found the show "overwhelming at first," but looked forward to spending day two looking more intently at specific suppliers' offerings. Along with fellow Home Hardware buyer David Martin, buyers from Canada also included Costco and Canadian Tire.
back to top

Hardware party cheers Team Canada's Olympic win
COLOGNE , Germany ― A focal point for Canadians and many Americans who came here for the International Hardware Fair was the annual Hardlines Canada Night Reception.

The party, considered one of the best in town during the show (as anyone who has been to our conference or networking events can attest to ―Editor), drew a packed house to a great little nightclub at the local train station beside the fair grounds.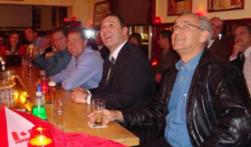 There, attendees, who included our friends from Koelnmesse (which hosts the International Hardware Fair), NRHA, the European DIY association EDRA, and buyers from Home Hardware and Lowe's Global Sourcing, had the benefit of a TV set up above the bar (thanks to our amazing organizer and publisher, Beverly Allen). Everyone watched, and cheered on to a nail-biting Canadian victory, the final hockey match of the Olympic Games.
back to top

Year-end results position RONA for next phase of strategic plan
BOUCHERVILLE , Que. ― RONA inc. posted consolidated sales of $1.14 billion in the fourth quarter of 2009, up 1.5% from 2008. This growth stems from a 0.7% increase in same-store sales, new-store openings and higher distribution sales. The fourth quarter also saw a return to increased profits for the giant home improvement retailer, with net earnings of $30.9 million, up $1.1 million from 2008.

The fourth quarter helped lift RONA's results for the year (by comparison, consolidated sales fell 4.4% and same-store sales were down 5.3% in the third quarter). As a result, consolidated sales for 2009 totalled $4.68 billion, a 4.4% decrease from the previous year. Same-store sales suffered a 4.8% decline. In addition, net earnings were off by $18.2 million or 11.6% to $138.3 million.

"This improvement in our performance reflects the beginnings of an economic recovery, plus the success of RONA's own efficiency improvement program and our many renovation stimulus initiatives," said RONA president and CEO Robert Dutton.

That program, called the New World program, is designed to help guide RONA through the post-recession recovery and initially involves two key components, customer experience and talent, and succession management. Two initiatives announced late in 2009, the launch of the STUDIO by RONA décor store concept and a succession planning program designed to attract next-generation entrepreneurs to become store owners, form the first pillars of the New World program.

The company's new succession-planning program "demonstrates our resolve to appeal to next-generation dealers and sustain RONA's role as the consolidator of the Canadian hardware and renovation industry," said Dutton.

RONA intends to capitalize on consumer demand for higher quality at reasonable price points with a revamped private-label strategy that includes several new controlled brands, including its new Haussman line of power tools. RONA's target for private -label penetration is 24% of sales by the end of 2011, up from the current 19%.
TSC announces sales increase, acquisition
LONDON , Ont. ― TSC Stores, the farm and hardware chain based here, announced year-end sales up 8%, with an improvement of 4% in same-store sales. The company has developed a number of initiatives over the past year, which contributed to this success, including a recent acquisition.

The company also reported higher profitability over 2008, though it did not disclose those numbers.

Now, TSC is looking to continue growing through a strategy that includes a realignment of most of its stores during the first quarter of 2010. That realignment is aimed at creating a stronger merchandising presence for core categories that support farm activities, such as fencing, animal care, pet and birding, and work apparel. It is also expanding its cross-marketing programs with the Ontario Federation of Agriculture (OFA).

Late in 2008, TSC launched a franchise program for independent dealers under the "TSC Villager" program, buying a former Country Depot store in Milton, Ont., as a lab for this program. But now that banner is being expanded with a new acquisition: TSC has purchased a Country Depot store in Kingston, Ont., from owner Bill Havekes and plans to convert it to a franchise operator within the next few months.

TSC's strategy also includes the creation of a wholesale partnership program with independent farm supply retailers.
back to top

A. Richard celebrates 120 years
MONTREAL — A. Richard is celebrating 120 years in business this year. The paint tool and surface prep tool company began as a tool company in 1885, when Alfred Richard and his brother, toolmakers from Massachusetts, came to Canada. They established their home, and the new business, in Saint-Denis-sur-Richelieu in 1890.

In 1942, the Gregoire and Panfili families bought the Richard Tool Company, continuing the tradition of family-owned enterprise. In 1997 the company was bought out by the third generation of the Panfili and Gregoire families. During those years, Richard was able to double its sales in six years.

At the end of 2003, seeking additional financing to continue growing the company, Francois Panfili sold Richard to the Hyde Group of companies, returning the know-how back to its roots. "It's one of the best things we've ever done," says Panfili, "because it's a great group."

Today, Richard manufactures more than 1,200 products and sells in 14 countries.
back to top

Classifieds


Sales Representative ( Eastern Ontario)
 
A building materials distributor has an immediate opening for an Outside Sales Representative for its Eastern Ontario territory. The successful incumbent will possess;
Proven successful sales call background in the building materials industry;
Consultative, front-line experience working with customers in a sales capacity.
Established communication and business relationship skills
A keen interest to analyze, develop and carry out sale's strategies so as to ensure sales growth for customers and suppliers.
The ability to work within a variety of disciplines and organizational functions, including call reporting, sales strategy execution, and identifying potential opportunities.

If interested please forward your resume to the attention of the Director Human Resources, 9251 Yonge Street, Suite 884, Richmond Hill, Ontario, L4C 9T3.
Hitachi Power Tools is seeking a Junior National Account Executive based in Mississauga.
The successful candidate will possess:
A minimum of 3 years experience in a territory sales role
Strong organizational skills with ability to plan and manage territory
Strong communication, presentation and business relationship building skills
A self-starter with ability to work both independently and as part of a team
Knowledge of trades (i.e. construction, electrical, woodworking) an asset
Please visit our website at www.hitachipowertools.ca/en/CompProfile/Careers for more details. If interested please forward your resume and cover letter to melissaf@hitachi-powertools.com
We thank all applicants, however only those selected for an interview will be contacted.

Hardware Buyer, Surrey, BC
IRLY Distributors
This position will be responsible for the procurement of hardware inventory and maintaining pricing, quality, lead times and shipment of all hardware products and related products. Interested applicants will have working knowledge and experience within the industry and have a strong business sense of future trends and opportunities.

If you are interested in joining our fast paced and growth oriented team, send your resume and cover letter, along with salary expectations to:  careers@irly.ca.  NO PHONE CALLS PLEASE.
Outside Sales Representative, Surrey, BC
IRLY Distributors
We are looking for an experienced Sales Representative to sell our hardware and building materials products and programs.  This position will be based in the Okanagan and will also service the east and west Kootenays.

Candidates must have previous "on the road" sales experience within the lumber, building materials and hardware industry.  Excellent customer service skills and an aptitude for building relationships is a must.

If you are interested in joining our fast paced and growth oriented team, send your resume and cover letter, along with salary expectations to:  careers@irly.ca.  NO PHONE CALLS PLEASE.

Looking for that perfect candidate?
Save time and money using online adveritsing
It's cheaper than print and you connect directly with qualified candidates.
Only $2.99 per word for 2 weeks.

Have your ad right here this time next week!

Click here or call 416-489-3396 to place a classified ad

Place a classified with Hardlines and we will give your new hire a complimentary subscription to the newsletter for a full year!
.
back to top

Resumés
Business Manager with U.S. & Canadian experience with retail & industrial customers seeks a new opportunity.

view this

resumé

An experienced merchandising executive possessing passion, vision, and a strategic approach to delivering bottom-line.

view this

resumé

Results oriented sales professional with a strong record of achievement in strategic and tactical roles. view this

resumé

Senior sales/marketing leader with experience in all classes of trade wishing new hardlines career. view this

resumé

Very Experienced Business Unit Manager, great passion for generating sales and building relastionships.view this

resumé

Worked through my career within the manfucaturer, wholesale and consumer goods industries. view this

resumé

Senior Sales Manager with vast experience in retail and wholesale sales growth in Canada. view this

resumé
Click here to post your resumé

Featured Product: Hardlines Retail Report
This important research is a marketer's best friend. 157 powerpoint slides and it's not available anywhere else.

How did Canada's top home improvement retailers weather the economic storm of 2009?
And more important, what's in store for 2010?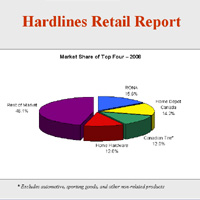 Find out in our latest "Retail Home Improvement Report": The Annual Report on Canada's Retail Hardware/Home Improvement Industry", 2009-2010 Edition. This in-depth Report is a comprehensive study of the growth and trends driving Canada's retail home improvement industry.
What you'll learn in the new Retail Report:
How independent dealers are regaining market share

Which single store format is on the rebound

How buying groups are changing their marketing strategies
Use Hardlines research to plan your growth in 2010.
Click here for more information or to purchase this product

back to top

Connect with us!