May 10, 2010, Volume xvi, #19
"The biggest enterprise, and the only one we
should take seriously, is to live happily."
—Voltaire (French writer and philosopher of the Enlightenment, 1694-1778)
Hardware Show attracts international visitors, including Canadians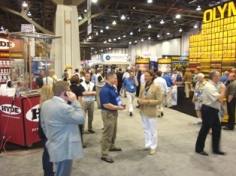 LAS VEGAS — The 65th annual National Hardware Show featured a marked increase in pre-registered visitors from abroad, with attendance by overseas guests now comprising 22% of the 20,000 pre-registered attendees, double the rate of years past.

And Canadian support for the show appears to have only increased this year. Canuck vendors were exhibiting, buyers were walking the aisles and agents, reps and entrepreneurs were on the hunt for new products and new opportunities.

Even American exhibitors noted on several occasions the number of Canadians they encountered during the show. The focal point for Canadians was the Canadian Hardware and Housewares Manufacturers' annual Maple Leaf Night, held at the Mirage Hotel. Buyers from most of the of the majors were on hand, including Canadian Tire, Home Hardware, TIM-BR MARTS Ltd., Home Depot Canada, TSC Stores, Peavey, Loblaw, TruServ Canada, Coop fédérée and FCL. RONA sent buyers, including Vice-President of Merchandising Luc Nantel, as well, after a two-year absence from Las Vegas.

Attendance at the show appears to be on the rebound, following the recession-mired event of 2009, when attendance was almost half of years past. In fact, by the last day of the show, Reed Exhibitions, the owners of the show, expected a 20% increase in attendance.
(For a Hardlines TV tour of the National Hardware Show, click here)
back to top

TIM-BR MART reprises Junior Hockey sponsorship
CALGARY — TIM-BR MART will once again support the International Ice Hockey Federation as a major event sponsor of 2011 IIHF World Junior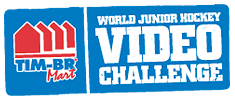 Championship. The national LBM buying group will offer its World Junior Video Challenge again this year as a way for Canadian minor league hockey teams to win a chance at being rink-side during the games, being held December 2010, in Buffalo, NY.

An eligible team can video their team spirit, then upload it to TIM-BR MART's own designated site, timbrtube.ca . Canadians will then be able to vote for their favourite video. The team with the winning entry — along with their parents or guardians and coaches — will receive round-trip transportation, accommodations, meals and tickets to World Juniors games.

As a major sponsor of the World Juniors, TIM-BR MART will receive high exposure throughout the 31-game tournament, including rink boards, HSBC Arena power ribbon and the official Buffalo tournament website.

"Last year the response from Canadians was fantastic, especially since it was our first time running a contest of this scope and format," said Steve Stremecki, VP, Retail Services, of the Video Challenge, which also leverages Facebook and Twitter. "We believe we're going to see the same calibre of enthusiasm from entrants as well as from TIM-BR MART dealers who support the contest at their local stores across the country."

(Click here for more info on the 2011 IIHF World Junior Championship.)
back to top

Tailgate Party puts American-style stamp on NHS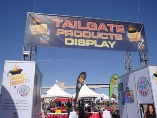 LAS VEGAS — There were several big events at the latest National Hardware Show, including the "Tailgate Display and Party", which was held outside the front doors of the show. It featured refreshments and live entertainment.

New this year, the tailgate area featured about 40 companies, reflecting the growth of this uniquely American category in the home enhancement channel. The tailgate area featured a range of products, from barbecues and accessories and auto maintenance such as Loctite, to promotional items including Fabrique Innovations, which has the NCAA and NFL license for the Snuggie blanket.
back to top

Canadian Tire expects to reach optimum store count
TORONTO — Canadian Tire Corp. has unveiled a strategy to generate growth over the next three to five years that will focus on its core retail business and increase efficiencies in its operation. In the retail division, growth will not come so much from new stores, but from its existing stores. The focus will be on Canadian Tire's "Smart" store concept, and to a lesser degree, its "Small" store format. The target is 3%-5% top line growth per year.

The company says it will not need to expand its store network significantly to drive growth. Instead, it will look to maximize productivity of the existing retail footprint. Existing stores are being converted to the Smart store program as the primary focus for concept renewal, a process that Canadian Tire says is helping generate increased traffic and basket sizes.

Another concept that is part of Canadian Tire's expansion plans is its Small Market store, which includes a Canadian Tire gas bar and Mark's wherever possible.

The cornerstone of Canadian Tire's core business is automotive. The company recently integrated its automotive retail, petroleum, PartSource and roadside assistance assets under a new President of Canadian Tire Automotive to focus its resources and capture a larger share of this growing market. Canadian Tire hopes to grow its overall automotive business at 4-6% per year over the next five years.
(For a Hardlines TV tour of a Canadian Tire "Small" Store, click here)
back to top

RONA's new ads reinforce sustainable product choices
BOUCHERVILLE, Que. — RONA inc. launched the second phase of its "Doing it right" advertising campaign last week. The new messages take the approach of acknowledging consumers who choose to undertake repairs and renovations that use eco-responsible products.

"The spots highlight RONA's commitment to meeting customers' expectations and helping them successfully get their projects off the ground in a personalized yet professional way," says Pierre L'Heureux, Vice-President of Marketing, Image and Sponsorships at RONA. He gives credit to Canadian consumers who are making shopping decisions based on sustainability when renovating, decorating and improving their homes. "We know that our customers share our respect for the environment and our determination to do things right by making the right choices."

The new campaign adds to RONA's nationwide "Doing it right" campaign launched in spring 2009, using the theme, "Here's to smart choices and a job well done."

(To see RONA's new ads, click here)
back to top

Classifieds


Sales Representatives

Fast paced and growth oriented company serving the hardware & building supply industry seeking experienced Sales Representatives for BC & QC. Please fax your resumé to 905-326-5451 ref#225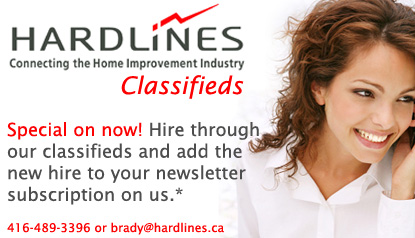 *Your company must have a current subscription
Click here or call 416-489-3396 to place a classified ad

Resumés
A goal oriented sales director that has superior management skills, customer oriented, with in depth knowledge of the industry and the ability to achieve results.

view this

resumé

National Field Sales Manager with twelve plus years in power tools and hardware sales/merchandising.

view this

resumé

Business Manager with U.S. & Canadian experience with retail & industrial customers seeks a new opportunity.

view this

resumé

An experienced merchandising executive possessing passion, vision, and a strategic approach to delivering bottom-line.

view this

resumé

Results oriented sales professional with a strong record of achievement in strategic and tactical roles. view this

resumé

Senior sales/marketing leader with experience in all classes of trade wishing new hardlines career. view this

resumé

Very Experienced Business Unit Manager, great passion for generating sales and building relastionships.view this

resumé

Worked through my career within the manfucaturer, wholesale and consumer goods industries. view this

resumé

Senior Sales Manager with vast experience in retail and wholesale sales growth in Canada. view this

resumé
Click here to post your resumé

Connect with us!