May 14, 2012, Volume xviii, #20
"There is a crack, a crack in everything; That's how the light gets in."
― Leonard Cohen (Canadian poet and singer,
from the song, "Anthem," 1934- )
______________________________________________________________________


______________________________________________________________________
Slow January impacts RONA's first-quarter same-store sales
 BOUCHERVILLE, QC — RONA's sales were up in the first quarter, reflecting the unseasonably warm weather during the winter. Consolidated sales (sales through the warehouse, plus sales from corporate stores, not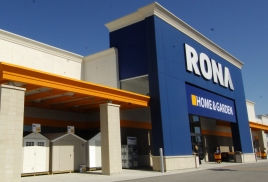 including sales from its affiliate dealers) were up 1.8%, thanks to higher distribution sales, the impact of new store openings in 2011, and expansion of RONA's commercial division.

Same-store sales for the company were down 0.8%, due entirely to slow sales in January. However, February and March picked up, resulting in a healthy 4.2% increase in 1Q same-store sales for building materials dealers, while the company's proximity stores were up 2.2%.

Those proximity stores are what RONA is betting the farm on. According to its latest report, these mid-sized home centres have again outperformed all of RONA's other stores in recent quarters.

The company's strategic plan, called "New Realities, New Solutions", is expected to have a positive impact on sales and operating efficiency, including pumping an estimated $40 million contribution to EBITDA in coming quarters.
back to top



______________________________________________________________________
Same-store sales up for Canadian Tire in first quarter
TORONTO — Canadian Tire Corp. reported healthy first-quarter results, with consolidated profits up 21.5% to $71.0 million compared with the same period in 2011. That growth was due to the acquisition of FGL Sports (Forzani Group), which was acquired in August 2011, and to strong growth in Financial Services.

Consolidated revenue was up 23.4% to $2.4 billion, again thanks to the inclusion of FGL Sports. However, the company says it enjoyed solid growth across all major categories on the retail side of its business.

For Canadian Tire Retail, consolidated retail sales rose 22.7% to $2.4 billion. Retail sales at CTR increased 3.8% and same-store sales were up 3.3% over the same period last year. The company credited good weather in March for strong sales in backyard living, cycling, and gardening. Promotional activity throughout the quarter supported growth in kitchen and household cleaning. Overall revenue for CTR reached $1.185 billion, up 7.3% from $1.104 billion a year earlier.

At the end of 2011, there were 488 CTR stores across the country, one more than at the end of 2010.
______________________________________________________________________
Marketing department drives Home's brand strategy

ST. JACOBS, ON ― While the buzz at the recent Home Hardware spring market pervaded the entire show floor, a definite hub of activity was the company's marketing department. There, the marketing teams provided Home dealers with the latest information on everything from the latest advertising and flyer programs to custom home building and installed sales.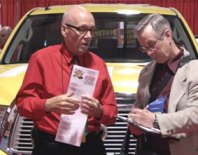 Heading up the department is Jack Baillie, director of marketing for Home Hardware Stores Ltd. He points to the company's slogan, "Home owners helping homeowners," as the starting point for a recurring promotion at the market that featured a new wrinkle this year. Dealers at the show were eligible to win a Toyota Tundra truck. But the prize this time included a compact Toyota Scion IQ, which the winning dealer can then use to donate to a local cause in their own town.

"Home dealers don't blow their own horns very much," says Baillie. "So we give them something they can do to raise their profiles locally." The theme of the promotion is "Home owners helping home towns."

Television has played an increasingly major role in Home's promotional efforts in recent years, as well. And it's being tied in more closely than ever the company's other marketing efforts. "Television now, more and more, supports our flyer," says Baillie, "so we're trying to make sure we have ads that coincide with those flyers." A promotion running until May 26 features a mail-in offer of a $100 gift card when a customer spends at least $1,000 on a backyard project.

TV commercials are planned for every week of the year. One of them, an ad specifically for the Maritime market, was developed and paid for by the dealers in that market and focuses on Home Installs, the retailers' home installations services.

Baillie also pointed out that the company has raised more than $1 million over the years for the Sick Kids Foundation, a national foundation for the prevention and cure of childhood diseases.
back to top



______________________________________________________________________
RONA restructures commercial teams
TORONTO ― A recent series of 16 contractor appreciation events, hosted by RONA inc., was part of a larger initiative that reflects a restructuring of the company's entire commercial division.

Part of that restructuring involved increasing the division's sales team from 14 last year to 28 regional reps today. That realignment gives them more of a regional mandate to drive sales to all RONA stores, whether corporate or affiliates. Mike Argue, national sales director – sales and development for RONA, is confident that the new formula will help the company grow its commercial sale. "The recipe is going to work," he says confidently.

The other groups can't figure this out, he continues. "We have no problem sending business into our independents' stores. On the contrary, our teams have a mandate to do this."

Argue's team has benefited from the addition of Martin Lavoie, who spent 10 years at the giant contractor-oriented dealer in the Montreal area, Matériaux Coupal Inc., of which RONA bought 51% interest in 2006. Today, Lavoie is national director of contractor services.
______________________________________________________________________
Dealer carves niche with ladies' only night
ORILLIA, ON — The Home Hardware Building Centre dealer here held a "ladies' night" last week. "You have to work for your sales today," says co-owner John Locke. "You just used to have to open the doors, but now consumers have so many options."


With that in mind, he's consistently taken steps to make his store an option that is top of mind for the women customers in this community, about two  hours north of Toronto. The ladies' night attracted more than 300 attendees – who lined up across the parking lot for the doors to open on an evening of barbecue cooking, health and beauty demos, and giveaways. And, of course, there were specials on products throughout the store, on everything from lawn and garden products to window fashions and organic cleaning products.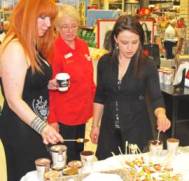 "When we took over the store [in 2008], it was 80% contractor business," Locke explains. Today, half the sales are to retail customers, drawn to the expanded departments of soft DIY. The store has just added a bedding department, ladies' travel bags, and a whole line of scarves. "And I just took on a whole line of clothing for infants and children," Locke adds.
Photos: M. Smith Photography
_____________________________________________________________________
Classifieds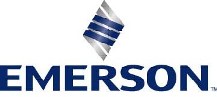 Retail Account Manager
Emerson Tool Company a business unit of Emerson Electric Co. is a world class, manufacturer of wet/dry vacs for premier brands (RIDGID, Craftsman).

We currently have an immediate opening for a Retail Account Manager – Toronto based
RESPONSIBILITIES:
Manage existing account operations including: pricing, programs, promotions, and inventory management. Identify and capitalize on new business opportunities. Build strong and lasting relationships with each key account.
QUALIFICATIONS:
College or University
3-5 years of experience in positions of progressive responsibility in sales account management
Experience within the retail Hardware industry is a strong asset
Bilingual in English / French would be an asset
Submit Cover Letter, Resume and Salary Expectations to:
HR@emersonelectric.ca

______________________________________________________________________

TERRITORY MANAGER POSITIONS AVAILABLE
We are a leading, privately-owned Canadian hardware distribution company that provides a high level of service and quality products to retail lumberyards and building supply centres.

We are currently seeking candidates to fill 2 positions: Territory Manager for the GTA and surrounding area, and Territory Manager for Northern Ontario. Candidates must be self-motivated, possess a positive attitude and exhibit above average communication and organizational skills.

Previous sales experience within the building supply industry is an asset and a reliable vehicle is necessary. Travel within the territory will include overnight stays.

Excellent compensation is offered and travel expenses are covered.

Please send a resume along with a cover letter detailing why you are the right candidate to sqdealhelp@gmail.com.
______________________________________________________________________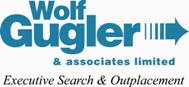 General Manager, Consumer DIY Products
A brand champion selling to home improvement retailers and mass merchants, this Canadian subsidiary is pursuing additional business and would be the perfect home for a sales driven, customer-intimate leader who wants responsibility for driving sales through innovative marketing and motivating his/her staff. Lead and guide sales/marketing strategies and tactics through team leadership and executive level selling and relationship development. Help the team achieve with the aid of your U.S. parent, but it's your business to plan, run and be accountable for re: sales and operating income…but you'll have the resources and support of a multi-division FORTUNE-listed corporation that's in GROWTH mode. This market leader seeks a Toronto=based general manager that is passionate and can quarterback Sales, Marketing, Finance and Operations and facilitate a cohesive team in a very competitive market.
You may be in a similar role or possibly the senior sales/marketing leader ready to add operations and warehousing to your responsibilities. Delivering consistent profits through continuous sales growth is demonstrated in your record of achievements. Bachelor's level education complements your business expertise. Account familiarity is essential.
If teamwork and a burning desire to win are missing in your role and you are qualified with matching skill sets listed please contact Wolf Gugler in complete confidence via email or phone, quoting GM-Canada. You may also apply directly on our web site.
Wolf Gugler & Associates Limited, Executive Search & Recruitment. Phone; (888)848-3006. resumes@wolfgugler.com, Web site; www.wolfgugler.com.

______________________________________________________________________

Territory Sales Representative
Our client is a leader in supplying power tool accessories to retail lumber, home center, hardware and industrial accounts. To support their continued growth, the company is adding territory sales resources, in South-Western Ontario.

If you are a high-energy sales achiever, people oriented with exceptional communication skills and ready for the challenge of growing your own territory, please reply, promptly.

Ideal candidates will have a minimum of three years sales experience within the hardware industry, a sound track record of growing a territory and be comfortable with some overnight travel.

A comprehensive package including, salary, incentives, benefits and a company vehicle will be offered to the right individual.

Interested candidates should forward their resume to: margaret@hardlines.ca citing project # 4-25-2012.

______________________________________________________________________
Resumés
Fluently bilingual, highly motivated Business Development Professional with excellent strategic and operational capabilities.

view this

resumé

A Sales Professional with over twenty years of experience.view this

resumé

Experienced District Manager with a proven track record with several national chains. view this

resumé

A conscientious, highly motivated manager with a results-oriented track record in developing new business.

view this

resumé

An experienced merchandising executive possessing passion, vision, and a strategic approach to delivering bottom-line.

view this

resumé

Senior sales/marketing leader with experience in all classes of trade wishing new HARDLINES career. view this

resumé

Very Experienced Business Unit Manager, great passion for generating sales and building relastionships.view this

resumé

Worked through my career within the manfucaturer, wholesale and consumer goods industries. view this

resumé

Senior Sales Manager with vast experience in retail and wholesale sales growth in Canada. view this

resumé