May 24, 2010, Volume xvi, #21
"The secret of happiness is not in doing what one likes, but in liking what one has to do." —J.M. Barrie (Scottish author, best known for creating Peter Pan, 1860-1937)
Home Depot's results are "better than planned"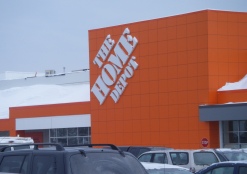 ATLANTA — The Home Depot's sales growth in the first quarter of fiscal 2010 "was better than we planned," said Frank Blake, the retailer's CEO. Following a year during which the Atlanta-based company's revenue had fallen by 7.2% to $66.2 billion, Home Depot reported that sales for the three months ended May 2 rose by 4.3% to $16.9 billion. Its net income for the quarter popped by 41.1% to $725 million, which included $73 million related to the company's closing of its Expo Design Center business unit.

Home Depot opened one store and closed one during the quarter, so virtually all of its sales growth came from stores opened more than a year. Same-store sales increased by 4.8%, marking the company's first comp gain since the fourth quarter of 2005.

The retailer reported positive comps in all but three of its top 40 U.S. markets, and in all regions except the Gulf Coast of the United States. Its stores in Canada grew positively, too, although Depot's international stores (which include its operations in Mexico and China) increased their business at a slower rate than its U.S. stores.
back to top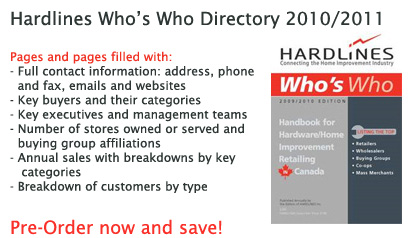 Click here or call 416-489-3396 to pre-order

Verschuren no longer running Home Depot Asia
SPECIAL REPORT — Annette Verschuren, the dynamic leader of Home Depot's operations in Canada, has seen her role in the company changed with her exit from additional duties as president of Home Depot Asia.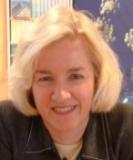 Verschuren was put in charge of the retailer's then-new Asian division in September 2006. Two months later, the company acquired a Chinese home improvement chain, The Home Way, and currently has 12 stores in that market. Her new duties found Verschuren dividing her time between Canada and China, and she would spend as much as eight days a month overseas.

According to Tiziana Baccega, Manager, Public Relations and External Affairs for Home Depot Canada, "Annette's involvement with The Home Depot China began in 2007, with the mandate to get the company's Chinese business up-and-running.

"With that goal accomplished, the next step in the evolution of the Chinese business involves transferring day-to-day responsibilities to Bill Lennie, The Home Depot's Senior Vice-President, International Merchandising." As head of the company's international sourcing operation, Lennie visits China regularly, making him a natural fit to play a more involved role, she adds.

Speaking to analysts during the company's latest quarterly earnings conference, Home Depot President and CEO Frank Blake conceded that the company's effort to make its stores in China more productive "is certainly [taking] longer than I expected." He called it "a work in progress. We think it is an important opportunity, and so worth the time, but it is very distinctly different."
back to top

Canadian stores contribute to Lowe's 1Q improvement
MOORESVILLE, N.C. — Lowe's Canada, where the retail home improvement giant operates 16 stores and counting, was among the regions that contributed to Lowe's 2.4% increase in same-store sales for the three months ended April 30, its first positive comps in 15 quarters.

In 2009, sales fell by 8.1% and net income dropped by 18.8%, so Lowe's officials breathed a sigh of relief that business conditions in North America are finally improving. In the first quarter of 2010, its revenue rose by 4.7% to $12.4 billion. Its earnings inched up 2.7% to $489 million.

CEO Robert Niblock singled out Canada as a "solid performer" in the quarter, where stores contributed 20 basis points, or 0.2 percentage points, in positive comps.
back to top

Home opens first Furniture store in Toronto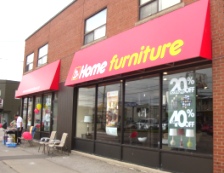 TORONTO — Last week, Imperial Home Furniture hosted a grand opening celebration for its new store located in the city's west end. It's also the first Home Furniture in Toronto. Dealer-Owner Joe Cimicata has worked for Home Hardware for more than 40 years, has been a Home Hardware dealer for 36 years, and has owned Imperial Home Hardware down the road at 2775 Dufferin St. for more than 30 years.

Located in the heart of Toronto's décor fashion district, the new Furniture store features furniture, appliances and décor accessories. At 3,600 square feet, it's barely half the size of regular furniture store and the first in a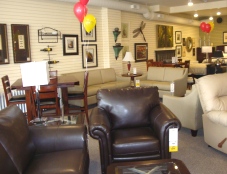 major urban space.

It is run full-time by Cimicata's daughter, Amanda and part-time by his second daughter, Aimee. They lead a team, some of whom have been with Cimicata for decades, that focuses on customer service.

Home now has more than 70 Home Furniture locations across Canada.
back to top

Independents rank high in customer satisfaction
WESTLAKE VILLAGE , Calif. — Home improvement retailers that are customer-focused are better able to attract and retain loyal customers who might have otherwise shopped at a more conveniently located retailer, according to the J.D. Power and Associates 2010 U.S. Home Improvement Retailer Satisfaction Study. The study measures customer satisfaction with home improvement retail stores, based on performance in five factors: merchandise, price, sales and promotions, staff and service, and store facility.

For the fourth consecutive year, Ace Hardware ranks highest in satisfying home improvement retail store customers.  With a score of 791 on a 1,000-point scale, and it performs particularly well in two factors: staff and service and store facility. True Value (779) and Menards (761) follow Ace Hardware in the rankings.

While the convenience of the store location is often the main reason for shopping at a specific home improvement retailer, Ace Hardware and True Value have been able to differentiate themselves and draw larger proportions of customers due to perceptions of good customer service, compared with other major home improvement retailers.
| | | |
| --- | --- | --- |
| Retailer | Customer Satisfaction Index Ranking * | Ratings for Consumers ** |
| Ace Hardware | 791 | 5 |
| True Value | 779 | 4 |
| Menards | 761 | 4 |
| Lowe's | 759 | 3 |
| Industry Average | 753 | 3 |
| Sears | 750 | 3 |
| The Home Depot | 725 | 2 |
* Based on a 1,000-point scale
** 5 – among the best, 4 – better than most, 3 – about average, 2 – the rest
back to top

Classifieds

Administrative Sales Support
Prime Source Building Products, Inc., one of the North American's largest wholesale distributors of building supply products, is seeking administration sales support for their Canadian expansion

Responsibilities would include amongst others sales support, credit and inventory control

If you are an individual who welcomes the opportunity to work in a challenging and financially rewarding environment, we want to meet you. PrimeSource offers attractive salaries, and competitive benefits package.

Please send Resumes to Phil Brown General Manager PrimeSource Canada At brownp@primesourcebp.com

NATIONAL ACCOUNTS MANAGER, TORONTO, ONTARIO
A leading North American hardware and building materials manufacturer is seeking a Toronto-based National Accounts Manager responsible for managing several Canadian national retail accounts of the company as well as developing business with potential new national accounts.
MAJOR RESPONSIBILITIES:
Sales to existing National Retail Accounts:

Continually build strong business relationships
Provide product training as required
Identify customer needs and provide solutions

Development of New Accounts and Opportunities:

Identify opportunities for new National Retail Account business
Identify new applications and markets for existing and new products
KEY COMPETENCIES:
Negotiating ability and proven ability to acquire new accounts
Strong communication, presentation, and business relationship skills
Good analytical skills, e.g., budgeting, sales forecasting, etc.
Very detail oriented, organized and disciplined, attention to accuracy
Self-motivated and ability to work independently as well as in a team environment
Ability to multi-task in a fast paced environment
Regular travel to current and potential customers
KEY QUALIFICATIONS:
7-10 years sales experience in the Canadian hardware, building materials, paint sundries markets calling on National Retailers
Post secondary diploma or equivalent ideally in business or related field
Bilingual (English/French) preferred but not required
Proficient in key Microsoft platforms including Excel, Word, PowerPoint, Outlook
Please submit résumé via email to:
Black Eagle Executive Search
c/o Richard Simms at rsimms@blackeagle.ca
Leading Canadian manufacturer of building products has the following National - Regional account development and field sales based career opportunity:
Regional Sales Manager – Ontario
We are looking for a college/university educated sales star who is a passionate, energetic, self starter with a minimum of 3 yrs sales management experience and 3-5 yrs of territory sales in building materials who will aggressively grow our market share within Ontario. The successful candidate will:
Drive National / Regional account development
Direct small Ontario sales force
Build upon and foster relationships with existing and new customer partners
Prioritize sales opportunities, develop recommendations and execute sales plans
Take initiative to prospect new accounts and generate new business
Provide regular communication with emphasis on customer calls including action & follow up plans and competitive activities.
Deliver effective product knowledge training
Work independently without supervision
In addition to National - Regional account responsibilities this position requires multiple sales calls on a daily basis throughout Southern Ontario. We offer a competitive compensation package which includes a salary, commissions, car allowance, and benefits.

Please forward resume to brady@hardlines.ca with "PO # 7" in the subject line.

Regional Sales Manager

TASK DESCRIPTION
Position: Regional Sales Manager (Central – west)

Supervisor: National Director of Sales – CAN.

Responsibilities:

Managing sales in a territory with existing accounts and sales agencies. Developping new sales and new accounts.
Identify opportunities and develop a plan of action for growth with the home centres and small chains in the territory.
Manage the existing accounts and unveil new opportunities in other product categories to grow sales.
Manage and work with Sales agents to reach sales objectives.
Understand our competition in each specific market. Perform price shop analysis and indentify the actions required to maintain our competitiveness.
Coordination of sales projects with merchandising and marketing dept.
Lead sales meeting with major customers.
Generate regular calls and follow-up to major accounts merchant.
Perform product knowledge to our sales force and/or customers.
3 to 5 years experience
Knowledge of the renovation centre market
Salary: according to experience
Mobility required
Please fax your resume at 514-640-4307 or via e-mail at : aleaunier@colonialelegance.com
Sales Representatives

Fast paced and growth oriented company serving the hardware & building supply industry seeking experienced Sales Representatives for BC & QC. Please fax your resumé to 905-326-5451 ref#225
Resumés
A goal oriented sales director that has superior management skills, customer oriented, with in depth knowledge of the industry and the ability to achieve results.

view this

resumé

National Field Sales Manager with twelve plus years in power tools and hardware sales/merchandising.

view this

resumé

Business Manager with U.S. & Canadian experience with retail & industrial customers seeks a new opportunity.

view this

resumé

An experienced merchandising executive possessing passion, vision, and a strategic approach to delivering bottom-line.

view this

resumé

Results oriented sales professional with a strong record of achievement in strategic and tactical roles. view this

resumé

Senior sales/marketing leader with experience in all classes of trade wishing new hardlines career. view this

resumé

Very Experienced Business Unit Manager, great passion for generating sales and building relastionships.view this

resumé

Worked through my career within the manfucaturer, wholesale and consumer goods industries. view this

resumé

Senior Sales Manager with vast experience in retail and wholesale sales growth in Canada. view this

resumé
Click here to post your resumé

Connect with us!