May 31 , 2010, Volume xvi, #22
"Facts do not cease to exist because they are ignored." —Aldous Huxley (British author, 1894-1963)
Home Hardware dealer wins NRHA's Young Retailer of the Year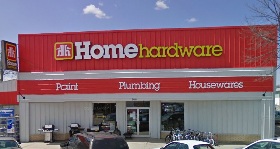 INDIANAPOLIS & TORONTO — The North American Retail Hardware Association has announced its 2010 Young Retailers of the Year – including Canadian NRHA member Patrick Guilbert of Neepawa Home Hardware in Neepawa, Man.

For the past 14 years, NRHA has hosted the Young Retailer of the Year Program in conjunction with the NRHA Annual Convention. The program highlights young hardware retailers and honours them for outstanding achievement as owners and managers of independently owned hardware and building supply stores in both the United States and Canada.

Guilbert and his fellow award winners will receive their award at the upcoming NRHA Annual Convention, July 19-21, in Savannah, Ga. To date, the program, sponsored by 3M, the American Hardware Manufacturers Association, Cooper Tools, Scotts and Fluidmaster, has honored 100 young retailers.

(For more information about the NRHA Annual Convention, click here.)
back to top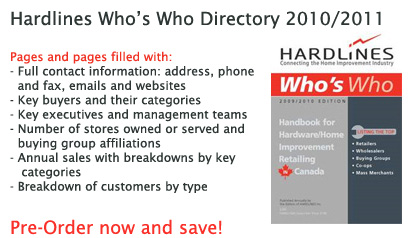 Click here or call 416-489-3396 to pre-order

First-quarter successes poise RONA for renewed growth
BOUCHERVILLE , Que. — Home improvement retailer and wholesaler RONA inc. continues to seek growth through acquisition and dealer recruitment, especially in Ontario, over the coming year. The company seeks to build on the achievements of the first quarter of 2010, which include the positive aftermath of its "Made in Canada" advertising campaign for the Vancouver 2010 Olympic Winter Games. RONA has enjoyed a rise in consumer awareness from coast to coast thanks to its leading sponsorship role in the Olympics.



In addition, it has managed to grow the penetration of its private-brand and controlled-label products to almost 20% of its sales. Over the coming year, that rate is expected to grow to 24%.

Growth of its store network included two new 52,000-square-foot RONA proximity stores, one in Sherwood Park, Alta., and the other in Welland, Ont., and a full-sized big-box store in Aurora, Ont. Dealer recruitment continues, as well, with two new independent dealers representing more than $5 million in annual retail sales signed in the first quarter. (See "News in Brief" for the latest expansion of RONA's affiliate network.)

In February, the company launched a nationwide campaign targeting dealers with a view to acquiring their businesses or helping them develop their own succession plans based on RONA's own succession program.

On the acquisition front, RONA bought the Quebec plumbing wholesaler Plomberie Payette & Perreault, a big step toward establishing a national platform in the commercial and professional market and the first step in the company's development plan for this market in Quebec. More strategic acquisitions are planned before year's end.

"First-quarter developments have reaffirmed our view that an economic recovery is underway and it is time for a renewed focus on growth," said Robert Dutton, President and CEO of RONA.
back to top

Canadian Tire strengthens automotive strategy
TORONTO — While Canadian Tire Retail is on track to open approximately 60 Smart store retrofits, three new Smart stores, five replaced or expanded stores and three new Small Market stores this year, the company's Automotive Initiative remains a strategic priority.

With about 25% of the division's sales being generated by automotive, Mike Medline was put in charge of the entire company's automotive initiatives as president of automotive and dealer relations. He's been charged with everything from keeping tires in stock to improving technology and supply chain capability.

For example, customers can now look up information about tires online and find out whether the ones they're looking for are available at their local store.
back to top

KitchenAid partners with celebrity chefs
TORONTO — KitchenAid, the small kitchen appliance maker, has assumed sponsorship of Food Network.ca's first online cooking show "Cooking Moments", giving viewers access to some of Canada's well-known celebrity chefs.


KitchenAid celebrity chef Rob Rainford shares the kitchen with special guests – and fellow KitchenAid celebrity chefs – the husband-and-wife duo Anna and Michael Olson, along with nutritional expert and restaurant consultant Rose Reisman. The first two "Cooking Moments" episodes launched mid-May and will run on www.Foodnetwork.ca until the end of 2010.

This KitchenAid partnership reflects parent company Whirlpool's efforts to foster loyalty for each of its brands, which also include Whirlpool, Maytag, Jenn-Air and Inglis. In the case of KitchenAid, "We were looking to broaden beyond the traditional TV media buy into the evolving digital space in an effort to break through the clutter," says Kim Astley, brand manager, KitchenAid Canada.

For several years, Chefs Michael and Anna Olson have been ambassadors for the KitchenAid brand, and Anna Olson is also the celebrity spokesperson for Home Hardware and that co-op retailer's kitchenwares lines.

(Click here to watch KitchenAid "Cooking Moments")
back to top

Classifieds
CHANNEL MANAGER / MASS MERCHANTS
Based in Oakville, your initial role will be to help increase sales and profitability working with the DIY Retail Channel. Your career to date has had you involved with Home Depot, Canadian Tire, Lowes and Rona. You may have been exposed to these companies through marketing, sales or perhaps merchandising.

You have just started to be recognized for your skills as a sales/marketer but have not found the right culture in which to succeed. You take great pride in your ability to be thorough, equipping yourself with competitive analysis, market trends, and new product initiatives. You have a creative analytical mind, an ability to infiltrate new opportunities and are looking for progressive environment where you can realize your goals.

The successful candidate will be a College or University graduate. It is assumed you possess all the attributes of a professional business person that would include a buttoned down image, great attitude, time management skills, thoughtful articulate communicator, quick study, ability to multi-task and a keen desire to succeed.

This is an outstanding organization where careers are built. If interested please forward resume in strict confidence to bill@farleylaw.net
.
Key Accounts Manager—Are you a Top Gun?
Are you already an experienced key accounts manager looking for a new challenge? If so, this premiere opportunity will excite you. Our Client is expanding and as such requires a Toronto-based account manager. They're in need of a high performer to take full advantage of Canadian market opportunities with customers such as Home Depot, Lowe's, Rona, Canadian Tire and Home Hardware. There may in fact be two opportunities available.

Manage and direct the sales process for these customers, working in conjunction with the Marketing team. The team is lean, so you're used to and prefer being involved in all aspects on the Retailer's behalf including taking the lead on category management issues including competitive positioning, sales data and forecasting, and cross-selling opportunities. You'll work with a cohesive, dynamic retail products team on merchandising, customer product knowledge/education, and achieving growth through organic and new revenue streams.

Looking for an employer who continually demonstrates a commitment to improving Customer satisfaction and their competitive positon? Contact Wolf Gugler in complete confidence demonstrating your key account Retail expertise and business development. Toronto—based. Apply by clicking this link: http://www.maxhire.net/cp/?E55F6F361D43717B76561A653951526E04
Wolf Gugler & Associates Limited. Telephone: 888-848-3006.
Email: wolf@wolfgugler.com Web site: www.wolfgugler.com

Administrative Sales Support
Prime Source Building Products, Inc., one of the North American's largest wholesale distributors of building supply products, is seeking administration sales support for their Canadian expansion

Responsibilities would include amongst others sales support, credit and inventory control

If you are an individual who welcomes the opportunity to work in a challenging and financially rewarding environment, we want to meet you. PrimeSource offers attractive salaries, and competitive benefits package.

Please send Resumes to Phil Brown General Manager PrimeSource Canada At brownp@primesourcebp.com

NATIONAL ACCOUNTS MANAGER, TORONTO, ONTARIO
A leading North American hardware and building materials manufacturer is seeking a Toronto-based National Accounts Manager responsible for managing several Canadian national retail accounts of the company as well as developing business with potential new national accounts.
MAJOR RESPONSIBILITIES:
Sales to existing National Retail Accounts:

Continually build strong business relationships
Provide product training as required
Identify customer needs and provide solutions

Development of New Accounts and Opportunities:

Identify opportunities for new National Retail Account business
Identify new applications and markets for existing and new products
KEY COMPETENCIES:
Negotiating ability and proven ability to acquire new accounts
Strong communication, presentation, and business relationship skills
Good analytical skills, e.g., budgeting, sales forecasting, etc.
Very detail oriented, organized and disciplined, attention to accuracy
Self-motivated and ability to work independently as well as in a team environment
Ability to multi-task in a fast paced environment
Regular travel to current and potential customers
KEY QUALIFICATIONS:
7-10 years sales experience in the Canadian hardware, building materials, paint sundries markets calling on National Retailers
Post secondary diploma or equivalent ideally in business or related field
Bilingual (English/French) preferred but not required
Proficient in key Microsoft platforms including Excel, Word, PowerPoint, Outlook
Please submit résumé via email to:
Black Eagle Executive Search
c/o Richard Simms at rsimms@blackeagle.ca
Leading Canadian manufacturer of building products has the following National - Regional account development and field sales based career opportunity:
Regional Sales Manager – Ontario
We are looking for a college/university educated sales star who is a passionate, energetic, self starter with a minimum of 3 yrs sales management experience and 3-5 yrs of territory sales in building materials who will aggressively grow our market share within Ontario. The successful candidate will:
Drive National / Regional account development
Direct small Ontario sales force
Build upon and foster relationships with existing and new customer partners
Prioritize sales opportunities, develop recommendations and execute sales plans
Take initiative to prospect new accounts and generate new business
Provide regular communication with emphasis on customer calls including action & follow up plans and competitive activities.
Deliver effective product knowledge training
Work independently without supervision
In addition to National - Regional account responsibilities this position requires multiple sales calls on a daily basis throughout Southern Ontario. We offer a competitive compensation package which includes a salary, commissions, car allowance, and benefits.

Please forward resume to brady@hardlines.ca with "PO # 7" in the subject line.

Regional Sales Manager

TASK DESCRIPTION
Position: Regional Sales Manager (Central – west)

Supervisor: National Director of Sales – CAN.

Responsibilities:

Managing sales in a territory with existing accounts and sales agencies. Developping new sales and new accounts.
Identify opportunities and develop a plan of action for growth with the home centres and small chains in the territory.
Manage the existing accounts and unveil new opportunities in other product categories to grow sales.
Manage and work with Sales agents to reach sales objectives.
Understand our competition in each specific market. Perform price shop analysis and indentify the actions required to maintain our competitiveness.
Coordination of sales projects with merchandising and marketing dept.
Lead sales meeting with major customers.
Generate regular calls and follow-up to major accounts merchant.
Perform product knowledge to our sales force and/or customers.
3 to 5 years experience
Knowledge of the renovation centre market
Salary: according to experience
Mobility required
Please fax your resume at 514-640-4307 or via e-mail at : aleaunier@colonialelegance.com
Sales Representatives

Fast paced and growth oriented company serving the hardware & building supply industry seeking experienced Sales Representatives for BC & QC. Please fax your resumé to 905-326-5451 ref#225
Resumés
A goal oriented sales director that has superior management skills, customer oriented, with in depth knowledge of the industry and the ability to achieve results.

view this

resumé

National Field Sales Manager with twelve plus years in power tools and hardware sales/merchandising.

view this

resumé

Business Manager with U.S. & Canadian experience with retail & industrial customers seeks a new opportunity.

view this

resumé

An experienced merchandising executive possessing passion, vision, and a strategic approach to delivering bottom-line.

view this

resumé

Results oriented sales professional with a strong record of achievement in strategic and tactical roles. view this

resumé

Senior sales/marketing leader with experience in all classes of trade wishing new hardlines career. view this

resumé

Very Experienced Business Unit Manager, great passion for generating sales and building relastionships.view this

resumé

Worked through my career within the manfucaturer, wholesale and consumer goods industries. view this

resumé

Senior Sales Manager with vast experience in retail and wholesale sales growth in Canada. view this

resumé
Click here to post your resumé

Connect with us!