In This Issue:
"The aim of education is the knowledge, not of fact, but of values" —Dean William R. Inge (British clergyman, scholar and teacher, 1860-1954)
National Hardware Show attracts top Canuck buyers
LAS VEGAS — Although this year's National Hardware Show felt the effects of the economic downturn, both in the U.S. and around the world, the show, now packed
into just two halls instead of three, as in years past, featured 600 new exhibitors and drew delegates from as far away as Pakistan and from as close as three blocks away.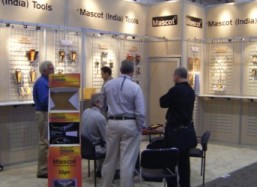 The show featured a strong showing by both domestic and international exhibitors.

Given the relatively stronger economy in Canada, Canadian buyers were out in force, a fact that was noted not just by the Canuck vendors who wished to do business with them, but by American exhibitors who expressed some amazement that the Canadian contingent was so strong this year. Buyers were present from Home Hardware and Canadian Tire, which brought seven and 10 buyers respectively, while Home Depot Canada and Lowe's Canada also sent buyers. In addition, the independents were well represented, with buyers and retailers from IRLY Distributors, Federated Co-op, and Spancan among the many Canadians walking the halls of the Las Vegas Convention Center last week. "Canadian presence has been very strong," said Fergus Chapman, vice-president sales for RCR International in Boucherville, Que., even though, he added, overall traffic appeared to be lower than last year. Added André Daigle, president of RCR: "The Canadians are here to do business more so than the U.S. and international retailers."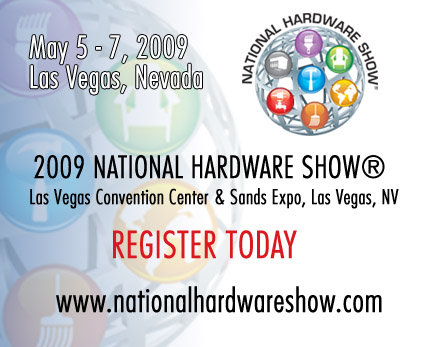 Our man Brady Peever (he's the one on the right) looking for new products.

However, the sheer size of the show managed to make up for the lower numbers. Another Canadian exhibitor, Alain St-Cyr, vp sales and marketing for Victoriaville, Que.-based Saman, said, "The show is good. The U.S. market is so large that there are always more people to meet and new potential customers." For James Mumby of Dynamic Paint, Missisauga, Ont., the show was so busy that he didn't have time for a break on the first day, with existing customers and prospects alike requesting information on his lines of paint sundries. One of those potential customers was Robert Sim, who drove over from the Ace Hardware store he manages just down the road. He took time off to check out the new products and meet some suppliers. Akhtar Ismail travelled considerably farther, however. His company, Amalgamated Textiles, is based in Karachi, Pakistan. Ismail sells "a lot of canvas drop cloths in the U.S.," he says. "I get to meet my customers all under one roof. To keep in touch and to show my face, this is a good place to meet a lot of people."

Top.
TSC tries out in-store rentals with Stephenson's
MISSISSAUGA, Ont.. — Stephenson's Rental Services Inc. has opened test outlets in two TSC Stores. The plan is part of an aggressive expansion strategy by Stephenson's, one that will also provide TSC's customers with a rental solution for their equipment needs. The initial phase of the partnership involves two pilot TSC locations in Ontario, in Uxbridge and Bowmanville. However, more are already being planned."We expect this relationship will pave the way for us to open a significant network of hub stores associated with the TSC network across Ontario, providing a heightened level of service to our customers," said Willie Swisher, president and CEO of Stephenson's Rental Services. In July of 2007 EdgeStone Capital Partners, a private equity manager, became the principal shareholder of Stephenson's. EdgeStone is keen to invest and support future Stephenson's growth initiatives whether through fleet expansion, new market penetration, or acquisitions. The partnership is expected to increase traffic and sales in existing TSC stores. "The venture also allows us to leverage the tremendous investments that we have made over the last several years in our store network to increase our revenue productivity per outlet," says David Roussy, president and CEO of TSC Stores L.P. TSC Stores operates 42 corporate stores in Canada. Its 40th location in Ontario just opened last month in Uxbridge. TSC has two more stores in Manitoba.
Home Hardware's contractor customers remain positive
ST. JACOBS, Ont. — The negativity surrounding the economy has somehow been missed by many of Home Hardware's contractor customers. Home Hardware has been able to gauge the construction prospects of its pro customers through contractor shows held across Canada and through their loyalty club, Top Notch Rewards. Of those polled, 86 percent felt that 2009 would be as good, if not better, than the 2008 building and renovating season, even after a slow start during the first two months of the year."With all the doom and gloom that had been reported within the economy and in particular, the supposed slow down in the construction industry, I was not expecting the positive outlook that we received", says Joe Jacklin, contractor marketing manager for Home Hardware Stores Ltd.  "Our numbers seem to support their claims as well." Many of the contractors polled pointed out the success of the 15 percent home renovation tax credit from the Federal government as an incentive to spur business. "People are getting on board with the federal tax credit and probably 90 percent of our prospects have questions about how they can qualify," says renovator Laverne Brubacher of Menno S. Martin in St. Jacobs, Ont. In addition to the tax credit, contractors are feeling the positive effects of the lowest interest rates in modern history, even as formerly red-hot markets such as Western Canada have cooled to more normal levels. "Did we really need a fifth record breaking year in a row? I will be using this year as a time to catch up, clean up and to refocus on the core values of my company, says Tim Kasten, a builder from Kamloops, B.C.
To place an ad in our classified section click here or call 416-489-3396
8 Most Recent Industry Resum

és
Queen's student looking for summer job in GTA
Exceptional sales professional with management, training and team building experience.
A creative, strategic thinking and results oriented Sales Professional.
Dynamic business development specialist seeking managment opportunity
Well-spoken, energetic, confident, and personable, the type of person on whom your customers and employees will rely.
A seasoned veteran with a wealth of experience, on the front lines of Retailing. Personable, energetic and dedicated to providing Exceptional Customer Service.
A sales leader experienced in coaching, managing and developing sales teams.
Know someone who is between jobs? We will send a complimentary subscription to anyone who is seeking a job. We also offer a free Online Resumé Service. Ask them to call or email us here at the World Headquarters. (And why not tell your HR department about this service!) Email Brady for more info. —Beverly
Sell your company - or buy one - with HARDLINES Classifieds! Do your executive search, find new lines or get new reps in the HARDLINES Marketplace. Only $2.75 per word for three weeks in the classifieds. To place your ad, call Brady Peever at 416-489-3396 or email: brady@hardlines.ca
To ensure you receive your HARDLINES newsletter each week, please add bev@HARDLINES.ca to your address book.

Did your email system make this newsletter unreadable? You can read it online instead. call us to find out how.

Publishing Details: HARDLINES is published weekly (except monthly in December and August) by HARDLINES Inc. 360 Dupont Street Toronto, Ontario, Canada M5R 1V 9 © 2009 by HARDLINES Inc. HARDLINES™ the electronic newsletter www.HARDLINES.ca Phone: 416.489.3396; Fax: 416.489.6154 Michael McLarney - Editor & President - mike@HARDLINES.ca Beverly Allen, Publisher - bev@HARDLINES.ca Brady Peever - Circulation Manager - brady@HARDLINES.ca Kathryn Crosthwait - Accounting - kath@HARDLINES.ca The HARDLINES "Fair Play" Policy:Reproduction in whole or in part is very uncool and strictly forbidden and really and truly against the law. So please, play fair! Call for information on multiple subscriptions or a site license for your company. We do want as many people as possible to read HARDLINES each week - but let us handle your internal routing from this end! Subscription:$299 (Canadian subscribers add $14.86 GST = $315.21 per year/ GST #13987 0398 RT).Secondary subscriptions at the same office are only $48.75 (Canadian subscribers add $2.44 GST = $51.19).Ask about our reduced rate for branch offices.You can pay online by VISA/MC/AMEX at our secure website or send us money. Please make cheque payable to HARDLINES.
NEWS IN BRIEF
TORONTO — Lowe's Cos. Canada, which began opening its first stores in Canada two years ago, opened its 12th store in this country last week. The big box was opened in Oshawa, just east of Toronto. Another four stores are planned for the Lowe's current fiscal year, which ends Jan. 31, 2010.

BOUCHERVILLE, Que. — RONA inc., Canada's largest home improvement retailer, has completed the renovation of two of its Réno-Dépôt stores, representing an investment of almost $4 million. The stores in Laval and Pointe-Claire, Quebec, have been overhauled and updated to reflect the new Réno-Dépôt store program, which aims to provide its retail and contractor customers with an enhanced shopping experience. RONA has 16 big-box Réno-Dépôt stores, all in Quebec. Since the beginning of 2008, a total of $60 million has been invested in the renovation and expansion of the Réno-Dépôt network.

GATINEAU, Que. — Shoppers at Quebec big-box stores are becoming increasingly victimized by fraudsters who steal their credit-card information during and after checkout. A credit-card fraud ring is preying on unsuspecting shoppers, especially elderly women, watching them enter their PIN numbers in-store, then chatting them up in the parking lot, during which they steal the victim's cards. The suspects have been described as speaking French with a foreign accent, possibly from Romania. MISSISSAUGA, Ont. — Wal-Mart Canada is introducing a packaging scorecard to assess suppliers based on their packaging, including the quantity and qualities of materials used. Scorecard results will play a role in the company's decision to stock products going forward. ATLANTA — Home Depot has pulled the plug on an online marketing strategy designed to woo more Hispanic customers. A Spanish-language website that was started in November last year has been discontinued after just six months because sales have not met company expectations. Home Depot launched it during the busy holiday season, but sales have not maintained enough momentum to justify the time and money being spent to maintain the site. In fact, the Spanish-language site was attracting more viewers from countries that Home Depot doesn't do business in. BENTONVILLE, Ark. — Wal-Mart Stores reported net April sales of $29.85 billion, an increase of 2.4 percent. Same-store sales were up 5 percent, with same-store sales up 5.9 percent for its U.S. stores. The company expects to report total net sales for the fiscal quarter ended April 30, 2009 of approximately $93 billion. Total sales at Wal-Mart Canada increased in the high single digits for the period, while same-store sales were in the low single digits. NEW YORK — Home Depot has opened a 121,000-square-foot store in the Bronx at a giant new retail development, the Gateway Center at Bronx Terminal Market, which is near Yankee Stadium. The one-million-square-foot retail project was hailed by New York City's mayor, Michael Bloomberg, as a "milestone in the ongoing renaissance of the South Bronx." MOORESVILLE, N.C. — A Lowe's shareholder wants the company to re-incorporate in North Dakota, considered "a more shareholder friendly state" that would improve the retailer's governance. John Chevedden, of Redondo Beach, Calif., intends to submit the shareholder proposal at Lowe's annual meeting on May 29. The company's board has recommended voting against the proposal. Lowe's has two stores in North Dakota. DUSSELDORF, Germany & ROCKY HILL, Conn. — Henkel increased first-quarter sales over the prior-year quarter by 3.1 percent to €3.26 billion ($5.1 billion). The rise was attributable to Henkel's acquisition of National Starch in April 2008; however, adjusted for foreign exchange and acquisitions, sales decreased by 7.0 percent within a difficult overall market environment. After adjusting for foreign exchange, the increase in sales was 3.8 percent. Henkel's Adhesive Technologies business sector suffered from an organic decline in sales of 18.2 percent.
PEOPLE ON THE MOVE

At Castle Building Centres Group Ltd., Robert Legault has joined the buying group as business development manager, Quebec Region. A former national sales manager who had stints at Colonial Elegance and DOT Marketing, Legault brings with him more than 30 years experience in the Quebec independent lumber and building materials marketplace. He will be charged with providing leadership for Castle's current and future members as the group looks for growth in Quebec. (905-564-3307)Janice Luebbert Chateauvert has established her own agency, JAC Sales & Marketing Solutions. Based in Guelph, Ont., she can be reached at Janice@jacsales.com. (519-767-6790) To place a listing in our "People on the Move" section, please send me the information, including the person's name, title and contact email or phone number, if desired at mike@hardlines.ca. We reserve the right to edit items for length. —Michael
ECONOMIC INDICATORS
The seasonally adjusted annual rate of housing starts decreased 20 percent to 117,400 units in April from 146,500 units in March. Urban starts were down 24 percent. The biggest drop was in urban multiple starts, which fell 32.7 percent to 54,700 units, while urban single starts moved down 8.7 percent to 42,100 units in April. (CMHC)Employment grew by 36,000 in April, the result of an increase in self-employment. Despite this increase, overall employment has fallen by 321,000 since a peak in October 2008. The unemployment rate was unchanged at 8.0 percent in April, remaining at its highest level in seven years, with the growth in employment coinciding with an increase in the labour force. (Stats Canada) Contractors took out $4.5 billion in building permits in March, up 23.5 percent from February, halting five consecutive monthly declines. March's increase came mainly from the non-residential sector in Ontario, Quebec and Alberta. Intentions in the non-residential sector rose 47.9 percent to $2.3 billion, again due largely to increases in Ontario, Quebec and Alberta. (Stats Canada)
Hardlines Products
Hardlines Quarterly Report
Hardlines Retail Report
Hardlines Hot Product Showcase
Hardlines TV
Free daily news updates
Did you know you can have this newsletter sent to someone else in your office for only $4.06 a month per person?
Click the link below to spread the news to your whole office!