In This Issue:
"I spent the afternoon musing on Life. If you come to think of it, what a queer thing Life is! So unlike anything else, don't you know, if you really see what I mean." —P.G. Wodehouse (Prolific British author and playwright, creator of characters such as the resourceful Jeeves the butler and dimwitted Bertie Wooster; 1881-1975)
Weather, West affect RONA's 1Q sales
BOUCHERVILLE, Que. — In its first quarter, RONA inc., Canada's largest home improvement retailer, had a 7.2 percent decline in consolidated sales (sales through its distribution centre plus sales or percentage of sales from stores owned wholly or in part by RONA). They went from $911.5 million in 1Q 2008 to $846.0 million. The decline was attributed largely to bad weather during the first two months of the year, coupled with the drop in housing starts in Western Canada. RONA blamed especially bad weather in Western Canada in March, where record precipitation levels fell on Alberta.The company experienced a first-quarter net loss of $2.5 million, compared with a net loss of $2.4 million in the same period in 2008, reflecting, the company said, downward pressure on sales in the renovation and construction industries, plus poor weather. Same-store sales fell 8.5 percent. However, there was good news, as well, as inventory levels continued to decline, distribution sales were up, and commercial sales continued to grow:
distribution sales were up 0.2 percent through recruitment of new dealer-owners;
higher sales to commercial and professional customers through the big-box stores network and RONA's Commercial and Professional Market division in Ontario;
an increase of 28 basis points in gross margin from 27.97 percent to 28.25 percent, and 72 basis points in adjusted gross margin;
a $71 million or 7.3 percent reduction in inventories;
a $222.3 million reduction in net debt, resulting in a 25.7 percent drop in interest expenses on long-term debt and bank loans, to $5.9 million from $7.9 million in 2008;
ongoing store expansion, including the renovation of Réno-Dépôt stores in Anjou and Saint-Hubert, Que., the recruitment of six new independent dealer-owners, and a 180,000-square-foot expansion of its specialty plumbing distribution centre in Ontario.
Depreciation and amortization costs for the first quarter rose 6.7 percent to $24.9 million, from $23.3 million in 2008. This increase is due to new corporate store openings in 2008, store acquisitions, the renovation of existing corporate stores, and ongoing upgrades to RONA's information systems. (Note: RONA adopted revised accounting standards at the beginning of 2009, which affected its results as compared to the previous year. Click here for the company's explanation of its new accounting standard.)

Top.
TruServ reports cautious optimism in first quarter
WINNIPEG — Despite a slowdown toward the end of last year, hardware wholesaler TruServ Canada managed to see an increase in shipments to its dealers for the year. Sales by TruServ's member dealers, who operate under the True Value Hardware, V&S Variety, and Country Depot farm and hardware banners, enjoyed an overall sales increase of between 2 and 3 percent, says company President and CEO Bill Morrison.The last quarter of 2008 was when the economic slowdown began to really hit his dealers, he says, although there were regional variations. Saskatchewan and Manitoba stayed relatively strong, while Alberta, subject to the vulnerability of the oil industry, was down for the period. The slowdown continued into the first quarter of this year, as well, as bad weather took its toll on much of the West. TruServ dealers began to bounce back in the spring, although, says Morrison, they retained "a little bit of caution. A lot of dealers were either flat or up or down 1-3 percent," he noted.
Canadian Tire Retail sales up in first quarter
TORONTO — Canadian Tire reported a drop in first-quarter sales of 2.7 percent vs. the same quarter a year ago. The decline was due mainly to lower prices at Canadian Tire's gas bars. However, retail sales by the Canadian Tire Retail Division were actually up 4 percent, reflecting, says the company, strong sales through much of the quarter, especially in seasonal products. Net earnings were down 25.9 percent, while adjusted net earnings were down 10.9 percent for the period, reflecting higher distribution and operating expenses in the Retail Division, as a new eastern distribution centre was completed during the quarter.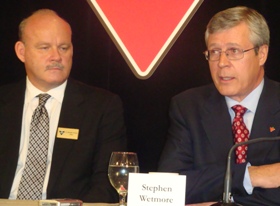 Arnett and Wetmore

Despite bad weather through much of the country during the first quarter, Canadian Tire stores enjoyed strong sales in automotive and leisure products. Mike Arnett, president of Canadian Tire Retail, said that consumers are "still behaving cautiously," with "good" and "better" items selling more than "best" assortments. "But that's what we've bought for," he added, noting that the company was prepared for the shift. While seasonal product sales were very strong during the first quarter, the home core categories (hardware, plumbing and electrical, and tools) were down. The tool business worldwide has been soft, he said. "Our sales in tools have been flat, which means we're likely getting an increase in market share, as the North American market is off by double digits." Same-store sales increased 2.5 percent over 1Q 2008. In the first three months of the year, the retailer opened more of its new-concept formats. These included one Small Market store, which is part of an initiative to penetrate smaller markets with profitable retail footprints. In addition, it opened two Smart stores, which represent the new standard for Canadian Tire's regular stores and replaces the previous 20/20 program. The PartSource chain experienced double-digit growth, including, says the company, a strong same-store sales increase. One new hub store was opened during the first quarter, bringing the total number of PartSource outlets to 87. At the company's annual meeting last week, president and CEO Stephen Wetmore said his personal mandate is to strengthen a sense of customer service across the company.
Information, Networking Play Key Role at NHS
LAS VEGAS — The National Hardware Show, held here May 5-7, featured a range of information sessions and seminars, providing a full education component in addition to the aisles of new products on exhibit.As part of a new International Sourcing Convention at NHS, our own editor, Michael McLarney, hosted a panel that talked about how to deal with Asian factories. This International Sourcing Session, sponsored by OnSpeX, the quality assurance and product testing organization, featured Larry Lucyshyn, vp sales for The MIBRO Group; John Tizzard, president of Tizzard Marketing; Greg Orloff, manager, new business development for OnSpeX, and Manuel Gonicman, president of California Air Tools and Goni.

Left to right, Michael McLarney, John Tizzard, Greg Orloff, Larry Lucyshyn, Manuel Gonicman

The panel, all well-versed in the intricacies of specs, sourcing, and maintaining supply of product from suppliers in China, discussed how competitive factors in China are changing the way factories there do business. Issues like lead times, human rights, and the high cost of product recalls were all addressed.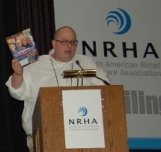 The North American Retail Hardware Association (NRHA) teamed up with the show's organizer, Reed Exhibitions, to create an All-Industry Summit. This ongoing event, located on a stage right at the entrance to the show, provided delegates with a wide range of seminars that included NRHA's own research. Topics at the All-Industry Summit ranged from examining the impact of global economics on the home improvement industry to focusing on the impact of today's green movement on the home improvement industry. (If you missed the International Sourcing Session at NHS in Las Vegas, we've got good news for you. The session is being reprised in Toronto in mid June with a special industry update from 2Q HQR. Stay tuned.)
To place an ad in our classified section click here or call 416-489-3396
8 Most Recent Industry Resum

és
Queen's student looking for summer job in GTA
Exceptional sales professional with management, training and team building experience.
A creative, strategic thinking and results oriented Sales Professional.
Dynamic business development specialist seeking managment opportunity
Well-spoken, energetic, confident, and personable, the type of person on whom your customers and employees will rely.
A seasoned veteran with a wealth of experience, on the front lines of Retailing. Personable, energetic and dedicated to providing Exceptional Customer Service.
A sales leader experienced in coaching, managing and developing sales teams.
Know someone who is between jobs? We will send a complimentary subscription to anyone who is seeking a job. We also offer a free Online Resumé Service. Ask them to call or email us here at the World Headquarters. (And why not tell your HR department about this service!) Email Brady for more info. —Beverly
Sell your company - or buy one - with HARDLINES Classifieds! Do your executive search, find new lines or get new reps in the HARDLINES Marketplace. Only $2.75 per word for three weeks in the classifieds. To place your ad, call Brady Peever at 416-489-3396 or email: brady@hardlines.ca
To ensure you receive your HARDLINES newsletter each week, please add bev@HARDLINES.ca to your address book.

Did your email system make this newsletter unreadable? You can read it online instead. call us to find out how.

Publishing Details: HARDLINES is published weekly (except monthly in December and August) by HARDLINES Inc. 360 Dupont Street Toronto, Ontario, Canada M5R 1V 9 © 2009 by HARDLINES Inc. HARDLINES™ the electronic newsletter www.HARDLINES.ca Phone: 416.489.3396; Fax: 416.489.6154 Michael McLarney - Editor & President - mike@HARDLINES.ca Beverly Allen, Publisher - bev@HARDLINES.ca Brady Peever - Circulation Manager - brady@HARDLINES.ca Kathryn Crosthwait - Accounting - kath@HARDLINES.ca The HARDLINES "Fair Play" Policy:Reproduction in whole or in part is very uncool and strictly forbidden and really and truly against the law. So please, play fair! Call for information on multiple subscriptions or a site license for your company. We do want as many people as possible to read HARDLINES each week - but let us handle your internal routing from this end! Subscription:$299 (Canadian subscribers add $14.86 GST = $315.21 per year/ GST #13987 0398 RT).Secondary subscriptions at the same office are only $48.75 (Canadian subscribers add $2.44 GST = $51.19).Ask about our reduced rate for branch offices.You can pay online by VISA/MC/AMEX at our secure website or send us money. Please make cheque payable to HARDLINES.
NEWS IN BRIEF
TORONTO — Canadian Tire is launching a new savings program for customers undertaking home improvement and renovation projects this spring, called "Small Jobs Big Returns". From May 9-June 5, customers who buy eligible home improvement products can receive $25 for purchases of at least $199, $75 for purchases of $299 or more, and $150 for purchases of $499 or more. The rebates come in the form of Canadian Tire gift cards.MONTREAL — At its annual general meeting last week, executives from RONA inc. assured investors that the company intends to keep up an aggressive pace of dealer recruitment. In fact, it intends to add up to $150 million in additional sales through the addition of new independents during fiscal 2009. Robert Dutton, president and CEO of RONA, said that 56 percent of the industry is still in the hands of independent dealers, and one-quarter of them don't have a succession plan in place. TORONTO —Home Outfitters, the kitchen, bed and bath specialty chain owned by Hudson's Bay Company, has added five new locations, bringing its nation-wide total to 67. The retailer hosted simultaneous grand-opening events on May 9, featuring special sales in each location. The new stores are in Victoria and Coquitlam, B.C.; Winnipeg; and Burlington and Vaughan Mills, Ont. BENTONVILLE, Ark. — Wal-Mart Stores reported diluted earnings per share for the first quarter of fiscal year 2010 of $0.77. Net sales for the period were $93.47 billion, a decrease of 0.6 percent from $94.04 billion in the first quarter of last year. Without the negative impact of currency exchange rates, equal to $4.84 billion, net sales for the quarter increased 4.5 percent to approximately $98.31 billion on a constant currency basis. ATLANTA — Net sales for Newell Rubbermaid for the first quarter ended March 31, 2009 were $1.20 billion, a 16 percent drop from $1.33 billion for the same three-month period a year earlier. Excluding acquisitions and foreign currency, sales declined approximately 15 percent domestically, and 14 percent for the company's international business. However, Rubbermaid reports it has begun rehiring, and is looking to fill 165 positions worldwide. This comes just months after it announced it would lay off upwards of 1,000 people. PARIS — Compagnie de Saint-Gobain has secured a new four-year bond issue valued at €750 million with an annual coupon of 6 percent. The bond issue will serve to refinance existing debt. Earlier this month, Saint-Gobain reported consolidated first-quarter sales of €8.78 billion, compared with €10.30 billion for the year-earlier period, a decline of 14.8 percent. Saint-Gobain, best known in this country as the parent of CertainTeed, is a €43.8 billion ($69.3 billion) company, with 209,000 employees in 59 countries. MISSISSAUGA, Ont. — Walmart Canada will invest $115 million to build a distribution centre in Balzac, Alta. The 40,000-square-foot facility, which Walmart claims will be one of the largest refrigerated buildings in Canada, will serve as a distribution hub for fresh food destined for Walmart stores in Western Canada and represents the expansion of Walmart's Supercentre format. The DC will open in late 2010 and will be operated by Canadian logistics firm Centric Retail Logistics. Walmart Canada says it has invested $220 million in the past year to modernize and expand its distribution network. The network now supplies 312 stores nationwide from eight distribution facilities. CHARLOTTE, N.C. — Pro-Build Holdings has revealed it will close its corporate offices here, laying off about 65 people by the end of the year. The facility is one of four regional offices for Denver, Co.-based Pro-Build. MINNEAPOLIS — Zareba Systems, the maker of electronic perimeter fence and security systems, reported net sales for the third quarter of $6.7 million, down from $7.0 million a year earlier. Net income for the third quarter was $78,000. Net loss was $489,000, or $0.20 per share. Net sales for the first nine months of fiscal 2009 were $20.5 million, compared with $22.4 million in fiscal 2008.  
PEOPLE ON THE MOVE
At CertainTeed Gypsum, Eric Marceau has been named director of sales for Quebec and Eastern Ontario. He was formerly warehouse manager at the company's facility in Montreal. The Quebec sales team will report to Marceau. He has a degree in chemistry and a Master's in business. (514-889-2116; eric.marceau@saint-gobain.com )To place a listing in our "People on the Move" section, please send me the information, including the person's name, title and contact email or phone number, if desired at mike@hardlines.ca. We reserve the right to edit items for length. —Michael
ECONOMIC INDICATORS
The composite price index for non-residential building construction decreased 4.2 percent to 145.1 in the first quarter, compared with the previous quarter. The quarterly decrease was mostly the result of declines in construction material prices and competitive conditions due to a weaker non-residential building construction market, most notably in Western Canada. (Stats Canada)
NOTED…
RONA's latest results included a drop in same-store sales of 8.5 percent enterprise-wide. However, independent dealer-owners in RONA posted a comparatively strong retail performance, with a decline of only 3.2 percent in same-store sales in the first quarter.
Hardlines Products
Hardlines Quarterly Report
Hardlines Retail Report
Hardlines Hot Product Showcase
Hardlines TV
Free daily news updates
Did you know you can have this newsletter sent to someone else in your office for only $4.06 a month per person?
Click the link below to spread the news to your whole office!