In This Issue:
"Never find your delight in another's misfortune." —Publilius Syrus (Latin writer, ca. 1st century B.C.)
Home Hardware supports proposed new hockey team
TORONTO — A campaign to bring a new NHL hockey franchise to Southern Ontario has gained significant momentum with the announcement of two major corporate partners. Home Hardware Stores and Labatt Breweries are the first two anchor corporate partners to lend their support for the movement, being led by Research in Motion exec Jim Balsillie to bring a seventh NHL team to Canada. The movement has so far gained the support of 120,000 people from coast to coast."What began as a grassroots movement to support bringing a seventh NHL club to Canada is now attaining critical mass, with these two iconic Canadian brands proudly joining the effort," said Balsillie.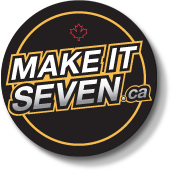 Both Labatt and Home Hardware will be utilizing their national networks of local partners and loyal customers to further mobilize support, in addition to special advertising and contest initiatives linked to the "Make It Seven" campaign. "As active members of more than 1,000 communities large and small across Canada, Home Hardware owners and staff know how important hockey is to our national fabric," said Paul Straus, vice-president and CEO of Home Hardware Stores Limited. "A new franchise will be a source of pride for all Canadians and we are excited by the possibility of creating more opportunities for Canada's best players to play on their home ice, in front of home-town fans." (For more on the proposed new team, go to www.makeitseven.ca.)

Top.
Retail giants see glimmers of hope in quarterly results
SPECIAL REPORT — Officers for home-improvement retailers Home Depot and Lowe's Cos. saw positive signs that business conditions, while still weak, are moving in the right direction for their respective companies.After several quarters of falling profits, Atlanta-based Home Depot reported a 44.4 percent increase in net income, to $514 million, for the three months ended May 3, on revenue of $16.18 billion that was down 9.7 percent from the same period a year ago. Home Depot's quarterly profit is attributed to two decisions to scale back its operations: it gained $117 million in operational profit in the quarter by closing its 34 Expo Design Centers; and its net income gain improved compared with the first quarter of 2008. At that time, the company took a $543 million charge to account for closing 15 stores and taking another 50 locations out of its expansion pipeline. Even though its total customer transactions for the quarter fell by 1.3 percent to $310 million, and its same-store sales were off 10.2 percent, Home Depot saw good news in the gains made in what customers were spending, as average basket size jumped by 8.2 percent to $52.67. This gain is all the more important given the fact that, in recent months, Home Depot has gotten away from the heavy discounting of recent years and returned to an everyday low price strategy that had been its calling card. Frank Blake, Depot's CEO, said that he's buoyed by his company's recent customer satisfaction ratings, which indicate to him that Home Depot "is making progress." Lowe's, which is based in Mooresville, N.C., reported a 1.5 percent decrease in revenue, to $11.53 million, for the three months ended May 1, and a 6.6 percent decline in same-store volume. Net income for the quarter was down 21.6 percent, to $476 million. Robert Niblock, Lowe's CEO, said that despite "intense" pressure on consumers, who are postponing many bigger-ticket purchases, the company continued to gain market share in several categories. As with Home Depot, the future at Lowe's is looking a bit brighter. "In recent weeks, we have seen consumer confidence improve, housing turnover show signs of a bottom in certain markets, and home prices slow their decline," said Niblock in a prepared statement. "These are all positive signs for the stabilization and ultimate recovery of home improvement industry sales."
Home Hardware dealer opens biggest store yet
GANANOQUE, Ont. — A new Home Hardware Building Centre store opened last week in this town situated an hour south of the nation's capital. Although it is just one of nine openings or grand re-openings by Home Hardware dealers this month, this store is remarkable for its sheer size.
With 55,500 square feet of retail floor space, it comprises a 20,000-square-foot drive-through lumber yard and an 11,500-square-foot Home Furniture outlet. At a total of 87,000 square feet, it is considered the largest Home Hardware store in the country. Owner Ken O'Connor moved his operation — an existing store down the road that was jammed against a rock, preventing further expansion — to this new, larger facility at the north end of the town.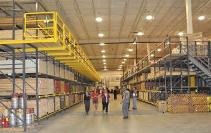 O'Connor, who brought in his brother Dennis to manage the Home Furniture side of the business, has some competition in the size department. Another dealer, Adam Busscher, opened his second store a month earlier in Picton, Ont. That location, which weighs in at 45,000 square feet of retail space, has a similar "big-box" look and feel to the Gananoque store.
RONA keeps PEP program on track to weather economic storm
BOUCHERVILLE, Que. — Following results last week for its first quarter that revealed a net loss of $2.5 million, RONA inc. is continuing to follow a recovery strategy that focuses on productivity, efficiency and profitability — its PEP program. The program represents the first phase of RONA's 2008-2011 strategic plan.Even as first-quarter operating income fell 4.2 percent to $25.5 million, due largely to low consumer confidence, numerous efficiency improvements introduced under the PEP program have helped, says the company, to offset the negative impact of these factors. In the first quarter, the PEP program helped improve the gross margin by 28 basis points and the adjusted gross margin by 72 basis points. A focus on inventory enabled RONA to reduce comparable inventory levels by $71 million, and reduce transportation and logistics costs by nearly $1 million. "We are starting 2009 the way we ended 2008 — with very good performance in our PEP program, including an improved gross margin, lower comparable inventories and reduced logistics costs. These factors have helped mitigate the impact of the current recession on our retail sales, which were affected by especially poor weather conditions in January and March," says RONA president and CEO Robert Dutton. "We have considerably improved our balance sheet, with a significant reduction in our debt levels and financial costs this quarter." He admits that, despite improvements made under the PEP program, the current economic environment could continue to have an impact on earnings and same-store sales for the rest of the year. "Given this context, we intend to vigorously pursue the various efficiency improvement measures ongoing under the PEP program, to stimulate sales and improve our efficiency over the next quarters. The company will remain very vigilant throughout the year and be ready to adapt its operating activities and capital investments to the specific economic conditions expected in 2009," Dutton adds. Measures include a plan to reduce capital spending by nearly $50 million, or 25 percent, in 2009, and continued reduction of inventory and administrative costs.
Canadian treasure relies on industry for TLC
LUNENBURG, N.S. — The Bluenose II, Canada's most famous sailing vessel, is a point of pride for Canadians who wish to recall the victory of the original Bluenose's racing victories almost a century ago. Today, Bluenose II serves as a major tourist attraction for this town, a symbol of the province of Nova Scotia, and the iconic image on the obverse of the Canadian 10-cent coin.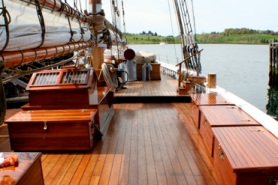 The hardware-home improvement industry has played an important role in keeping this national treasure afloat. Her deck and mast are protected with a spar (or marine) urethane by Minwax, relying on the Minwax Helmsman finish for its protective clear finish and UV blockers. The mast itself was supplied by Delson, Que.-based Goodfellow, the lumber products supplier, in 2007. A 100-foot-long glue-laminated wood beam was used to construct the mast for the famous schooner. Made up of more than 4,000 board feet of Douglas fir, the mast weighs six tons. The Bluenose was, for a time, the world's fastest sailboat. It won the International Fisherman's Trophy in 1921 and remained undefeated for 18 years. She was later sold as a freighter in the West Indies, and ran aground on a Haitian reef in 1946. Bluenose II was commissioned in 1963.

Canadian Company Seeking Manufacturer's Agents
Novik is a leading manufacturer of Innovative Polymer Siding and Roofing systems for the new construction and renovation markets.  We are seeking quality representation inOntario, Man/Sask, Alberta and BC
Interested candidates can send their CV to Grant Cowx @ gracow@novik.com or by fax to 418-878-6164.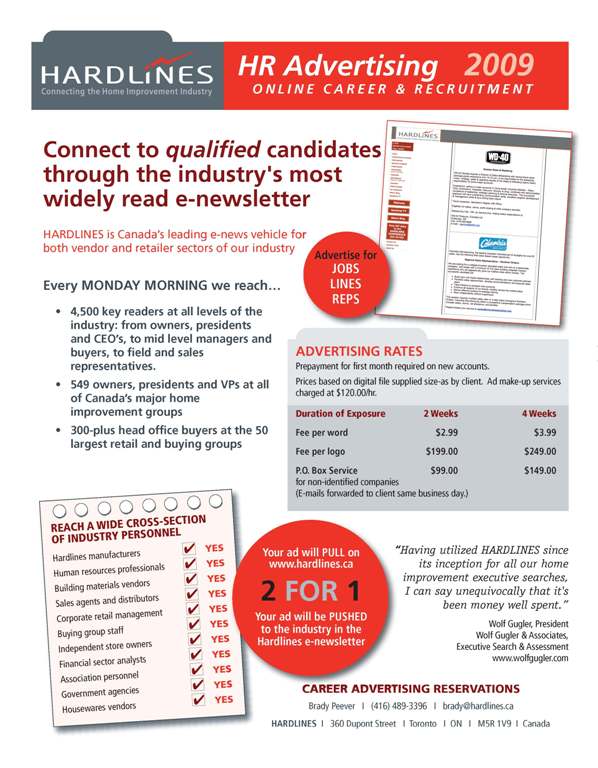 To place an ad in our classified section click here or call 416-489-3396
7 Most Recent Industry Resum

és
Queen's student looking for summer job in GTA
A creative, strategic thinking and results oriented Sales Professional.
Dynamic business development specialist seeking managment opportunity
Well-spoken, energetic, confident, and personable, the type of person on whom your customers and employees will rely.
A seasoned veteran with a wealth of experience, on the front lines of Retailing. Personable, energetic and dedicated to providing Exceptional Customer Service.
A sales leader experienced in coaching, managing and developing sales teams.
Know someone who is between jobs? We will send a complimentary subscription to anyone who is seeking a job. We also offer a free Online Resumé Service. Ask them to call or email us here at the World Headquarters. (And why not tell your HR department about this service!) Email Brady for more info. —Beverly
Sell your company - or buy one - with HARDLINES Classifieds! Do your executive search, find new lines or get new reps in the HARDLINES Marketplace. Only $2.75 per word for three weeks in the classifieds. To place your ad, call Brady Peever at 416-489-3396 or email: brady@hardlines.ca
To ensure you receive your HARDLINES newsletter each week, please add bev@HARDLINES.ca to your address book.

Did your email system make this newsletter unreadable? You can read it online instead. call us to find out how.

Publishing Details: HARDLINES is published weekly (except monthly in December and August) by HARDLINES Inc. 360 Dupont Street Toronto, Ontario, Canada M5R 1V 9 © 2009 by HARDLINES Inc. HARDLINES™ the electronic newsletter www.HARDLINES.ca Phone: 416.489.3396; Fax: 416.489.6154 Michael McLarney - Editor & President - mike@HARDLINES.ca Beverly Allen, Publisher - bev@HARDLINES.ca Brady Peever - Circulation Manager - brady@HARDLINES.ca Kathryn Crosthwait - Accounting - kath@HARDLINES.ca The HARDLINES "Fair Play" Policy:Reproduction in whole or in part is very uncool and strictly forbidden and really and truly against the law. So please, play fair! Call for information on multiple subscriptions or a site license for your company. We do want as many people as possible to read HARDLINES each week - but let us handle your internal routing from this end! Subscription:$299 (Canadian subscribers add $14.86 GST = $315.21 per year/ GST #13987 0398 RT).Secondary subscriptions at the same office are only $48.75 (Canadian subscribers add $2.44 GST = $51.19).Ask about our reduced rate for branch offices.You can pay online by VISA/MC/AMEX at our secure website or send us money. Please make cheque payable to HARDLINES.
NEWS IN BRIEF
CALGARY — TIM-BR MART has added an important new member in Atlantic Canada with the recruitment of Barrett Lumber Co. Owned by the Barrett family and now operating as Barrett TIM-BR MART, it was established in 1926 and is located in Beaver Bank, Lower Sackville, N.S. It has estimated sales in excess of $12 million. Located just east of Toronto, Brandon Forest Products will become the first fully branded TIM-BR MART location in the Greater Toronto Area. This contractor-focused business is the newest and eighth location in a growing network of stores owned and operated by Dennis Doidge and other stakeholders; all are located in Southern Ontario. In Western Canada, Alta-Wide TIM-BR MART in Whitecourt, Alta., has added a fifth location. Owner Mark Brumm was named Young Retailer of the Year in 2006. TIM-BR MART represents more than 740 dealer locations across Canada and $3.4 billion-plus in retail sales.MARKHAM, Ont. — Emerson has moved to brand new Canadian headquarters: 306 Town Centre Blvd., Markham, Ont. L3R 0Y6; tel.: 905-948-3400. Emerson's divisions that sell to retail will now be at this location: Emerson Tool Company, 905-948-3405; InSinkErator, 905-948-3407; White-Rodgers, 905-948-3412; and Knaack/Weather Guard, 905-948-3408. In addition, other Emerson divisions at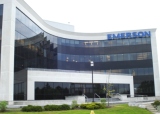 the same location are: Branson, Emerson Motor Company, Emerson Power Transmission and Control Techniques. The Emerson warehouse and distribution centre remains at 16 Main St., Unionville, Ont. TORONTO — Sears Canada Inc. reported total revenues for its first quarter ended May 2 of $1.12 billion, down 10.9 percent from $1.25 billion for the same period in 2008. Same-store sales decreased 10.4 percent. Net earnings for the quarter were $10.3 million, or 10 cents per share, down from $70.8 million, or 66 cents per share, a year ago. "The economic recession deepened during the first quarter, unemployment increased to 8.0 percent and the Consumer Confidence Index averaged 22 percentage points below last year. Considering the economic conditions, Sears delivered solid results and I commend our 33,000 associates for their contribution to these results," says Dene Rogers, Sears Canada president and CEO. OAK BROOK, Ill. — Growth in its warehouse shipments and better prices from suppliers helped Ace Hardware Corp. boost its net income for the first quarter of 2009 by 34.4 percent to $14.4 million. However, the co-op's revenue for the quarter declined 2.2 percent to $851.2 million. The company also reported that its cash flow for the quarter fell slightly, to $30.9 million, from $31.2 million in the same period a year ago. ATLANTA — Home Depot has put its entire floor staff through customer service training since the beginning of this year. The two- to three-hour course teaches staff to be more aware of, and more responsive to, customer needs.
PEOPLE ON THE MOVE
Louise Wendling, senior vice-president and country manager for Costco Wholesale Canada, has been named the 2009 Distinguished Canadian Retailer of the Year by the Retail Council of Canada. In 1983, Wendling joined Costco and turned it into one of Canada's most successful retail chains, with sales today of more than $9 billion. The Distinguished Canadian Retailer of the Year award recognizes a retail leader who has led their company to outstanding business success and innovation, in addition to consistently demonstrating community commitment and support. Past recipients include Mario Pilozzi, Wal-Mart Canada; Annette Verschuren, Home Depot Canada; Wayne Sales, Canadian Tire Corp.; and Wynne Powell, London Drugs. The award will be presented to at RCC's gala dinner on June 1, as part of that association's national "STORE" conference in Toronto.At RONA inc., Tim D. Kester has been named regional merchandiser for the company's Western Division. Kester, who has been with RONA for 16 years, was formerly manager – Western Canada for the Installation Sales and Service Division. He has a degree in Forestry. (604-882-6205, Tim.kester@rona.ca) To place a listing in our "People on the Move" section, please send me the information, including the person's name, title and contact email or phone number, if desired to mike@hardlines.ca. We reserve the right to edit items for length. —Michael
ECONOMIC INDICATORS
Housing starts are expected to decline to 141,900 for 2009, then increase in 2010 to 150,300. The current economic climate is expected to ease by 2010, bringing housing starts back in line. Existing home sales, as measured by the Multiple Listing Service (MLS), are expected to decline to 357,800 units in 2009 from 433,990 in 2008, but increase to 386,100 units in 2010. The average MLS price is also expected to decrease, to $283,100 in 2009, and then stabilize in 2010. (CMHC))Retail sales increased for the third consecutive month in March, rising 0.3 percent in current dollars to $33.9 billion. Higher sales at new car dealers was the main contributor to this increase. One of the largest sector declines was in building and outdoor home supplies stores. There, sales dropped 0.6 percent, due to lower sales in the West because of lower housing starts and unseasonably poor weather in Alberta. (Stats Canada) Consumer prices rose 0.4 percent in the 12 months to April 2009, down from the 1.2 percent increase in March. While upward pressure on the Consumer Price Index (CPI) came primarily from food, the slowdown was due mainly to price declines for energy and reduced upward pressure from non-energy shelter components. Excluding food, the CPI fell 1.1 percent in the 12 months to April. Excluding energy, the CPI rose 2.4 percent over the same period. On a seasonally adjusted monthly basis, the CPI fell 0.3 percent from March to April, after falling 0.2 percent from February to March. (Stats Canada)
NOTED…
Be sure and visit NRHA Canada's booth at the upcoming Can-Save Summer Expo, being held May 28 at the Molson Centre in Barrie, Ont.
OVERHEARD…
"We … believe that the current market conditions present significant potential for further consolidation of the Canadian renovation-construction market. We therefore plan to pursue our consolidation efforts in the next quarters." —Robert Dutton, president and CEO of RONA inc., in prepared remarks during the company's annual general meeting last week.
Hardlines Products
Hardlines Quarterly Report
Hardlines Retail Report
Hardlines Hot Product Showcase
Hardlines TV
Free daily news updates
Did you know you can have this newsletter sent to someone else in your office for less than a dollar an inssue!