May 30, 2011, Volume xvii, #22
"I'm a great believer in luck, and I find the harder I work the more I have of it." —Thomas Jefferson (third President of the United States, 1743 –1826)
Target confirms first Canadian locations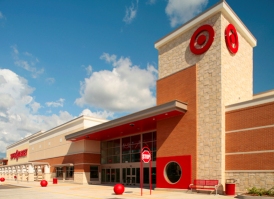 TORONTO — Target, the giant discount mass merchant, has announced where it will open its first stores in this country. According to the Toronto Star, Target's first international foray will consist of more than 100 locations across Canada, including 45 in Ontario – and six in the Toronto area.

Those six, says the Star report, will be in Cloverdale Mall, Shoppers World Danforth, East York Town Centre, Bridlewood Mall, Centrepoint Mall, and Woodbine Centre. (Click here for a map of Target locations in the GTA.) Four more locations will be in Winnipeg at Grant Park Shopping Centre, Kildonan Place Shopping Centre, Polo Park Shopping Centre, and Southdale Centre – with another one at Shoppers Mall in Brandon.

Target says the stores will begin to open in spring 2013. They will be conversions from Zellers, which Target bought from Hudson's Bay Company for $1.82 billion in January 2011. Each store will represent a $10 million investment and a staff of 100-150 people. More store locations will be announced in September.

The retailer is also setting up its head offices in Mississauga, ON. The entire executive team consists of Americans.
Lumber Liquidators on track for Canadian openings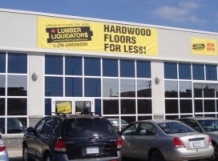 TORONTO — Lumber Liquidators held an official "launch party" recently for its presence in Canada (the news of which we first broke in our April 4, 2011 issue —Editor).

Tyler Greenan, COO of Canadian operations for the specialty flooring retailer, confirmed with HARDLINES that the company is still on track to open a total of eight stores here this year. In fact, with four already open (East York, Vaughan, Brampton, and Barrie, ON), the other four are expected to open before the end of August. Those openings will be in Cambridge, Pickering, Windsor, and Stoney Creek. The stores are supplied by a distribution centre at Highway 400 and Steeles Ave. West, in Toronto's north end.

"What we're focusing on right now are stores we can service from our distribution centre in Toronto," says Greenan, "basically anywhere from Windsor to Ottawa for now."

Each Lumber Liquidators store is 1,100-1,200 square feet in size, and carries about 340 different flooring samples. It also features unfinished products and a range of transitions and trims – all of which are proving popular with Toronto-area contractors.
(Click here to take a photo tour of the Lumber Liquidators store in East York, Ont.)
RONA's ICI division eyes retail customers
BOUCHERVILLE, QC — While RONA keeps mum about any plans to acquire retail hardware wholesalers in the U.S., CEO Robert Dutton has told HARDLINES that RONA's commercial-industrial division, Noble, is actively looking, with people "on the road" right now.

We have a huge opportunity to consolidate this [U.S.] market, but we have to be prudent," he says. And while the emphasis may be on the wholesale side for now, RONA's retail expansion in the U.S. is considered just a matter of time.

Meanwhile, the wholesale division is also looking to expand its reach in Canada: watch for Noble to position its wholesale business to go after traditional hardware and home centre customers, as well, Dutton says.
The Bay gets a facelift
TORONTO — The Bay announced last week that it is renovating 80 of its 91 stores across Canada in an effort to improve the shopping experience.  Renovations are already underway and the majority are expected to be complete by August 2011.

The multi-million dollar investment ties in with other initiatives: a partnership with Compass Group Canada and Oliver & Bonacini Restaurants to manage all of The Bay restaurants and foodservices, a more open concept with brighter visual elements, the expansion of men's and women's apparel departments, and improved customer service.

The Bay will conduct renovation sales across Canada to tie in with the facelift.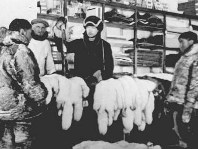 To its credit, Hudson's Bay has delved deep into the company's historic roots and expanding the Hudson's Bay brand since being taken over by a U.S. holding company, NRDC Equity Partners (the same company that owns Lord & Taylor), three years ago. Hudson's Bay Company was incorporated in 1670 by a British royal charter under King Charles II and its growth was, for many years, the story of the birth of Canada as the fur trade was the driving force in opening up the West. Today, The Bay operates 91 stores in eight provinces as well as an online store.
back to top
Online tool sales on the increase
PORT WASHINGTON, NY — A new report from the NPD Group indicates that consumer behaviour is changing when it comes to power tool purchases. According to the report, the category (in the U.S.) represents about $5.3 billion in outdoor power equipment, $1.7 billion in power tools, and $1.3 billion in hand tools.

Customers are also getting older – and shopping online like never before. Online sales are up 9% for power tools and 7% of outdoor power equipment. Hand-tool purchases by users 45 years and over increased 11% over the past year, while those 65 and over accounted for 30% more in power tool sales, and 16% more in outdoor power equipment.

Popular items, the report revealed, were snow blowers (sales were up 6% from last year), electric staplers and brad nailers, up 7%, and wrench sales, also up 7%.
Do it Best focuses on dealer recruitment
INDIANAPOLIS — At the recent spring market of Do it Best Corp., president and CEO Bob Taylor announced the creation of a sales team whose sole purpose is to search out new retail converts to the Do it Best banner.

The new team is being backed by what Taylor called the industry's first performance satisfaction guarantee. If any retailer who converts to Do it Best is not completely satisfied with the service they receive in the first three years, the wholesaler will help convert them back to their previous supplier and compensate them financially.

Taylor also told his dealer-members that Do it Best's year-to-date sales are up 4%, despite a slow April. He added that the company's future is strong, as members are on track for the eighth consecutive year to receive a total of more than $100 million in rebates, the company has no long-term debt, and no gasoline surcharge has been added to deliveries, despite rising fuel costs.
Classifieds
NATIONAL SALES MANAGER ROOFING, CANADA
MILTON, ONTARIO
Roxul Inc. (www.roxul.com) is a leading North American manufacturer and marketer of planet-friendly insulation made from natural stone and recycled material. With headquarters in Milton, ON and production facilities in Milton and Grand Forks, BC, Roxul is a subsidiary of Rockwool International. Roxul's fire-resistant, stone wool insulation products are used in residential, commercial, and industrial applications to save energy, lower emissions, and provide added safety.
The company is currently seeking a talented, energetic National Sales Manager to join its Canadian Roofing sales team based in Milton. Reporting to the North American Roofing Manager, the successful candidate will be responsible for sales growth in Canada for our high-quality roofing products - managing national accounts and distribution channels for the Canadian roofing market as well as strengthening specifications' awareness with architects, specifiers, and consultants. Roxul offers a dynamic environment with state-of-the-art equipment and an excellent remuneration and benefit package.
KEY COMPETENCIES:
Proven track record in roofing and/or building materials sales in Canada  
Strong organizational, interpersonal, and presentation skills
Excellent negotiation skills
New business development abilities 
Supervisory skills in managing and developing sales personnel
Can establish positive working relationships with your team and other departments internally
Excellent analytical ability
Ability to work within established budgets
KEY QUALIFICATIONS:
Business or technical post secondary diploma/degree
Experience in the Canadian roofing and/or building materials industry required
Executive level contacts with residential, commercial, and industrial roofing clients, architectural firms, specifiers, consultants.
Ability to develop and execute sales and management programs and policies
Strong computer skills
Ability to travel regularly across Canada
Please submit résumé via email to:
Black Eagle Executive Search
c/o Richard Simms at rsimms@blackeagle.ca
NATIONAL ACCOUNTS MANAGER, TORONTO, ONTARIO.
Canadian Technical Tape Ltd./W. Ralston (Canada) Inc. (www.cttgroup.com), a leading manufacturer of pressure sensitive tapes, plastic film and a wide assortment of trash, recycling, storage and compostable bags  is seeking a Toronto-based National Accounts Manager responsible for managing the company's Canadian national retail accounts as well as developing business with potential new national accounts.
MAJOR RESPONSIBILITIES:
Sales to existing National Retail Accounts:
 

Continually build strong business relationships
Provide product training as required
Identify customer needs and provide solutions
Development of New Accounts and Opportunities:
 

Identify opportunities for new National Retail Account business
Identify new applications and markets for existing and new products
KEY COMPETENCIES:
Negotiating ability and proven ability to acquire new accounts
Strong communication, presentation, and business relationship skills
Good analytical skills, e.g., budgeting, sales forecasting, etc.
Very detail oriented, organized and disciplined, attention to accuracy
Self-motivated and ability to work independently as well as in a team environment
Ability to multi-task in a fast paced environment
Regular travel to current and potential customers
KEY QUALIFICATIONS:
7-10 years sales experience in the Canadian hardware, building materials, paint sundries markets calling on National Retailers
Post secondary diploma or equivalent ideally in business or related field
Bilingual (English/French) preferred but not required
Proficient in key Microsoft platforms including Excel, Word, PowerPoint, Outlook
Please submit résumé via email to:
Black Eagle Executive Search
c/o Richard Simms at rsimms@blackeagle.ca
Position: Account Manager for
Saskatchewan, Manitoba & Northwestern Ontario
ProfitMaster Canada is an innovative, growing software company, marketing technology solutions for the hardware and building products industry. Our workplace values and rewards integrity, respect, open communication, initiative and continuous learning. We are currently seeking a professional self-motivated individual to join our Sales Team.

Reporting to the Sales Manager, the position would be based out of the Winnipeg office located in the University of Manitoba's Smartpark,

Special consideration will be given to those with three to five years of sales experience in the Lumber and Building Supply or Software industries.

A strong knowledge of Computers and Software would be an asset.
The Sherwin Williams Wood Care Group Canada has an exciting role to drive business results supporting our Western Canadian business. This position will be responsible for supporting two of the premier Home Improvement brands Minwax and Thompson's Waterseal.
Position: Account Executive
Location: Western Canada
This position will be responsible for selling and supporting store level opportunities. The primary focus will be on targeting line extensions, expanded Plan-O-Grams, Introduction of New Products,  securing incremental opportunities and overall store level support for specified geographical region. This position will both support Regional and Independent businesses, as well as supporting our National Account(s) at store level.
RESPONSIBILITIES:
Minimum 3 yrs Sales and or Sales Related experience
Experience and proven ability to conduct outside sales calls
Must have proven Sales Track record
Must have Merchandising experience
Must demonstrate strong communication skills
Must demonstrate problem solving skills
QUALIFICATIONS:
Bachelor's Degree preferred
Must be able to travel 95% of time/Overnight travel 50-60%
Must be willing to work some weekends (Trade and Consumer Shows)
Must possess Valid Drivers License
E-mail: laura.a.weaver@sherwin.com   
No agencies, please.
We appreciate your response; however, only candidates under consideration will be contacted.
Lee Valley Tools has created an envied brand built on solid merchandising of quality goods in four distinct lines of business that have made their reputation: Woodworking, Gardening, Hardware and Gift.  This private, multi-channel marketer is now seeking to add a valuable member to their management team:
DIRECTOR, PUBLICATIONS
Reporting to the V.P. Merchandising, the Director, Publications will connect the strategic and business goals of Product Development and Retail Marketing into the design, photography, editing and execution of the company's renowned catalogue in North America. Stewardship of the development and direction of designers, photographers and  merchandising make-up of each catalogue page to the graphic presentation standards of the company are the fundamental responsibility of this position.
As a candidate, you will have a compelling track record of success as a hands-on manager of creative and technical process and at least 8-10 years of relevant experience managing and mentoring talented teams. Guiding the publication activities, advancing and directing the production of over 25 catalogues a year,you bring a background in a related function, possibly in retail, packaged goods merchandising or advertising. Creative capabilities, visual competencies, good knowledge of the print industry and solid information technology savvy will go a long way in a seamless entry to this fascinating role.
Interested candidate should apply in confidence to Maureen Sinden Executive Search, Suite 200, 440 Laurier Avenue W., Ottawa, ON K1R 7X6 sinden@intranet.ca
We thank all respondents, however, only those candidates selected for an interview will be contacted.
Resumés
A conscientious, highly motivated manager with a results-oriented track record in developing new business.

view this

resumé

A goal oriented sales director that has superior management skills, customer oriented, with in depth knowledge of the industry and the ability to achieve results.

view this

resumé

An experienced merchandising executive possessing passion, vision, and a strategic approach to delivering bottom-line.

view this

resumé

Senior sales/marketing leader with experience in all classes of trade wishing new HARDLINES career. view this

resumé

Very Experienced Business Unit Manager, great passion for generating sales and building relastionships.view this

resumé

Worked through my career within the manfucaturer, wholesale and consumer goods industries. view this

resumé

Senior Sales Manager with vast experience in retail and wholesale sales growth in Canada. view this

resumé
Connect with us!