In This Issue:
"Even if you're on the right track, you'll get run over if you just sit there." —Will Rogers (American humorist, social commentator and actor, 1879-1935)
TruServ keeps communication open with other groups
WINNIPEG — TruServ Canada continues to look for strategic alliances and relationships that will ensure its future. Most recently the dealer-owned corporation forged an agreement with Castle Building Centres Group, to supply that group's members with a complete line of hardware across the country. The deal was announced at TruServ's spring market two weeks ago.However, not all talks have substantive results. Recent talks with Home Hardware Stores Ltd. ended with no conclusion. While they were behind closed doors, Bill Morrison, president and CEO of TruServ Canada admits that meetings took place. "We had some pretty casual conversations but I don't think anything concrete will come out of it at this time," he told Hardlines, adding that nothing came of those meetings. Paul Straus, vice-president and CEO of Home Hardware Stores, would not comment but did note, "True Value and Home Hardware are both part of Interlink Group [an international association of dealer-owned co-op hardware dealers, which also includes Do-it Best and Mitre 10] and we've shared an exchange of information at our last international meeting." Morrison says TruServ will continue to explore opportunities with other groups representing independents, like the one made with Castle. "Castle members want to grow with strong vendor partners who have mutual objectives," says James Jones, vp of national marketing for Castle Building Centres. "TruServ Canada fits this nicely in the hardware category." TruServ Canada, with distribution in Winnipeg, has some of Canada's most efficient warehousing, product buying and distribution systems. The company operates a range of retail banners: True Value, V&S and Country Depot stores. ( www.truserv.ca)

Top.
TIM-BR MART outlines Ace strategy to Quebec dealers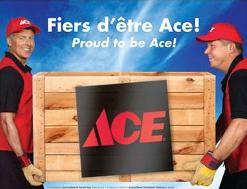 MONTREAL — Ace Hardware, one of the best known retail brands in the world, continues to make inroads into Canada, with its greatest growth right now in Quebec. Here, fully 100 dealers, some of them Pro dealers and others un-bannered independents, are converting to Ace this year. And the national buying group TIM-BR MART is managing that conversion.At a recent meeting of vendors here, hosted by the Canadian Hardware and Housewares Manufacturers Association, Phil Otto, president and CEO of Revolve, the branding and communications agency that works with TIM-BR MART, talked about Ace's international presence (4,700 stores in 60-plus countries worldwide) and TIM-BR MART's mission to make Ace products and store programs available to dealers in Canada. "TIM-BR MART's vision is to be the buying group of choice for independents," he told the vendors, by combining volumes for lowest-cost purchases, and to understand the needs of members and offer a menu of value-added services. This vision, noted, fits well with the offering from Ace. Ace is being supported in Quebec with a full marketing program that includes flyers, as well as radio, print and television advertising. In addition, Ace members benefit from the combined buying power of TIM-BR MART under that group's membership in Spancan, the giant hardlines buying group. The central message from Otto was that it's business as usual as the Ace banner expands under TIM-BR MART's direction. "For clarification on who vendors should present their programs to regarding Ace branded stores that are members of TIM-BR MART, it is status quo," he says. "Vendors should continue to present programs to their contacts at CanWel and Spancan, as they have always done in the past."
RONA reaffirms commitment to sustainable development initiatives
BOUCHERVILLE , Que. — At its recent annual meeting, RONA executives took the opportunity to reinforce the retailer's commitment to the environment. According to President and CEO Robert Dutton, RONA's aim is to become the sustainable development leader in the retail home improvement industry. And while the company has embraced a range of sustainable development initiatives in the past, a complete and consistent strategy was unveiled in late 2008.The initiatives include the products on the store shelves. The RONA ECO line has been subjected to an audit that assesses each product's impact on the environment across its entire life cycle. This year, 50 ECO-branded products have come out and the company's goal is to reach 250 products by 2011. In addition, RONA offers more than 700 eco-responsible products under various other brands, with a target of 2,000 products by 2011. On July 1, all RONA stores will stop selling synthetic pesticides for cosmetic, or household, use. And after extensive consultation with the lumber industry and environmental groups, RONA adopted a new wood products procurement policy in 2008. The policy has been recognized by Greenpeace as "the most demanding in North America."
Home Depot helps consumers to "green" their homes
TORONTO — A new survey of homeowners by Home Depot Canada has given Canadian homeowners only a 60 rating out of a possible index of 100 when it comes to "greening" their homes. This first-ever Canadian Green Home Index was developed by Environics Research for Home Depot Canada.Just 23 percent of Canadians report feeling "very confident" that they have the knowledge and resources to make their homes more environmentally friendly. Home Depot is using the study to help guide its customers to appropriate products and projects that will enhance the sustainable nature of their homes. According to the study, the top three steps Canadian consumers have taken in the past six months to make their homes greener include:
purchasing recyclable or biodegradable and organic products (25 percent);
purchasing energy efficient light bulbs (24 percent); and
using recycling and compost bags (22 percent).
The Canadian Green Home Index highlights a few easy fixes Canadians can incorporate into their daily lives. For example:
only nine percent of consumers have purchased green household cleaning products in the last six months;
just seven percent turn off lights or appliances when not being used;
a mere six percent report curbing water usage at home; and
despite the current trend to encourage reusable shopping bags, only seven percent of Canadians admit they've adopted this practice.
Home Depot Canada stocks more than 1,600 Eco Options products, including compact fluorescent light bulbs, Energy Star appliances, natural lawn and garden products, solar garden lights, and energy efficient fixtures.
To place an ad in our classified section click here or call 416-489-3396
5 Most Recent Industry Resum

és
Exceptional sales professional with management, training and team building experience.
A creative, strategic thinking and results oriented Sales Professional.
Dynamic business development specialist seeking managment opportunity
Well-spoken, energetic, confident, and personable, the type of person on whom your customers and employees will rely.
A seasoned veteran with a wealth of experience, on the front lines of Retailing. Personable, energetic and dedicated to providing Exceptional Customer Service.
A sales leader experienced in coaching, managing and developing sales teams.
Know someone who is between jobs? We will send a complimentary subscription to anyone who is seeking a job. We also offer a free Online Resumé Service. Ask them to call or email us here at the World Headquarters. (And why not tell your HR department about this service!) Email Brady for more info. —Beverly
Sell your company - or buy one - with HARDLINES Classifieds! Do your executive search, find new lines or get new reps in the HARDLINES Marketplace. Only $2.75 per word for three weeks in the classifieds. To place your ad, call Brady Peever at 416-489-3396 or email: brady@hardlines.ca
To ensure you receive your HARDLINES newsletter each week, please add bev@HARDLINES.ca to your address book.

Did your email system make this newsletter unreadable? You can read it online instead. call us to find out how.

Publishing Details: HARDLINES is published weekly (except monthly in December and August) by HARDLINES Inc. 360 Dupont Street Toronto, Ontario, Canada M5R 1V 9 © 2009 by HARDLINES Inc. HARDLINES™ the electronic newsletter www.HARDLINES.ca Phone: 416.489.3396; Fax: 416.489.6154 Michael McLarney - Editor & President - mike@HARDLINES.ca Beverly Allen, Publisher - bev@HARDLINES.ca Brady Peever - Circulation Manager - brady@HARDLINES.ca Kathryn Crosthwait - Accounting - kath@HARDLINES.ca The HARDLINES "Fair Play" Policy:Reproduction in whole or in part is very uncool and strictly forbidden and really and truly against the law. So please, play fair! Call for information on multiple subscriptions or a site license for your company. We do want as many people as possible to read HARDLINES each week - but let us handle your internal routing from this end! Subscription:$299 (Canadian subscribers add $14.86 GST = $315.21 per year/ GST #13987 0398 RT).Secondary subscriptions at the same office are only $48.75 (Canadian subscribers add $2.44 GST = $51.19).Ask about our reduced rate for branch offices.You can pay online by VISA/MC/AMEX at our secure website or send us money. Please make cheque payable to HARDLINES.
NEWS IN BRIEF
BARRIE, Ont. — Can-Save, the specialty building materials distributor, has forged a new partnership agreement with Architectural Ornament, a manufacturer of high-density polyurethane interior and exterior decorative mouldings. Architectural Ornament's collection of crown mouldings, ceiling medallions, chair rails, exterior trim, and entranceway systems replace sculptured plaster. (Can-Save and Architectural Ornament will be presenting several programs at the Can-Save Expo 2009, May 28.)

MONTREAL — A billboard that went up here last week was a live ad for RONA's new paint recovery program. This ad, which riffed on an existing Apple billboard and is part of the retailer's new "Doing it Right" campaign, was erected at the entrance to Jacques-Cartier bridge during the early morning last week, creating a sort of ad as theatre. It's pretty cool. Check it out on Youtube.
ST. JACOBS, Ont. — Building on its home town roots, Home Hardware's latest TV ad features its own dealers and the co-op's new slogan, "Home Owners helping homeowners". The ad is hip and fast-paced, reflecting an apparent thrust to a younger market. Check it out on Hardlines TV.

LONDON — Britain's largest DIY retailer, B&Q, has introduced a reloadable gift card for corporate use. The card is intended for companies that wish to motivate or reward staff for improved performance. The card's features include remote activation. It's part of the company's new Business Services division, which will provide support services such as design and copywriting, fulfilment, and distribution of the incentive program. ATLANTA — Ace Hardware, the largest independent hardware chain in the U.S., is moving into the metro Atlanta market — where its big-box rival, Home Depot, is headquartered. Ace is opening four stores in the city this year, after opening four stores last year, according to The Atlanta Journal-Constitution. Considered by Ace to be the fastest pace of growth for the area in many years, another eight store openings are planned over the next two years. ATLANTA — In an effort to cultivate future leaders for the building and construction fields, Home Depot has set up a new trade scholarship program that will award more than $300,000 to 600-plus students who are enrolled in industry-related programs this fall. The company stated that the program is open to students across the U.S., who are in their final year in a building or construction trade program at a college, university or other accredited institution. TAYLOR , Mich. — Masco Corp. has reported that net sales from continuing operations for the quarter ended March 31, 2009 declined 26 percent to $1.8 billion, vs. $2.5 billion for the first quarter of 2008. North American sales declined 24 percent and international sales were down 31 percent. DALLAS — Pro dealer Builders FirstSource reported a net loss of $30.6 million for the three months ended March 31. That compares to a $15.8 million loss for the same three months a year earlier. During the first quarter, the company's 57 yards generated $163.8 million in revenue, or 37 percent less than the same quarter in 2008.
PEOPLE ON THE MOVE
Lowe's Canada has a new director, talent planning. Bill J. Goguen takes over the role from Keith Lobo, who has move on to become store manager. Goguen reports to Catherine Townshend, vice-president of HR. (416-730-7300)

Elena Opasini, editor of Hardware & Home Centre magazine, has retired from the publication after almost two decades there. She took the helm with the May 1991 issue. A warm and compassionate friend to many of us in this industry, Elena wrote honestly about the industry she was serving. She had little time for companies, products or — most importantly — politicians that did not measure up to her high standards. In her final editorial, she shares the sense of tenuousness that beset her in her early days, a sense that was soon to be replaced by her trademark self-assurance. "…[I was] wondering how I could possibly cover an industry as diverse and complex as hardlines. Little did I know how much change would alter our industry and retailing as a whole. NAFTA, the Big Box revolution, the GST, record booms and our current record bust, little of it could have been foreseen back in 1991...." Peter Sobchak replaces her as the new editor. (elenaopasini@rogers.com) Tom Newton is the new director of sales and marketing – Retail Division at Loxcreen Flooring Group. He was previously with Deft Inc., a U.S. paint manufacturer. (800-565-6653)

Chad Allison has been named director of product development for Maxtech Consumer Products Limited. (519-885-5336) To place a listing in our "People on the Move" section, please send me the information, including the person's name, title and contact email or phone number, if desired at mike@hardlines.ca. We reserve the right to edit items for length. —Michael

2009 National Hardware Show®, May 5-7 at the Las Vegas Convention Center, debuts its

7-events-in-1

strategy. Re-designed to reflect how retailers buy, explore over 2,800 companies in the seven major home improvement categories: Hardware & Tools, Lawn, Garden & Outdoor Living, Paint & Accessories, Homewares, Plumbing & Electrical, Storage & Organization and International Sourcing Convention.
Hardlines Products
Hardlines Quarterly Report
Hardlines Retail Report
Hardlines Hot Product Showcase
Hardlines TV
Free daily news updates
Did you know you can have this newsletter sent to someone else in your office for only $4.06 a month per person?
Click the link below to spread the news to your whole office!