In This Issue:
"Decision making is the specific executive task." —Peter Drucker (American business philosopher and author, 1909-2005)
Please play fair: We ask all our Faithful HARDLINES Subscribers to abide by our "Fair Play" Policy. Help us protect our copyright (and get our kids through college). Please don't pass along your copy to someone who could be a subscriber themselves. We have very low rates for additional subscribers at your company or in the field. Call Brady for more information, or click here to see our low rates —Michael
RONA sees signs of recovery in third quarter results
BOUCHERVILLE, Que. — RONA inc., Canada's largest home improvement retailer, reported consolidated sales (sales from corporately owned stores and through distribution) of $1.32 billion in third quarter, down $61.2 million or 4.4% from $1.38 billion in 2008. That loss was reflected in a 5.3% reduction in same-store sales at RONA's corporate and franchise stores, while distribution sales were down 1.6%.Net earnings were down $3.4 million, or 6.4%, to $49.1 million. Despite higher sales to commercial and professional customers in Ontario, sales overall in Canada were down, a result of the lingering economic situation. RONA blamed the drop in same-store sales on weaker housing starts in 2009, which put downward pressure on sales by its contractor oriented outlets. Then, hopes for a recovery during the summer were dimmed by poor weather. RONA's sales of forest products, building materials and seasonal items were especially hard hit by current conditions, while products for smaller projects and fix ups, such as paint, light fixtures, hardware, and kitchen and installation services posted positive sales in the third quarter. "As anticipated, we glimpsed the first signs of recovery in our industry during the third quarter. Same-store sales in our store network continued to decline, but more slowly than at the beginning of the year," RONA president and CEO Robert Dutton said. During the quarter, RONA managed to keep growing its network of independent dealer-owners, and since the beginning of the year, 12 dealer-owners representing an estimated $30 million in annual sales have been recruited. In addition, RONA dealer-owners have completed 42 store expansions or renovations totalling nearly $40 million in investment. Consolidated sales for the nine-month period were $3.54 billion, down 6.1% from $3.77 billion in 2008. For the nine-month period, net earnings declined by 15.2% to $107.4 million, from $126.7 million in 2008.

Top.
Canadian Tire sales dip in third quarter
TORONTO — Canadian Tire Corp. released third-quarter results showing an anticipated drop in its core retail business. However, overall results were pulled down by a drop in the company's Financial Services business due to a significant increase in loan losses, which contributed to a 21.8% decrease in Canadian Tire's net earnings over the same quarter in 2008.Overall sales by the corporation were down 6.0%. Canadian Tire Retail's sales decreased 2.3% from the same quarter in 2008. Unseasonably cool, wet weather impacting some seasonal businesses such as backyard living, cycling, gardening and camping, while lingering slow economic conditions impacting discretionary categories such as home décor, electronics and storage and organization. Despite overall softer sales, however, the Retail division did see a healthy increase in categories such as exercise equipment, automotive parts, kitchen and pet food. Canadian Tire Retail's third quarter adjusted earnings before income taxes were $93.7 million, down 0.4%. Increases in operating expenses for the new Eastern Canada Distribution Centre, higher store occupancy costs and continued investments in productivity initiatives were partially offset by effective cost management, particularly in advertising and supply chain. During the quarter, Canadian Tire Retail expanded one traditional store into a Smart store and opened one new Small Market store, bringing the total number of Canadian Tire stores to 476.

Top.
CanWel gets upgraded on revised housing forecasts
VANCOUVER — Low lumber and panel prices continue to impact sales by wholesalers across the country (see RONA's latest results above—Michael). But companies that rely heavily on commodity lumber products felt the crunch even more. However, as housing picks up and consumer confidence begins to return, these wholesalers may be well positioned for the recovery.CanWel Building Materials Income is one such company. It reported its third-quarter sales recently, which dropped from $227 million to $188 million. And although this reflected the tough economy, especially in Western Canada, it was also due to the continued decrease in lumber and panel prices year-over-year. "We continue to experience year-over-year deflation within the quarter in regard to the overall construction material product family. The average prices for lumber products, for example, decreased by 21% in comparison to the same period of 2008," said Tom Donaldson, president and CEO of CanWel, in a release. However, the company was able to improve its net profits through cost controls and increased efficiency. Profits rose to $7 million from $5.6 million. In addition, signs of recovery in the form revised housing forecasts from Canada Mortgage and Housing Corp., which show a modest rebound in housing starts beginning in the middle of 2010, have given a boost to companies supplying the home improvement industry, including CanWel. A report by GMP Securities considers that Canadian housing showing signs of stabilization and issued a report that maintained a "Buy" rating for CanWel. In addition, it increased CanWel's target price to $4 from $2.25. "As a whole, housing data has improved from the recent lows in early 2009 and we believe that the housing market has shown signs of stabilization. We view this positively for CanWel and believe that the company will benefit from any recovery in Canadian housing activity or renovation spending," says the report. CanWel operates 16 distribution centres across Canada, selling through two divisions, CanWel Distribution, selling building materials, and CanWel Hardware Division (formerly Sodisco-Howden Group), selling hardware.
Canadian Tire centralizes automotive businesses
TORONTO — Canadian Tire Corp. has made organizational changes that pull together key corporate functions, with an emphasis on strengthening its core automotive businesses. The company has centralized finance, human resources, information technology, communications, government relations, legal and real estate — functions that had previously been disparate across Canadian Tire's operations.To lead the new company-wide automotive initiative, Michael Medline has been appointed president, Canadian Tire automotive and dealer relations. All aspects of automotive across all business units (PartSource, Petroleum, automotive hard parts, accessories, service centres and tires) will be handled under with a single strategic mission. Medline, a nine-year veteran of Canadian Tire, will continue to work with Canadian Tire dealers to grow the company's broader retail and automotive businesses as one company. Huw Thomas is becoming executive vice president, financial strategy & performance to oversee Canadian Tire's financial strategy and performance company-wide. He will act as a senior strategic advisor to the Stephen Wetmore, Canadian Tire CEO. He was formerly CFO, and will retain responsibility for investor relations. Company-wide financial operations will now be centralized under Marco Marrone, who has been appointed CFO and evp, finance. In addition, Dean McCann has been appointed president, Canadian Tire Financial Services and an officer of the company.
INVITATION FOR OFFERS BUILDING CENTRE

WESTLOCK , AB

Alger & Associates Inc. in its capacity as Receiver of the property, assets and undertakings of Melvax Holdings Corp. which operated as Rona Westlock and previously as a Home Hardware Building Centre (the "Company") invites written offers to purchase the business and operating assets of the Company.

The Company's assets consist of inventory, store fixtures and equipment; rolling stock, land and building and the potential ability to operate as a dealer owned Home Building Centre or Rona. For further information or to obtain an information package, please contact Ray Leblanc (rleblanc@alger.ca) or Ron Nordstrom (rnordstrom@alger.ca), by telephone at 780.414.1133 or refer to our website at www.alger.ca Written offers must be submitted to our office by 12:00 noon MDT, Monday, December 7, 2009. The Receiver reserves the right to enter into agreements for sale prior to December 7, 2009. The highest or any offer will not necessarily be accepted.

Alger & Associates Inc. 312 Capital Place 9707 - 110 Street Edmonton , Alberta T5K 2L9

Tel. 780.414.1133 Fax. 780.413.9666
Moen (Buy it for looks. Buy it for life™) sets the standard for high quality, fashion oriented kitchen and bath fixtures and accessories. As a Sales & Service Representative, you'll provide legendary service to valued retail box store customers and independents in a territory encompassing the eastern GTA north to Barrie, east to Peterborough and south to Lake Ontario. You'll conduct PK sessions, merchandising duties including resets, ordering, selling through overages, marketing and promo programs and managing RTV's in addition to developing new opportunities. You've been in a similar role for 2+ years and have the enthusiasm, motivation and sales expertise…the company will in turn supply a great team to work with, in addition to a stellar reputation and all of the tools to make your job efficient including company vehicle, Blackberry and more. Familiarity with home improvement, mass retailers and independents combined your comfort level using technology tools are required. Internal career growth is also a distinct possibility. To explore this opportunity in complete confidence, please contact Wolf Gugler (888-848-3006), apply online at http://www.wolfgugler.com/opportunities or email your resume to resumes@wolfgugler.com. Wolf Gugler & Associates Limited, www.wolfgugler.com. Retailer and Supplier Executive Search and selection. Offices in Canada and the U.S.

BILINGUAL SALES REPRESENTATIVE
Leading Toronto-based manufacturer of Lawn & Garden and Construction related products is seeking a fluently bilingual (English/French) sales representative. Toronto based position with responsibilities for sales to existing clients in the GTA and Eastern Ontario as well as new business development.
Key competencies required are self-starter requiring a minimum of supervision, good analytical skills, team player. This position requires an outgoing and motivated sales professional with minimum of 3-5 years experience in the Lawn & Garden/Construction or related industry. Relevant post secondary education and proficiency in Microsoft Office applications required. Must be able to travel as required with occasional out of town trips and work flexible hours including some weekends. Competitive salary plus commission, benefit package, kilometer allowance. Please submit your résumé via email to: Black Eagle Executive Search c/o Richard Simms at
rsimms@blackeagle.ca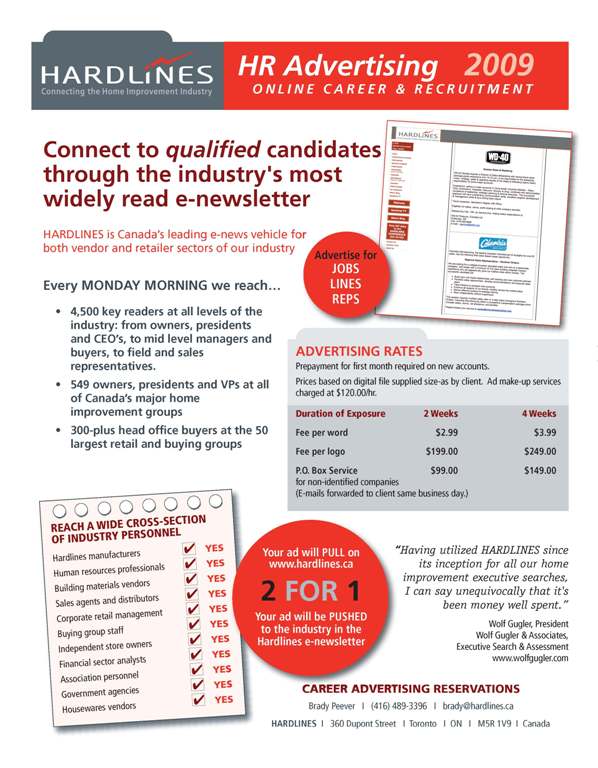 To place an ad in our classified section click here or call 416—489—3396
Results oriented sales professional with a strong record of achievement in strategic and tactical roles.
Seasoned Sales veteran. Experienced, dealing with established and new manufacturers introducing new products to key retailers in the Canadian market.
Leadership, sales and communication skills, seeking a challenging and results—oriented environment.
A creative, strategic thinking and results oriented Sales Professional.
Know someone who is between jobs? We will send a complimentary subscription to anyone who is seeking a job. We also offer a free Online Resumé Service. Ask them to call or email us here at the World Headquarters. (And why not tell your HR department about this service!) Email Brady for more info. —Beverly
Marketplace
Sell your company — or buy one — with HARDLINES Classifieds! Do your executive search, find new lines or get new reps in the HARDLINES Marketplace. Only $2.75 per word for three weeks in the classifieds. To place your ad, call Brady Peever at 416—489—3396 or email: brady@hardlines.ca
To ensure you receive your HARDLINES newsletter each week, please add bev@HARDLINES.ca to your address book.

Did your email system make this newsletter unreadable? You can read it online instead. call us to find out how.

Publishing Details: HARDLINES is published weekly (except monthly in December and August) by HARDLINES Inc. 360 Dupont Street Toronto, Ontario, Canada M5R 1V 9 © 2009 by HARDLINES Inc. HARDLINES™ the electronic newsletter www.HARDLINES.ca Phone: 416.489.3396; Fax: 416.489.6154 Michael McLarney — Editor & President — mike@HARDLINES.ca Beverly Allen, Publisher — bev@HARDLINES.ca Brady Peever — Client Services Manager — brady@HARDLINES.ca Chiaki Nemoto — Accounting — chiaki@HARDLINES.ca The HARDLINES "Fair Play" Policy:Reproduction in whole or in part is very uncool and strictly forbidden and really and truly against the law. So please, play fair! Call for information on multiple subscriptions or a site license for your company. We do want as many people as possible to read HARDLINES each week — but let us handle your internal routing from this end! Subscription:$299 (Canadian subscribers add $14.86 GST = $315.21 per year/ GST #13987 0398 RT).Secondary subscriptions at the same office are only $48.75 (Canadian subscribers add $2.44 GST = $51.19).Ask about our reduced rate for branch offices.You can pay online by VISA/MC/AMEX at our secure website or send us money. Please make cheque payable to HARDLINES.

Join us for breakfast with Ken Jenkins, President of Castle Building Centres. Hardlines, in association with NRHA Canada, is pleased to present our latest Executive Breakfast, Nov. 18. Mr Jenkins will offer valuable insights into a buying group that represents more than $1 billion in retail sales across Canada. Prepare for 2010 with this must-attend information event. Click here to register

DID YOU KNOW…?
…that there are twice as many hardware stores in Alberta as there are in British Columbia? Or that Sexton Group has almost 3% of the PEI market? Or that Kent has almost twice the market share of Home Depot in Nova Scotia? You might have known that Quebec represents more than one-fifth of the Canadian retail home improvement market, but I'll bet you didn't know that RONA and Castle have similar market shares in Saskatchewan. This is just a small part of the HARDLINES Market Share Report, available in just a few days! To order your Report, click here

NEWS IN BRIEF
CANDIAC, Que. — Techniseal celebrated its 25th anniversary recently with the grand opening of a new facility. More than 200 guests, including Candiac mayor André J. Côté, were given a tour of the state-of-the-art manufacturing plant. What began as a snow-ploughing business operating from the family home by the Bélair brothers (Denis, André and Claude), has grown since 1984 into a worldwide supplier of some 50 maintenance and protecting products for pavers, asphalt, garage floors, roofing and exterior wood. SURREY, B.C. — Builders Without Borders partnered with the Aboriginal Women's Shelter to build homes for the homeless in East Vancouver. The homes were built in part by aboriginal women. The program helped train aboriginal women in basic construction skills to help bring more aboriginal women into the trades. IRLY Distributors donated building materials and tools to the project.
To learn more about this program,
check out this youtube video.
MONTREAL — RONA unveiled its newest retail concept last week, STUDIO by RONA. This dedicated paint and décor store, in the St-Leonard neighborhood of Montreal, is one of three such stores to open (the others are in Vaudreuil and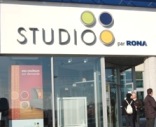 Rosemère). More are planned across the country. Each store weighs in at about 10,000 square feet and is aimed at DIYers, professional painters and interior designers. GORMLEY, Ont. — Weston Forest Products has purchased Colony Ratcliff Lumber Inc.'s Industrial Lumber business. Colony Ratcliff, a Castle dealer, plans to focus on its core business, which includes serving the home building market. Weston Forest Products, based in Mississauga, Ont., is a family-owned business company that has been distributing and remanufacturing softwood, hardwood and panel products to industrial customers throughout North America since 1953. CALGARY — CanWel Hardware held its Western buying show last week in Calgary, hosting dealers mainly from TIM-BR MART, as well as some Castle members. Another show, for its Eastern dealers, will be held Nov. 21-22 in Quebec City. COLOGNE, Germany — What power tools are currently available on the market? What can they do, and what innovations will be available in the future? These are the questions that will be addressed by the special exhibition titled "Modern power tools for more productivity, safety and ergonomics" at the International Hardware Fair Feb. 28 to March 3, 2010. The exhibition is being organized in cooperation with the Association of German Tool Manufacturers and the German Tool Museum in Remscheid. For more info,
click here.
ATLANTA — Home Depot has launched an online gift card program with CashStar. Timed for the holiday season, the program provides hosted web technology that lets gift card buyers choose from several card images or design their own card with uploaded images and text. CANBERRA , Australia — A key element of the deal that will expand Lowe's Cos.' presence into Australia was put into place last week. The Australian Competition and Consumer Commission approved the takeover of Danks Group, a leading hardlines retailer and wholesaler, by Woolworths, the country's largest retailer, and Lowe's, a joint-venture partner in a strategy that plans to open at least 30 warehouse home improvement centers over the next five years. Lowe's is one-third owner of the venture and has committed $100 million to it. The partnership reportedly is looking to secure up to 150 sites for new stores over the next 10 years. TORONTO — Northcore Technologies Inc., a global provider of asset management technology solutions, has entered into a memorandum of understanding with Home Hardware Stores Limited to provide an Intranet for Home Hardware dealers across Canada to more efficiently source assets for their business needs. Northcore will supply application hosting, application development and software customization. BENTONVILLE, Ark. — Wal-Mart Stores had net sales for the third quarter of $98.67 billion, an increase of 1.1% from $97.62 billion in the third quarter last year. On a constant currency basis (which assumes currency exchange rates remained the same as the prior year), net sales for the third quarter would have been $2.617 billion higher, increasing 3.8% to approximately $101.28 billion. Income from continuing operations increased to $3.25 billion from $3.03 billion in the same period last year. DUSSELDORF, Germany & ROCKY HILL, Conn. — In the third quarter of 2009, Henkel generated sales of €3.49 billion, a decrease of 7.3% compared to the prior-year quarter. The drop was due to a 7.6% drop in the Adhesive Technologies division. Laundry & Home Care posted an increase in organic sales of 2.4% while Cosmetics/Toiletries saw organic sales rise of 3.7%. Net earnings for the quarter rose by 68.2%, from €107 million to €180 million. After deducting minority interests of €8 million, quarterly net earnings totaled €172 million, compared to €101 million.

ECONOMIC INDICATORS
The seasonally adjusted annual rate of housing starts reached 157,300 units in October, up from 149,300 starts in September, due largely to an improvement in multiple starts. Urban starts increased by 5.2% to 139,900 units overall. Of that, urban multiples were up 13.8 per cent to 72,600 units and urban single starts declined by 2.7% to 67,300 units. (CMHC)

NOTED...
Hardware Merchandising magazine, in conjunction with Burlington Merchandising and Fixtures, presents the Canadian Home Improvement Merchandising Awards (CHIMAs), created to honour excellence in the in-store merchandising of products specific to the hardware/home improvement marketplace. Winners are awarded in each of five categories: Department Presentation-Chain Stores; Hardware and Housewares Merchandising; Building Materials Merchandising; Department Presentation-Independent Dealer; and Seasonal Product Merchandising.Hardware Merchandising is now soliciting entries for the 2009 CHIMA awards, which will be presented at the Canadian Home Improvement Show on February 11, 2010 in Toronto. Any Canadian hardware/home improvement dealer is eligible to enter regardless of size or buying group affiliation, and individuals or buying groups can put in an entry on behalf of a dealer. For more information, contact Mike Frame (Burlington Merchandising & Fixtures) mframe@bmfonline.com or Dave Chestnut (Hardware Merchandising) david.chestnut@rci.rogers.com . Entries will be accepted until Nov. 25, 2009.
Hardlines Quarterly Report
Hardlines Retail Report
Hardlines Hot Product Showcase
Hardlines TV
Free daily news updates
Did you know you can have this newsletter sent to someone else in your office for less than a dollar an issue!