In This Issue:
PlUS: Canwel gets upgraded, Ace year to date, Masco earnings, Wal-Mart adds caskets, Bunnings fights back - and more!
"Life is the art of drawing sufficient conclusions from insufficient premises." —Samuel Butler (British author, 1835-1902)
Please play fair: We ask all our Faithful HARDLINES Subscribers to abide by our "Fair Play" Policy. Help us protect our copyright (and get our kids through college). Please don't pass along your copy to someone who could be a subscriber themselves. We have very low rates for additional subscribers at your company or in the field. Call Brady for more information, or click here to see our low rates —Michael
Independents garner Newsmaker Award
WORLD HEADQUARTERS, TORONTO

—

Each year, HARDLINES presents the Newsmaker Award to a company based on its performance that has made a significant impact on the industry. Many major retailers, and even a few suppliers, have garnered the HARDLINES Newsmaker Award over the years. But this year, it wasn't one company but a particular segment of the industry that has consistently made a newsworthy impact.In a year when big boxes were losing market share and other large-format stores were losing ground, the Independent Dealers have successfully maintained their share of the retail home improvement market

—

and remained connected with their local customers.

That's why we selected the Independent Dealer in Canada as our Newsmaker of the Year. We then invited five Dealers, representing different regions of the country and varying retail banners, to accept the Award on behalf of the Independent Dealer in Canada. Those dealers joined us at the latest HARDLINES Conference, held Oct. 22-23, 2009. The Award-winning Dealers each have a story their own that makes them newsworthy. They are, from coast to coast:

John Nichols, Berwick Building Supplies, Berwick, N.S.: When it came time to examine his store's banner affiliation, John was not afraid to "look outside the box". Looking for a way to enhance the front end of his store with a wider selection of hardware items, he chose the BMR banner. Best known in its home province of Quebec and in related francophone regions, Le Groupe BMR has been steadily expanding to new areas, and John knew he wanted his store to be part of that expansion. Éric Deslongchamps, RONA St-Laurier, and RONA F. Daudelin & Son, Rivière-Rouge, Que.: As the third generation of his family in the business, Éric is not only a successful RONA dealer in his community, but one of the youngest dealers in the RONA network. At just 34 years of age, Éric owns two RONA stores in the Hautes-Laurentides region of Quebec. He is also a double winner, having won the Outstanding Retailer of the Year Award for Young Retailer in 2009. Jim Schaefer Jr., Bradford Home Hardware, Bradford, Ont.: Jim's hardware store is in the town of Bradford, just north of Toronto, is best known as for its intensive farming of vegetables and produce. It is also the site of intensive competition, with a Home Depot nearby. Nevertheless, Jim's business has managed to flourish against the odds. In addition, he finds time to stay active on the board of directors of Home Hardware, currently serving chairman of the board. Phil Burrett, Virden True Value, Virden, Man.: In 2006, Phil took over an existing True Value in this small town. He invested in updating the operation, adding a range of new departments and innovative merchandising techniques to make this store thrive. Today it offers a unique blend of hardware, small appliances, lawn & garden, specialty pet supplies and more. Phil's team, under manager Jamie Hercun, is committed to customer service and offers expert advice on everything from nuts and bolts to pet care. Vicki Hegel, Cook St. Castle Building Centre, Victoria, B.C.: As Castle members for 16 years, and well-established in the downtown Victoria community, Vicki and her husband Frank decided to go with Castle's own store design and imaging program. "We were looking to stay somewhat unique to ourselves, and there are no other stores branded Castle in town," says Hagel. "Castle has a really good program for store renovations, so we went with that. The store looks great and the customers are very happy with it," she adds. They celebrated their grand reopening back in June and have never looked back. HARDLINES is proud to recognize Independents across the country for their steadfastness during the tough economic climate that has marked the past 12 months. Their successes, individually and collectively, make them the 2009 Hardlines Newsmaker of the Year.

Click here for the full report and pictures of the event

(Pictures courtesy of Tizzard Marketing)

Top.
Scotia Capital's chief economist: a tale of two economies
TORONTO — What unhealthy habit caused the American economic fallout? According to Derek Holt, vice-president economics for Scotia Capital, the answer is "zero pricing for risk." Speaking to an audience of retail and supplier leaders at the recent HARDLINES Conference, Holt explained how banks south of the border gave their home and auto financing products away to people who simply couldn't afford them.

The short-term diagnosis for the U.S. auto sector, Holt said, is two or three quarters of increased economic activity as manufacturers replenish inventories that had been cut to the bone during the worst of the free fall. But, he added, expect more flat lining thereafter.

A rebound in the U.S. housing market? "A false calm," Holt warned. There is a massive "shadow inventory" of housing south of the border that is still owned by the financial institutions that seized it. Much of those units are not yet back on the market. When those units are finally released, the glut will hammer the market again.

And the worst albatross of all for the U.S. economy? Simply that "$14 trillion in lost U.S. household net worth is not going to come back for an extended period of time."

Holt's take on the Canadian economy was less gloomy. "Let's step back from the edge of the cliff and calm down a little bit," he said cheerfully. "Canadian households are not paying off debt like U.S. households are. Canadians are willing to borrow

—

and to spend." The economic prospects for Canada

—

and for the Canadian home improvement-are significantly brighter than down south, he continued. "Canadians are sitting atop a massive cash mountain compared to a decade ago," with almost a billion dollars of idle cash deposits sit in Canada's banks and trust companies. They are "a powerful shock absorber to the Canadian economy."

Top.
Digital signage didn't work for Home Depot Canada
MISSISSAUGA, Ont. — While point-of-purchase advertising and promotion continue to benefit from advancements in new technologies, one high-tech option turned out to be a dud for Home Depot Canada.
Digital signage was tested in three Home Depot stores in Ontario — Ottawa (Nepean), Toronto-Leaside and Cornwall, starting in May 2008. The tests were done in three areas where consumers were expected to have time to read the digitally generated information in the POP: on a permanent endcap upon entering the stores, the paint department and the flooring department.
However, according to Gaye Mandel, director of advertising for Home Depot Canada, the test just didn't translate into a perceivable lift in sales, especially in light of the cost of the program, a cost that invariably gets pushed back to suppliers. "This was something we could not justify going out to our vendor partners for. It was too expensive and too labour intensive," she says.
She cites two specific examples where the digital POP flopped. "There was no increase in sales in our low-VOC paint," nor did the test stores sell any more dehumidifiers than usual because of it.
"It just did not work in our environment," she says. "We ended up not rolling it out."
The latest phase of Home Depot's in-store promotional signage program was re-launched in April 2009 with time-limited discount pricing offers on signage and three-sided tabletop displays.
Quebec association gathers members for educational sessions
QUEBEC CITY

—

The Hardware and Building Materials Association of Quebec (AQMAT) hosted some 70 industry delegates here last week, the majority of them retailers, for a series of information sessions. The 11 lectures were focused on two main topics: human resources issues and finances. Two key subjects emerged: recruitment and retention in the face of changing socio-demographics; and business enterprise property transfer, including the personal, financial and legal impacts of such transfers.According to Richard Darveau, president and general manager of AQMAT, the event was part of a larger 2009-2013 strategic plan that encompasses three mandates of the association: to become a strategic source of information, to be a guide to help members become better businesspeople, and to strengthening and promoting both the profession and the hardware and building supply sector.This annual event addressed the first two mandates of generating information and supporting the business practices of members, "The association's spring event, the Congres des décideurs, is now firmly focused on the third aspect of our strategy, and will address mainly issues of macro economics and politics," Darveau says.

BILINGUAL SALES REPRESENTATIVE
Leading Toronto-based manufacturer of Lawn & Garden and Construction related products is seeking a fluently bilingual (English/French) sales representative. Toronto based position with responsibilities for sales to existing clients in the GTA and Eastern Ontario as well as new business development.
Key competencies required are self-starter requiring a minimum of supervision, good analytical skills, team player. This position requires an outgoing and motivated sales professional with minimum of 3-5 years experience in the Lawn & Garden/Construction or related industry. Relevant post secondary education and proficiency in Microsoft Office applications required. Must be able to travel as required with occasional out of town trips and work flexible hours including some weekends. Competitive salary plus commission, benefit package, kilometer allowance. Please submit your résumé via email to: Black Eagle Executive Search c/o Richard Simms at
rsimms@blackeagle.ca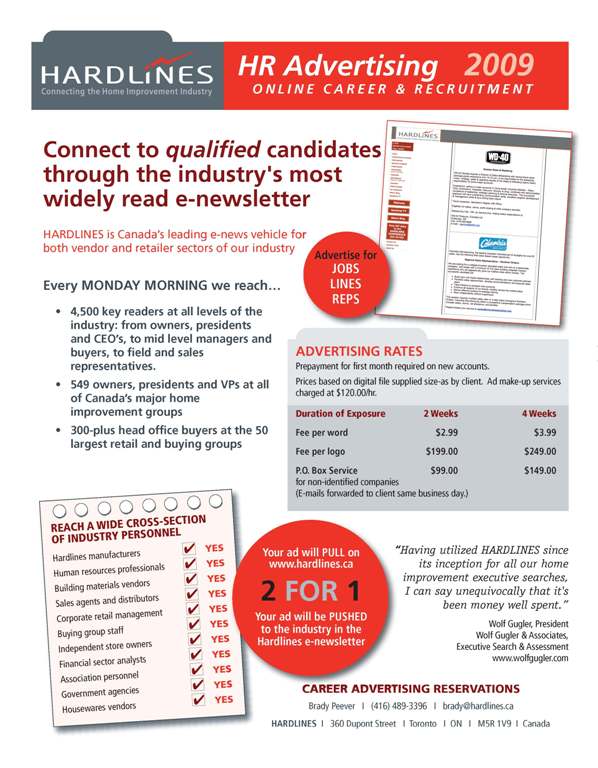 To place an ad in our classified section click here or call 416—489—3396
Results oriented sales professional with a strong record of achievement in strategic and tactical roles.
Seasoned Sales veteran. Experienced, dealing with established and new manufacturers introducing new products to key retailers in the Canadian market.
Leadership, sales and communication skills, seeking a challenging and results—oriented environment.
A creative, strategic thinking and results oriented Sales Professional.
Know someone who is between jobs? We will send a complimentary subscription to anyone who is seeking a job. We also offer a free Online Resumé Service. Ask them to call or email us here at the World Headquarters. (And why not tell your HR department about this service!) Email Brady for more info. —Beverly
Marketplace
Sell your company — or buy one — with HARDLINES Classifieds! Do your executive search, find new lines or get new reps in the HARDLINES Marketplace. Only $2.75 per word for three weeks in the classifieds. To place your ad, call Brady Peever at 416—489—3396 or email: brady@hardlines.ca
To ensure you receive your HARDLINES newsletter each week, please add bev@HARDLINES.ca to your address book.

Did your email system make this newsletter unreadable? You can read it online instead. call us to find out how.

Publishing Details: HARDLINES is published weekly (except monthly in December and August) by HARDLINES Inc. 360 Dupont Street Toronto, Ontario, Canada M5R 1V 9 © 2009 by HARDLINES Inc. HARDLINES™ the electronic newsletter www.HARDLINES.ca Phone: 416.489.3396; Fax: 416.489.6154 Michael McLarney — Editor & President — mike@HARDLINES.ca Beverly Allen, Publisher — bev@HARDLINES.ca Brady Peever — Client Services Manager — brady@HARDLINES.ca Chiaki Nemoto — Accounting — chiaki@HARDLINES.ca The HARDLINES "Fair Play" Policy:Reproduction in whole or in part is very uncool and strictly forbidden and really and truly against the law. So please, play fair! Call for information on multiple subscriptions or a site license for your company. We do want as many people as possible to read HARDLINES each week — but let us handle your internal routing from this end! Subscription:$299 (Canadian subscribers add $14.86 GST = $315.21 per year/ GST #13987 0398 RT).Secondary subscriptions at the same office are only $48.75 (Canadian subscribers add $2.44 GST = $51.19).Ask about our reduced rate for branch offices.You can pay online by VISA/MC/AMEX at our secure website or send us money. Please make cheque payable to HARDLINES.

DID YOU KNOW…?
… that there are twice as many hardware stores in Alberta as there are in British Columbia? Or that Sexton Group has almost 3% of the PEI market? Or that Kent has almost twice the market share of Home Depot in Nova Scotia? You might have known that Quebec represents more than one-fifth of the Canadian retail home improvement market, but I'll bet you didn't know that RONA and Castle have similar market shares in Saskatchewan. This is just a small part of the HARDLINES Market Share Report, available in just a few days! (To order your Report, call Brady here at the HARDLINES Information HQ: 416-489-3396 or click here for our online order form or email brady@hardlines.ca.

—

Michael)

NEWS IN BRIEF
ATLANTA

—

At its Fall Convention here Oct. 22-25, Ace Hardware Corp. reported that year-to-date sales were down 8.5% from 2008 levels, but added that bottom line profitability for 2009 was up 18% year over year. In his address to Ace members in the General Session the day before the market floor opened, Ace Chairman David Ziegler reported that the co-op's equity has been "substantially restored" to pre-2007 levels. He also reported that Ace will change the 2009 patronage distribution payout to members from 20% cash to 35% cash and 65% stock.
BENTONVILLE, Ark.
—
Wal-Mart has added caskets to its website, joining Costco with the online service. According to BusinessWeek, all the caskets are priced under $2,000, except for the luxury "Sienna Bronze Casket," which sells for $2,899. The website also offers a range of urns. ATLANTA
—
Newell Rubbermaid Inc. had third-quarter net income of $85.5 million, up from $55.0 million in the same quarter last year. Net sales were down 17.7% to $1.45 billion, from $1.76 billion. BRAMPTON, Ont.
—
Norwall Group Inc., the residential wallcoverings maker, continues to work to sort out its financing. It has received approval to extend an existing mortgage which matured on Oct. 1 for nine months to July 1, 2010. The extension is contingent upon the listing of the land and building for sale, and certain other ongoing conditions.
MELBOURNE, Australia

—

Bunnings, the giant home improvement big box chain, has added kitchen appliances. In what is likely preparation for the imminent arrival of Lowe's down under, Bunnings will add range ovens, cook tops and other kitchenwares, with brands like Chef, Franke, Westinghouse, Elba and Everdure. However, the company says it is not going to add white goods to the mix.
BIRMINGHAM, UK

—

The British Home Enhancement Trade Association, the UK trade association representing hardware and Housewares manufacturers, has moved to new offices. Effective Oct. 30, it is now located at: Federation House, 10 Vyse St., Birmingham B18 6LT. Tel: 0121 237 1130; fax: 0121 237 1133; info@bheta.co.uk.
TAYLOR, Mich.

—

Masco Corp., one of the industry's leading home-improvement product suppliers, reported a 15.2% decline in its net income, to $28 million, for the three months ended Sept. 30, during which Masco's revenue fell 16.6% to $2.09 billon. Through the first nine months of its fiscal year, Masco's sales were down 21.7% to $5.92 billion, and its profit was only $2 million, compared to $117 million for the comparable period in 2008.

PEOPLE ON THE MOVE
The IRLY Building Centres of B.C. and its distribution centre IRLY Distributors Ltd. have appointed their new board of directors: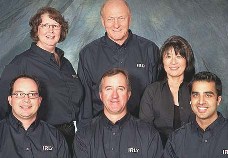 Susan Robinson, president; George Linger, chairman; Kyle Conway, vice-chairman; Carole Hamanishi, secretary; Steve Nixon, Faizal Alimohamed and Ernie Lawrence, directors. (604-596-1551)
Ash Sahi has been appointed president and CEO of Canadian Standards Association (CSA Group), a global provider of standards solutions, testing and certification services and consumer product evaluations. Sahi succeeds Robert M. Griffin, who will retire from CSA Group after 11 years. In his new role, Sahi will be responsible for providing leadership and direction for the global company with offices, testing laboratories and affiliates in more than 60 countries worldwide.
René Labrecque has joined La Coop fédérée as general manager. He brings with him some 20 years experience in hardware and agro, with strength on the commercial side of the business. Labrecque succeeds, Claude Sénéchal, who joined La Coop in fall 2007. (819-379-8551)

Hardlines Quarterly Report
Hardlines Retail Report
Hardlines Hot Product Showcase
Hardlines TV
Free daily news updates
Did you know you can have this newsletter sent to someone else in your office for less than a dollar an issue!