November 14, 2011, Volume xvii, #43
"It's a writer's job to tell the truth." —Andy Rooney (American journalist and TV commentator who died last week at the age of 92, 1919-2011)
______________________________________________________________________

______________________________________________________________________
RONA overcomes tough economy to maintain profits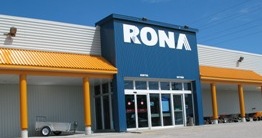 BOUCHERVILLE, QC — RONA inc. had third-quarter revenues of $1.35 billion, 2.1% over the previous-year quarter, with acquisitions and new corporate stores adding $127 million to that. Profits rose 5.1%.

However, sales by existing stores offset this gain, as same-store sales were down 5.1%. In addition, the company disposed of some corporate stores, including some that were sold to RONA affiliate dealer-owners. RONA attributed the decrease in same-store sales to continued weak consumer confidence and the decline in residential housing starts across most of the country.

The biggest declines were in Western Canada – particularly British Columbia while in-store, the seasonal, gardening, and treated wood categories had relatively good sales during the quarter, "reflecting the execution of projects delayed by poor weather in the first half of the year." There was also an increase in the tools and install categories.

On the other hand, categories related to bigger renovation projects, such as forest products, construction materials, plumbing, electrical, and flooring, were down in the quarter.

The Commercial and Professional Market division remained healthy, with revenues, including acquisitions, up more than 35%.
back to top

______________________________________________________________________
Independents are industry drivers, says Castle president
TORONTO — Against a backdrop of a tough economy, the president of Castle Building Centres says the independent dealer remains the backbone of the retail home improvement industry.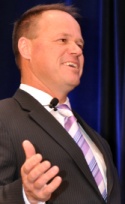 Ken Jenkins, who spoke at the 16th Annual Hardlines Conference last month, acknowledged that big box competitors have raised the bar – and continue to drive consumer awareness of home improvement. But despite their arrival in Canada almost two decades ago, "they did not cause the end of an industry," he said, and independents in Canada continue to flourish.

Jenkins touted the merits of those independents in his presentation. "The entrepreneur today is the driver of the economy. They are the ones we have to listen to for support," he said, referring to Castle's business model, which leaves marketing and merchandising decisions to the dealers themselves.

Based on Castle's approach, he offered some suggestions for independent dealers: "Stay true to your core and stay focused on the strengths of your business. Don't take product or get into businesses that benefit head office – don't believe that they know what's best for your business."
_______________________________________________________________________
Canadian Tire dealers enjoy same-store sales gain in third quarter

TORONTO — Canadian Tire Corp. saw a healthy 19.4% rise in consolidated sales in its third quarter ended Oct. 1. That increase was due mainly to a 16.3% increase in retail sales. Consolidated net income also rose – by 35.9% to $136.5 million.

"I'm pleased with the positive results in the quarter. Customers responded to our offerings, we managed our expenses effectively and continued to execute our strategies. The strong cash flow from our operations and our underlying confidence in our business has resulted in an increase to the quarterly dividend," said Canadian Tire president and CEO Stephen Wetmore.

The company's quarterly results include FGL Sports for the first time. Excluding FGL Sports, consolidated retail sales were up 7.6% and revenues were up 11.0%.

Retail sales at CTR stores increased at a more modest pace – just 3.2%, while same-store increased 2.3%, driven by sales increases across all key categories, says the company, especially the "Living and Playing" category, primarily driven by kitchen, outdoor recreational activities, and cycling product lines.
_______________________________________________________________________
Housing forecast to remain stable: CMHC

OTTAWA — Housing starts are forecast to stabilize into 2012, according to Canada Mortgage and Housing Corporation's fourth quarter. Housing starts will be in the range of 170,900 to 199,900 units in 2011, with a point forecast of 191,000 units. That's up slightly from 189,930 units in 2010.

In 2012, housing starts will be in the range of 161,650 to 206,350 units, with a point forecast of 186,750 units.

The latest numbers appear to support a flat outcome for the year: the seasonally adjusted annual rate of housing starts in October was 207,600 units, down from 208,800 a month earlier. The biggest drop was in single-detached starts in urban centres, which fell 2.1% — with urban single starts down a hefty 9.0%.

According to Mathieu Laberge, deputy chief economist at CMHC's Market Analysis Centre, "Urban multiple housing starts remained high in October, but overall housing starts are expected to moderate in line with demographic fundamentals."

October's seasonally adjusted annual rate of urban starts decreased by 43.5% in the Atlantic region, and 28.8% in Quebec, while urban starts increased by 1.5% in British Columbia, by 11.7% in Ontario, and by 28.2% in the Prairie region.

While the outlook for new home construction is not bullish, sales of existing home sales are forecast to rise somewhat. MLS anticipates these will be in the range of 423,600 to 470,100 units in 2011, with a point forecast of 450,100 units, vs. 446,577 in 2010. In 2012, MLS sales are expected to move up modestly in the range of 406,100 to 509,000 units, with a point forecast of 458,500 units.

The average MLS price is forecast to be between $353,100 and $375,300 in 2011 and between $315,800 and $418,700 in 2012. CMHC's point forecast for the average MLS price is expected to move up to $363,900 in 2011, while 2012 will see a more moderate increase to $368,200.
back to top

_______________________________________________________________________
CIL launches paint line "for men only"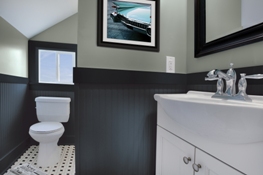 TORONTO — Canadian paint brand CIL has launched a paint colour collection designed to appeal to men only. Called Ultimate Man Caves , the new CIL Paints colour collection for men was introduced to get males more enthusiastic about the painting process.

Paint names like "Iced Vodka" replace "Cloud Nine," while "Maverick" takes the place of " Moonlight Drive." "Five-O'Clock Shadow" replaces the more mundane "Plateau Grey" and "Beer Time" tops the apparently less manly "Butterscotch."

"When it comes to paint names, it's all about the emotional connection and our research shows that men and women tend to relate to paint names differently," says Alison Goldman, marketing communications manager for CIL Paints.

The new CIL Paints brochure – featuring 20 of the most popular paint colours for men – is now being featured in stores alongside CIL's existing display of more than 1,200 colours.  The original paint names will continue to be part of the present CIL collection of colours.
back to top

Classifieds

Our St. Jacobs Merchandise-LBM department currently has the following opportunity...
Commodity TraderSoftwood Lumber & Structural Panels
You will be responsible for the sales and operations of the Kitchener LBM Distribution Centre to achieve a profitable return for Home Hardware Stores Limited. You will review inventory and sales, prepare yearly budgets, negotiate pressure treated lumber programs and rebate and buying programs, and contact vendors for up-to-date prices and trends. You will also provide information and buying programs for secondary commodity products and advise Home LBM Dealers on market conditions and assist them in making buying decisions.

Your five to ten years of retail and/or wholesale business experience is coupled with post-secondary courses in business and negotiation. You have full knowledge of softwood lumber products; strong eastern and western mill connections are essential. Highly motivated and able to problem solve, you are an excellent communicator, are able to analyze economic and commodity reports, and have solid computer skills including Microsoft Word and Excel.

We offer a competitive salary and great working conditions. If you are interested in becoming part of Home Hardware, please submit your resume quoting Commodity Trader, by Monday, November 14th, 2011 to: Dayna Weber, Recruitment, Human Resources Department, Home Hardware Stores Limited, 34 Henry St W, St. Jacobs, ON N0B 2N0 Fax: 519-664-4711 Phone: 519-664-4975 E-mail: hr@homehardware.ca (Microsoft Products Only)
Resumés
Experienced District Manager with a proven track record with several national chains.

view this

resumé

A conscientious, highly motivated manager with a results-oriented track record in developing new business.

view this

resumé

A goal oriented sales director that has superior management skills, customer oriented, with in depth knowledge of the industry and the ability to achieve results.

view this

resumé

An experienced merchandising executive possessing passion, vision, and a strategic approach to delivering bottom-line.

view this

resumé

Senior sales/marketing leader with experience in all classes of trade wishing new HARDLINES career. view this

resumé

Very Experienced Business Unit Manager, great passion for generating sales and building relastionships.view this

resumé

Worked through my career within the manfucaturer, wholesale and consumer goods industries. view this

resumé

Senior Sales Manager with vast experience in retail and wholesale sales growth in Canada. view this

resumé
Connect with us!