November 25, 2013, Volume xix, #45
"Let's dance. Put on your red shoes and dance the blues."
—David Bowie (British musician and actor, 1947- )
______________________________________________________________________
HOLIDAY PUBLISHING SCHEDULE: HARDLINES is published monthly in December, so we'll put out an issue on December 2. We will resume our regular publishing schedule in the New Year, returning January 6. As always, of course, the World Headquarters remain open right up until Dec. 20 … well, maybe late on the 19 th. Okay, not that late.
_________________________`_____________________________________________
______________________________________________________________________
Lowe's Canada makes key additions to executive team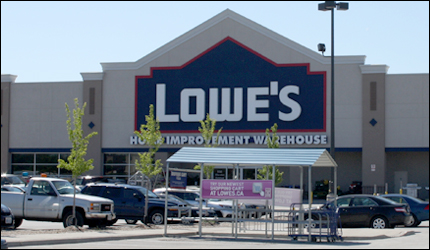 TORONTO — Lowe's Canada has made significant changes to its senior leadership team as it positions itself for continued to growth in this country. The changes, which have been happening over recent months at its corporate office in Toronto, include newly created roles in merchandising and marketing, operations and supply chain, and finance and administration.

Nick Padovano was appointed to the newly created position of head of operations and supply chain. He is responsible for leading the company's store operations, store support, and supply chain functions. In addition, he will oversee commercial and installed sales, as well as distribution. Most recently, Padovano was senior vice president, store operations at The Bay-Lord & Taylor. Prior to that, he was senior vice president, store operations at HBC-Zellers.

Igor Halencak was appointed to the newly created position of head of merchandising and marketing. He will lead the company's merchandising and marketing strategies, as well as the planogram facility. Most recently, Halencak was senior vice president, home, hardlines and major appliances at Sears Canada.

Tony Tutolo was appointed to the newly created position of head of finance and administration. In this role, Tutolo is responsible for leading the company's finance, loss prevention and information technology functions, as well as project management and merchandising support. He brings more than 20 years of experience in risk management, IT, and finance, coming over from the Beer Store.
______________________________________________________________________

A World-Class Opportunity
Orgill is looking for Canadian Manufacturers to add to their offering.
Click here for more information.
______________________________________________________________________
Sexton unites dealers and vendors in San Francisco
WINNIPEG — The Sexton Group held its Member Conference in San Francisco earlier this month, reporting that the event was "a resounding success."

Sexton members from all areas of Canada attended to share best practices, meet new dealers, and network with vendors. A number of companies from both the dealer and the vendor sides were attending for the first time. "As a new vendor participant, not only was the conference first class in terms of the events and activities, [but] we feel we have greatly enhanced the familiarity of our quality brands and programs—as well as relationships—with the many members in attendance," said Stuart Mann, a representative from Irwin.

The theme of the four-day conference was "Getting Connected," which delegates were able to do through a number of formal and informal networking events. The centrepiece of the activities was a trade show which reportedly generated millions of dollars in purchases in just four hours.

"It is satisfying to see a record number of participants from all over Canada," said Steve Buckle, vice president of Sexton Group Ltd. The buzz of energy and interaction that the compressed four-day schedule encourages is exciting,"

Next year's event will take place in Nashville, Tenn.
______________________________________________________________________
Lowe's and Home Depot report gains in third quarter
MOORESVILLE, N.C. & ATLANTA — As the home improvement market rallies in the U.S., those gains were reflected in latest quarterly results of America's leading home improvement retailers. Lowe's Cos., the world's second-largest home improvement retailer, had a 7.3% increase in sales for the third quarter ended November 1, to $13.0 billion. Comp sales for the quarter increased 6.2%. For the nine-month period, sales were $41.8 billion, a 5.8% increase over the same period a year ago, and comparable sales increased 5.1%.

Net earnings for the quarter reached $499 million, up 26.0% over the same period a year ago. For the nine-month period, net earnings increased 18.6% to $1.98 billion.

Lowe's biggest rival, Home Depot, also reported strong increases. Sales reached $19.5 billion for the third quarter of fiscal 2013, a 7.4% increase from the third quarter of fiscal 2012. Comparable store sales were positive 7.4%, and comp sales for U.S. stores were positive 8.2%. Net earnings for the third quarter were $1.4 billion, or $0.95 per diluted share, compared with net earnings of $947 million, or $0.63 per diluted share, a year ago.

Lowe's also reported strong results for its stores in Canada. "I am also pleased with our performance in Canada. We have a new leadership team in place and for the second consecutive quarter, they've delivered double-digit comps," said Robert Niblock, Lowe's chairman, president and CEO, during a conference call to analysts.
______________________________________________________________________
Spotlight on the ORA Winners: Wellington Home Hardware
HARDLINES is proud to present the Outstanding Retailer Awards, honouring some of the finest dealers in this country. The awards were given at a Gala Dinner on October 23 during the 18th Annual Hardlines Conference in Toronto. We're focusing on a different winner each week—and our congratulations to all the winners!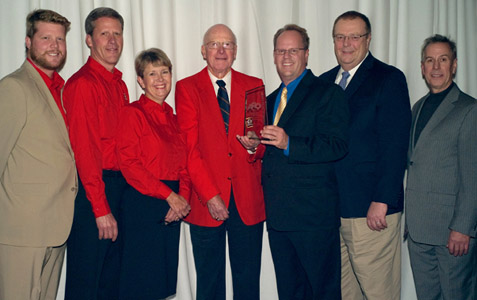 l-r : Evan Nash, Ted and Donna Nash, and Tom Nash of Wellington Home Hardware, winners of the Marc Robichaud Community Leader Award; Erik Schlaud and Myron Boswell of Orgill, sponsors of the award; and Michael McLarney, Editor of Hardlines, which hosts the awards.(NOTE: High-res photos and writeups of all ORA winners can be found at www.oras.ca.)

TORONTO — Wellington Home Hardware, in Wellington, Ont., has been recognized as one of the country's best home improvement retailers as the recipient of the 2013 Outstanding Retailer Award. Wellington Home Hardware won the Marc Robichaud Award for Community Leader for 2013.

Three generations of owners, Ted Nash, along with his son Evan and his father Tom, were recognized at the Outstanding Retailer Awards Gala Dinner last month. They accepted the award before an audience of retailers and suppliers from across Canada. The Community Leader Award is named in memory of Marc Robichaud, an innovative dealer and leader in his own community of Meteghan Centre, N.S. Marc died in 2012 of cancer at the age of 36. The award is sponsored by Orgill.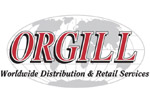 The Nashes embody the philosophy that business, family and community are intertwined. As the go-to destination for everything from tools to tourist needs, their business is more than just a hardware store. This dedication to the community makes Wellington Home Hardware the 2013 Outstanding Retailer Award winner for Marc Robichaud Community Leader.

"Wellington Home Hardware had a terrific story of involvement with their community that went well beyond the norm. The leadership of each member of the Nash family impressed the judges and made them a natural to get the Marc Robichaud Award this year," said Michael McLarney, Editor of HARDLINES.
______________________________________________________________________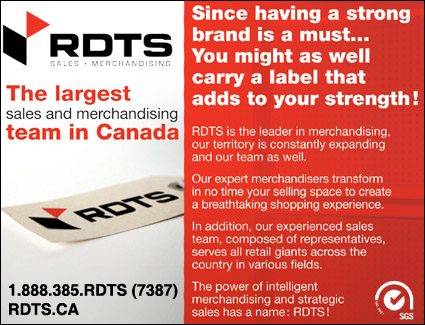 ______________________________________________________________________

Resumés
Click here to view the resumés online