November 28, 2011, Volume xvii, #45
" Reading is to the mind what exercise is to the body." 
—Richard Steele (Irish writer and politician, 1672-1729)
______________________________________________________________________

______________________________________________________________________
HOLIDAY PRINTING SCHEDULE: Please note, Faithful Reader, that we will publish HARDLINES just once next month. There will be an issue on Dec. 12, but no issue next week or on the 19th and 26th. We are in the office up to Christmas, working on the Annual Market Share Report and the next issue of HHIQ. Back to our regular weekly schedule on Jan. 2, 2012. —Michael
______________________________________________________________________
LBMAO holds second show in one year
TORONTO — The Canadian Home Improvement Show, the two-day buying show hosted by the Lumber and Building Materials Association of Ontario, was held last week – for the second time this year.

The show, which has been held each year in February, including 2011, made the move to a November time slot. Show organizers took a gamble and squeezed the first November show into this year.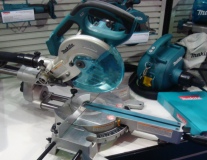 And that gamble paid off, sort of. Vendors stepped up to support the event, with about the same number of exhibitors as the last show, although with many taking smaller booths this time.

But more important, dealers showed up, as well. Numbers were not as robust as hoped, but a number of key Ontario dealers were there, with support staff in tow, giving exhibitors a chance to talk to big customers such as Soo Mill & Lumber from Sault Ste. Marie and Copp's Buildall out of London. Dealers from Home Hardware, TIM-BR MART, Castle and even some RONA independents including Moffatt and Powell were there, as well. A number of specialty paint and flooring dealers also attended.

"We knew it was going to be a challenge this year, but we're taking a long-term view," says Dave Campbell, president of the LBMAO. "We feel it remains a real buying show, despite the current economic conditions."
(Click here to view some of the new products that
were available at this year's show on Hardlines TV!)
back to top

______________________________________________________________________
BMR dealers find décor options at latest show
QUEBEC CITY — From palette deals to sophisticated décor items, the 45th buying expo of the wholesaler and buying group BMR offered a range of product and merchandising options.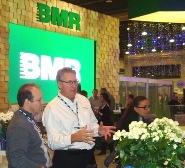 Those liquidation and palette sales, for example, are being supported by flyer promotions, of which BMR now has one every two weeks. Down the hall, the company's "Boutique Inspiration" features a hall filled with textured wall coverings, artificial flowers, mirrors, vases, framed pictures and more. There's even a full lighting collection, now in its second year, backed by a complete catalogue of its own.

The Boutique Inspiration program, merchandised as a store within a store, has been evolving for the past three years, and now even has the support of celebrity designer Frances Arcand, whose program on TV BMR sponsors.

While they look buff, Bruno Baldessari, retail project director at BMR says, "These are affordable decoration items." He adds that anyone who commits to the Frances Arcand collection in its store, must have a style consultant in the store at all times and be able to provide at-home consulting.

Dealers were keen to take advantage of the new lines – and responsive to BMR's range of services. "You can tell they love the industry," says Bill Towndrow of Lunenburg BMR Hardware. "They know what they want to do. BMR walks the talk. BMR can afford to take the long term-view, similar to our business strategy.

"BMR makes us competitive to the biggest stores."
_______________________________________________________________________
Home décor centre promises "everything under one roof"
TORONTO — A new-concept home design centre is in the works in Toronto. Called "Improve," the site will feature about 400 show rooms occupied by companies engaged in the home improvement and construction businesses.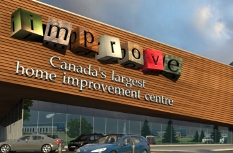 The 310,000-square-foot centre will be built on 21 acres of land and promises to offer a full spectrum of construction goods and services. All show rooms will be about 500 square feet. Companies will buy, not lease, their space, at a cost of approximately $300,000, plus a monthly advertising fee of $200. The centre will also feature different restaurants, bars, meeting rooms, and conference halls for presentations of new technologies and services.

The idea behind the concept is to put in one trading centre a group of competing, but related, businesses, creating an on-going construction and renovation trade show.
(View more full size pictures of the facility here)
_______________________________________________________________________
Canadians turn to internet shopping during holidays
TORONTO — Canadians are expected to shop online more than ever this holiday season. According to its own data, eBay Canada predicts that Sunday, Nov. 27 was Canada's busiest online shopping day of 2011. More than half a million shoppers are expected to shop on eBay during "Super Sunday," buying nearly two gifts every second for friends and family, up 17% over last year.

Avoiding crowds, round-the-clock access, and great deals are all factors behind the increased popularity of online shopping, according to research commissioned by eBay and conducted by Leger Marketing. The online auction company further expects 40% of Canadian shoppers to do some or all of their holiday shopping online this year, an increase of approximately 11% over 2010.

The most popular items, according to eBay, are clothing and shoes, cell phones, and home electronics.
back to top

_______________________________________________________________________
Home Depot draws ire for shipping jobs offshore
ATLANTA — U.S. figures show American companies – including Home Depot – have slashed labour costs by moving millions of manufacturing jobs to China, according to local news station WSBTV.

In recent years Home Depot has laid off thousands of workers, including hundreds at its worldwide corporate headquarters in Vinings, GA, while at the same time, it's hiring hundreds of workers thousands of miles away. Federal Labour Department records show Home Depot has moved jobs from Vinings to India.

Companies usually keep outsourcing details a secret, but two Home Depot executives taped a testimonial which was posted online for the outsourcing company in India that now is handling some of their accounting functions. In the testimonial, one executive said, "Really what I was looking for was the same thing at less cost." Another executive appeared to claim that workers offshore are more competent when he said, "They manage our processes much better. They do the processes better than we would have ever done them here."

Home Depot released a statement about the overseas jobs that said, "The number of contractors our third parties employ to handle our outsourced work accounts for less than one half of one% of our total workforce." It also stated, "The Home Depot adds some 20,000 jobs to the Metro Atlanta workforce, and we will continue to do everything possible to add more jobs in the years to come.  In fact, The Home Depot is one of the few companies that has added net new jobs over the past two years."
back to top

Classifieds

Our St. Jacobs Merchandise-LBM department currently has the following opportunity...
Commodity TraderSoftwood Lumber & Structural Panels
You will be responsible for the sales and operations of the Kitchener LBM Distribution Centre to achieve a profitable return for Home Hardware Stores Limited. You will review inventory and sales, prepare yearly budgets, negotiate pressure treated lumber programs and rebate and buying programs, and contact vendors for up-to-date prices and trends. You will also provide information and buying programs for secondary commodity products and advise Home LBM Dealers on market conditions and assist them in making buying decisions.

Your five to ten years of retail and/or wholesale business experience is coupled with post-secondary courses in business and negotiation. You have full knowledge of softwood lumber products; strong eastern and western mill connections are essential. Highly motivated and able to problem solve, you are an excellent communicator, are able to analyze economic and commodity reports, and have solid computer skills including Microsoft Word and Excel.

We offer a competitive salary and great working conditions. If you are interested in becoming part of Home Hardware, please submit your resume quoting Commodity Trader, by Monday, November 14th, 2011 to: Dayna Weber, Recruitment, Human Resources Department, Home Hardware Stores Limited, 34 Henry St W, St. Jacobs, ON N0B 2N0 Fax: 519-664-4711 Phone: 519-664-4975 E-mail: hr@homehardware.ca (Microsoft Products Only)
Resumés
Experienced District Manager with a proven track record with several national chains.

view this

resumé

A conscientious, highly motivated manager with a results-oriented track record in developing new business.

view this

resumé

A goal oriented sales director that has superior management skills, customer oriented, with in depth knowledge of the industry and the ability to achieve results.

view this

resumé

An experienced merchandising executive possessing passion, vision, and a strategic approach to delivering bottom-line.

view this

resumé

Senior sales/marketing leader with experience in all classes of trade wishing new HARDLINES career. view this

resumé

Very Experienced Business Unit Manager, great passion for generating sales and building relastionships.view this

resumé

Worked through my career within the manfucaturer, wholesale and consumer goods industries. view this

resumé

Senior Sales Manager with vast experience in retail and wholesale sales growth in Canada. view this

resumé
Connect with us!