November 5, 2012, Volume xviii, #42
"I used to jog but the ice cubes kept falling out of my glass."
—Dave Lee Roth (rock musician and former lead singer of Van Halen, 1954-)
______________________________________________________________________



______________________________________________________________________
Chalifour gives Ace brand a big push
    MONTREAL ― The Ace brand continues to get a big push by Chalifour Canada, as evidenced by the presence of some 2,500 Ace SKUs at the latest Chalifour Retailer Buying Expo, held here recently. But the brand, as an option for dealers in front of their stores, remains a choice that's up to the dealers themselves.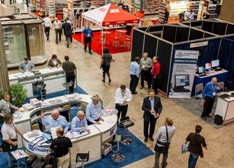 "We've now got 8,000-plus SKUs to fill the gaps in our inventory and make sure our dealers don't have to go anywhere else for what they want," says Randy Martin, vp merchandise for Chalifour Canada.

Andrew Allen, senior vice president of Chalifour Canada, says the Ace brand is in growth mode, one that reflects the long-term supply arrangements Chalifour holds with Ace in the U.S. through its Global Sourcing division in Shanghai. He adds that there are now 133 fully branded Ace dealers in this country, in addition to 340 fully branded TIM-BR MART dealers. That includes six new dealers, all from Atlantic Canada and Quebec, with more being developed. TIM-BR MART dealers can have the Ace banner, as well, he says, if they wish to reflect the strength of their front end.

Adds Randy Martin, vp merchandise for Chalifour Canada, "It's about offering choice; though we're not necessarily pushing co-branding, it remains an option."
back to top


______________________________________________________________________
Home Hardware locations amalgamate under new identity
SAULT STE. MARIE, ON — Three Home Hardware stores in this market, in Echo Bay, Bruce Station, and Sault Ste. Marie Home Hardware Building Centre, have joined forces and will now collectively be known as Heritage Home Hardware Building Centre.

Owners Chris and Tammy Beilhartz have had the Bruce Mines and Echo Bay locations for a number of years. They recently had the opportunity to take over the third store, as well.

"We are happy to welcome the Sault Ste. Marie location, its customers and staff to our Home Hardware family," said Chris Beilhartz. "We are excited about the advantages that come with a third location. Increased buying power resulting in more competitive pricing and more efficient delivery times are just an example of some of the benefits that our customers will be able to realize as a result."

The move reflects a growing trend among many dealers as they look for ways to expand their business and lower operating costs. Local consolidation also provides a valuable succession option for dealers looking to exit the business.

"The Bruce Station store started it all when my great-grandfather, Walter Beilhartz, operated it as a sawmill in the '50s," says Chris Beilhartz. "In re-branding the stores under the Heritage name, I wanted to make it clear to my customers that we are separate locations of one larger entity. With my family's history in the business, the name 'Heritage' just made a lot of sense, because I see the business as just that ― my heritage."
______________________________________________________________________
TIM-BR MART launches online hockey shootout game
CALGARY ― TIM-BR MART has launched "Sharpshooter," an online hockey shootout game in support of their IIHF World Junior Hockey sponsorship.



Canadians can test their shooting accuracy, power, speed, and skill while raising money for their community. Everyone who plays the game will direct their Sharpshooter points to their local or favourite minor hockey association to help earn ballots towards a grand prize. A random draw from all ballots will result in 10 hockey associations being asked to submit a 500-word proposal outlining why their local charity should receive $50,000 and why their hockey association should receive $10,000. (Collectively, the two amounts comprise the $60,000 grand prize.)

"TIM-BR MART's Hockey Canada partnership is about community engagement and helping support grassroots minor hockey across the country," says Jon Irwin, vice president, retail services. "The best part about Sharpshooter is that when Canadians play the game, hockey associations and charities focused on the health and well-being of children win big."

First prize is $60,000, with $50,000 going to an eligible charity, and $10,000 going to a hockey association. There are also four secondary prizes of $10,000, consisting of a $5,000 charitable donation and a $5,000 donation to a hockey association, in addition to weekly prizes.
______________________________________________________________________
U.S. builder confidence gains slightly in October

  WASHINGTON ― Builder confidence in the market for newly built, single-family homes gained slightly for a sixth consecutive month in October, according to the National Association of Home Builders-Wells Fargo Housing Market Index. The latest one-point gain brings the index to 41, its strongest level since June of 2006.

"Many builders are reporting increases in the number of serious buyers visiting their sales offices, and the overall confidence measure is much higher than it was at this time last year," said NAHB chairman Barry Rutenberg, who is also a home builder in Gainesville, FL.

Derived from a monthly survey that NAHB has been conducting for the past 25 years, the NAHB-Wells Fargo Housing Market Index gauges builder perceptions of current single-family home sales and sales expectations for the next six months as "good," "fair," or "poor." The survey also asks builders to rate traffic of prospective buyers as "high to very high," "average" or "low to very low." Scores from each component are then used to calculate a seasonally adjusted index where any number over 50 indicates that more builders view sales conditions as good than poor.
______________________________________________________________________
Dealers' cautious optimism means greater role for Chalifour

      MONTREAL ― The outlook of the dealers in attendance at the recent Chalifour Retailer Buying Expo was improving, says Randy Martin, vp merchandise for the national hardware wholesaler. "The dealers are generally optimistic."

But they are still watching the market with caution, he added. He noted that, as a supplier to the reno industry, which sustains even through a slight softening of the housing market, dealers see the benefits of Chalifour more than ever ― "as retailers begin to watch their inventories, and rely on distribution, especially in lumber and building materials coming out of our London warehouse."

Martin says he expected dealers from about 320 retail companies to attend the show.


______________________________________________________________________
Walmart buyers using sustainability index in buying decisions

  BEIJING — Walmart continues its commitment to a sustainable global supply chain by announcing a series of initiatives to make the company's supply chain ― especially from China ― more sustainable.

Walmart said the company will use the Sustainability Index to design more sustainable products, make its global supply chain more socially and environmentally accountable and responsible, and provide incentives to merchants to make sustainability a bigger part of their day-to-day jobs. The company says it wants to be sourcing 70% of the goods it sells in U.S. stores from suppliers that use the Index by the end of 2017.

Merchandise buyers from Walmart U.S., Sam's Club, Walmart.com and Walmart Canada are now using the Sustainability Index in regular buying decisions.

"We will drive progress faster and scale our work to make factories more socially and environmentally sustainable, reduce energy and water usage, and eliminate harmful emissions into rivers and the air," said Mike Duke, president and CEO of Wal-Mart. "We will also have deeper insight into how we can make manufacturing more sustainable for people and communities in China."
_____________________________________________________________________
Classifieds
_____________________________________________________________________

Commodity Lumber & Panel Buyer
CASTLE BUILDING CENTERS GROUP LTD. is the premier, independently owned buying group of lumber and building materials in Canada. Located in Mississauga, Ontario, Castle has an immediate opening for a Commodity Lumber & Panel Buyer.
Job Duties/Responsibilities:
Execute, prepare, and organize all information flow between the Members, Vendor Partners with respect to Commodity Lumber & Panel programs and products.
Liaise with members, and vendors in various programs in real time and in "Cloud" distribution and flow of Products.
Develop and implement the Castle/CBS electronic vendor powered virtual trading board to execute purchases and trades in real time.
Responsibility to include all Provinces and Territories for Castle/CBS in Canada
 Qualifications:
Minimum 5 years in Commodity Lumber Trading & Buying.
Ability to travel to all Canadian and U.S.A Mill Sawmill Operations.
Advanced Microsoft Office skills, excellent communication skills and strong organizational skill are a must.
Ability to think outside the box.
Bilingual, English & French both written and spoken would be an asset.
Qualified applicants are invited to submit their resumes and salary expectations in Microsoft Word or PDF format to ypatton@castle.ca . We thank you for your interest in this position however, only the most qualified applicants will receive responses.

______________________________________________________________________ 

Hardlines Specialist Representative

ALBERTA

Castle Building Centres Group is an industry leader among Buying Groups in the Lumber and Building Materials segment in Canada. Due to the rapid growth of our hardlines solution, we are seeking a candidate in the Province of Alberta.

You are a highly motivated individual with strong relationship and communication skills that can manage and develop our future hardlines growth. This position requires an individual who is knowledgeable of standard concepts, practices and procedures within the hardlines industry, willing to travel extensively and accustomed to working remote from head office. Qualifications include a minimum two years experience in the wholesale or retail hardware / lumber and building materials industry.

Reporting to the Regional Business Development Manager, you welcome the opportunity to work with a dynamic group of independent LBM dealers while planning and executing our hardlines solution. Providing continual and proactive communication to our members while understanding their needs is fundamental to your success. Sound computer and presentation skills; combined with good administrative qualities are imperative.

Castle Building Centres Group offers a comprehensive compensation package including full benefits.

All submissions will be treated with complete confidentiality. Please forward your resume in confidence to:

Yvonne Patton
Castle Building Centres Group Ltd.
100 Milverton Drive, Suite 400
Mississauga, Ontario
L5R 4H1
E-mail: ypatton@castle.ca


______________________________________________________________________


Hardlines Specialist Representative
BRITISH COLUMBIA
Castle Building Centres Group is an industry leader among Buying Groups in the Lumber and Building Materials segment in Canada. Due to the rapid growth of our hardlines solution, we are seeking a candidate in the Province of British Columbia.

You are a highly motivated individual with strong relationship and communication skills that can manage and develop our future hardlines growth. This position requires an individual who is knowledgeable of standard concepts, practices and procedures within the hardlines industry, willing to travel extensively and accustomed to working remote from head office. Qualifications include a minimum two years experience in the wholesale or retail hardware / lumber and building materials industry.

Reporting to the Regional Business Development Manager, you welcome the opportunity to work with a dynamic group of independent LBM dealers while planning and executing our hardlines solution. Providing continual and proactive communication to our members while understanding their needs is fundamental to your success. Sound computer and presentation skills; combined with good administrative qualities are imperative.

Castle Building Centres Group offers a comprehensive compensation package including full benefits.

All submissions will be treated with complete confidentiality. Please forward your resume in confidence to:
Yvonne Patton
Castle Building Centres Group Ltd.
100 Milverton Drive, Suite 400
Mississauga, Ontario
L5R 4H1
E-mail: ypatton@castle.ca

______________________________________________________________________

Resumés
Professional with over 25 years of experience in Sales, Marketing, Merchandising and Administration

view this

resumé

Marketing professional with over 10 years experience looking to secure a new full-time position.

view this

resumé

A Sales Professional with over twenty years of experience.view this

resumé

Experienced District Manager with a proven track record with several national chains. view this

resumé

A conscientious, highly motivated manager with a results-oriented track record in developing new business.

view this

resumé

An experienced merchandising executive possessing passion, vision, and a strategic approach to delivering bottom-line.

view this

resumé

Senior sales/marketing leader with experience in all classes of trade wishing new HARDLINES career. view this

resumé

Very Experienced Business Unit Manager, great passion for generating sales and building relastionships.view this

resumé

Worked through my career within the manfucaturer, wholesale and consumer goods industries. view this

resumé

Senior Sales Manager with vast experience in retail and wholesale sales growth in Canada. view this

resumé