November 7, 2011, Volume xvii, #42
"Those who foolishly sought power by riding on the back of the tiger ended up inside." —John F. Kennedy (35th president of the United States, 1917-1963)
______________________________________________________________________

______________________________________________________________________
Lowe's Canada unaffected by U.S. store closings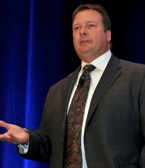 TORONTO — While Lowe's in the U.S. has already closed 10 stores there and intends to close another 10 before year's end, Lowe's Canada is remaining on course with its own expansion plans.

According to Alan Huggins, president of Lowe's Canada, the Canadian operation is treated as a separate entity – with separate objectives. The cutbacks in the U.S., he said, will not affect his division's plans to open up to 100 stores in this country over the next five years. Lowe's already has 29 stores here – the latest being the first store in British Columbia, in New Westminster.

Huggins, who was speaking to a roomful of industry execs at the 16th Annual Hardlines Conference (don't tell me you missed it! —Editor), said the company is on track to open between four and six stores in 2012, including, he adds, "maybe a new province."
back to top

______________________________________________________________________
Chalifour show offers full retail "solution"
MONTREAL — The first-ever buying show hosted by Chalifour Canada offered more than just products and show specials. It was an opportunity for the former CanWel Hardware, which was purchased by TIM-BR MARTS Ltd. one year ago from CanWel Building Materials, to showcase a wider range of retail services, as it positions itself as a full "retail services organization."

Randy Martin, vice-president hardware for Chalifour, took HARDLINES on a guided tour of the show, held here Oct. 29 and 30. Martin, who's been a merchant with TIM-BR MARTS for two decades, had a firm grasp on what the Chalifour business unit has to offer. The show, which filled 120,000 square feet at the Place Bonaventure, featured 225 vendors in 250 booths.

Chalifour boasts some 2,200 retail customers, said Martin, representing not just TIM-BR MART dealers and its Ace and Pro dealers, but independents of all stripes, including dealers who attended from Castle, Sexton, and ILDC, "and they're all pretty much equal" to the wholesaler, he added. More than 740 dealers attended this show.

TIM-BR MARTS owns the Ace brand in Canada, and the show featured a range of Ace products. In fact, some 800 Ace-branded products were launched here. These included the new Clark + Kensington line of paint-and-primer in one, which will get rolled out in stores in spring 2012, at the same time that it gets rolled out in Ace stores in the U.S.

This show also integrated 55 building materials suppliers, alongside the hardware vendors. setting it apart from the former CanWel Hardware shows.

Besides traditional booths, departments were integrated in merchandised scenarios at the show. The approach, long used by RONA at its annual show, lets dealers see the products as they would appear on store shelves. TIM-BR MARTS' in-house merchandising team has been developing new merchandising programs of its own. The first department to get the makeover was lighting; a compact light cloud with a catalogue in-store for special orders was prominently featured at the show.

"We are gearing up to be a retail sales organization and that's why you see this kind of merchandising," said Martin.
_______________________________________________________________________
OGC adds SpruceWare.NET to its product line

MONTREAL — OGC, Canadian supplier of information management solutions in the retail and distribution industries, has formed a partnership with software company Spruce Computer Systems, an American technology company that creates modern software exclusively for lumber, hardware and building materials dealers. Under the agreement, OGC has the the commercial rights to the SpruceWare.NET product in the Canadian market.


Through this agreement, OGC has gained the exclusive rights to sell, implement and support SpruceWare.NET in Canada. This new offering will enhance OGC's product line so that it can better meet the specific needs of its customers in the hardware and building materials industries.

"OGC and Spruce have very similar profiles and backgrounds: both companies are recognized for their industry knowledge and close relationships with customers. We are convinced that pooling our know-how will help us assist customers even better to improve their service and maximize their profits," says Patrick Du Paul, executive vice-president and general manager at OGC. He adds that the technology is already being used by more than 250 retailers in the American market.
_______________________________________________________________________
Canadian Tire fine-tunes smaller stores with projects

TORONTO — Rob Shields, who is vice-president of marketing for Canadian Tire, believes "the era of the big box is starting to have a bit of a sunset."

While Canadian Tire hasn't given up on big boxes — "If a trading area can support a 90,000-square-foot store, we put one in" — Shields says Canadian Tire's goal now is to "continue to be a big local player." And because its brand is more potent in smaller markets, its smaller stores play "a much bigger role in our brand strategy."

Canadian Tire looks at store size from its customers' perspective "and how they want to interact with us." All kinds of factors affect that viewpoint, including the growing inclination towards online shopping. At a time when the number of trips that customers take to its stores is down (even though spending per trip is up), Canadian Tire, says Shields, must constantly look for ways to make its stores more central to their shoppers' lives.

"We're leaning towards more solution-based selling," he says, which matches products like plumbing fixtures with fittings in the same area of the store, to use one example. "We're doing this project by project, room by room, and we're getting much closer to a basket view, a behavioural view," of how merchandise should be organized.
back to top

_______________________________________________________________________
Shrinkage takes its toll on Quebec retailers

MONTREAL — In 2010-2011, Quebec's retail sector registered annual economic losses of nearly $800 million. Stores selling basic consumer goods suffered the greatest losses, estimated at more than $418 million annually. Semi-durable and durable goods are in second place, with annual losses exceeding $166 million.

These are just some of the results of the latest survey from the Retail Council of Québec (CQCD) on economic losses incurred by Quebec retail businesses. (The survey, conducted by Altus Group on behalf of the CQCD, covers chains and independent retailers but excludes automobile dealers.)

Shoplifting accounts for 38% of losses incurred, while 36% are attributable to theft and fraud by employees. Consumer fraud constitutes 8% of all losses. Administrative errors and suppliers' frauds or errors also represent 15%. The majority of shoplifters are adults, with 53% of them men and 33% women. Teenagers make up 12% of the shoplifters.

Among the 59% of retailers that offer internet sales, 77% were victims of credit card fraud and 6% experienced other types of fraud.

Human prevention measures most used by retailers include employee training and awareness (83%), control or monitoring of receipt of goods (55%), handbag checks (50%), and mystery shoppers (50%).
back to top

Classifieds

PrimeSource Building Products Canada LTD., a wholesale distributor of building supply products, has an immediate opportunity for an Inside Sales Representative in our Vancouver, BC distribution center.

Responsibilities include developing a pipeline of prospective opportunities; via interaction with an existing customer base and a network of prospects, providing outstanding customer service and the ability to build relationships.

Qualified candidates must be self-motivated and willing to work as part of a sales team. Requires professional and confident telephone skills, computer skills and at least one year of sales or customer service experience and/or college degree. Any experience in the building materials industry is a big plus!
Please send resumes to advinculal@primesourcebp.com

Hardlines Specialist Representative

BRITISH COLUMBIA
Castle Building Centres Group is an industry leader among Buying Groups in the Lumber and Building Materials segment in Canada. Due to the rapid growth of our hardlines solution, we are seeking a candidate in the B.C. region.

You are a highly motivated individual with strong relationship and communication skills that can manage and develop our future hardlines growth. This position requires an individual who is knowledgeable of standard concepts, practices and procedures within the hardlines industry, willing to travel extensively and accustomed to working remote from head office. Qualifications include a minimum two years experience in the wholesale or retail hardware / lumber and building materials industry.

Reporting to the Regional Business Development Manager, you welcome the opportunity to work with a dynamic group of independent LBM dealers while planning and executing our hardlines solution. Providing continual and proactive communication to our members while understanding their needs is fundamental to your success. Sound computer and presentation skills; combined with good administrative qualities are imperative.

Castle Building Centres Group offers a comprehensive compensation package including full benefits.

All submissions will be treated with complete confidentiality. Please forward your resume in confidence to:

Yvonne Patton
Castle Building Centres Group Ltd .
100 Milverton Drive, Suite 400
Mississauga, Ontario
L5R 4H1
E-mail: ypatton@castle.ca
Resumés
Experienced District Manager with a proven track record with several national chains.

view this

resumé

A conscientious, highly motivated manager with a results-oriented track record in developing new business.

view this

resumé

A goal oriented sales director that has superior management skills, customer oriented, with in depth knowledge of the industry and the ability to achieve results.

view this

resumé

An experienced merchandising executive possessing passion, vision, and a strategic approach to delivering bottom-line.

view this

resumé

Senior sales/marketing leader with experience in all classes of trade wishing new HARDLINES career. view this

resumé

Very Experienced Business Unit Manager, great passion for generating sales and building relastionships.view this

resumé

Worked through my career within the manfucaturer, wholesale and consumer goods industries. view this

resumé

Senior Sales Manager with vast experience in retail and wholesale sales growth in Canada. view this

resumé
Connect with us!